best things to do in Lake Havasu, Arizona
I knew of Lake Havasu as a spring break destination, as this wet, wild place between parched, desert lands. Every year, for a week in March, Lake Havasu City turns into a stripped-down, bar-clad town. Big boats choke soft waters; pontoons rub stern-to-bow. It's a dizzying, disorienting change of pace. You'd be forgiven for thinking you entered yacht week in Croatia.
But this image of Lake Havasu is also a little misleading. Sure, toned college boys and toned college girls, laughing and clinking glasses, make up the brochure picture of Lake Havasu. But the rest of the year, Lake Havasu City moves at a slower pace. It's calmer, quieter, more settled. You'll see young families, kids in tow, strolling the walkways. You'll see couples, a few decades older, shopping, sailing, smiling.
Although Lake Havasu's spring break reputation precedes it, I hope this list of things to do in Lake Havasu supersedes it. There's a lot to see in this city: startlingly blue waters, rugged mountains, wind-swayed palms.
Come for the year-round scenery. From hiking to hot air ballooning, you can take in Arizona's West Coast ground-first or up-in-the-air (the views are spectacular both ways).
Here's Passport To Eden's guide to the top things to do in Lake Havasu City!
Disclosure: Heads up, this post contains some affiliate links, which means I may get a commission if you make a purchase. Don't feel pressured to buy anything. I still love that you're here, reading my content (side note: I'd probably suggest getting a coffee or tea first though because my blog posts tend to be long). To find out more, you can read our full affiliate disclosure right here.
Things To Do In Lake Havasu, Arizona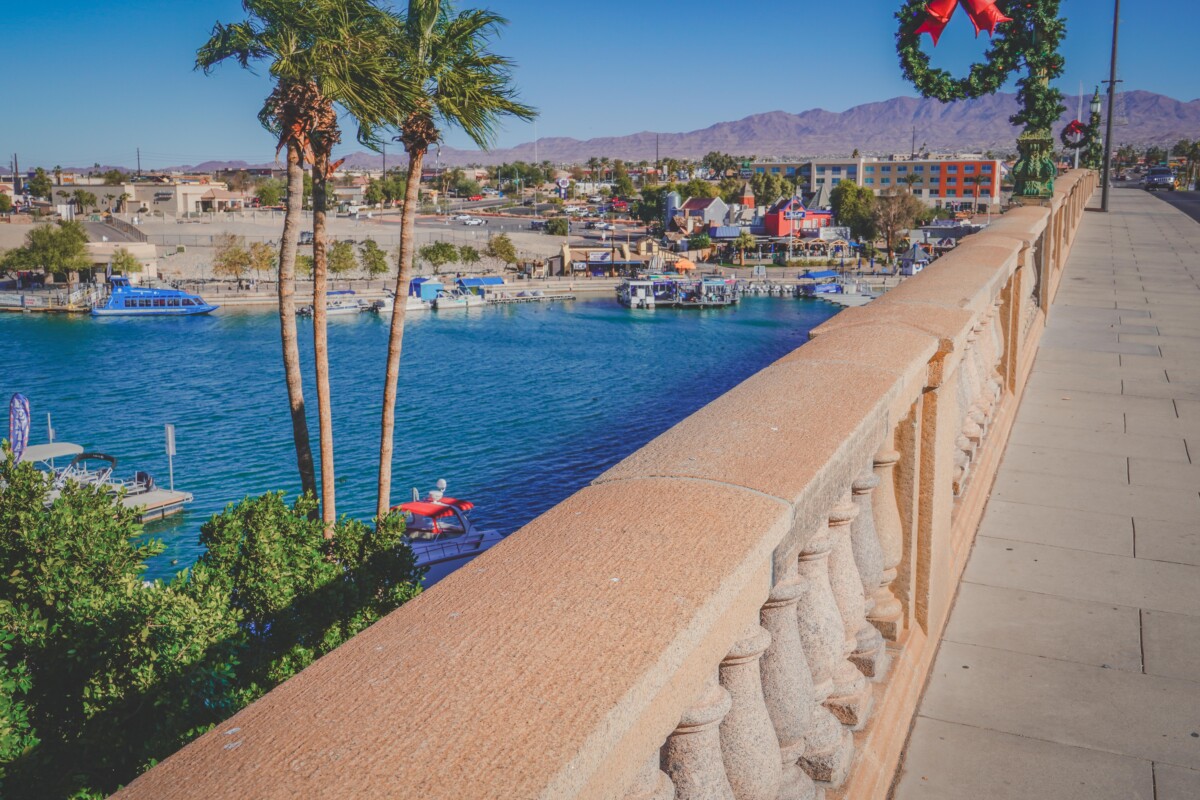 Four hours into our drive to Lake Havasu, I sit up a little straighter. I sigh. I ahem. I try to gently steer the conversation towards Lake Havasu City's most popular attraction.
"We're going to see the London Bridge," I blurt. "It's really the London Bridge. Well, a London Bridge, one of the London Bridges."
In the backseat of our car, my family stays silent. I'm not sure what I expected. I guess, after seeing a cowboy-hatted Eiffel Tower in Paris, Texas, and a Parthenon replica in Nashville, London Bridge in Arizona doesn't sound too far-fetched.
But it should.
Visit London Bridge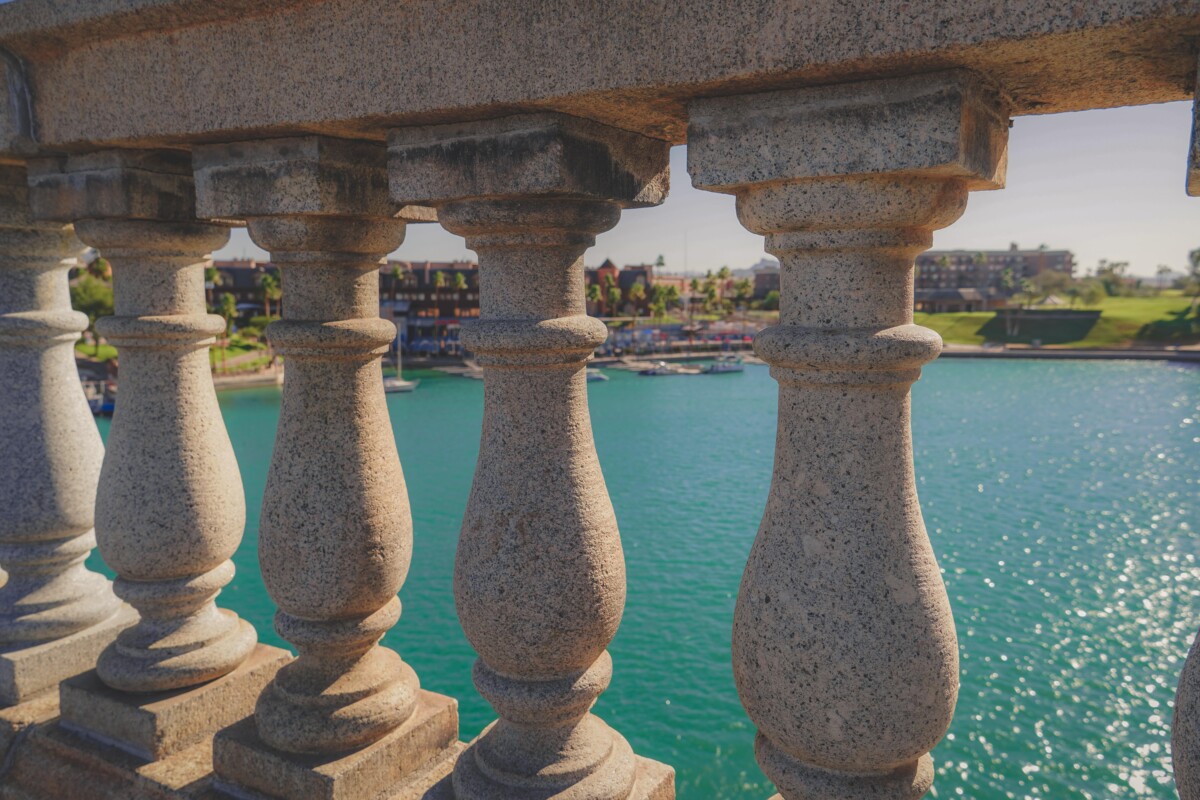 Here's what's impressive about the London Bridge in Lake Havasu: its history. This is a tale of two cities, one that is split between busy, bustling, built-out London and remote, austere, underdeveloped Lake Havasu City. In the mid-20th century, Lake Havasu wanted to draw in a community. Prospective buyers were flown into the city: wined, pampered, and dined. Somewhere, along that timeline, the London Bridge was dismantled, piece by piece, and reassembled thousands of miles away.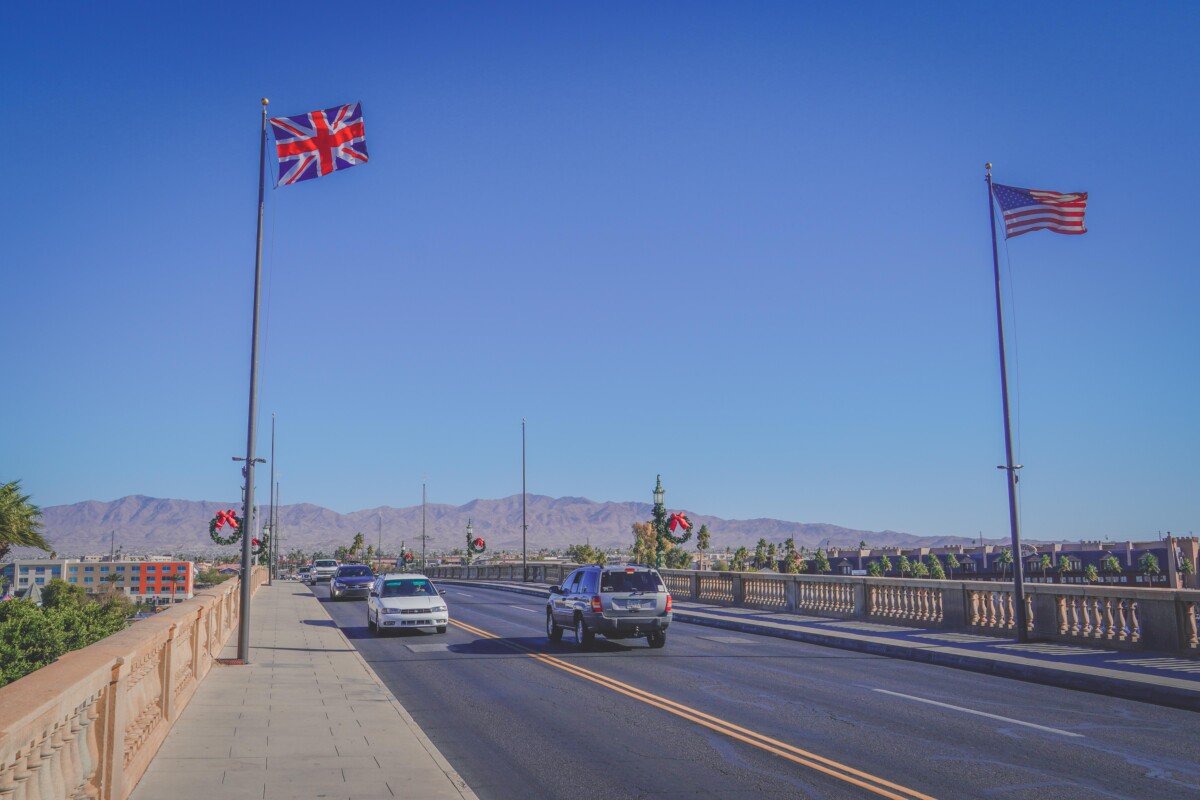 It's hard to tell who was crazier: the man who decided to sell the London Bridge or the man who decided to buy it. The sale of the London Bridge was suggested by Ivan Luckin, a thin-lipped, barrel-headed council member. And his proposal was met with understandable hesitation. I mean, who would buy a long, dull gray slab? This London Bridge wasn't anything like the larger-than-life, neo-gothic Tower Bridge. This London Bridge wasn't even the same bridge from "London Bridge is falling down."
But Luckin believed that this London Bridge could be sold. And if the first four letters of his name were any indication, he was right.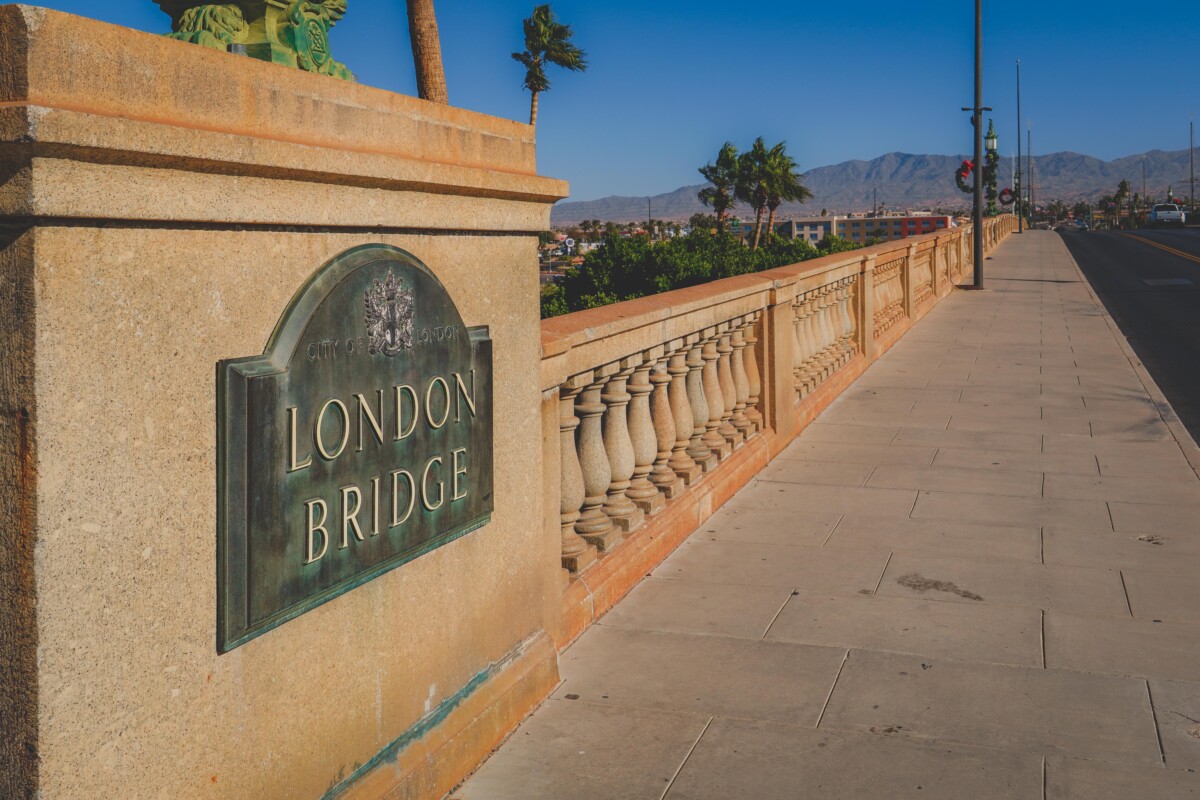 In 1968, the bridge was purchased by an equally visionary American, Robert P. McCulloch. It was an effort to get it set up but worth it in the end (Cornelius Vanderbilt Wood, one of the chief developers of Disneyland, was hired to oversee the project). Today, London Bridge remains one of Lake Havasu City's most well-known attractions.
As a result, walking, driving, or cycling across London Bridge is non-negotiable while visiting Lake Havasu. Along a span of 930 feet, you'll see British and American flags fanning in the breeze. You'll pass by coat-of-arms-bearing lamp posts, each one made from melted-down cannons in Napolean's Battle Of Waterloo. You'll hear the accented chatter of tourists from all around the world.
London Bridge, today, is an immersive jaunt of history.
Bridgewater Channel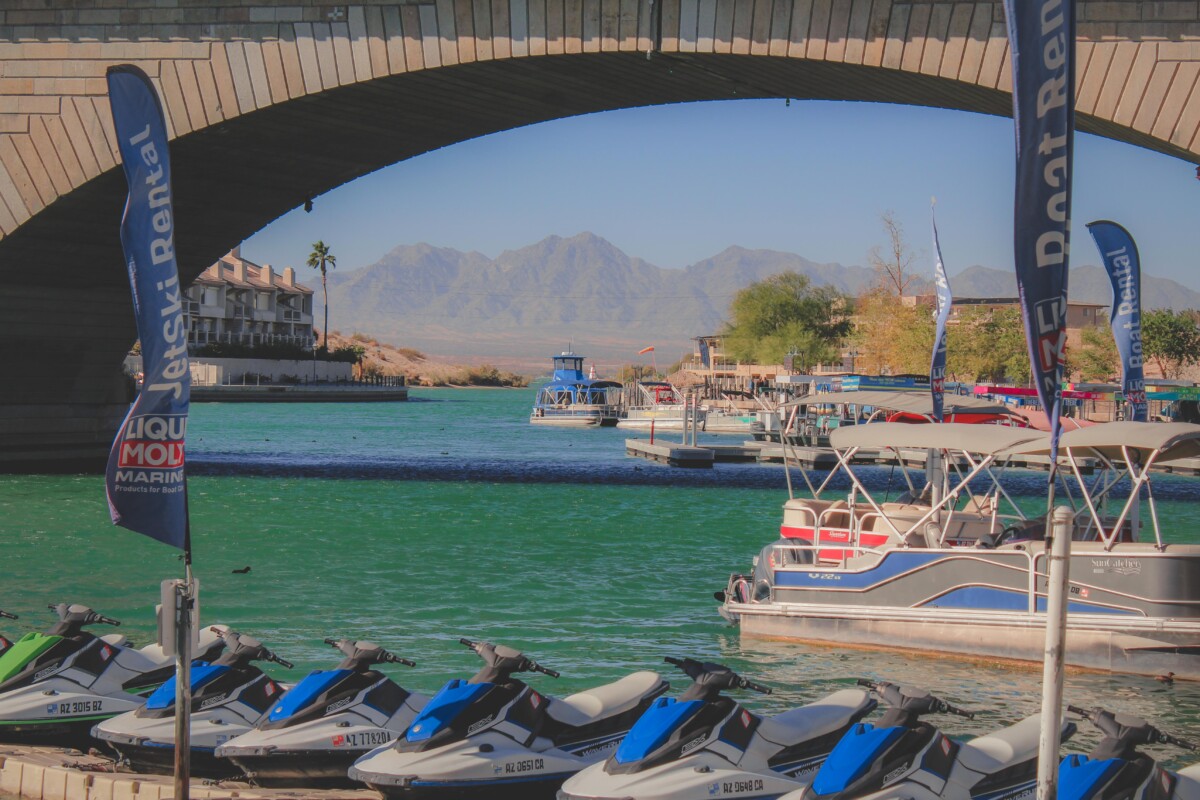 I'm starting to wonder if McCulloch had some sort of crystal ball. I can imagine him peering into the future, seeing the modern, more trendy Lake Havasu, looking around, and wondering how do we get from this to that?
As it would happen, London Bridge came first; the channel after. Before the Bridgewater Channel was dredged out, Lake Havasu's London Bridge lay awkwardly in dry, heat-cooked land. The area was flooded later, filling the brown-tinged scene with bright waves of blue.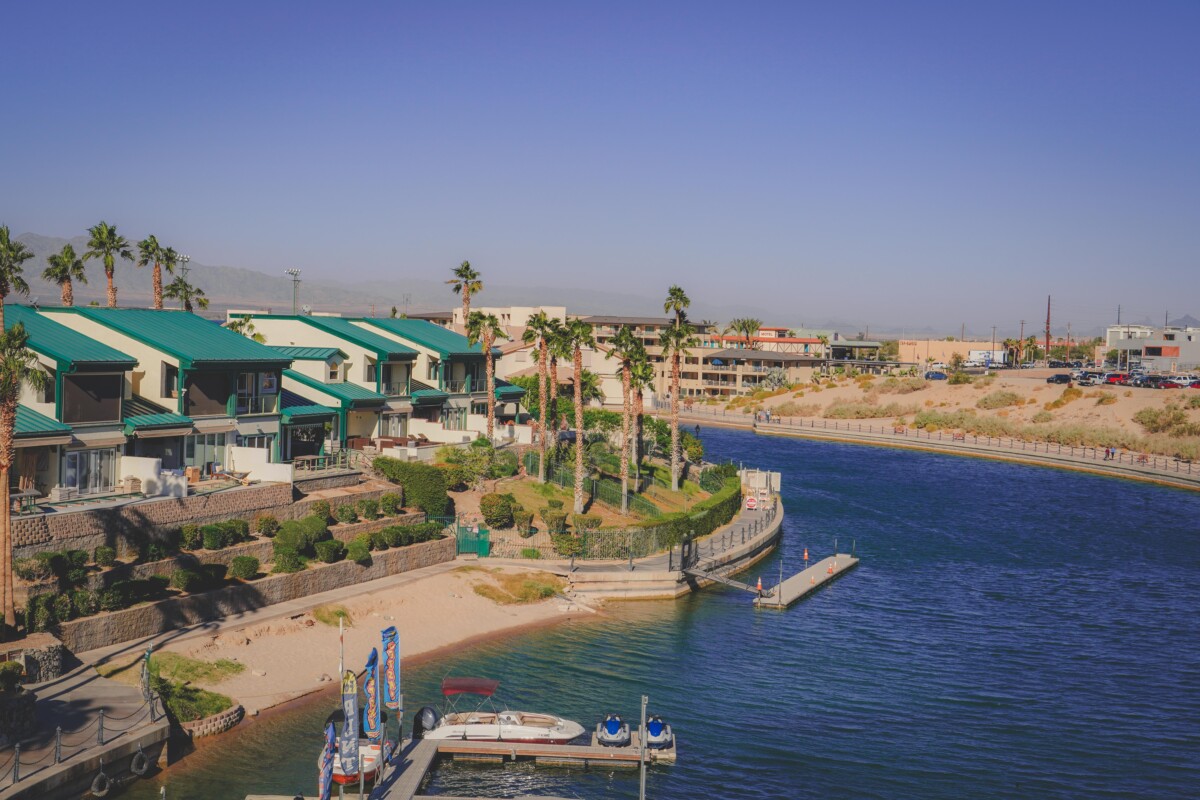 Today, Bridgewater Channel is where most of Lake Havasu's boats meander. It's a no-wake strip so expect to drift slowly along it, to inch past a shadowy arch, to lazily move towards a distant cuff of mountains.
Island Mall And Brewery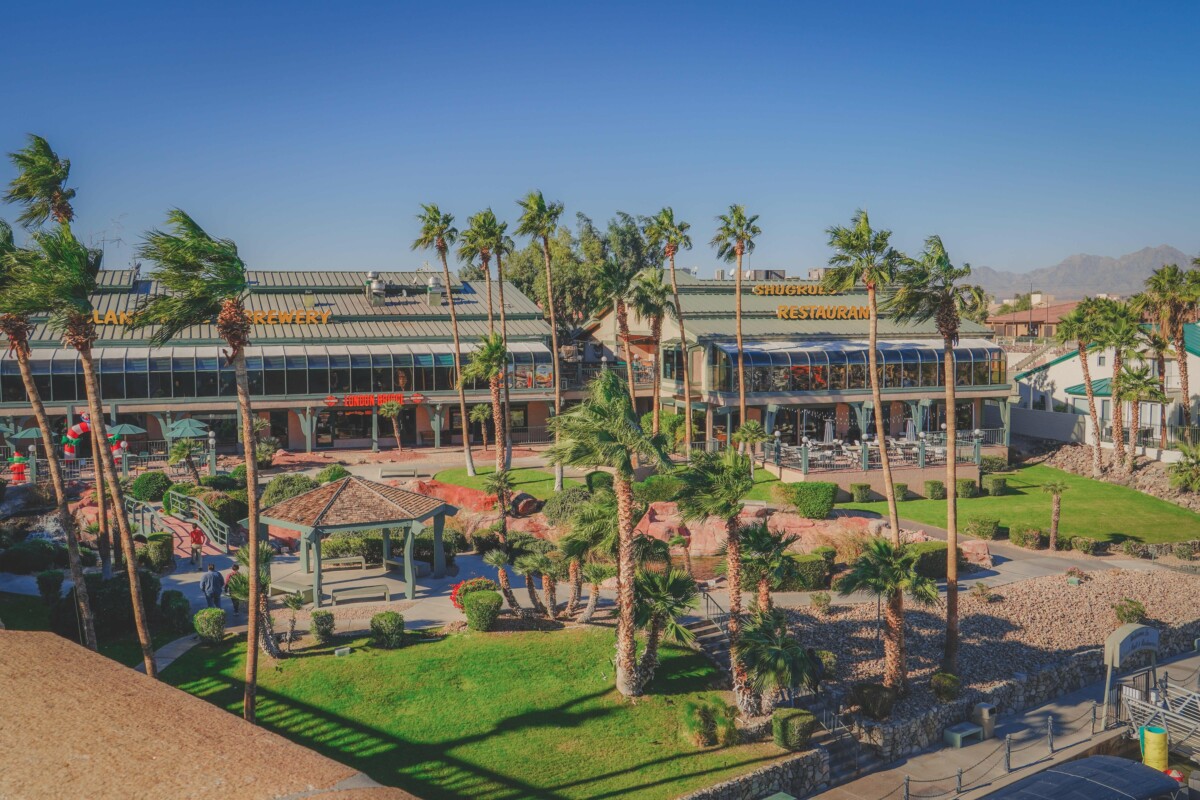 Island Mall And Brewery lies at one end of London Bridge. It's a closed-door shopping center, a hub of gifts and drinks. Most visitors come for the views from the patios, which overlook the channel.
But there's another reason to visit too. Descend down a tiny flight of stairs to an even tinier network of paths to see why. From this modest sidewalk strip, fencing the water's edge, Bridgewater Channel doesn't seem so still. Every small, wavy movement feels more tangible. You'll feel the gusts of wind in your hair. You'll hear the chirrup of birds swooping above. It's a quiet, scenic (albeit smoke-scented) spot.
Travel Tip: If you're looking to hit up a brewery in Lake Havasu City, head to Mudshark Brewery And Public House for growlers and pizza!
English Village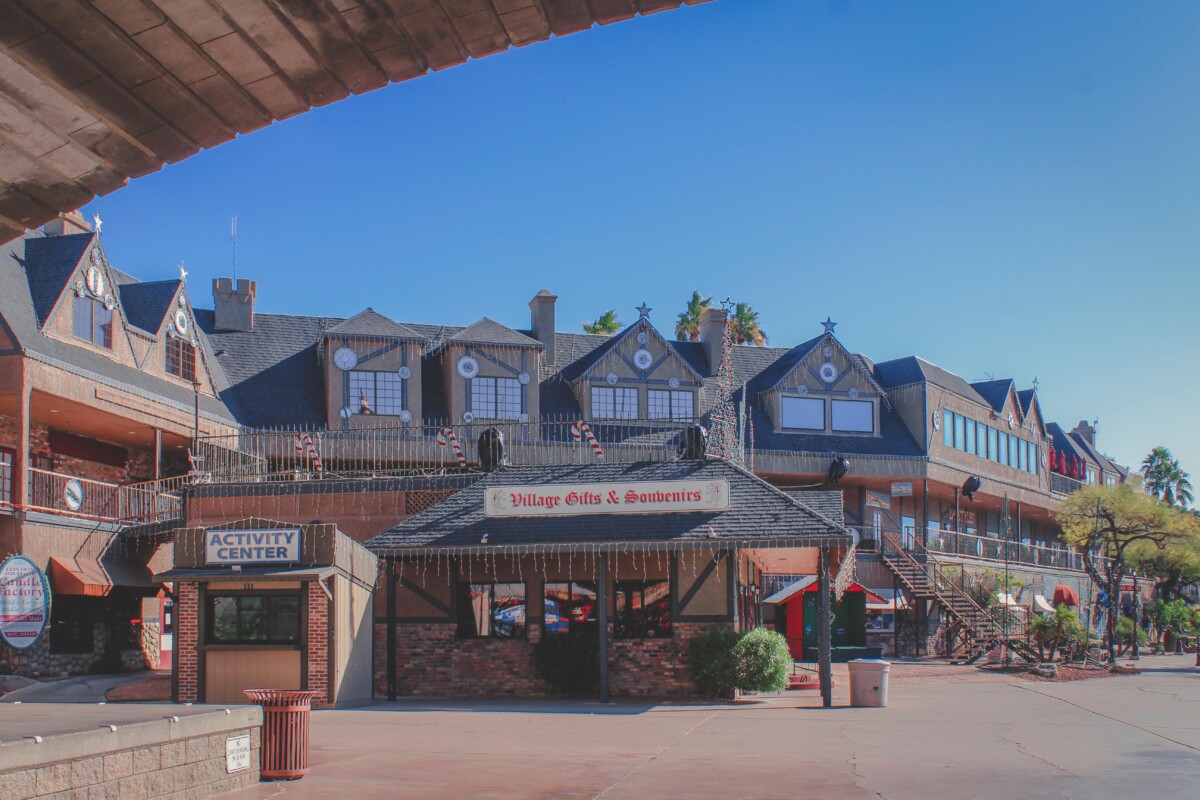 No list of things to do in Lake Havasu would be complete without mention of English Village, a charming cluster of shops right along the waterfront.
What English Village lacks in authenticity, it makes up for in charisma. Each of the inverse-V-roofed buildings is cute and kitschy. You'll stroll past a long line of gimmicky facades selling everything from t-shirts to ice-cold drinks.
Sure, the area is about as convincing as Selena Gomez's British accent in Monte Carlo (I love this movie by the way. It's one of my favorite rom-coms – don't judge me). English Village looks like an all-too Americanized, Epcot-rendition of the UK. But that's part of the fun.
Lake Havasu Memorial Walkway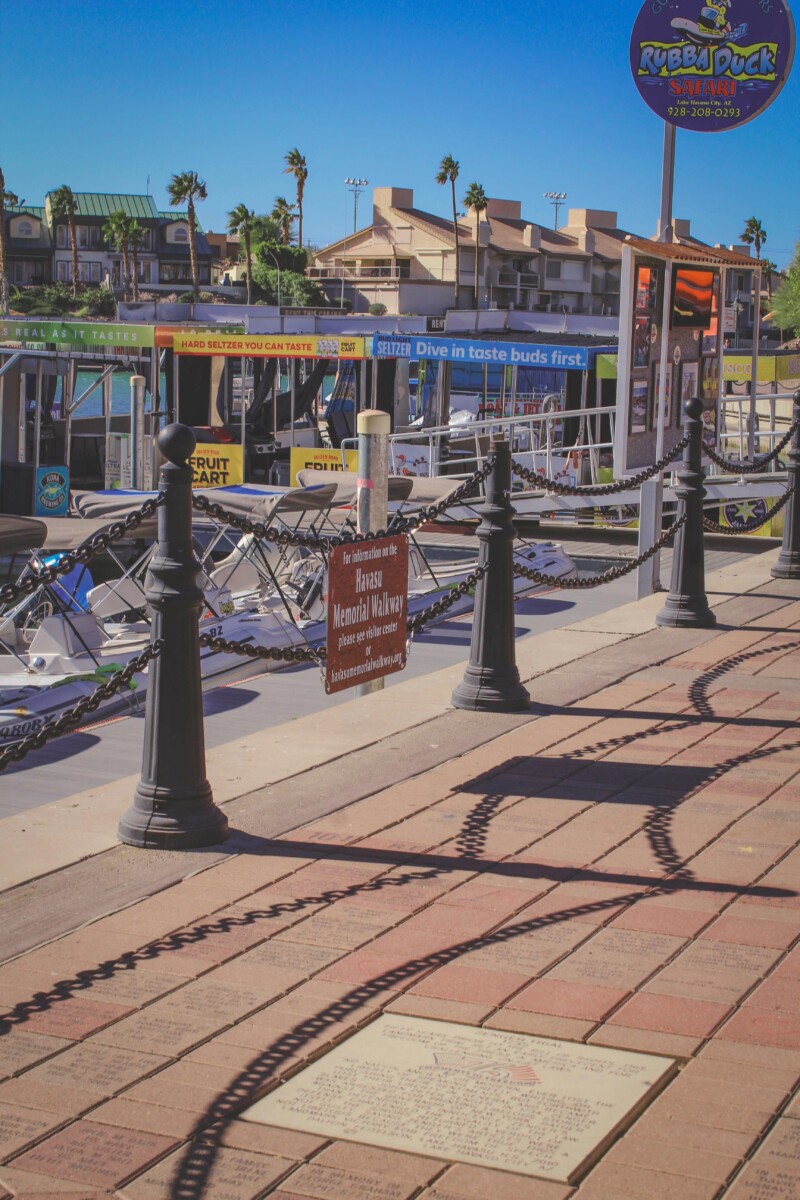 As I squat down to tie my shoes, I notice letters and words etched into the ground. Close to chains, cordoning off a sharp concrete drop-off, is Lake Havasu Memorial Walkway, a volunteer-run project, the brainchild of the Havasu Freedom Foundation. On each brick, shaping the path, is a name of a freedom fighter. Navajo Code Talkers. Healthcare workers. There are bigger blocks too. These sandy-colored squares detail larger histories: the Boston Tea Party, the Zenger Trial. Each one is a short and sweet student essay diving into a moment of freedom.
Go On A Guided Sunset Tour
Without a doubt, one of the best times to experience Lake Havasu is sunset. The sky is clementine-colored and so are the waters. Curves of clouds and crests of waves are copper-tinged.
You can enjoy the intensely orange landscape right from London Bridge or hop on a group tour. Sunset Charter Company is the business to know (you'll see long lines queued up outside its blue-peaked stand in English Village). The Sunset Experience is a long, lingering, intimate three-hour excursion featuring unparalleled, bucket-list-worthy views of Lake Havasu.
Lake Havasu Museum Of History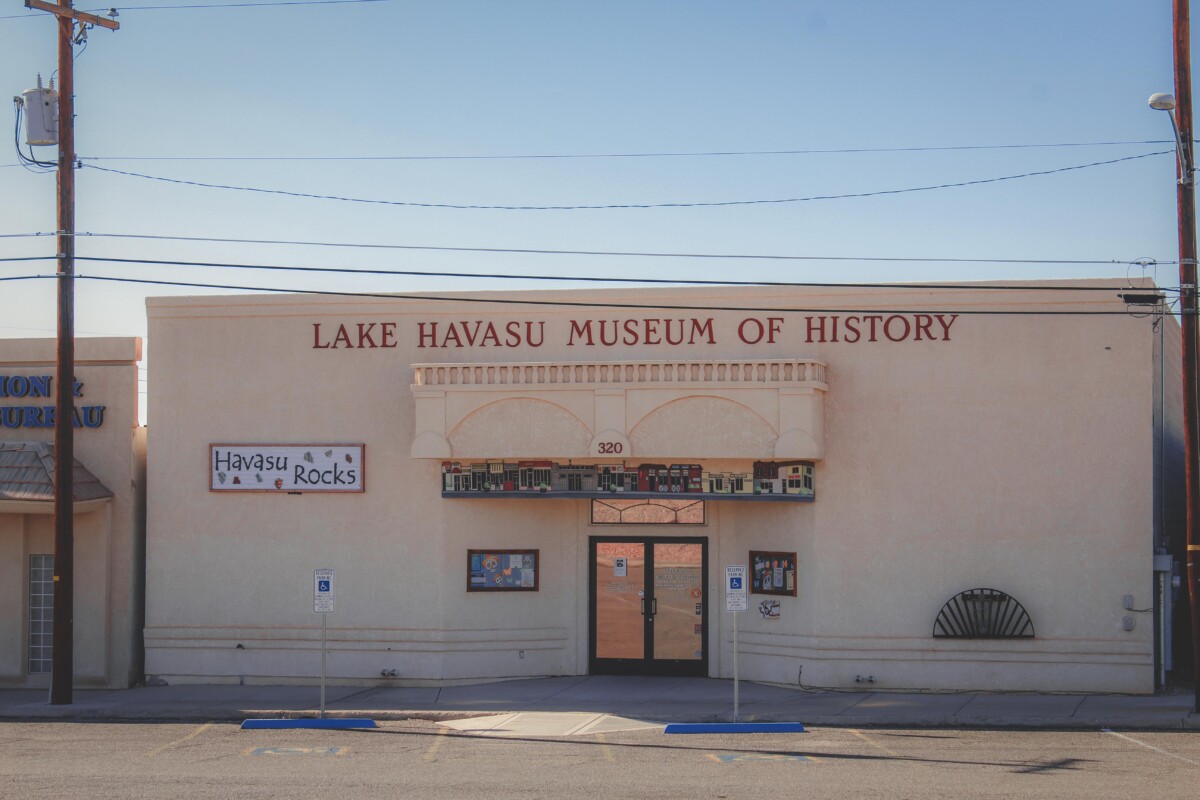 The history of Lake Havasu is a lot more complex and intricate than what I detailed above. Your guide will dig into all the fun details on your tour. But another way to learn about it is at the Lake Havasu Museum Of History.
A light mix of permanent and traveling exhibits, Lake Havasu's Museum Of History is small and packed. You'll learn about the McCulloch era and the bridge's journey to the Americas. You'll learn about pre-and-post London Bridge days. You'll learn about Havasu-area animals, wildflowers, and geology. There's more than just history on display.
The Nautical Beachfront Resort
The Nautical Beachfront Resort has one big claim to fame: it's Lake Havasu's only beachfront resort. A complex of patioed white buildings, The Nautical Beachfront Resort is one of the most popular places to stay during long, relaxing Lake Havasu getaways. It's small and private. And the strip of sand out front – twisted and tan – neatly lines the water. You'll see boats claiming the edge too, and a few more scattered past the banks.
London Bridge Beach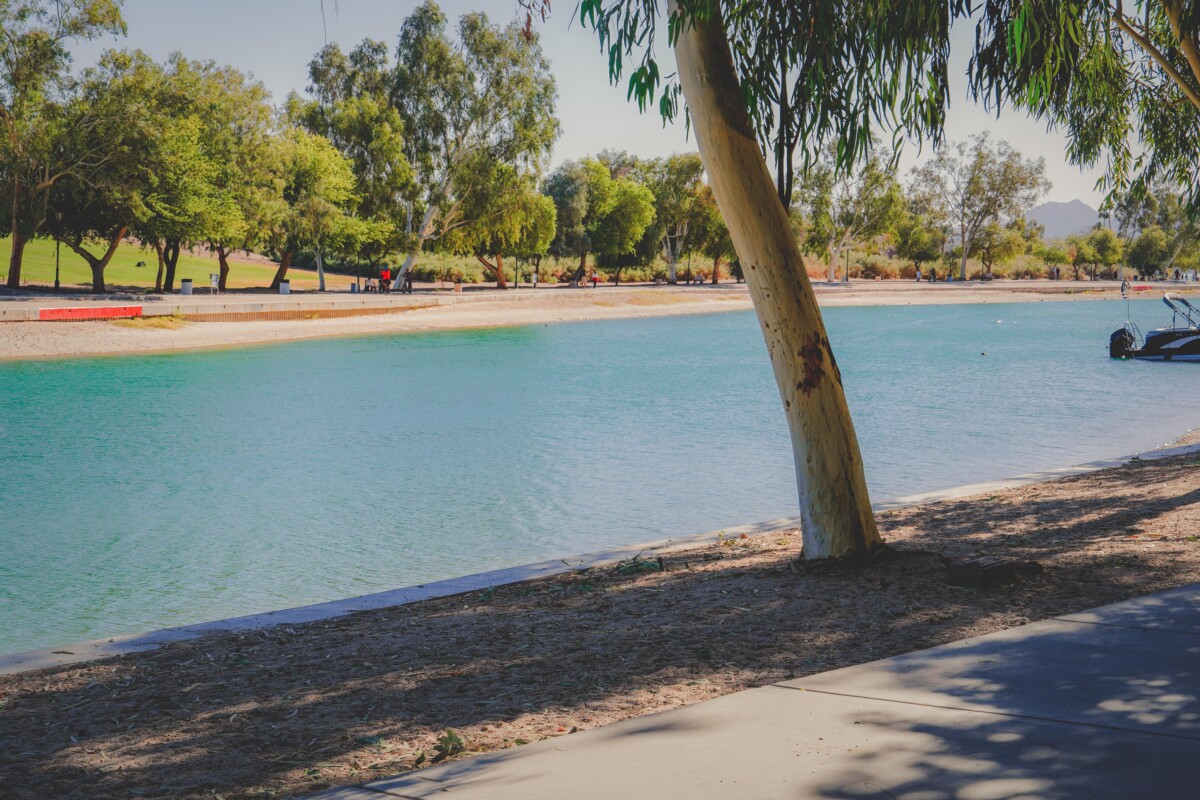 Alternatively, you could head straight to London Bridge Beach, one of the lesser-known (but still very much known) sights to see in Lake Havasu. A waterfront park, studded with lanky, angled palms and tough strands of sand, London Bridge Beach looks best in the cool eves of summer. If you have a pup, bring them here (for Lion's Dog Park especially, but the rest of London Bridge Beach is fair game too). And if you don't, there's still plenty to do: picnicking at one of the dozen ramadas, spiking a volleyball on the courts, dipping your feet in the buoyed swim area.
Water Sports Lake Havasu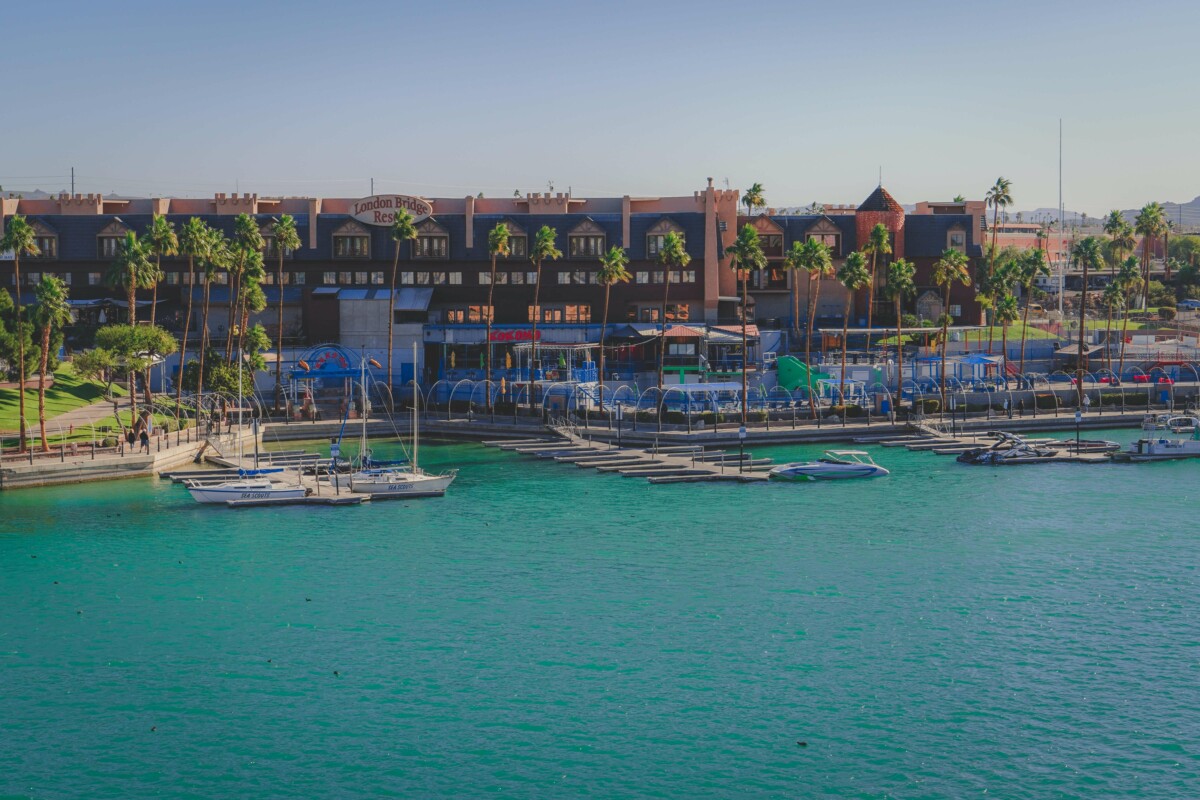 If you're a landlubber like me, you might (initially) feel a bit awkward and out of place in Lake Havasu City. There's a constant parade of boats. Everyone's out and about on the water.
But Lake Havasu doesn't let boat-envy develop or fester, so shake aside any fears of missing out. There are too many water sports rental spots in Lake Havasu for that.
Travel Tip: If you enjoy SCUBA diving, head to one of these stunning dive spots in Lake Havasu (Copper Canyon, Victoria Cliffs, Friendly Isle)!
Lake Havasu Balloon Festival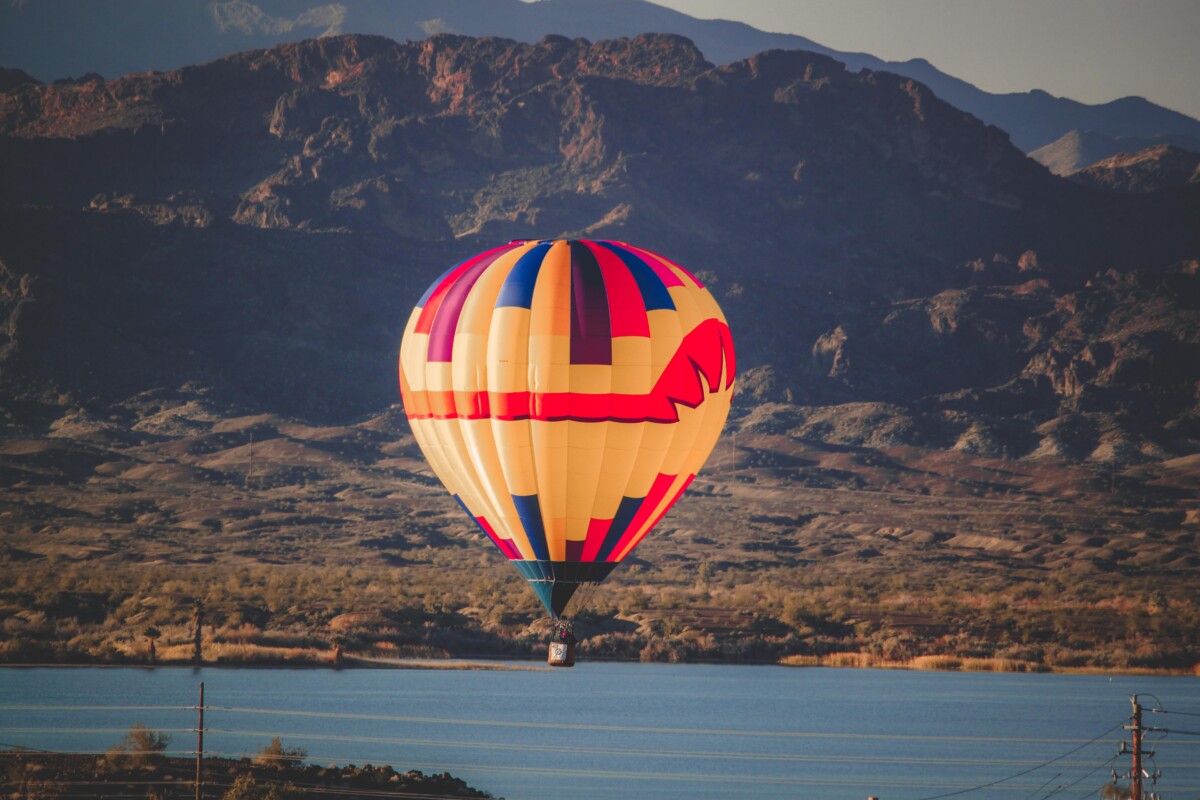 There's something otherworldly, ethereal even, about seeing tear-drop-shaped hot air balloons suspended in the sky. Lake Havasu City knows that. So every year, the city hosts Havasu Balloon Festival, a magical covey of hot air balloons floating up-up-up in the sky. The balloons dip down too, just enough to peck the water's surface. Then, they glide away, dreamily drifting past a rugged, blue-tinted landscape. Arrive early, well-before noon, and claim a spot near London Bridge for the best views.
Tour The Lighthouses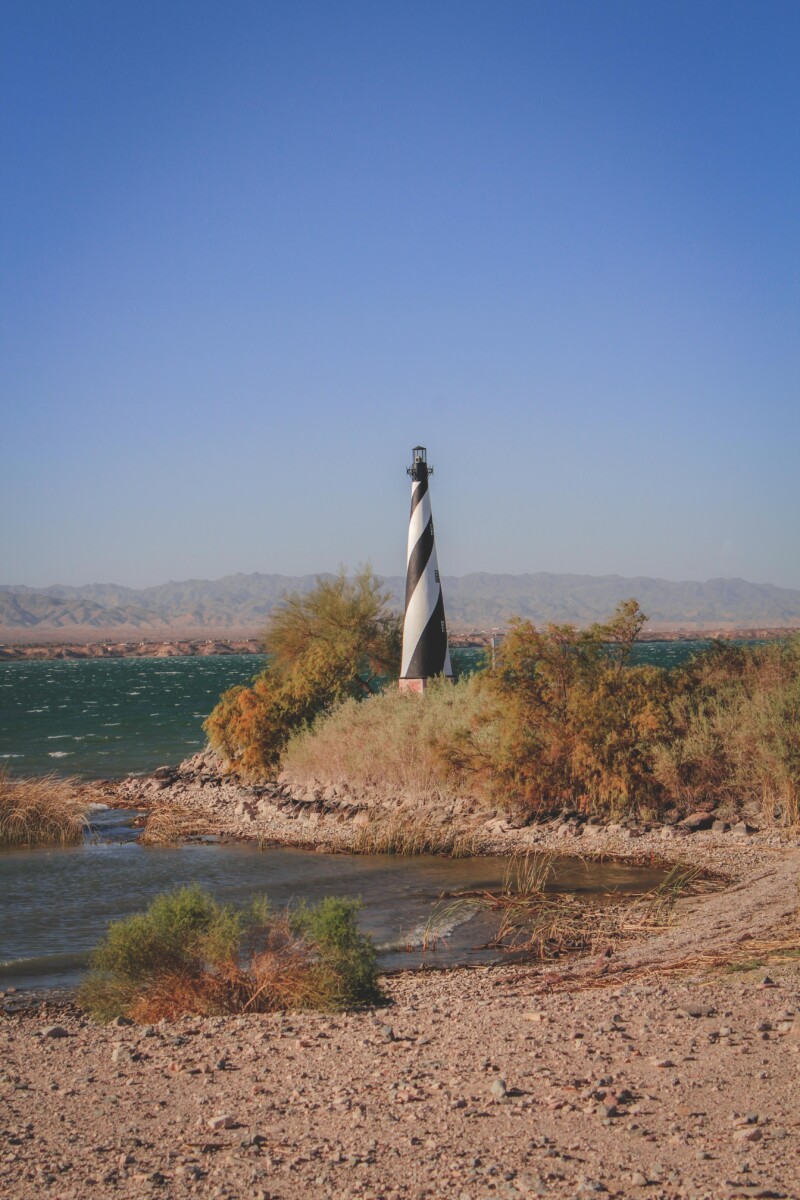 One of the most underrated things to do in Lake Havasu City is a self-guided lighthouse tour. You'll find mini lighthouses hidden all around Lake Havasu's long-stretching, expansive shoreline. Each beacon-topped building is modeled after a larger, more iconic lighthouse in the U.S. (Chicago Harbor, Cape Henry, White Shoal to name a few). And with over twenty lighthouse replicas peppered around town, you'll need to walk and hike and boat to see them all.
Don't feel pressured to commit to a full-length lighthouse hunt. After all, Lake Havasu has more lighthouses than any other city in the United States. This is the kind of activity best done in small spurts – seeing a lighthouse here-and-there upon each visit. Take your time with the map (I'll link it here) and pick a few you want to snap a photo with.
Rotary Community Park
There are lots of reasons to love Rotary Community Park. It's huge. It's free to visit. It has some of the best sunset views of Lake Havasu. When London Bridge Beach is too crowded, Rotary Community Park is where you'll want to go for a bit of peace and quiet. It's an equally big swath of green, right on the opposite side of Bridgewater Channel. There are volleyball courts and picnic areas and playgrounds scattered over forty acres. And if you're looking for a place to stretch your legs, head straight to Shoreline Trail, a multi-mile path skirting Lake Havasu's shores.
See The Street Art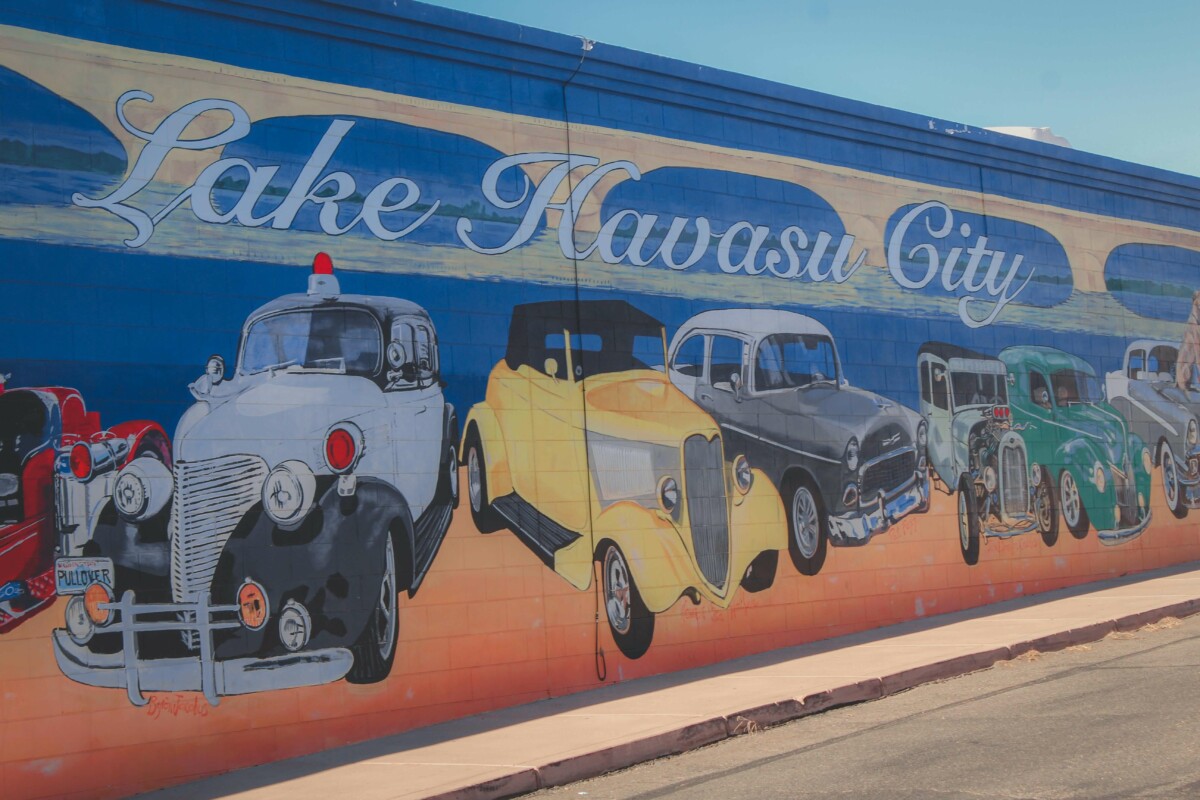 Murals cover big, bare walls in Lake Havasu. Where you expect to find flat strides of beige and brown and gray are a frenzy of scenes: classic cars, slim color blocks, desert gardens. The street art of Lake Havasu brightens up the town. Drive through McCulloch Boulevard for a taste of Lake Havasu's art scene. And if you're looking for more, follow this guide.
Havasu State Park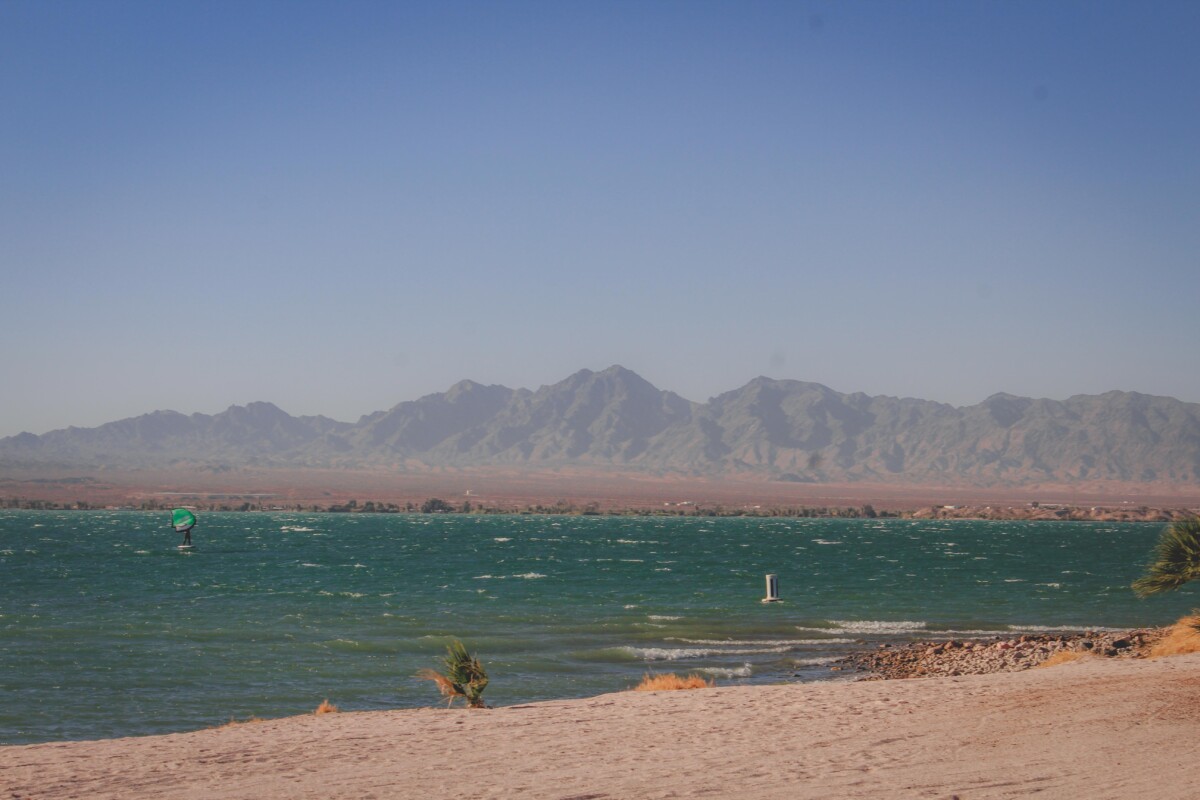 Strong, fat gusts of wind swarm through Havasu State Park. I fight my way to the edge of the water. Oh-my-goodness. That view. This view. The water is sharp and teal. It's bright and shimmery under the pale blue of the sky. Someone – a willowy girl with a loose mom-bun – is kitesurfing (though I'm not quite sure how given the weather). She looks effortlessly chic. I picture myself kitesurfing, but I can't. Even in my head, I can only see my hands flailing under the white crests of the waves.
Lake Havasu State Park is undoubtedly picturesque. Even on bad weather days, this plot remains one of the best recreation areas in Lake Havasu City. The park lays claim to almost a thousand acres of land, on top of which you'll find campsites and cabins and an interpretative garden. The best part, perhaps, is Mohave Sunset Trail, which traces through lowlands and shoreline. Mohave Sunset Trail starts outside the park (at London Bridge, near English Village) but eventually weaves into the day-use area. Like many of the best ground-level attractions in Lake Havasu, it's a place to walk, walk, and then walk some more.
SARA Park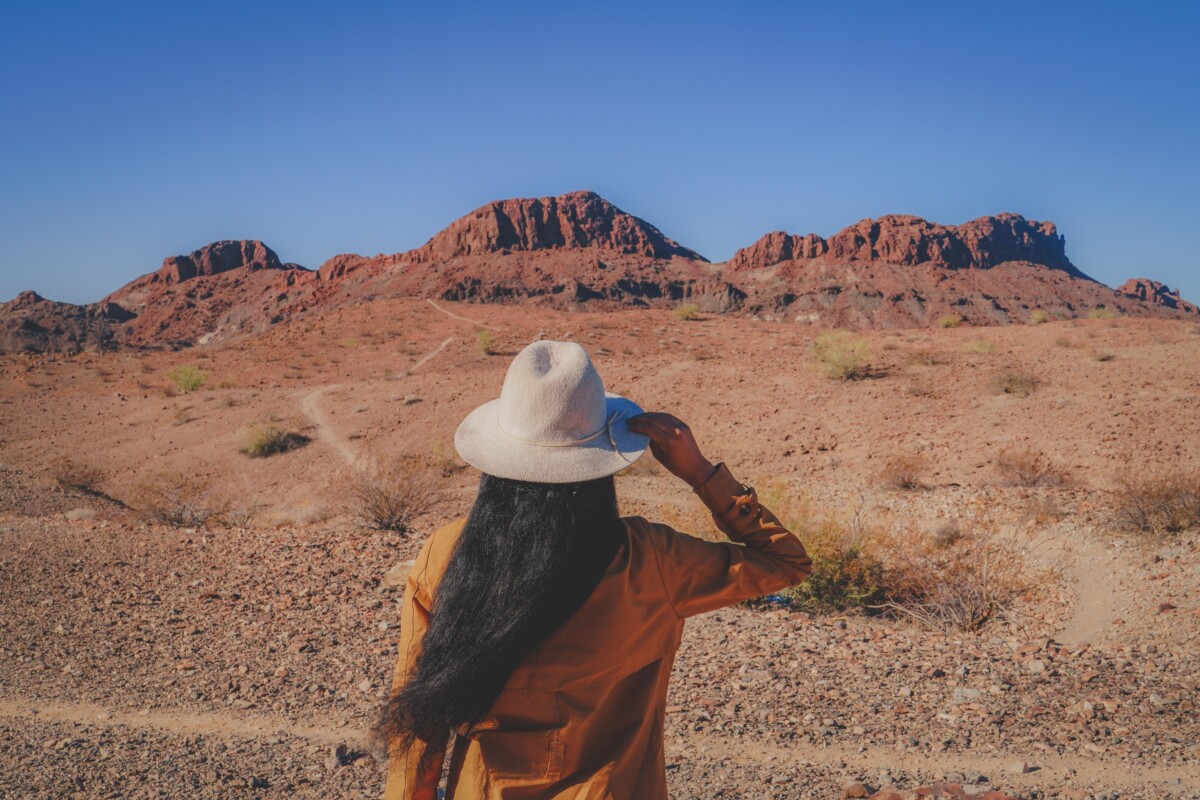 In the heat of summer, SARA Park feels like too much. But in the fall, the crisp mountain air feels just right. As you hike SARA Mountain Park Loop Trail (and it really is a hike, the kind that will leave you scrambling and breathless), you'll be face-forward with the mountains. They're all a deep, dark, dusty brown with thick scars tracing down their sides.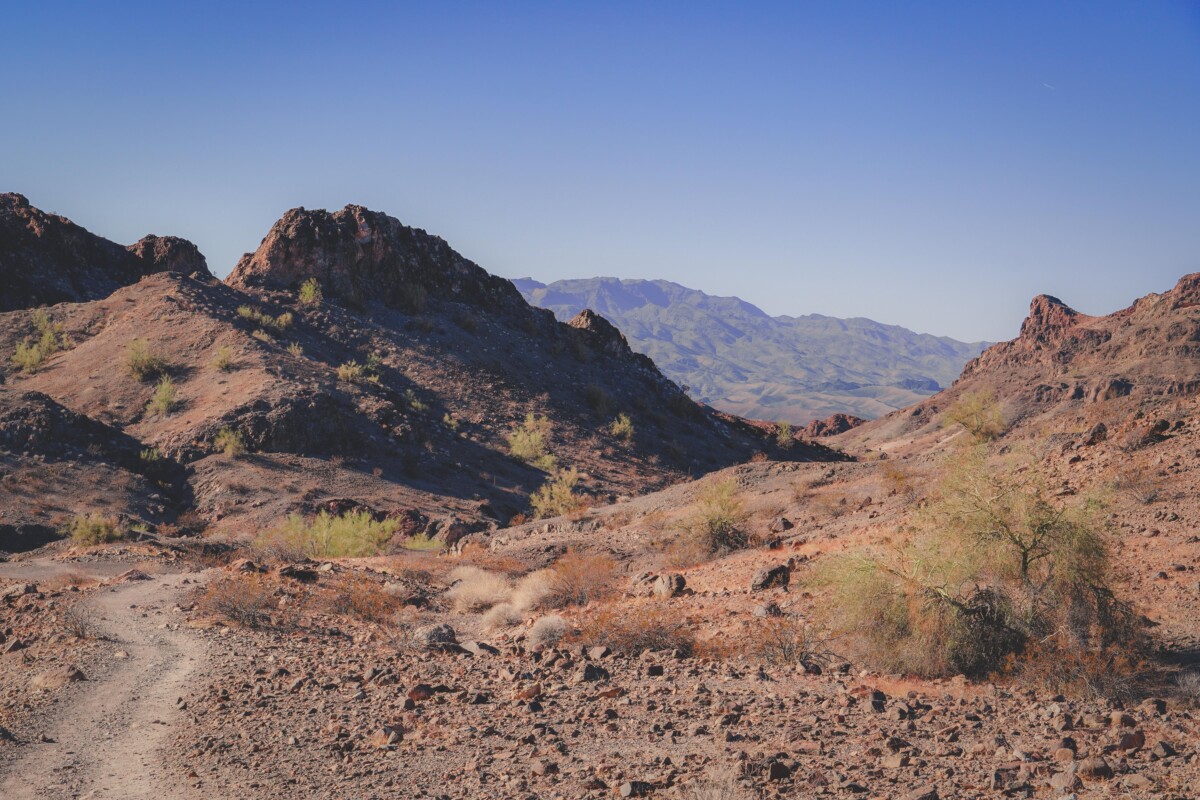 The views are incredible, unabashedly direct. After seeing rough peaks from afar for so long, it feels strange to be down in the wash. Stick to the hairline trail (you can find detailed directions here). It's longer than it looks, tougher than it seems, and shorter than it feels.
The Desert Bar
For the longest time, The Desert Bar felt like a mythical place. It's often touted as one of the most elusive things to do near Lake Havasu City (the watering hole, itself, is located in nearby Parker, Arizona). I get that: The Desert Bar is out-of-the-way, open only for a few hours on the weekends, open only for a few weekends of the year. You have to cross a rough, rugged road en route. Your car's wheels will be slicked in dust, the windows splattered with dirt. By the time you arrive, you'll feel like you've done something incredibly cool and one-of-a-kind, something that no tourist has ever done before (and then you'll see tables crowded by tourists with the same smug expression – ah, well).
Go for the atmosphere. Visitors are friendly. Food (cash-only, bring a twenty at least) is decent. Drinks are available. Pop open a bottle and sink into one of the chairs. Listen to the live music. Chat for a bit. Repeat.
Travel Tip: If you do not have a vehicle for off-roading, I would not recommend making the trek out to The Desert Bar. If you have a Jeep, truck, or an ATV, go for it!
Cattail Cove State Park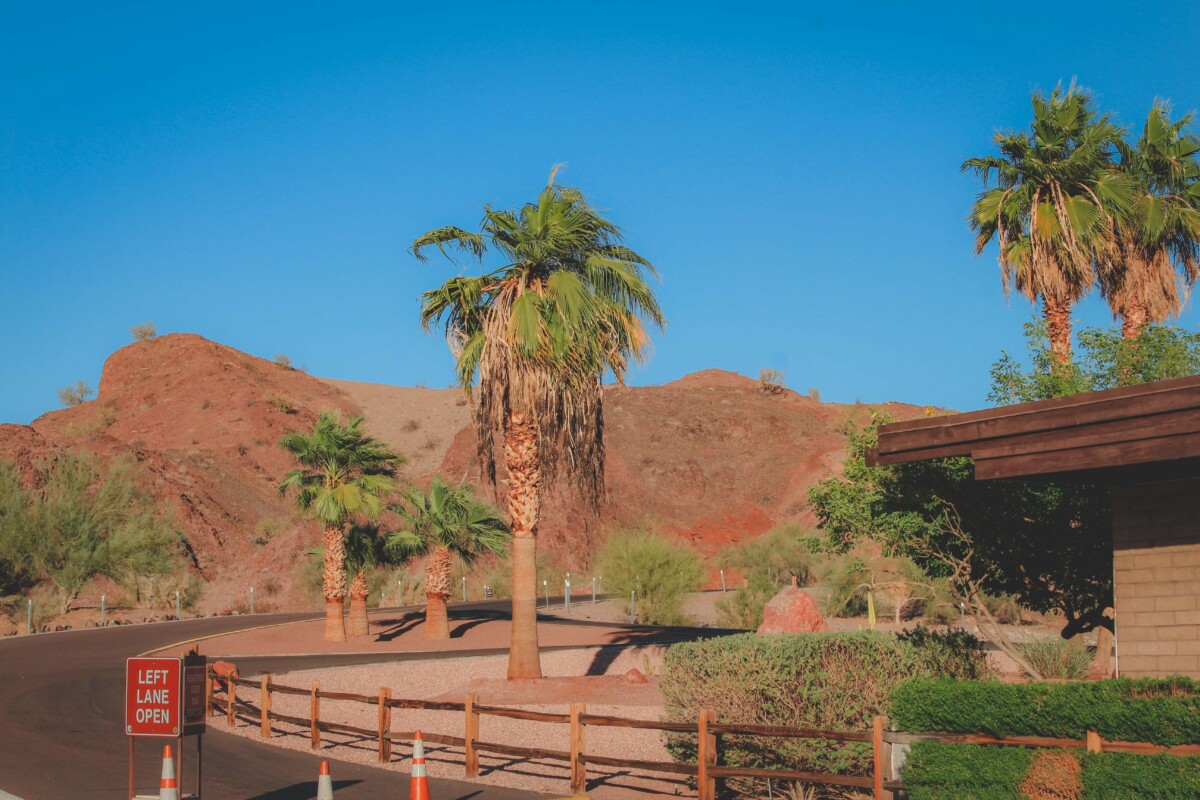 Right on the shores of Lake Havasu is Cattail Cove State Park, a lovely 2000-acre recreation area perfect for those craving a bit more physical activity. There are tough (but short) trails that force you to sweat: Ripley's Run, Wayne's Way, Ted's Trail. There's a designated swimming area if you plan to meet the water head-on. There are stand-up BBQ grills and places to relax and fish too (fishing license needed). At Cattail Cove State Park, many of the best things to do in Lake Havasu lie right at your fingertips.
River Island State Park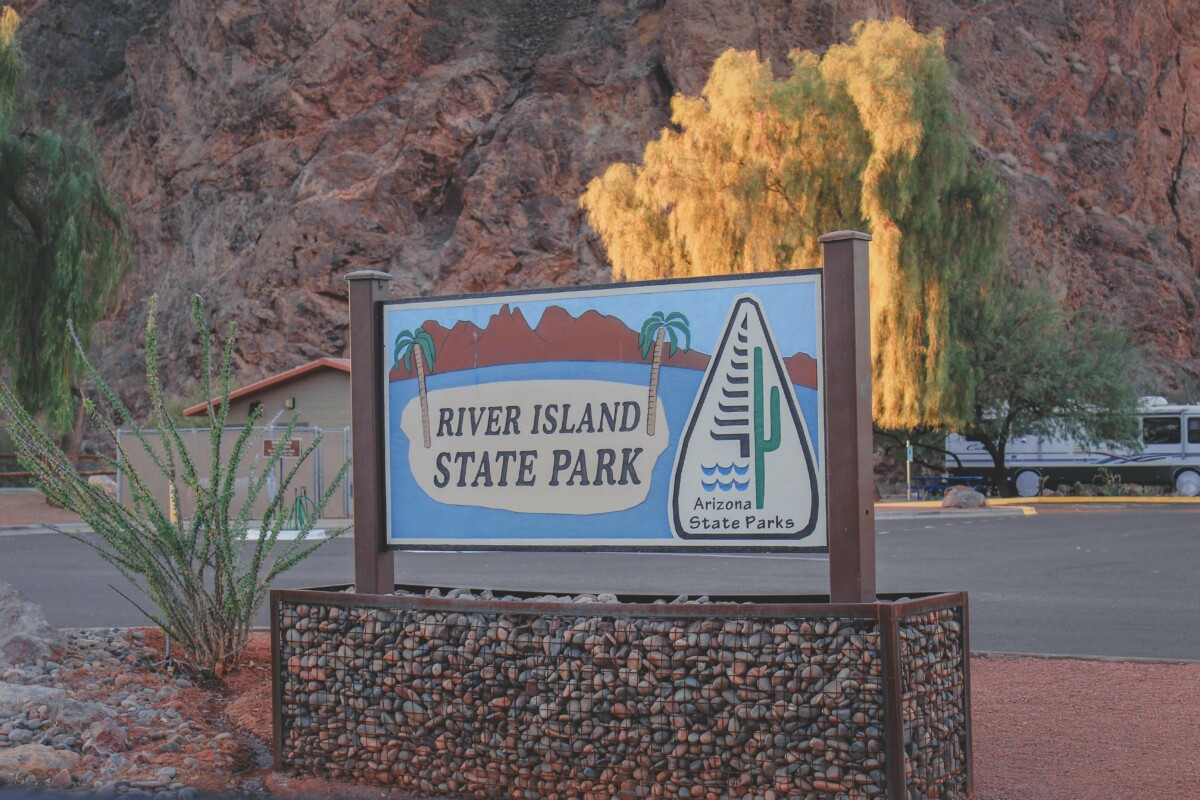 Around Lake Havasu, a few hours here and there, you'll notice sign after sign for state park after state park. River Island is one such case.
River Island State Park is well-loved by campers and RVers. There are over 30 campsites, eight of which offer a beachfront view. If you want to dip your feet in the water, go right ahead. In the drenching heat of Arizona summers, River Island State Park stands tall as one of the most popular swimming spots in Northern Arizona.
My top tip? Don't leave without attempting Wedge Hill Trail. It's half-a-mile, moderately uphill, and leads to sweeping views. From up top, you can see the glassy blue waters of the Colorado River snaking through tawny lands.
Buckskin Mountain State Park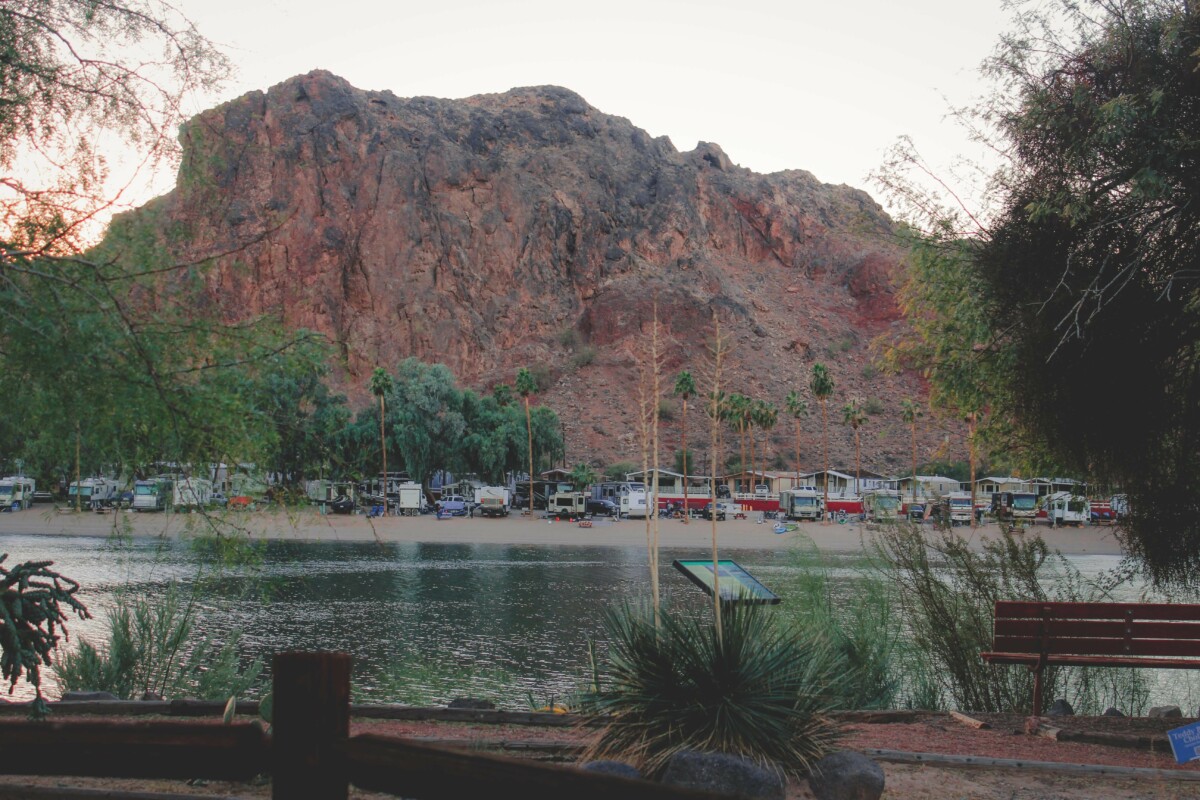 Thirty minutes from Lake Havasu City is Buckskin Mountain State Park, a stunning desert oasis and hiker's paradise. There are a handful of trails to follow, ones that trace past desert wildflowers in the spring and ones that trace through history year-round. At times, you'll pass by abandoned copper mines and at times, you'll pass by nothing at all. In certain moments, Buckskin's paths feel overwhelmingly beautiful and in others, the paths feel lonely and desolate. Of course, there's more than just hiking (though that's the main draw). You'll still find the usual list of things to do near Lake Havasu: boating, swimming, fishing.
Havasu National Wildlife Refuge
It took me a while to get into birdwatching. I'm still not sure if it's for me. Although patience is not my virtue, I would be remiss not to mention Havasu National Wildlife Refuge, a popular "birding hotspot" according to the U.S. Fish & Wildlife Service.
Havasu National Wildlife Refuge is for serious birders. It's magnificently big (30000-plus acres) and home to thick brushstrokes of shrubs and winter-vacationing migratory birds. There are harder-to-stumble-upon endangered species too: Willow Flycatchers, Yuma Clapper Rails. Depending on the season, you might see birds, you might not (your best bet lies at Pintail Slough and North Dike). You might just hear a tweet, a trill, and if you're lucky enough, a cac-cac-cac-cac. You'll look around confused and wonder where is that sound coming from? Where? Even though over 300 species confide in Havasu National Wildlife Refuge, this primitive, nature-first, riparian stretch still feels like a strongly clenched secret.
Bill Williams River National Wildlife Refuge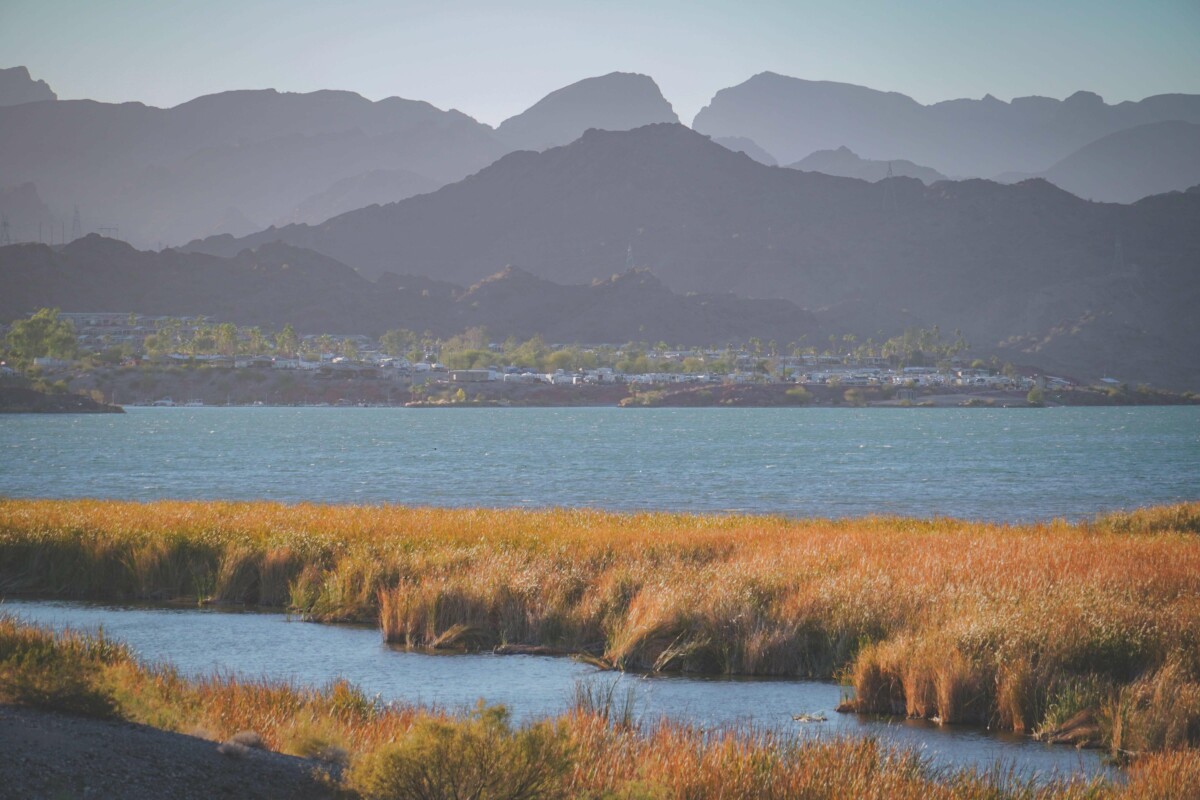 Once upon a time, almost thirty-odd years ago, a chunk of Havasu National Wildlife Refuge became Bill Williams River National Wildlife Refuge. You can see a fragment of Bill Williams River National Wildlife Refuge whilst driving from Lake Havasu City to Buckskin Mountain State Park. There are scenic overlooks, little fringes off the road where you can get out and see bright teal waters, mats of green and orange petering over the edge, and shadowy mountains jutting up-and-out beyond. The official entrance to the park is further away, a forty-minute drive from Lake Havasu City, past the photogenic throws of Bill Williams Memorial Bridge, into the depths of wildlife dense lands.
Shopping In Lake Havasu, Arizona
The best places to shop in Lake Havasu are dotted right along the Downtown District, Island Mall, and the waterfront shops at London Bridge.
Here's where to shop in Lake Havasu:
Desert Rose Gift & Interiors: (a tad pricey) gift shop with eclectic finds
Chic Again: consignment shop with lots of cute tops and dresses
Our Place: a little shop with a lot of metalwork decor
Q Art Gallery: local, Arizona-themed art up-for-sale
Where To Eat In Lake Havasu, Arizona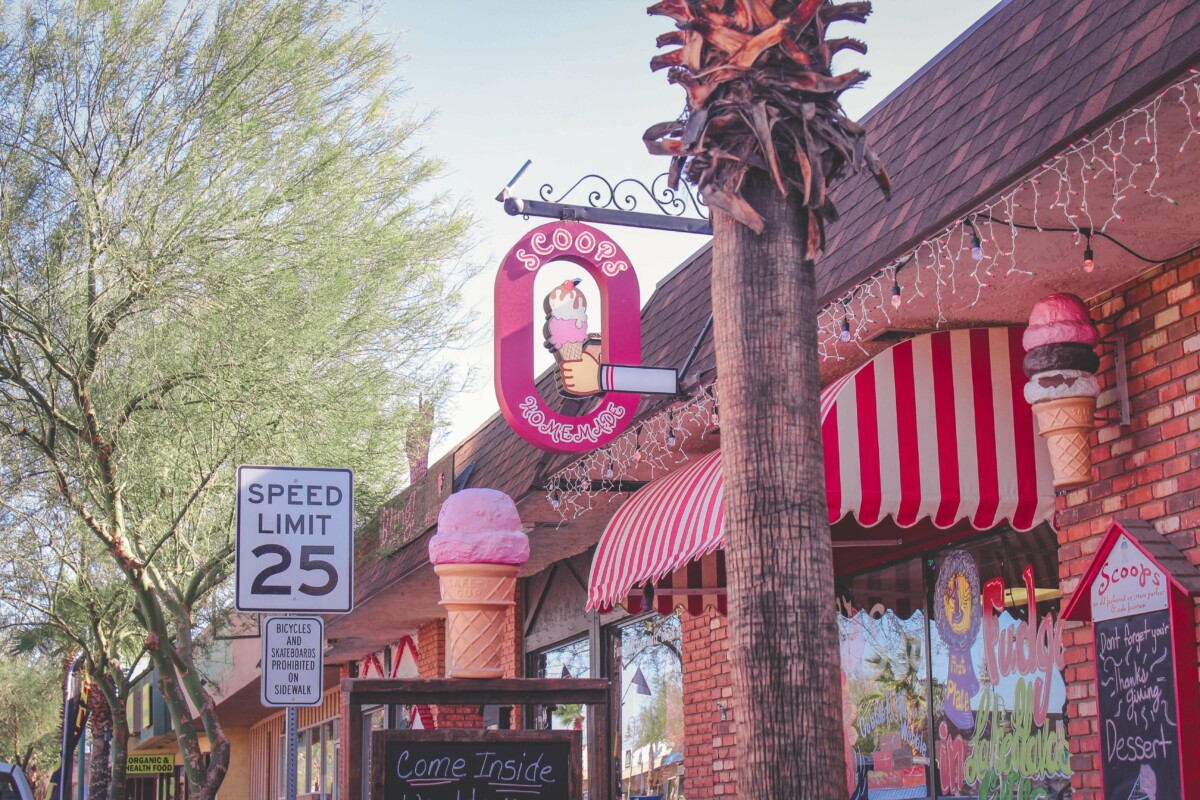 Our Top Pick – Shugrue's
Shugrue's is old Lake Havasu. Go here to close out your trip, to take in one final sunset right before you leave, to clink your glass against the backdrop of London Bridge. This Lake Havasu restaurant is all about the views. Although Shugrue's isn't known for its food, there are good picks off the menu: tender but crisp calamari, filet mignon. The food isn't bad; it just isn't as memorable as the iconic, postcard scene of Lake Havasu right outside.
Other Lake Havasu Favorites:
Street Side Coffee Company: with indoor-and-patio seating, Street Side Coffee Company is one of the best places to chat with friends and sip a cup of joe. It's a low-key, independent coffeehouse with a warm, inviting atmosphere.
Scoops: kid-friendly and date-night friendly, Scoops is a charming ice-creamery serving nostalgia in a Neopolitan-striped parlor
Cha Bones: go for happy hour, seven days a week from 3 PM to 6 PM