things to do in New Milford, Connecticut
Spring hadn't yet abandoned the nakedness of winter, so New Milford's trees were still bare. You could see right through them (to more trees and then more trees). The road was damp and cold from rain, passing fences slick with water, farms grassed in amber hues, and barns painted apple-red. Furry livestock with coats grown out to 18th-century women's hair proportions roved acred-pastures.
Sound was scarce in New Milford's town green, just the click-click of turn signals as cars moved past Bank Street boutiques to a new boundary of businesses on Main. On a cool-breezed weekday morning, you could easily smile, meet, and greet everyone who strolled the pavement. So, I did. I asked for New Milford recommendations and got so many I loved.
Here are ten charming things to do in New Milford, Connecticut.
New Milford, Connecticut Travel Guide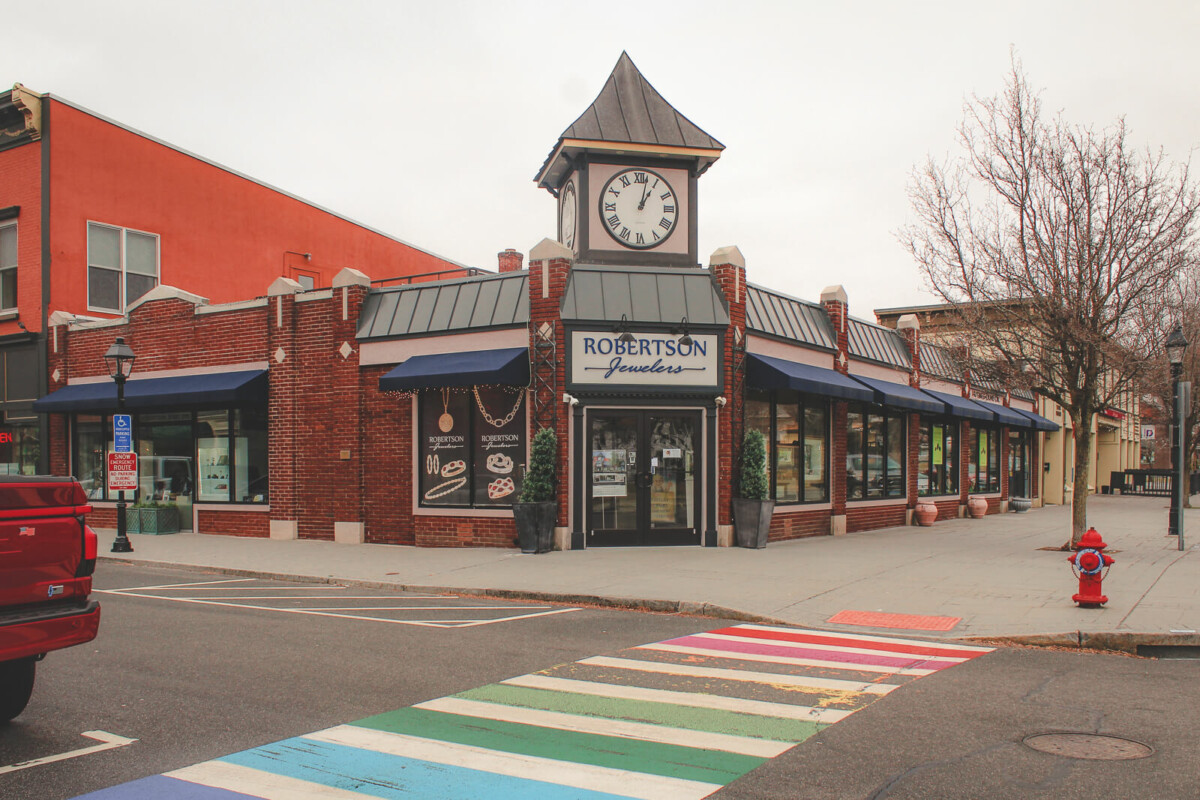 About
Not to be confused with the coastal city of Milford, New Milford has all the appeal of Connecticut's countryside. A farm village (with a population of less than 7000) wrapped in thickets of trees, New Milford is lush from its proximity to the Housatonic River, a 149-mile-long blue vein visible in stretches of southwestern New England.
The town bustles more after dark than in the day. But nightlife caps early and is what you'd expect from a Connecticut suburb. Dressed-up couples settle into open spots at authentically Italian Lucia Ristorante. Friend groups press into the chilled atmosphere of Housatonic River Brewing, a 21-plus-only beer garden where live music accompanies hops. Art lovers nestle into the carved seats of TheatreWorks and watch smartly-directed productions. There's a tiny dose of something here for everyone.
How Long Do You Need In New Milford?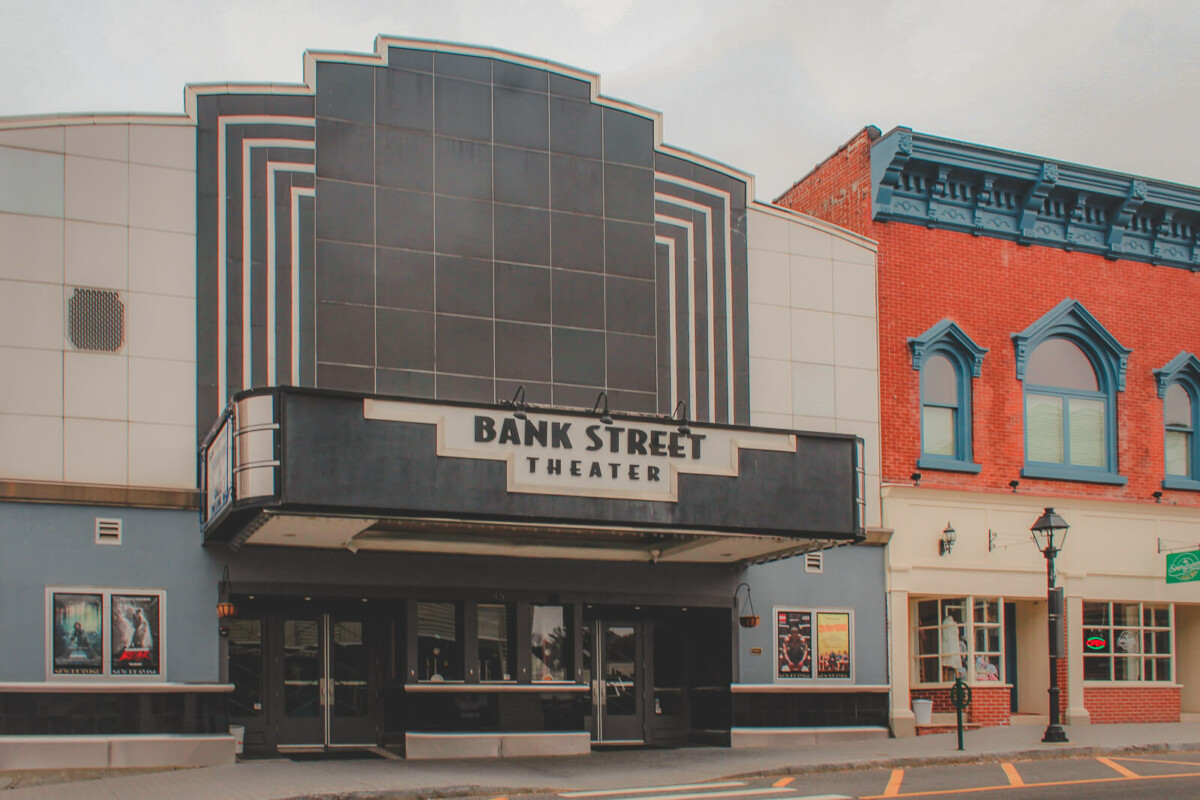 Litchfield County's cluster of boroughs (Washington Depot, Kent, Bantam, New Preston) makes for a cozy, restful weekend getaway. If you're not placing New Milford within a longer Litchfield County itinerary, consider this destination a quick day trip from New Haven or Hartford. In less than 24 hours, you can glimpse Lovers Leap State Park, drive along New Milford's Barn Quilt Trail, grab dinner near the Town Green, and see a show at TheatreWorks.
Where To Eat
I loved the food in New Milford; everything I tried was simple and memorable. New Milford is a place of family food. Dishes are meant to be hearty and comforting and feel-good. But they also delight in poking the safety net catching Connecticut cuisine. My top picks? Yoko Kitchen's savory ramen and pillowy duck buns, Momma's Tacos hot and tender Al Pastor, and Good Eat's fillings-piled-high jalapeño jam burger.
Is New Milford Worth Visiting?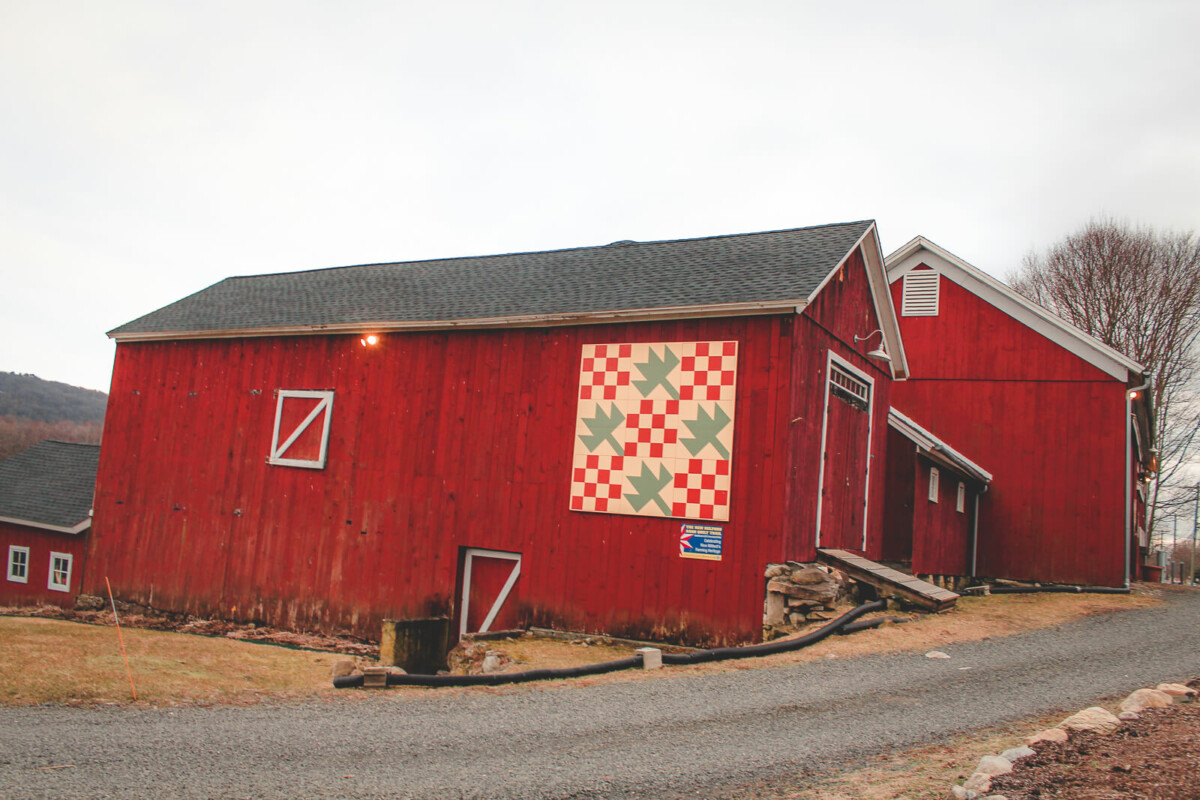 Litchfield County has that cottagecore charm: scenic drives, pastoral photo-ops, quaint village walks. It's a destination loved by in-the-know New Yorkers, and I can see why. If you enjoy small-town American escapes and crave a sense of stillness and serenity, New Milford is worth adding to your Litchfield County itinerary.
Things To Do In New Milford, Connecticut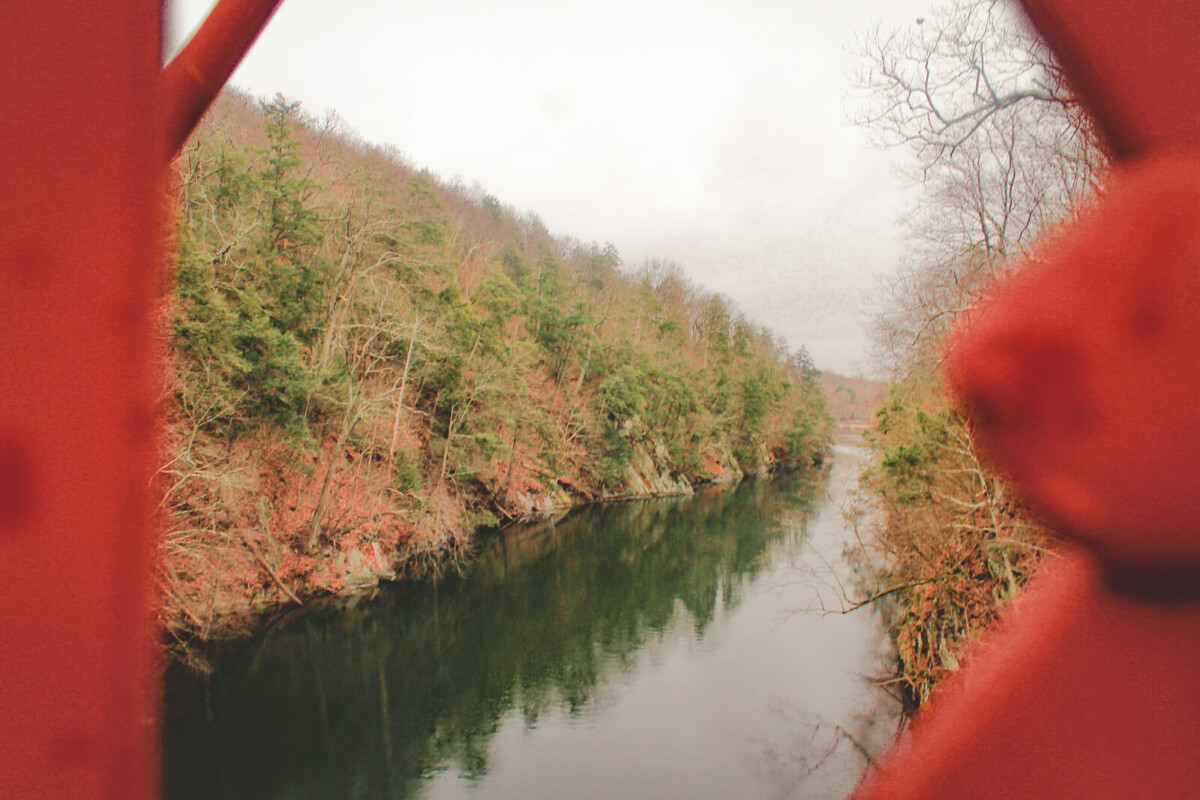 The last place I saw in New Milford (it should have been the first) was Lovers Leap State Park. We drove to a small parking lot; cars, trucks, and a yellow school bus slotted between snow-dusted white lines.
The walk to the bridge was short. It curved past wayside exhibits dense with information. Plaques, margined with snippets of history and black-and-white photos, shared more than the myths and stories for which Lovers Leap took its name.
Lovers Leap State Park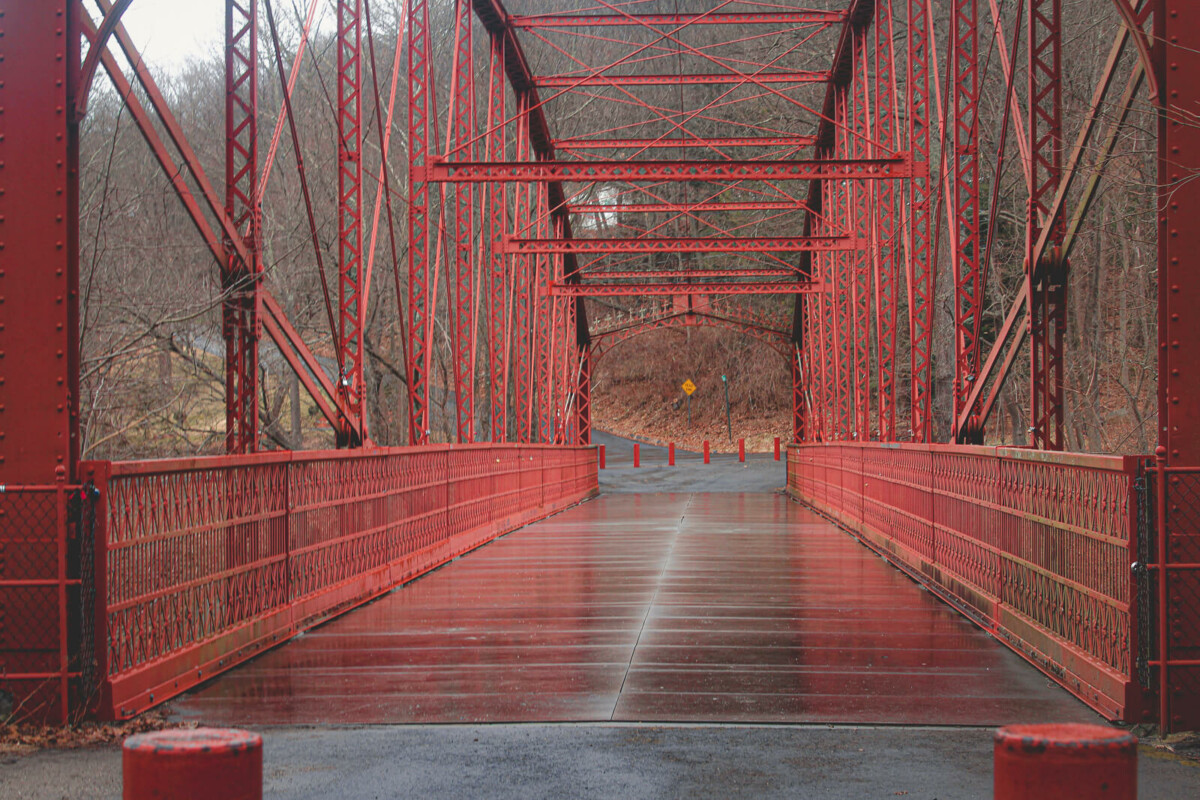 Built in the late 19th century by Berlin Bridge Company (most well-known for their parabolic designs), Lovers Leap State Park's cherry red wrought iron truss halts above the Housatonic River. Lovelocks clasp blink-and-you'll-miss-it sections of the rails. This picturesque walkway, short as it might seem, is one of the main sights to see in New Milford.
The paths that fork behind are tight between poison-ivy flecked bark. Crumbled trees scrape the ground, so you'll need to navigate over them. Detour a little on Tea House Trail and Castle Loop (they intersect), and you'll see peeks of ruins.
While there are enough inclines for a good workout, I felt like the views weren't worth a sludgy winter effort. If I could go back in time, I'd do the following: visit Lovers Leap State Park at the tail end of spring (or early summer) when shades of green dress branches, and use the official park map in addition to All Trails.
Barn Quilt Trail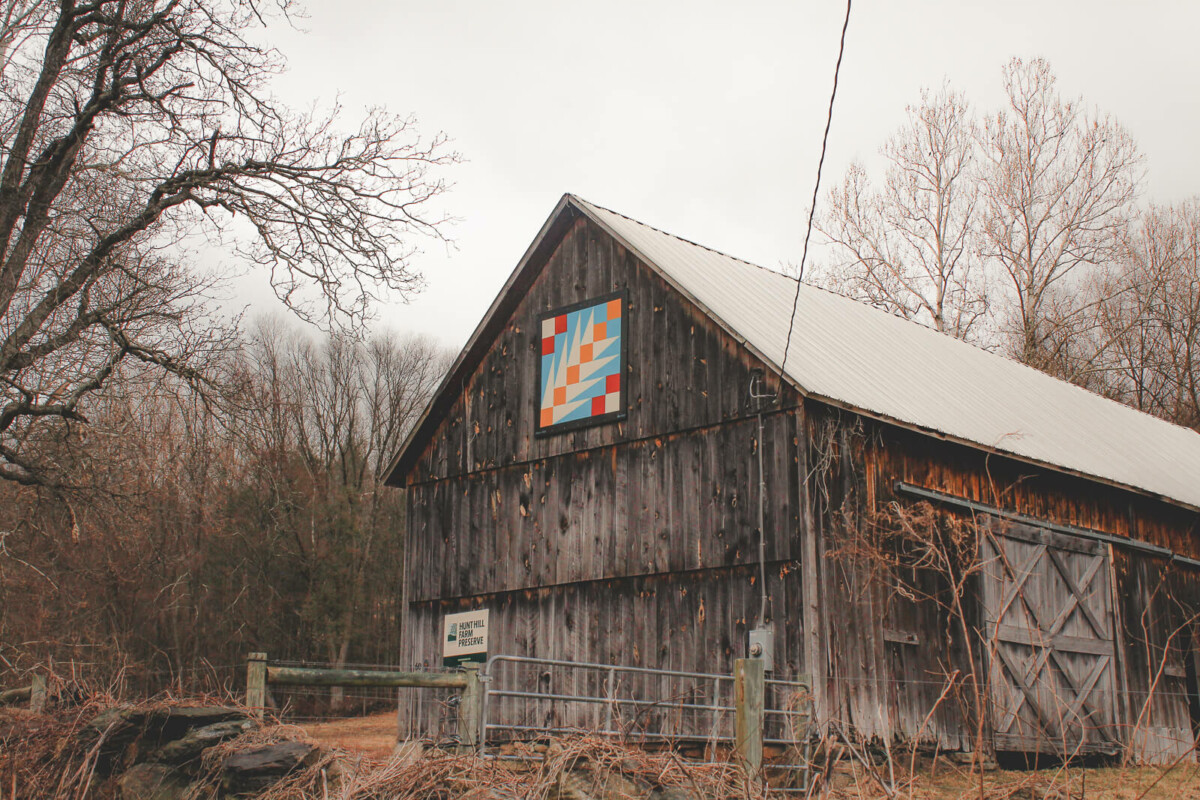 Barn Quilt Trail is for lovers of folk art and slow drives. Silhouettes of tulips, sweet corn, and maple leaves add tile-sized splashes of color to roadside vintage barns. We followed this guide to get to (and read up on) each of the locations.
Hunt Hill Farm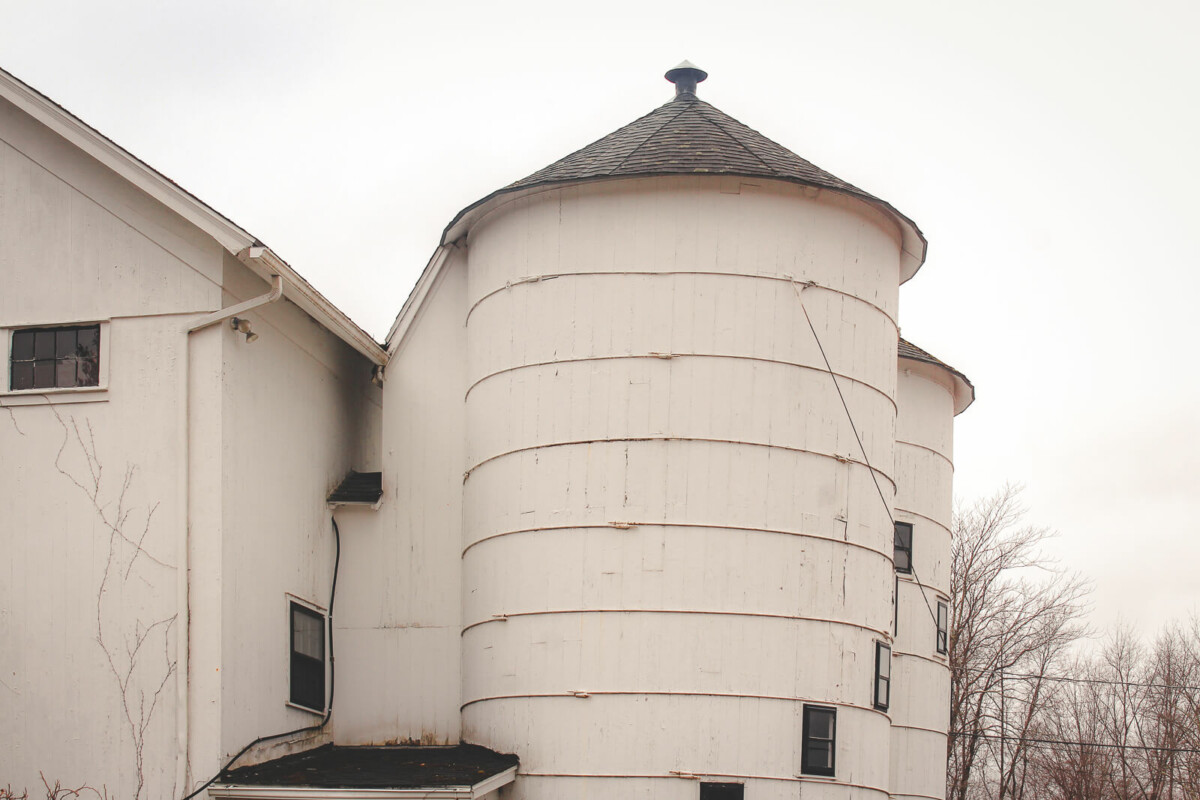 Two of the Barn Quilt Trail quilt blocks are at Hunt Hill Farm, a local-loved nonprofit best known for its art, music, and (Silo) cooking classes. Hunt Hill Farm is the birthplace of the New York Pops (the largest independent popular music orchestra in the United States). It was founded by Ruth and Skitch Henderson.
After forty-plus years of operation, Hunt Hill Farm closed in the summer of 2019. New owners, Alessandro and Daniele Piovezahn, hope to continue Hunt Hill's legacy. You can find current concerts, art shows, and events here.
Elephant's Trunk Flea Market
One of the most popular things to do in New Milford is scour for a good deal at Elephant's Trunk Flea Market. Elephant's Trunk Flea Market isn't a sprawling expanse; it's small and concise. Under big tents and atop unshaded tables are cutting boards, painted plates, wall clocks, and old lampshades. From April to December, every Sunday, a rotation of down-to-earth traders set up shop, showcasing their funky, retro wares. General admission is $3. Go early to grab parking and start snooping through the stalls at 8:00 AM sharp.
Roger Sherman Home Site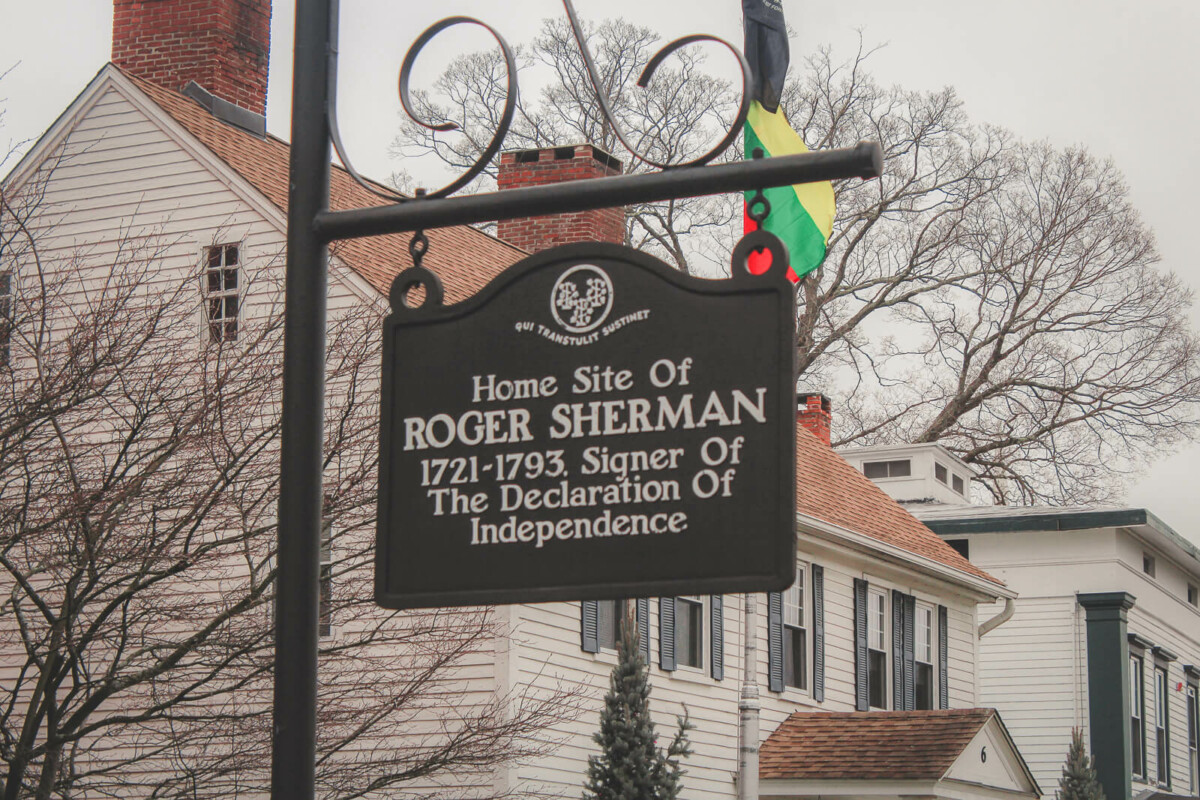 The only Continental Congress delegate to have penned his name on all four founding documents (the Declaration of Independence, Articles of Confederation, US Constitution, and Continental Association), Roger Sherman is well-known in American history. His family home was in New Milford; today, it's the town hall. Drive by to see a little slice of New Milford history.
New Milford Historical Society
More history can be found in the New Milford Historical Society. Exhibits here are time capsules and snapshots of New Milford's past. New Milford Historical Society details New Milford's agricultural history, the community's resiliency after the Great Fire Of 1902, and Black experiences in Litchfield County. Once a stop along the Underground Railroad, New Milford was home to a trio of safe havens (still standing today!) for runaway slaves escaping the South.
Be sure to visit A Rough Road To Freedom (behind the Knapp House). Here, symbolically broken chains are perched above a plaque celebrating the abolishment of slavery.
Historic Downtown New Milford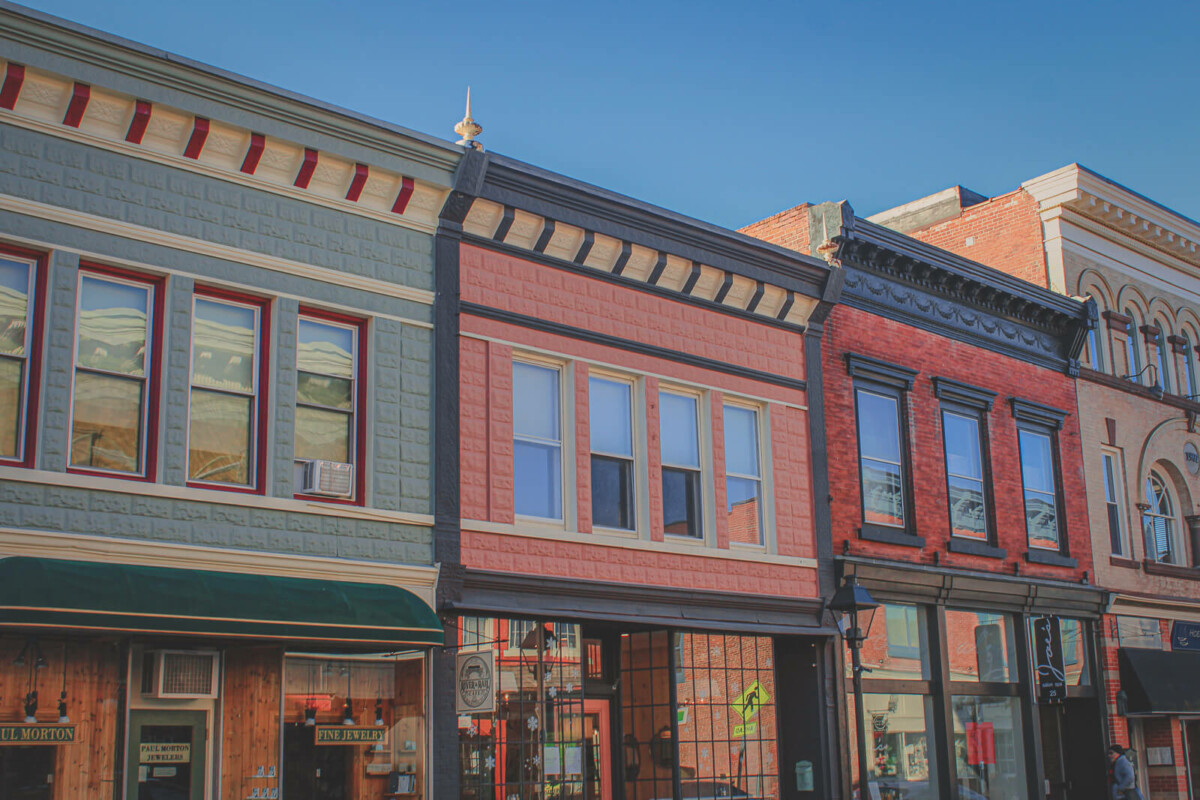 Like many small town downtowns, New Milford's quiet hub of brick-front shops is cute and charming. Secondhand shop at The Hunt, a stylish, well-curated Bank Street boutique. Taste flavored oils at Nutmeg on Main. Treat yourself to a double-scoop cone from Grassroot's Ice Cream, one of the square's newest (and sweetest) additions. Catch a recent release at century-old Bank Street Theatre – its art deco facade is hard-to-miss.
The Gilmore Girls Style Gazebo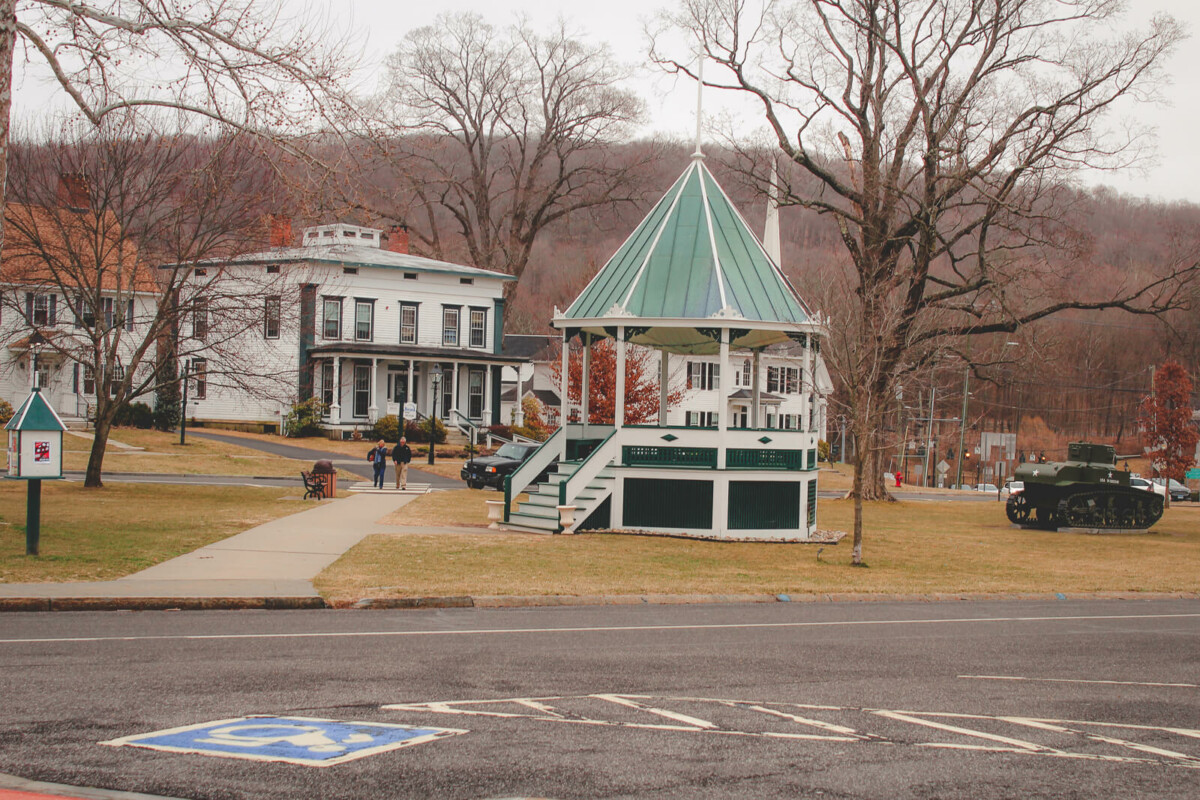 Like many who visit Litchfield County, I'm a Gilmore Girls fan. I snuggle up to the coziness of Stars Hollow with a big mug of coffee every fall, wanting to escape to the fictional town. And let me say, New Milford's Town Green made me feel like I was there, in Stars Hollow, for the brief second I saw the bandstand. It's shaped differently than the gazebo in the show, more pointed than flat. It's a different color, too; mint green swapped for ash gray. Yet, it has that same sense of community anchoring.
Pumpkins, squash, and scarecrows skirt the stand in the fall. Orange garlands hang below its rim. As Christmas nears, lights illuminate the ceiling, and a Christmas tree rises above the floor.
Village Center For The Arts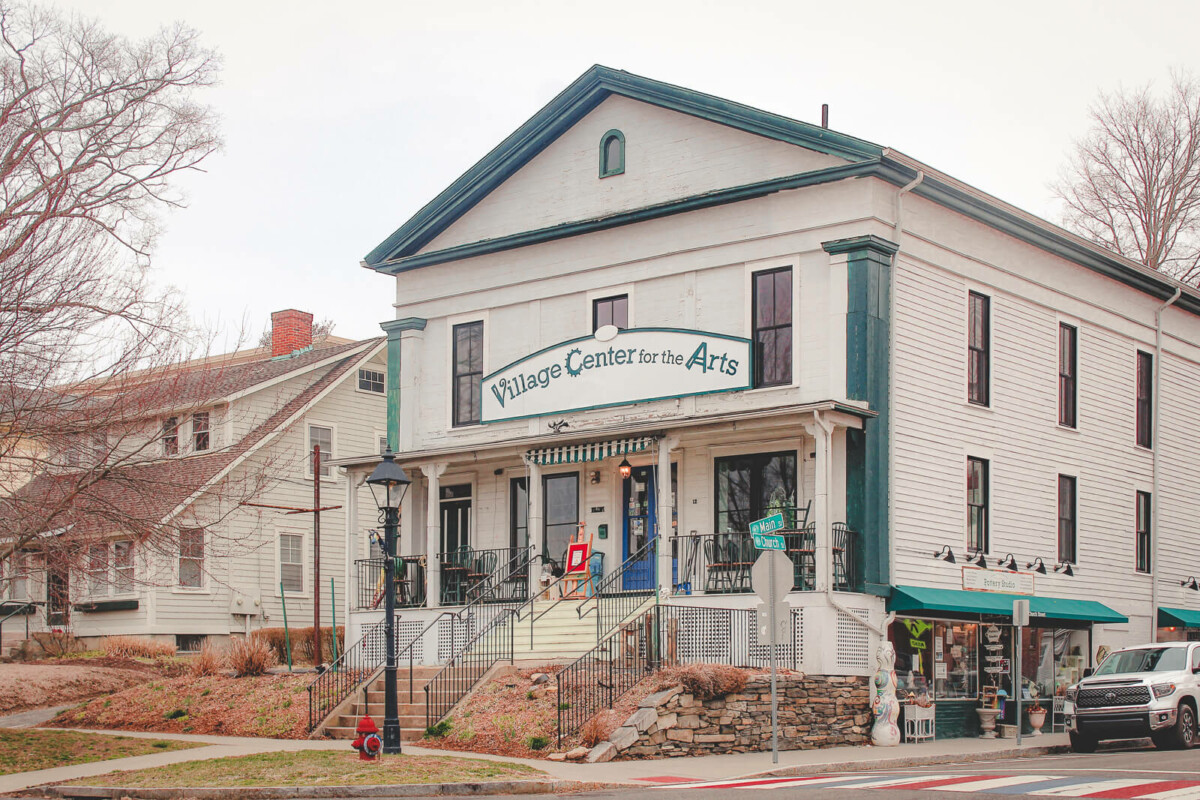 Known for its after-school art lessons, Village Center For The Art's Open Studio is a nurturing space where you can simply walk in and unleash your creativity. You can add brushstrokes to a canvas, glaze to pottery, or free-build with materials the center carries on hand. This is one of the best things to do in New Milford with kids. Fees start at $12 per person (plus the cost of supplies).
TheatreWorks New Milford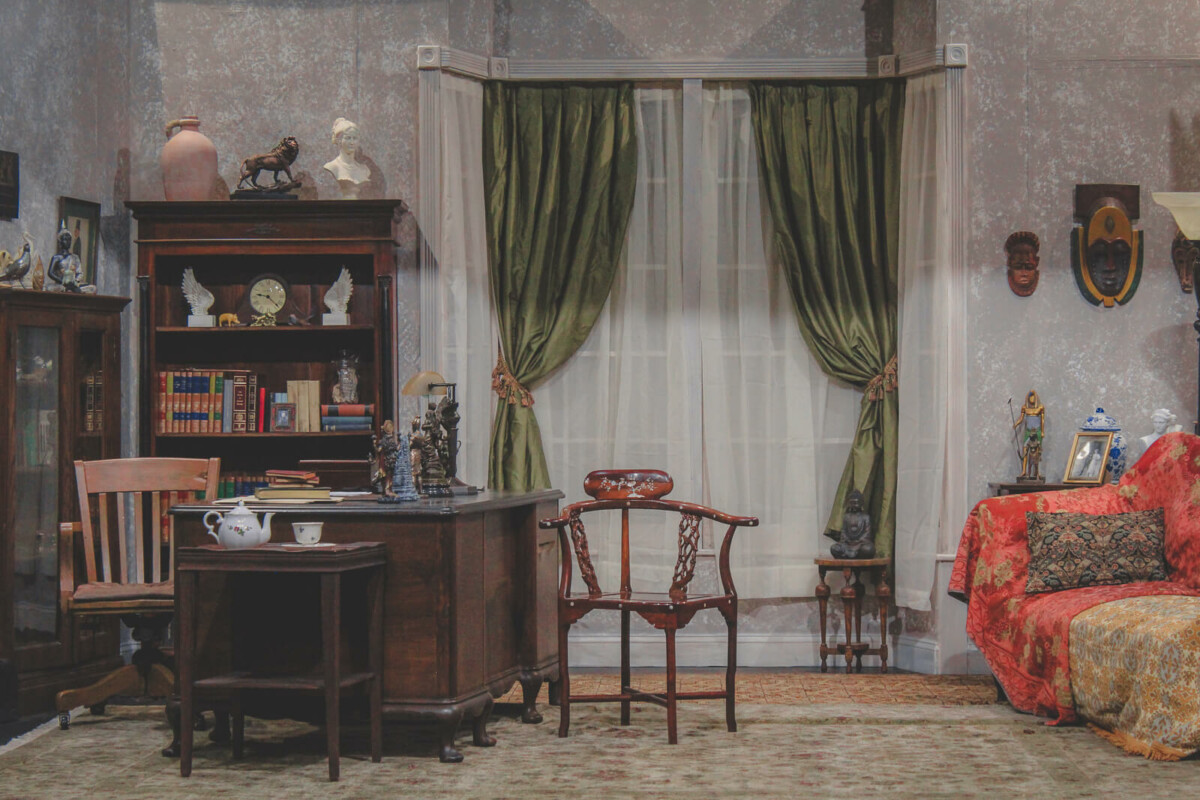 The first things I bought in New Milford were tickets. I picked them up on a March night. The air was cold, and the wind was cold; the sky, a post-sunset blue, crept over a sunless horizon. Google Maps took us to a tiny entrance; the room aglow behind was small and square. I rapped the door and waited.
New Milford hooked me with every word that followed after – the lack of judgment that we'd parked in the wrong place, confidently walked up to the wrong door, and visited at the wrong time. I was told we landed at the old entrance. There was a new one around the corner. So, we looped our rental to a school-sized lot, to a pleasant playhouse where we'd watch Freud's Last Session. We met Francis A. Daley, oblivious in that moment to his talent, yet instantly charmed by his excitement, wit, and friendliness.
We went down the stairs of TheatreWorks (official link for tickets here) to a basement wall of former productions. Memories of Urinetown, Equus, Rabbit Hole, The Lying Kind, Dracula, Peter And The Star Catcher backdropped in black. Every year, Litchfield County showcases talent through smart, sharp performances. This year was no different.
New Milford's take on Freud's Last Session was a brilliantly-directed production; the blocking felt on-point, intentional but not forced. The conversation (a fictional one between Sigmund Freud and C.S. Lewis) was riveting, a heady discussion about religion, life, mortality, and love. Neither actor pushed for accents they weren't comfortable with, so their voices felt less strained and less rushed than many productions I've seen. Daley and Chris Luongo (Lewis) glued us with their intonations, their monologues vessels for deep thoughts and warring philosophies.
Freud and Lewis' dialogue was still frequently interrupted (adding to the drama of the play) by the deep bellow of air raids, shrill rings of Anna's (Freud's daughter) calls, and violent, physically-demanding coughs of Freud (that belied the true stage of his mouth cancer).
The cast bowed out to a well-earned standing ovation. Afterwards, my partner and I talked for hours about religion. We peeled apart the contentions of Freud and Lewis. We debated. We challenged each other. It was midnight before we realized New Milford had gone dark.

What are your favorite things to do in New Milford? Let me know in the comments below! As always, I love hearing your thoughts and recommendations!