Here are the top things to do in Old Town Albuquerque.
Albuquerque, New Mexico. From the shrub-lined path outside of San Felipe De Neri Church, I hear a strum under chatter. The pluck of a guitar. A few voices still. Another pluck. Silence.
In the center of a white-topped gazebo, a man begins to sing with the same vibrancy as Old Town's colorful streets. His voice is light and bright.
He coos his audience as they clap to the quick beat.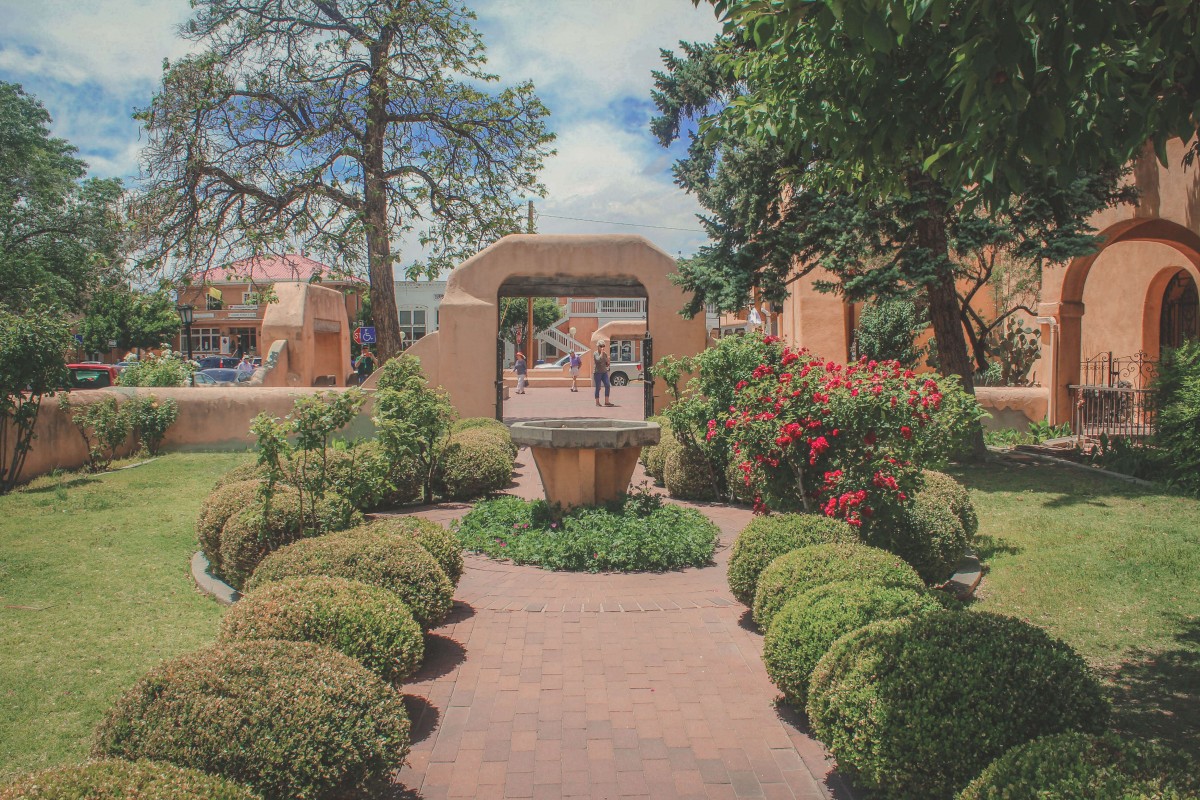 Old Town Albuquerque is a tourist district. It's one of the oldest neighborhoods in New Mexico (dating back to the 1700s).
Today, the adobe walls that carve up Old Town have given way to new owners and businesses hoping to make a living of its thriving tourist scene. It's a popular spot (crowded by late morning) so if you plan on spending a day in Old Town, come early.
Arrive before the shops flick open and you can find good street-side parking (otherwise, you'll be forced to grab a spot further away).
But don't worry, there are plenty of things to do in Old Town Albuquerque (even in the outskirts of the district). Between the museums and shops and galleries and eateries, you could easily spend a weekend here.
So without further ado, here are the top 10 things to do in Old Town Albuquerque.
Listen To Music On The Square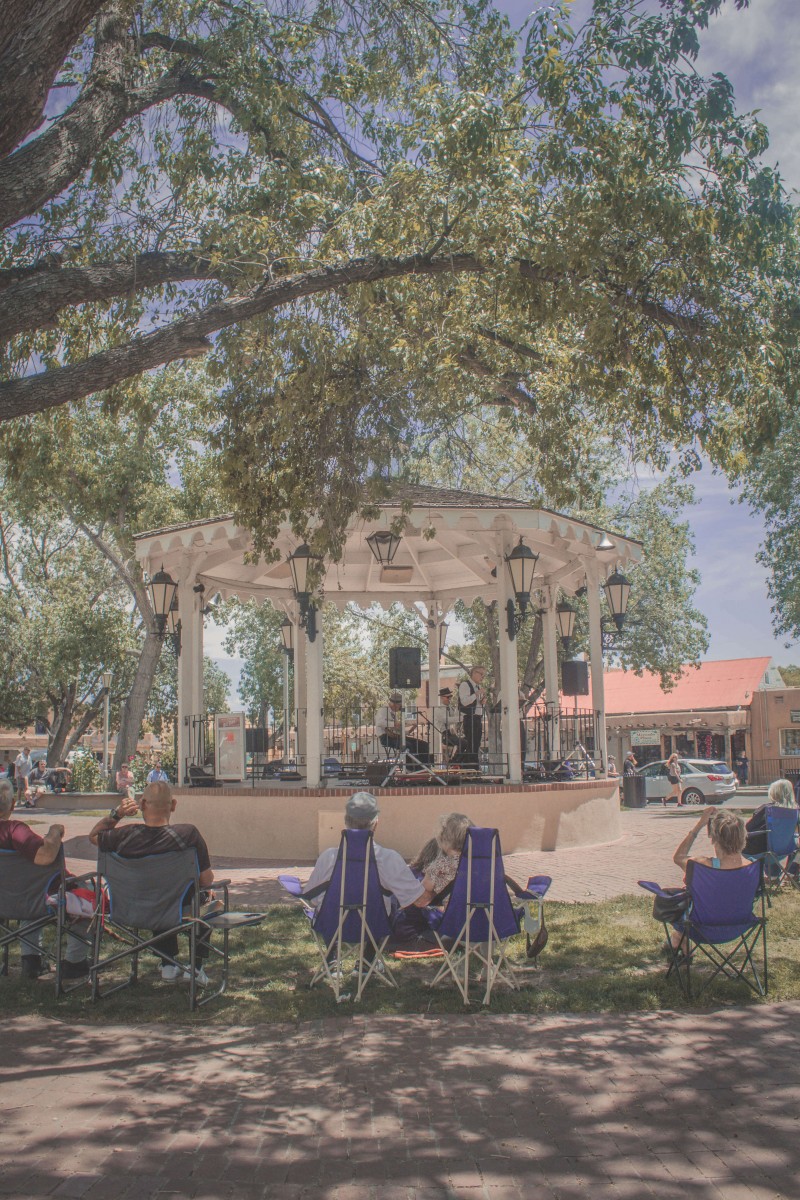 Rimmed by grass and a smooth walkway, the gazebo flags the center of Old Town Plaza.
If you're looking for relaxing things to do in Old Town Albuquerque, grab a beach chair (as the locals do) and listen to some live tunes.
Every weekend from May through August (weather permitting), Old Town hums with music-driven energy. Think mariachi bands, Latin jazz, acoustic Mexican notes.
The south-of-the-border audio flavors add a tinge of spice to ABQ's summertime line-up.
The shows start up again during Balloon Fiesta week in October, one of the most popular times to visit Albuquerque.
Drink In History At San Felipe De Neri Church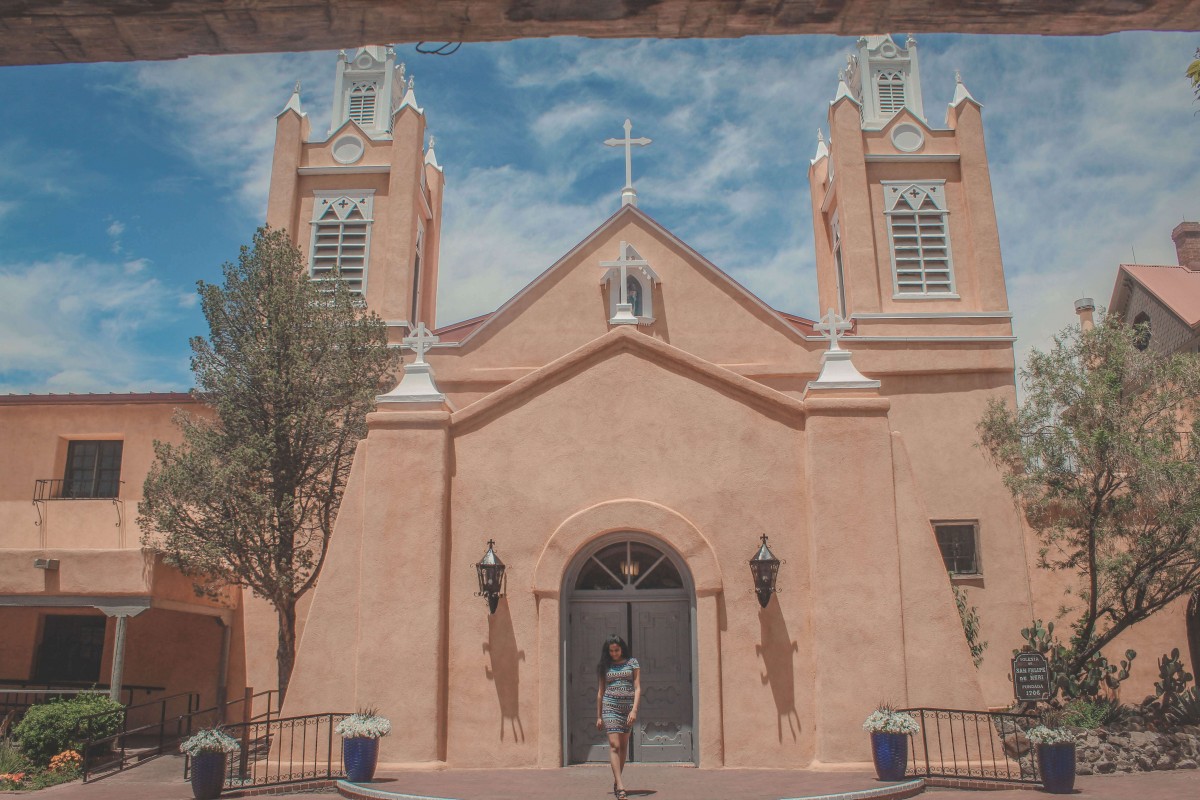 Allott at least twenty minutes for San Felipe De Neri Church. It's a long tanned building home to a wood-defined interior.
The church is hard to miss while driving around the square, but you'll want to stop, stretch, and take it all in by foot.
The Southwestern exterior is surrounded by manicured gardens and tall, big-branched trees. It makes for a pleasant stroll and a great starting point for any trip into Old Town ABQ.
Built in 1793, San Felipe De Neri is one of the oldest surviving buildings in Albuquerque (it was actually constructed in place of a 1706 mission church, San Francisco Xavier).
Today, as the only structure in Old Town proven to date back to the Spanish Colonial Period (there's a mini-museum inside with some religious art from the time), San Felipe De Neri sits on the National Register of Historic Places.
Stop By Treasure House Books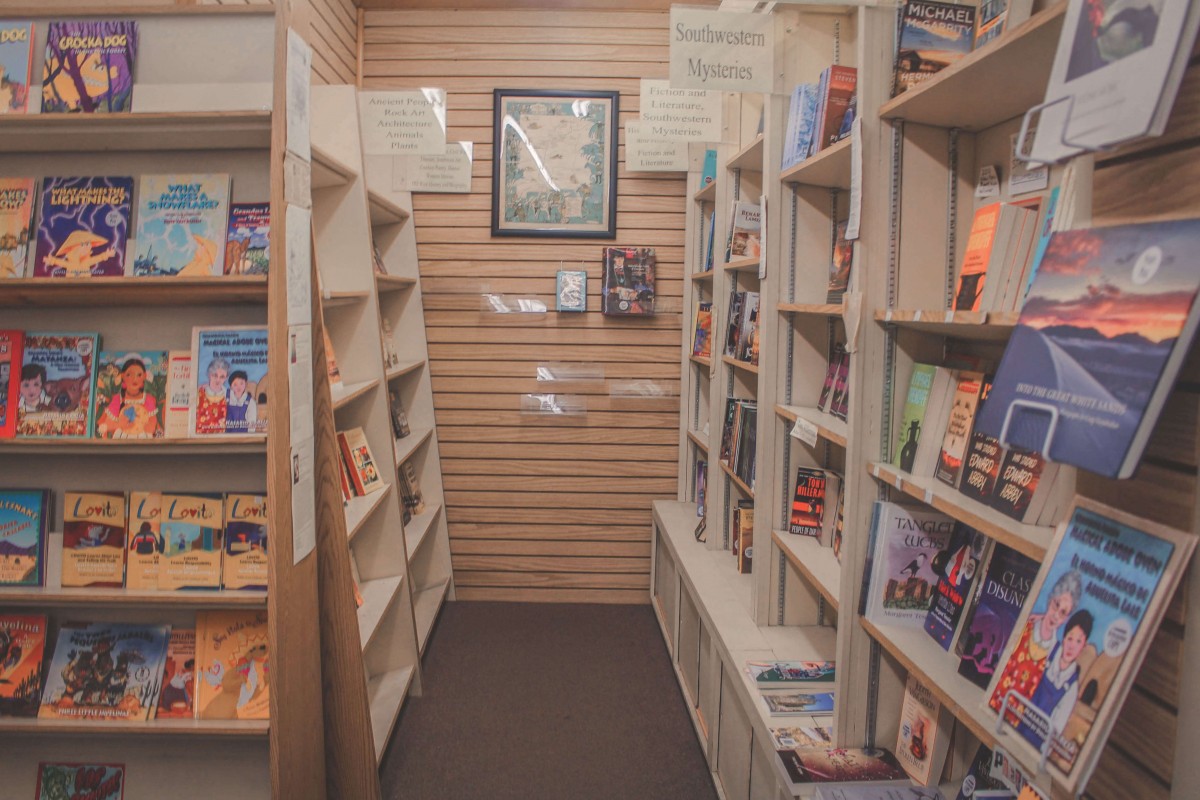 While making my way through all the things to do in Old Town Albuquerque, Treasure House Books immediately caught my eye (I mean, did you expect anything less from me?).
It's no secret that I love visiting indie bookshops whenever I get the chance.
Treasure House is tucked away in the main hub of Old Town Plaza. It's a small, one-room, window-paned shop, hidden in plain sight, showcasing a tiny, curated collection of New Mexican rooted titles.
Explore The Plazas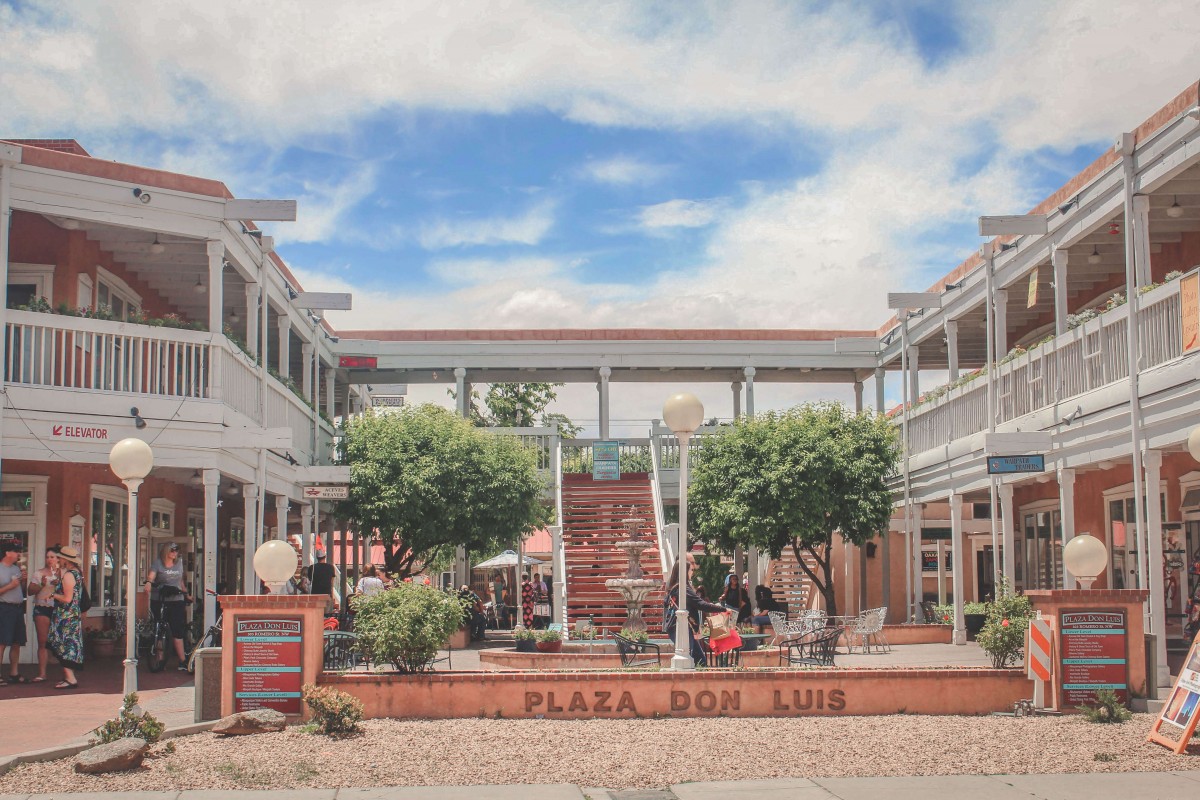 Taking in Old Town Albuquerque, slowly and gently, is half-the-fun.
Wandering into narrow alleys and getting lost along the side streets transforms an otherwise kitschy experience (that I loved regardless) into something special.
The plazas scattered throughout the district are the best entry points into Old Town's shopping scene.
Each plaza is its own little retail center and after ambling past the warm-toned walls, you'll see that the district is the cumulation of several mini-malls.
P.S. At Poco a Poco Plaza is Nick Garcia's patio shop, a papel picado decorated path sandwiched between several small boutiques. This is one of the best places in Old Town Albuquerque for a photo-op!
Grab A Bite To Eat Along The Way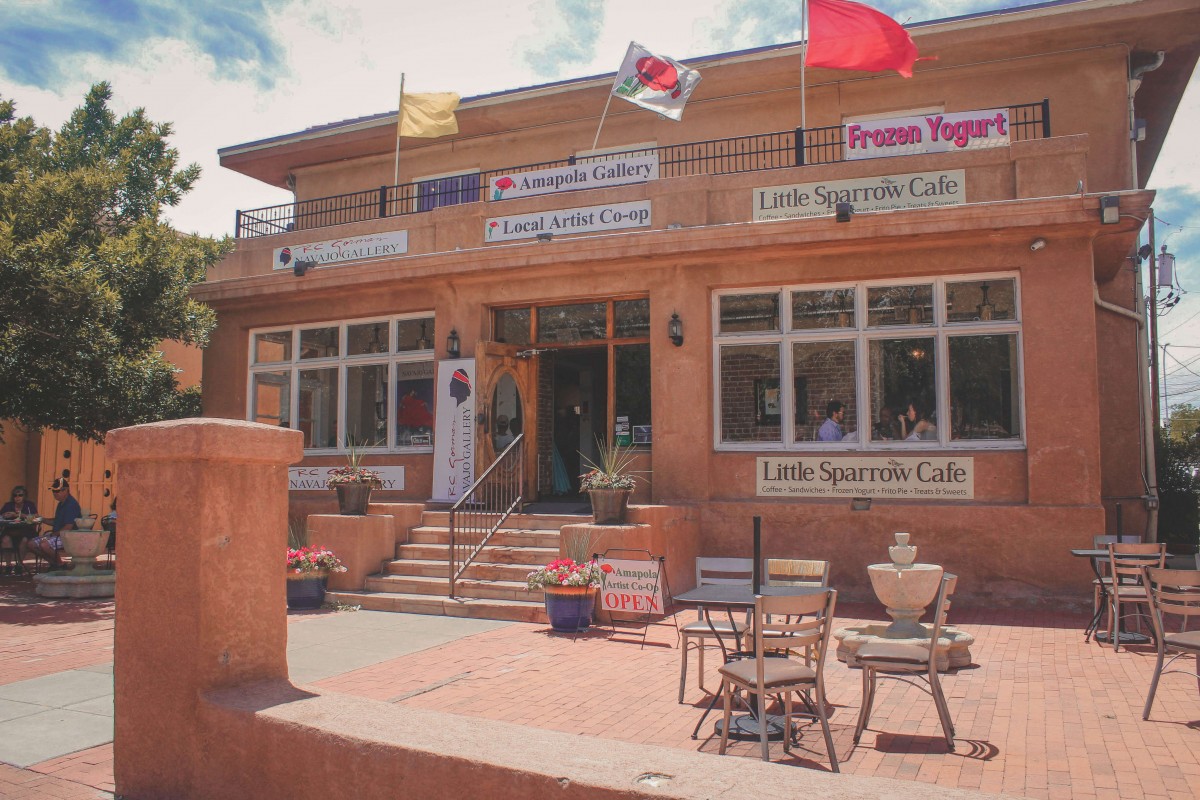 Foodies will never find themselves short of things to do in Old Town Albuquerque (or New Mexico in general). There are so many places to eat!
I actually have a full blog post on all the best New Mexican foods to try (and where to find them throughout the state) if you're unsure of what to order while eating out (tip: sopapillas are always a good idea).
Here are our top picks for restaurants in Old Town Albuquerque:
Visit The Museums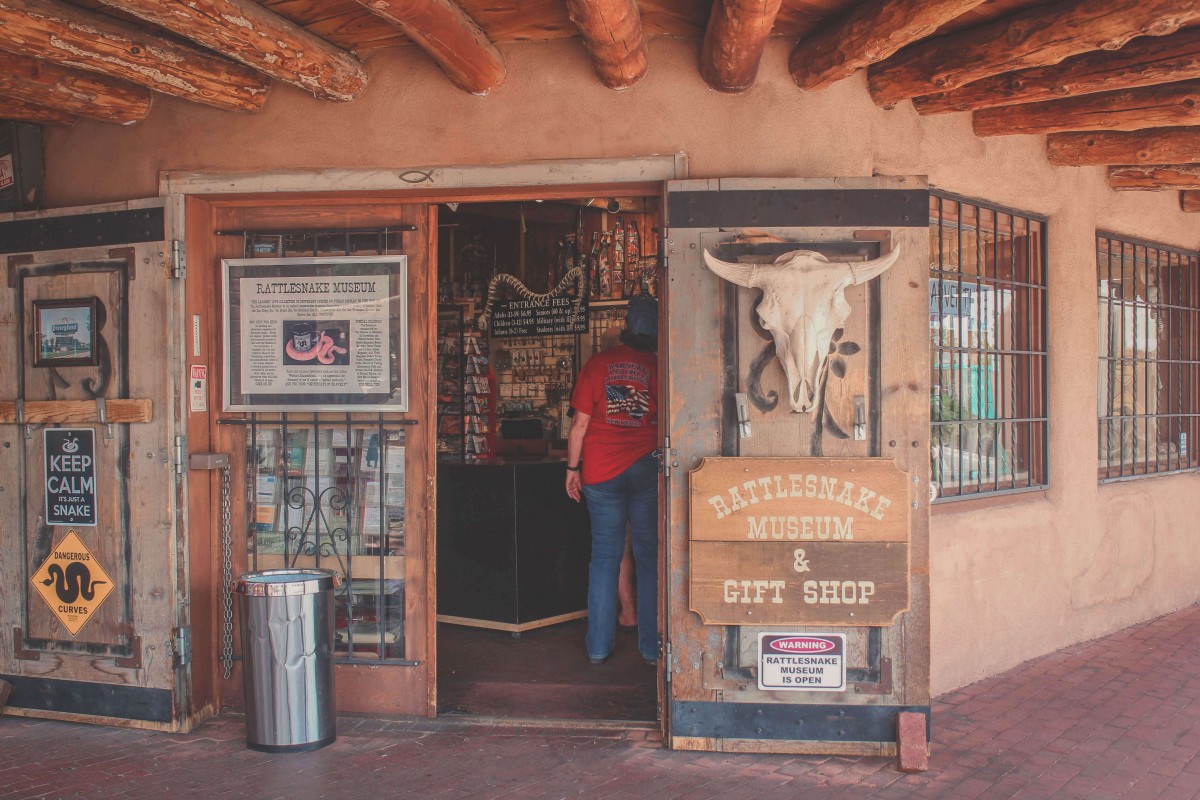 Visiting all the museums is one of top things to do in Old Town Albuquerque amongst families.
There are lots of weird, wild, and quirky museums in ABQ (most situated around Old Town). I definitely did not have the stomach to enter the Rattlesnake Museum (that was an all-caps, double-emphasis, head-shaking nope).
But if you're looking for attractions to bookmark, here's a mix of popular and underrated stops:
Browse The Art Galleries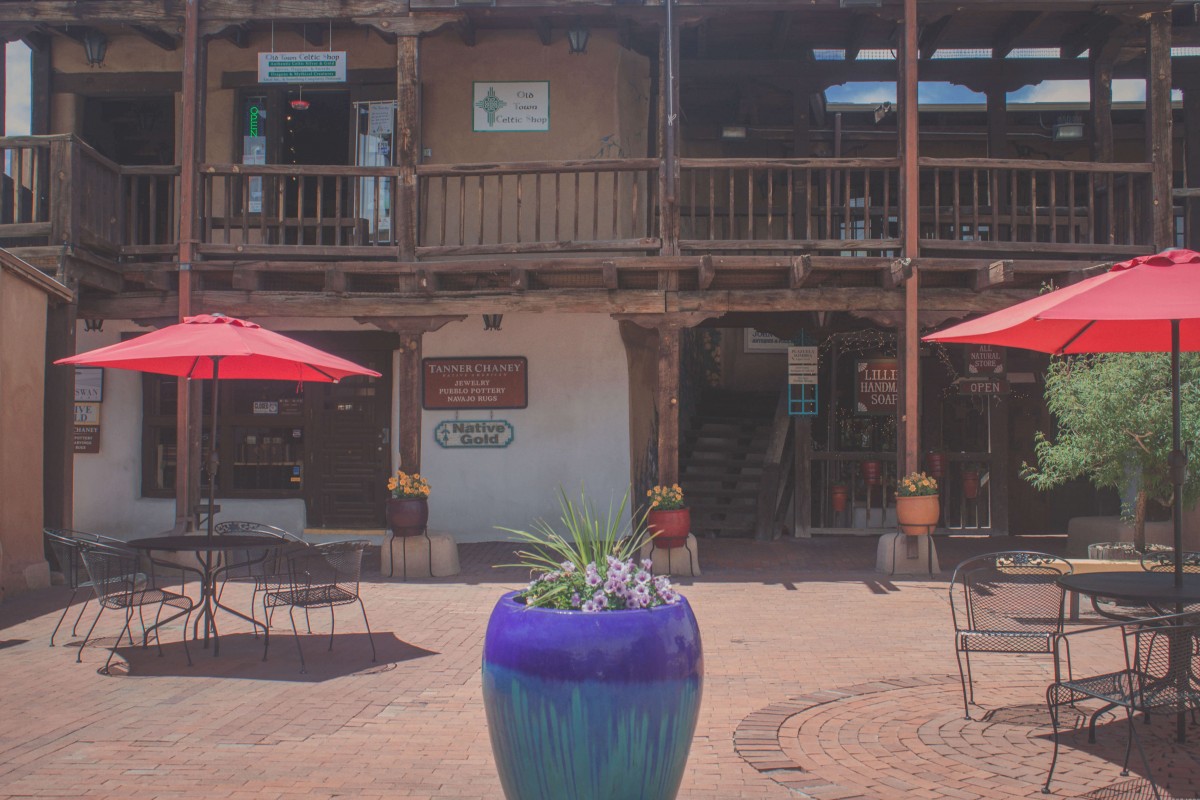 Like most old towns, ABQ's is full of galleries. The best ones are just off the tourist trail, beyond broken stairs and between cracked alleyways.
Amapola Gallery: works from local artists in a spot run by artists. This is a friendly, welcoming co-op right by an ice-cream shop.
Yucca Art Gallery: off-the-wall mediums (think egg tempura and bookbinding) in an old-school space
Romero Street Gallery: unimaginably large (over 10000 square feet) art zone with a museum-like atmosphere
See The Hand-Crafted Jewelry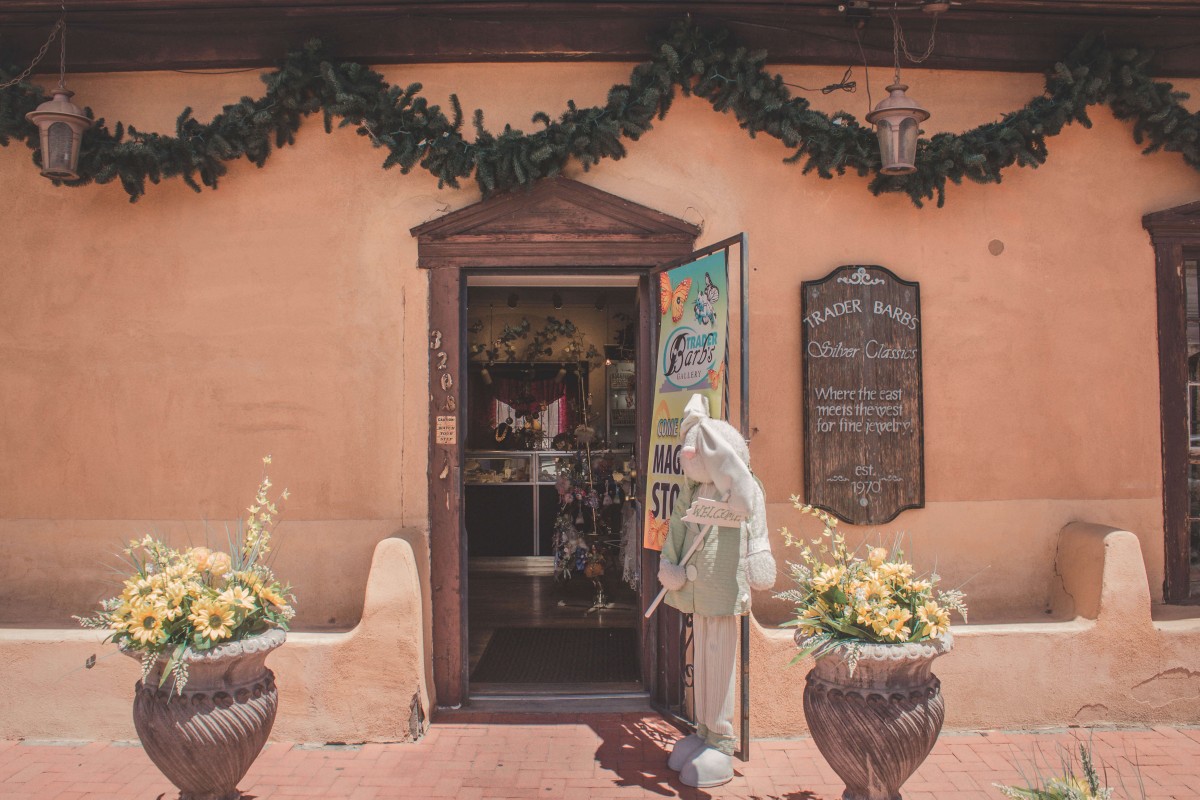 Handmade jewelry and New Mexico go hand-and-hand. If you're looking for brightly-colored, chunky pieces, this is the place.
Large strings of big beads. A stack of pink bracelets. Necklaces with fat pendants.
Here are the top jewelry shops in Old Town Albuquerque:
Indian Treasures & Jewelry: Native American-made limited-edition, custom designs
New Mexico Bead & Fetish: cute DIY project supply store known for its cheap animal-shaped stones
Chimney Butte Studio: beautifully crafted heavy (sometimes waist-length) jewelry
Silver Sun: eye-catching turquoise-infused pieces
Get Some Biscochittos To-Go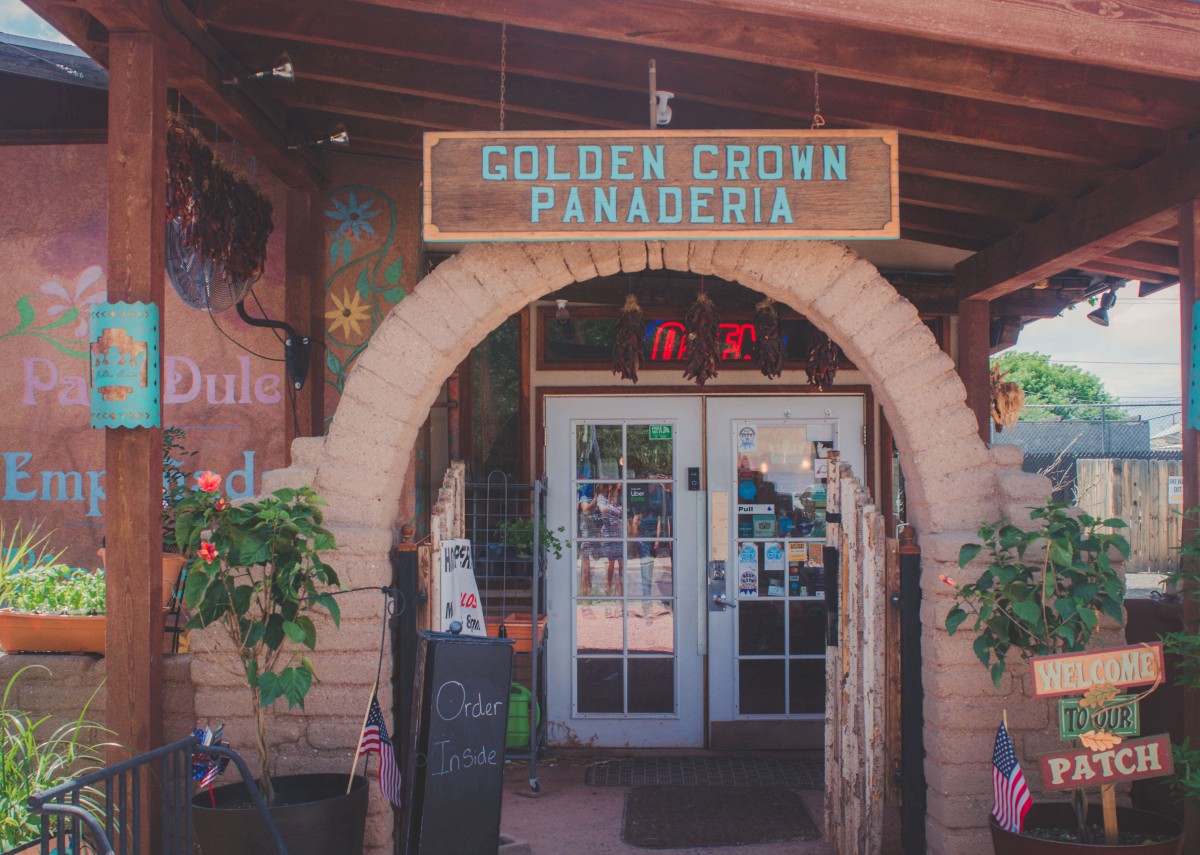 Biscochittos are the best cookies in New Mexico. Although they are a Christmastime staple, Golden Crown Panaderia, a hole-in-the-wall bakery and coffee shop, serves them year-round.
Golden Crown Panaderia offers generous freebies (alongside your first purchase). The cookies here have the same hard texture as standard biscuits. But it's the compression of anise seed and the artful dust of cinnamon that makes them so delicious.
P.S. These go great with a cup of joe!
Take A Group Tour
If you're short on time or looking for an in-depth exploration of the area, schedule a walking tour for a whirlwind jaunt of Old Town ABQ.
The iconic ghost tour is one of the most popular things to do in Old Town Albuquerque at night. It's a lantern-lit (close to two-hour) trip back in time.
If you suspend your disbelief during the kitschy bits, there's a scarily huge amount of history covered! And the slightly creepy storyline is deftly woven.
Even though the tales made me shiver, the vibrancy of the tour (perfectly paced. a slightly staccato beat) was oh-so Old Town Albuquerque.
Recommended Albuquerque Tours
Did you enjoy this post on things to do in Old Town Albuquerque? Have you ever visited Old Town Albuquerque? Let me know in the comments below! As always, I love hearing your thoughts.