best things to do in Palm Springs, California
First things first: you've come to Palm Springs for the heat. You've come to feel the warm touch of winter (or fall or spring. Summer in Palm Springs can be a bit much) against your skin as you slowly slide into a hotel pool, feet-first. When your knees hit the cool water and you look up at the blazing sun and ragged peaks and mid-century modern facades, the stress of tight deadlines, strained meetings, and rush hour madness starts to melt away.
Once you're at ease (and a little caffeine has entered your system), you start to, little by little, unravel the other reasons why Palm Springs is so captivating. Palm Springs is a place where you can be yourself without judgment. Those insecurities you have? You start to see them as perfect little imperfections. Palm Springs is a place that teaches self-love (and it practices what it preaches). If you live here, you already know that.
From chic, stylish boutiques to classy museums to flat, futurist houses to stunning hikes to self-guided driving tours, here is Passport To Eden's guide to the best things to do in Palm Springs, California.
Disclosure: Heads up, this post contains some affiliate links, which means I may get a commission if you make a purchase. Don't feel pressured to buy anything. I still love that you're here, reading my content (side note: I'd probably suggest getting a coffee or tea first though because my blog posts tend to be long). To find out more, you can read our full affiliate disclosure right here.
Palm Springs Aerial Tramway
September, 1963. The Rolling Stones kicked off their first concert tour at the New Victoria Theatre in London. The Judy Garland Show premeried on CBS. And Francis Crocker, a stocky, bright-eyed man with a wisp of hair and a head-in-the-clouds dream of building a tramway up to the San Jacinto Mountains, saw his vision become a reality. It took a while, almost thirty years. The tramway was a big, hefty, almost impossible-seeming project. Choppers were involved. So were politicians who paused and started and paused and started progress.
Decades later, the tram cars was modernized – they rotate now! And since its inception, over 20 million people have hopped aboard and looked out the window, admiring the rough, craggy downslope of Chino Canyon.
Given the Aerial Tramway's sheer volume of visitors, it's no surprise that gliding up to the cool, brisk air of the San Jacinto Mountains is one of the most popular things to do in Palm Springs. The ride clocks in at just fifteen minutes. It stretches two-and-half miles. It takes you to a pair of restaurants, two small-screen theaters, a sketch of a museum, a gift shop, hiking trails (start with the easy, three-fourth-of-a-mile, scenic loop trail), and a few observation decks.
If you have a fear of heights (don't worry, you're not alone. I do too), skip the upper observation decks and slip past the doors of Cascade Cafe instead. Head onto Cascade Patio, a lower-level lookout area, where you can watch the large, looming tramway swing behind cliffs in a blink. There's a small spit of a trail here too and a slow, trickling waterfall (Johnson Falls). It's a place where you'll hear the excited chatter of tourists, patiently waiting for the tram, rise and fall in Mandarin, Korean, Tagalog, French, and German.
Travel Tip: The Palm Springs Aerial Tramway is one of the most popular attractions in Palm Springs. It can easily take a whole day to see (especially if you include the wait time). Go right when it opens (8 AM on weekends, 10 AM on weekdays) for the best experience (the parking lot gets full quick). This way, you can come back down before lunch and hit up one of the restaurants on Palm Canyon Drive.
Palm Springs Architecture Tour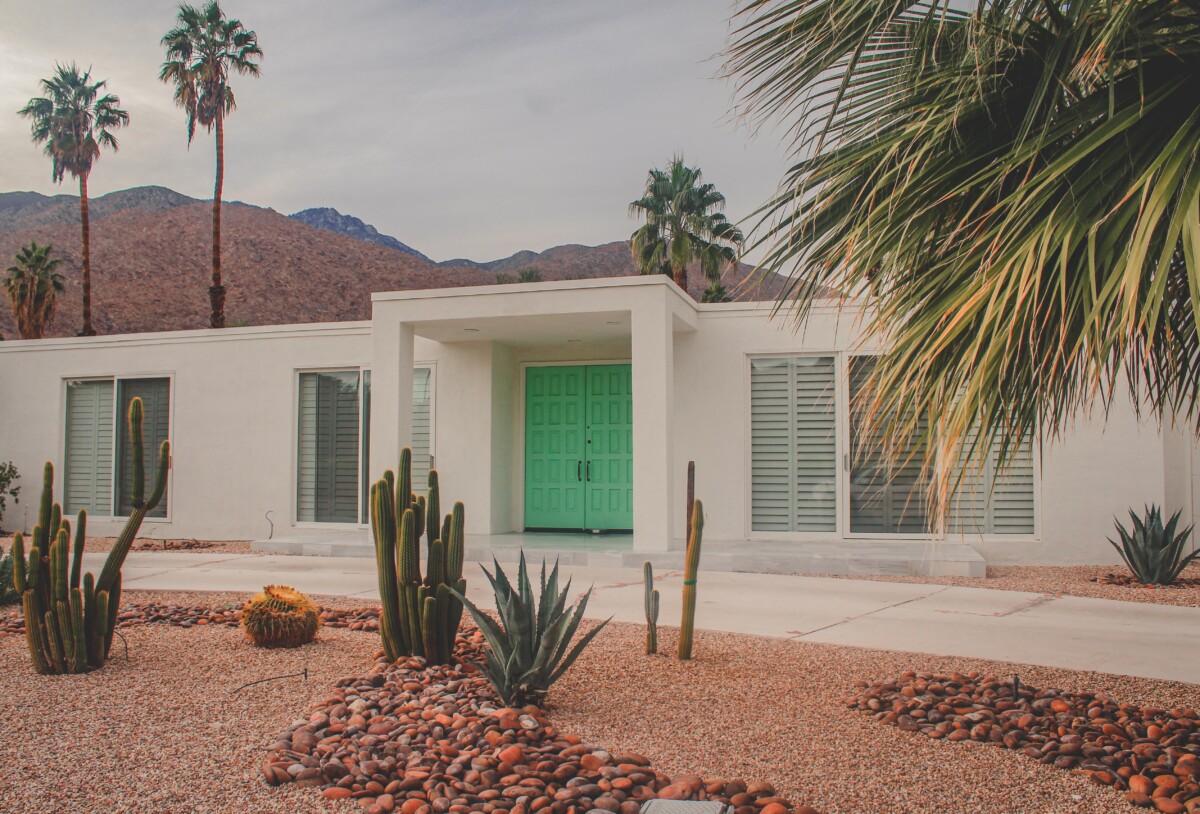 Palm Springs is a Mid-Century Modern mecca. It has one of the largest (if not the largest) concentrations of Mid-century modern architecture in the United States. You'll find aggressively angular, asymmetrical homes dappled in light. These homes are small and flat and low to the ground. They're minimal and unintrusive. Outside of Mid-Mod neighborhoods, you probably won't notice their existence.
But in Palm Springs, you do take notice. You have to. Mid-Mod is inescapable. It's part of Palm Spring's fabric and framework.
William Krisel, one of the original pioneers of Mid-Century Modern architecture and a man best known for making Mid-Mod more accessible and affordable, said it best: "The people of Palm Springs live the MCM experience – devoid of historic style – a change in the way one lives. They have embraced the innovative integration of progressive design – a new dialog [source]."
Each year Palm Springs hosts Modernism Week, an eleven-day architecture festival pumped up with walking tours: home tours, estate tours, subdivision tours. If you're a design buff, Modernism Week is probably the best time to visit Palm Springs (the number of attractions in Palm Springs swells up to an un-doable amount). It's fun and intense. And if you can't make it, that's okay. You can always take the self-guided approach (casually driving through Racquet Club Estates, Vista Las Palmas, and Indian Canyons). Here's a quick lowdown on what to see: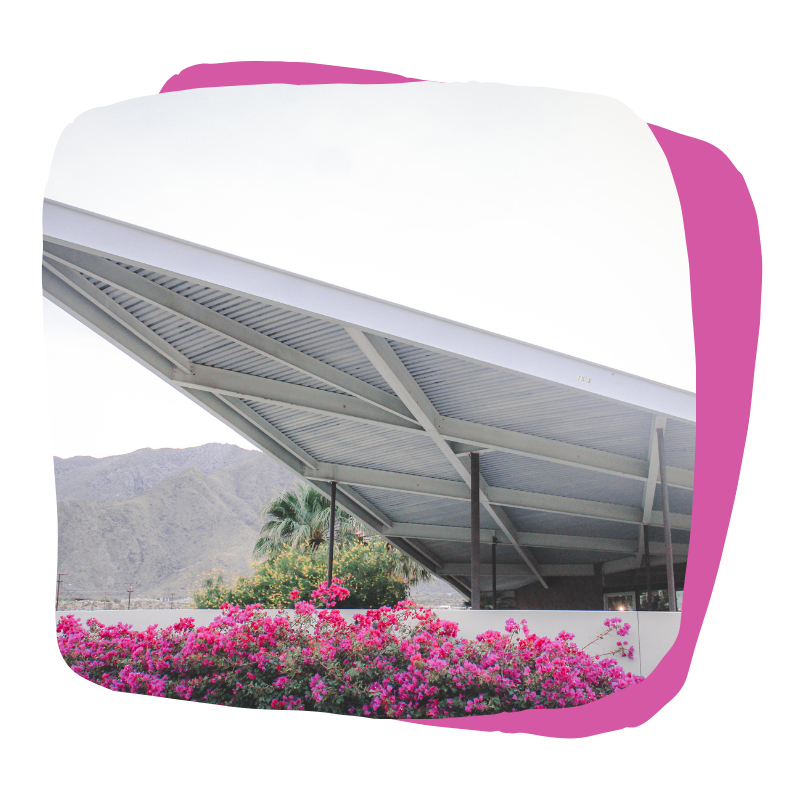 Palm Springs Visitors Center
Former Enco gas station with a hyperbolic paraboloid roof. Designed by Robson C. Chamber and Albert Frey.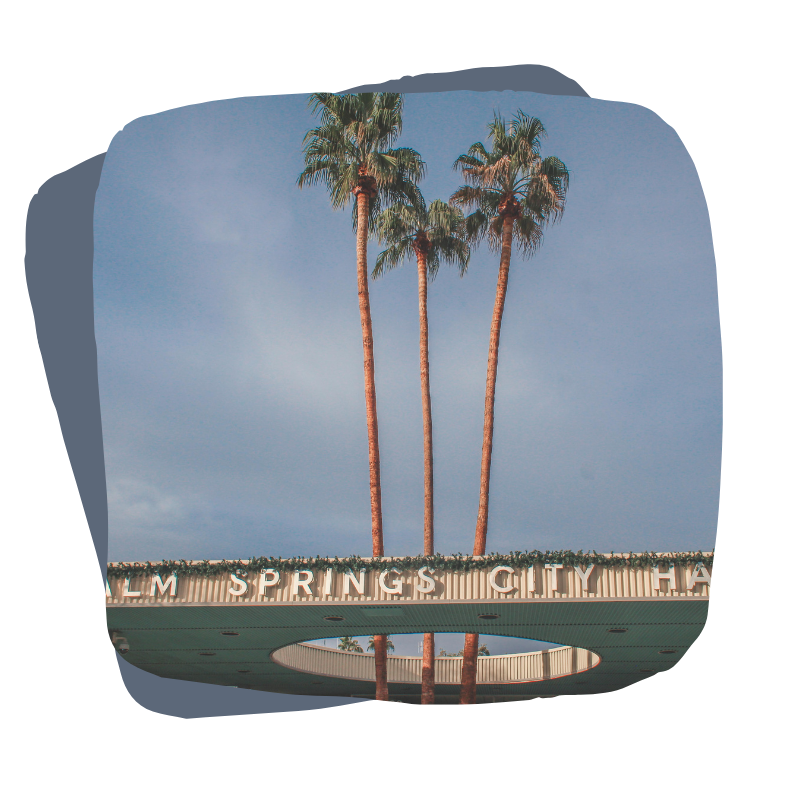 Palm Springs City Hall
Brise Soleil aluminum shaded civic building with a palm-spiked, hole-punched portico. Designed in 1952 by Albert Frey.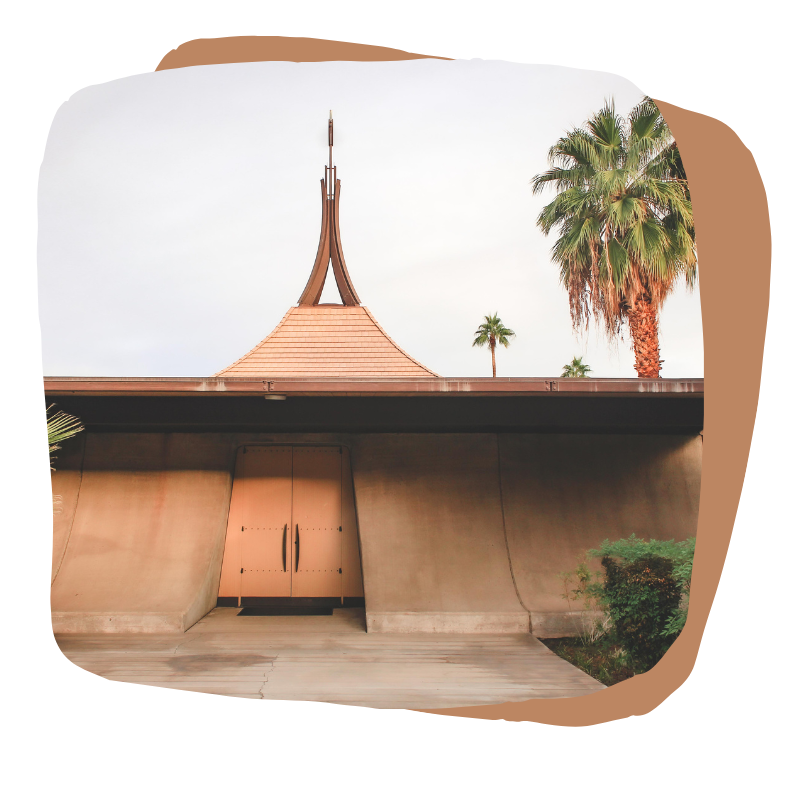 Saint Theresa Catholic Church
Dramatically curved, light-streaked church designed, down to its pews, by William Francis Cody.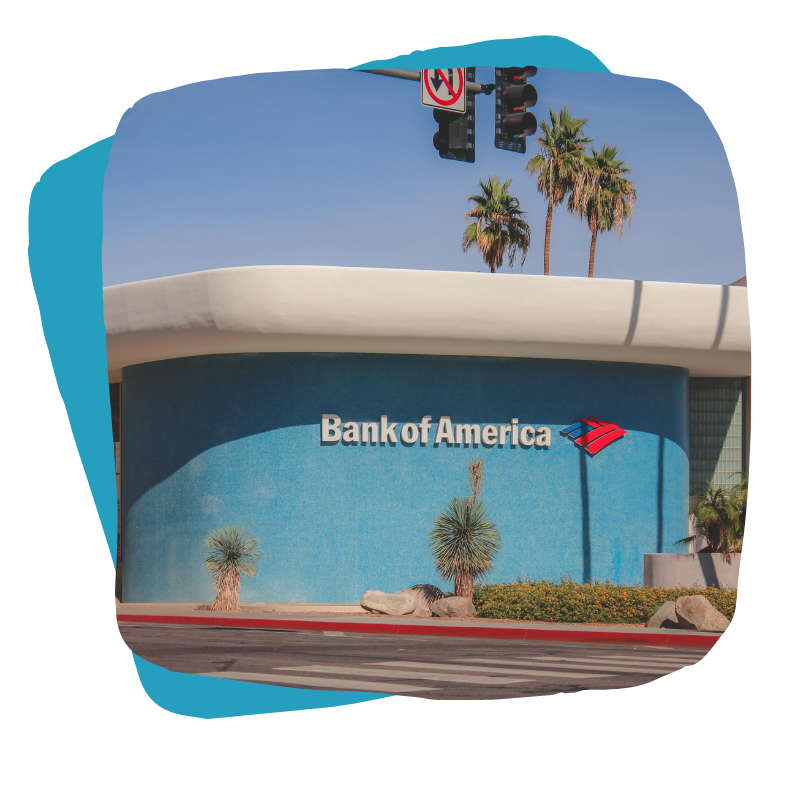 Bank Of America Building
Thick-walled, cartoonishly styled former City Bank designed by Rudy Baumfield of Victor Gruen and Associates. Inspired by Corbusier's Chapel in France.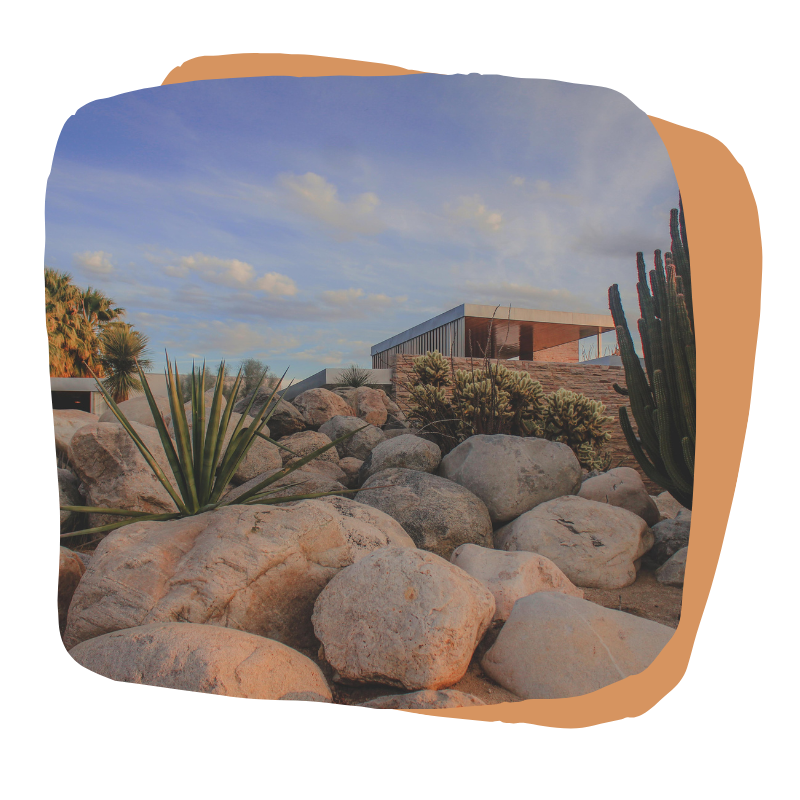 Kaufmann House
Desert retreat. Built in 1946 by well-known Austrian-American architect Richard Neutra. Peak SoCal architecture.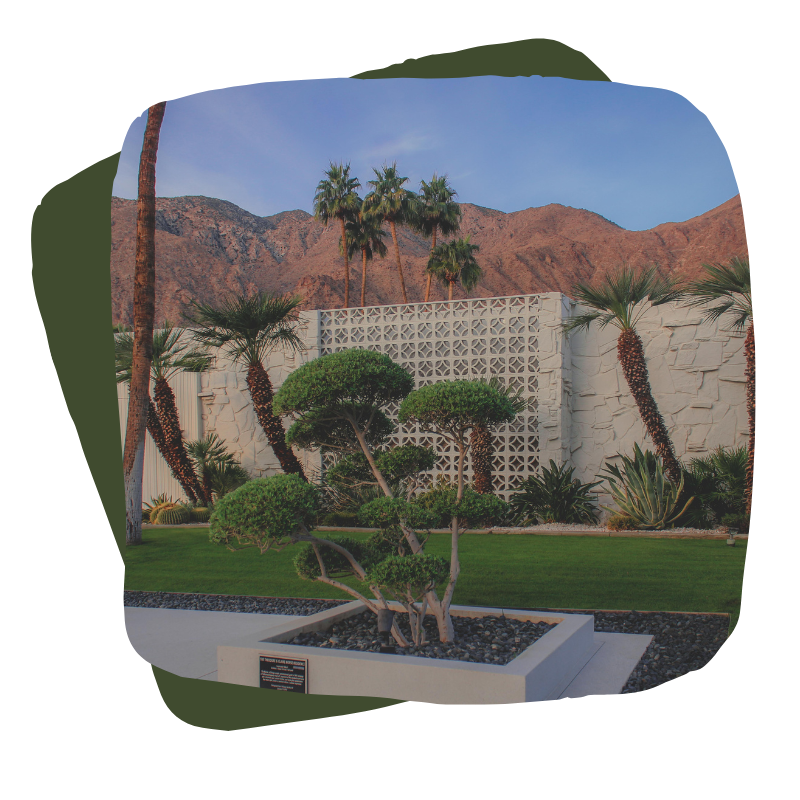 Morse House
Set in an area known for its Alexander Construction Company Homes. Upgraded by Harold Levitt into a Hollywood-worthy Mid-Mod entertainment residence.
Celebrity Home Tour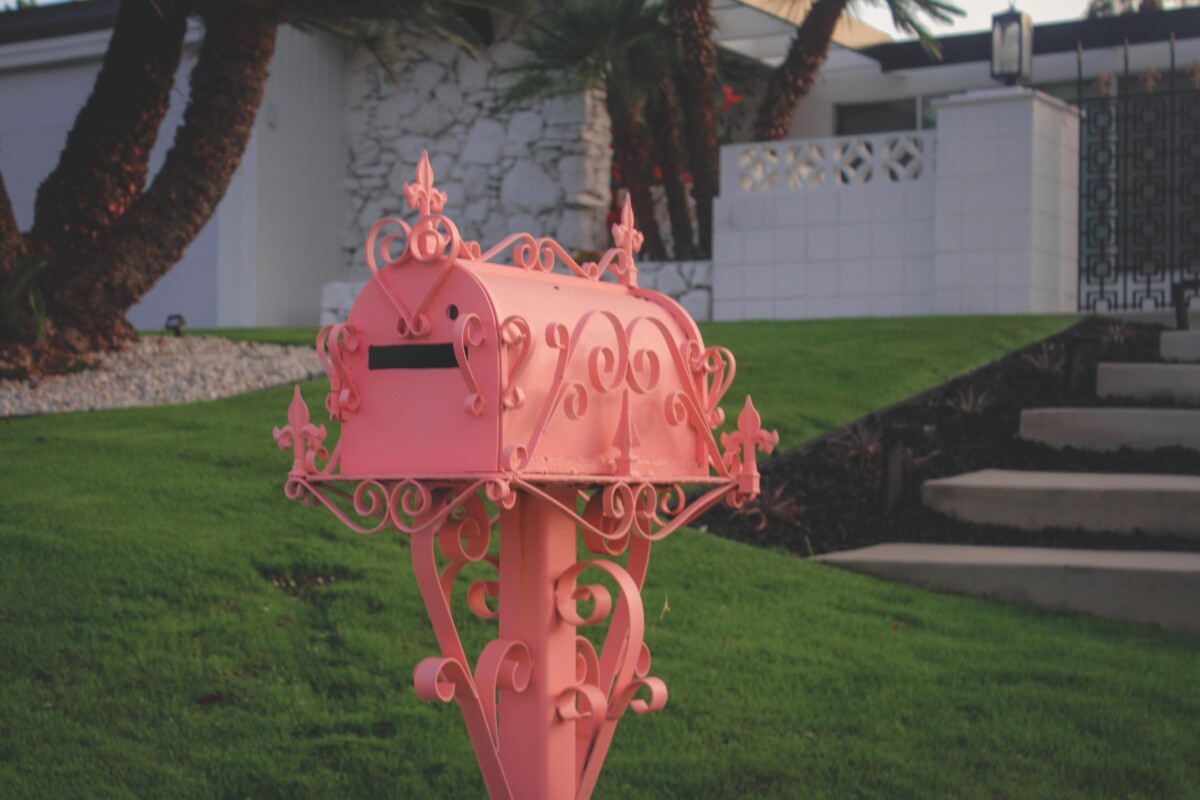 Palm Springs is a celebrity magnet. Frank Sinatra commissioned a swish home here in the 1940s. It was supposed to be a Georgian, but that's a tough ask in the California Desert (so Mid-Mod it was). Later, rumors surfaced that Marilyn Monroe stayed on Rose Avenue in the early 1960s. And it's been confirmed that on a warm, spring day in 1967, Elvis and Priscilla Presley sunk into their honeymoon house in Palm Springs (just next door to Marilyn's former residence). Leonardo DiCaprio? He's here too (sometimes). He's the one with a cocktail bar, swimming pool, and room for a pony (read in Hyacinth Bucket's voice).
You can drive by all these homes, but you won't see much of each of them. They're hidden behind palms and uphills and gates and walls. So let go of any expectations, relax, and just enjoy the drive, which snakes through Mid-Mod neighborhoods and winds past oddball, Jetsons-like residences.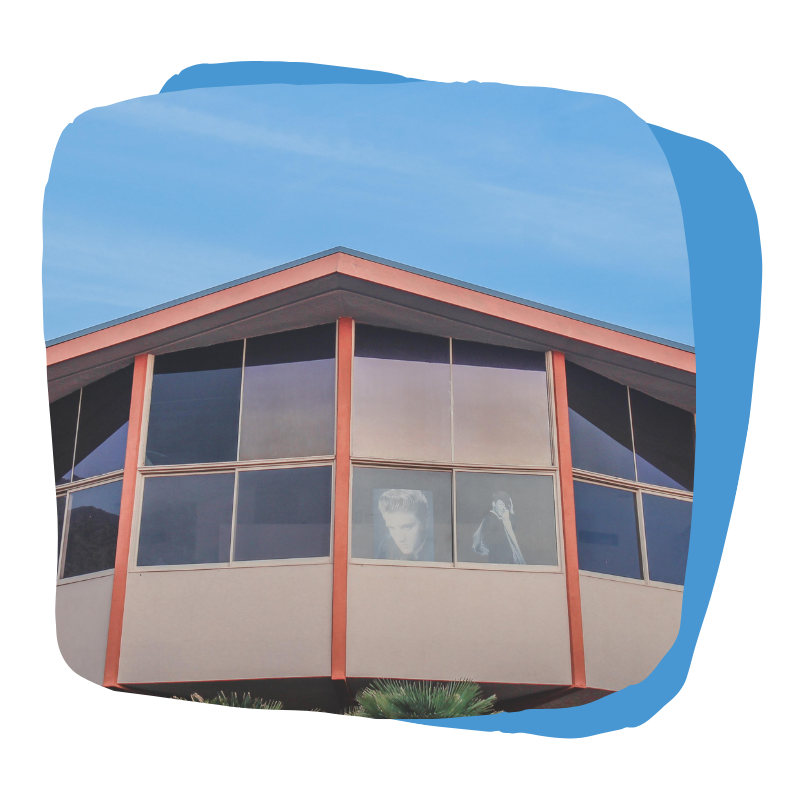 Elvis Honeymoon Hideaway
Funky, spacey-looking structure dubbed "The House Of Tomorrow." Elvis and Priscilla Presley spent a night here in 1967.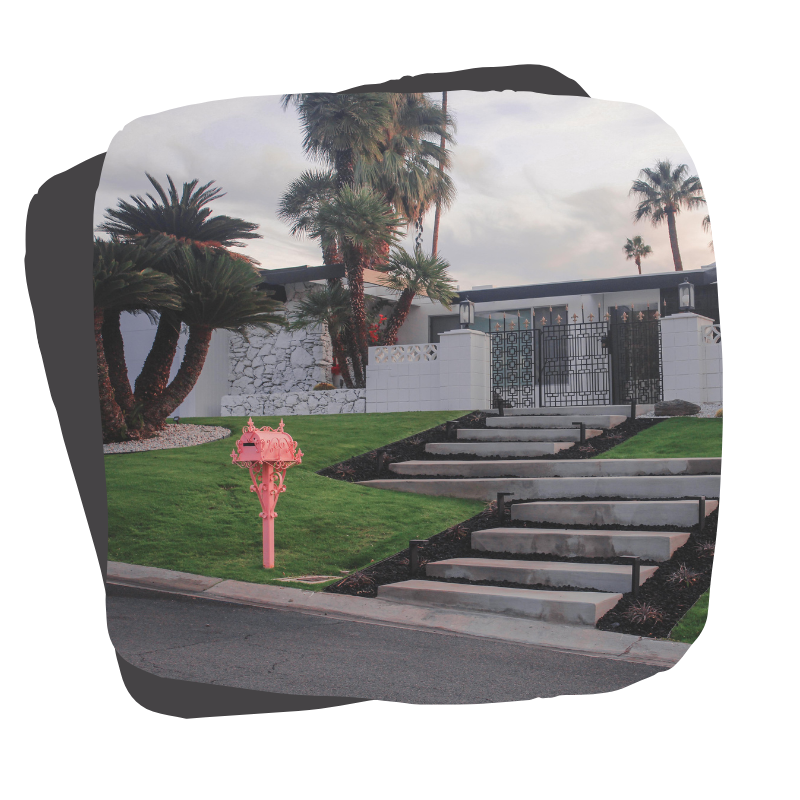 Marilyn Monroe House
Designed by Charles Dubois, who is better known for his A-frame Swiss Miss homes. Luxurious, retro residence where Monroe is said to have stayed between 1960 and 1961.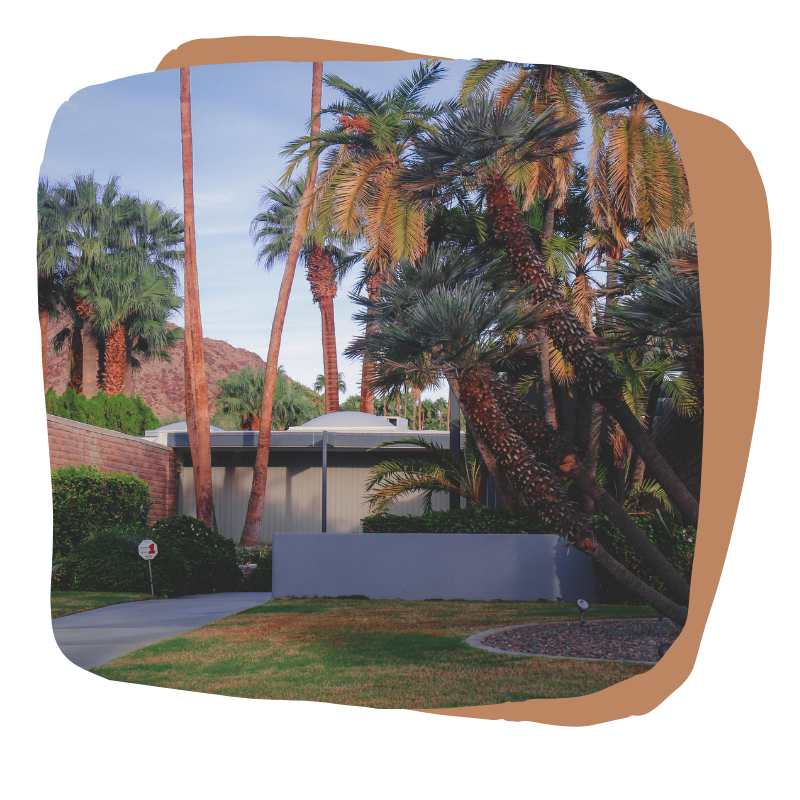 Dinah Shore House
A secluded private property originally built for actress and singer Dinah Shore by Donald Wexler, a prominent Palm Springs architect famous for his steel structures. Now owned by Leonardo DiCaprio.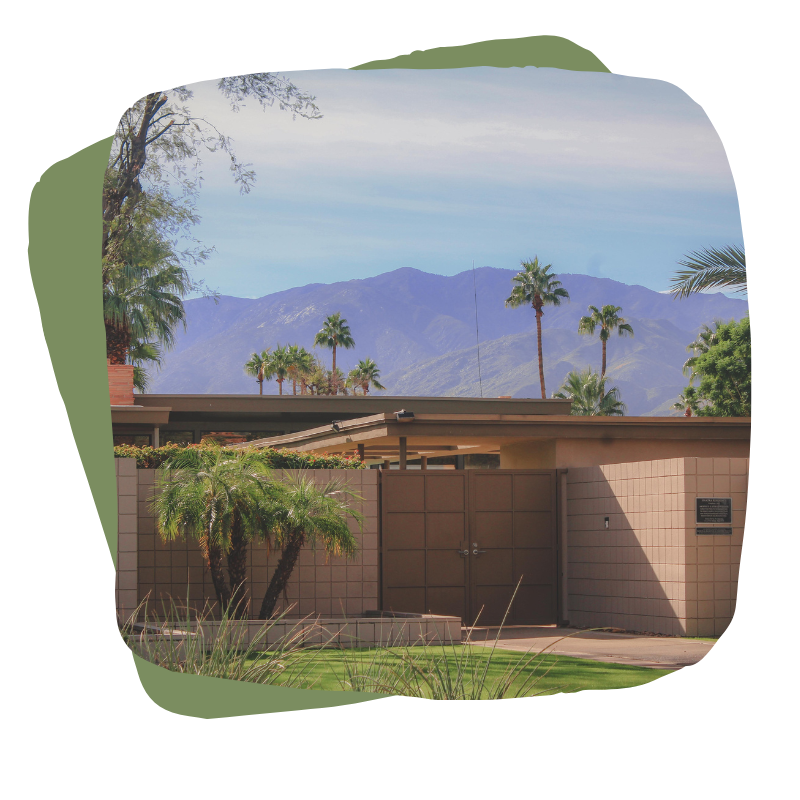 Twin Palms Estate
Movie Colony Mid-Mod home designed by E. Stewart Williams, commissioned by Frank Sinatra. Sinatra walked into the office, in May of 1947, ice cream in one hand, and said "I want to build a house and I want it done by Christmas."
Palm Canyon Drive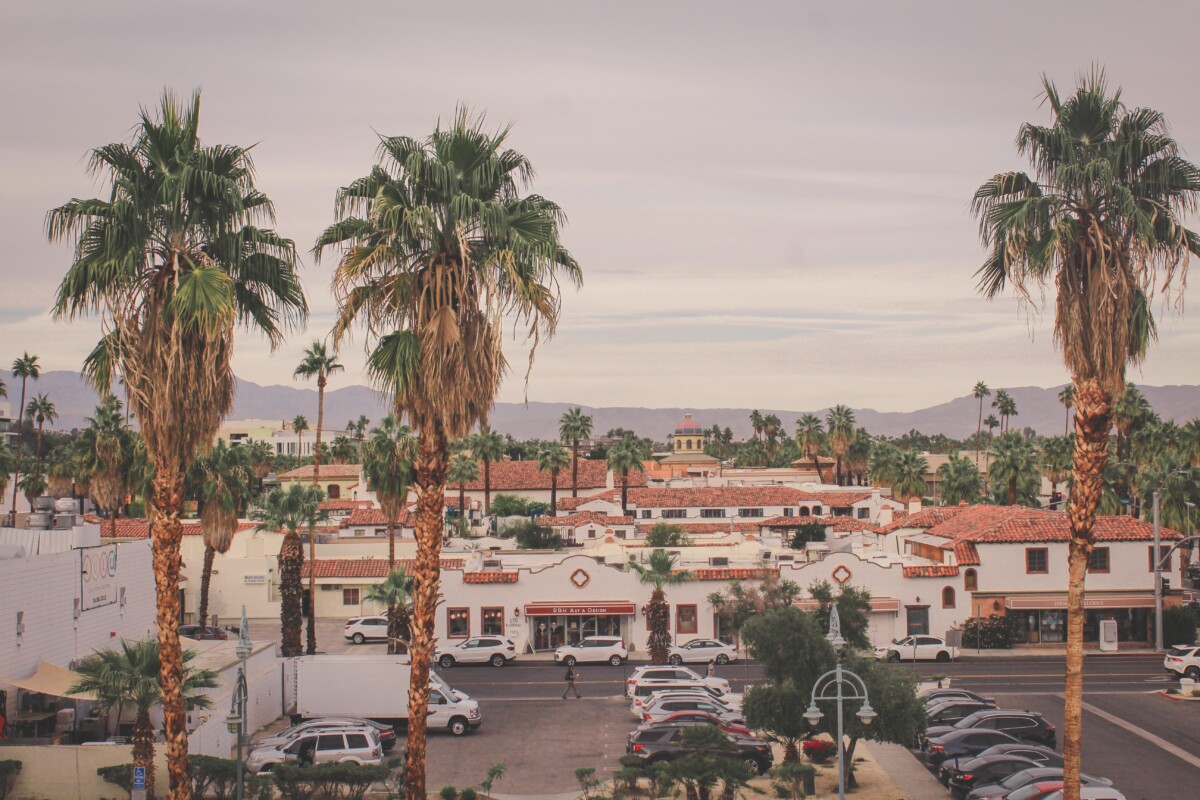 Palm Canyon Drive is the face of Palm Springs. It's a road you'll find yourself on over and over again, day after day, night after night. It's a road you'll slowly memorize as you stop by for everything: quick cups of morning coffee, rushed orders of lunch, monstrously sized date shakes, mid-day art walks, sculpture spotting sessions, upscale shopping sprees, and Thursday evenings out.
The main drag is a beautiful walking area. A few buildings have given into a warmer, Menton-like color scheme: buttery yellows, paled-out salmons, light ciders. But for the most part, Palm Canyon Drive is a bright white, blue-slapped, clay-roofed business-filled lane, sided by sun-dimpled, palm-stippled walkways.
Palm Springs Walk Of Stars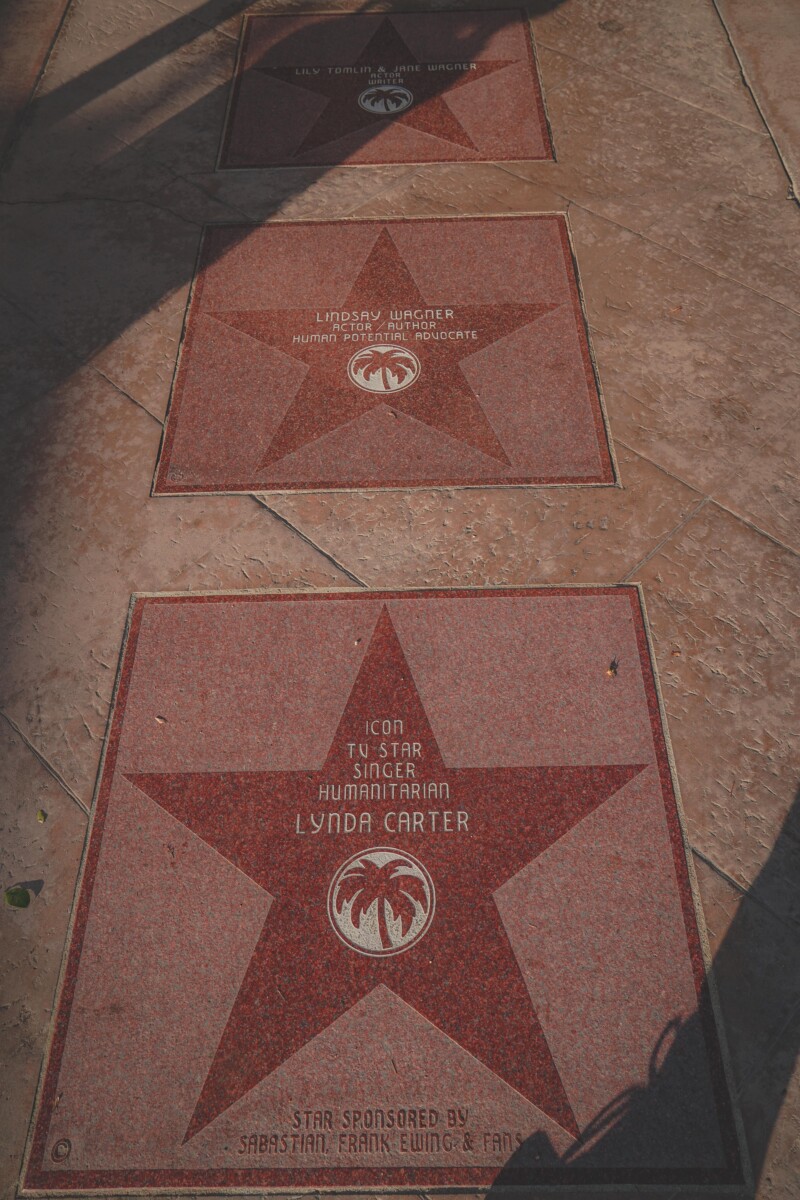 Right on those walkways, you'll find The Palm Springs Walk Of Stars. This is where most of Palm Springs' 400-plus Hollywood-style bright pink plaques reside (though a few live on Tahquitz Canyon Way too). You'll see lots of lesser-known names – names of humanitarians, athletes, and pioneers. You'll see fewer recognizable names: Truman Capote, Elizabeth Taylor, Sophia Loren (you can find a full listing of inductees, with addresses, here). You'll see names that are tied and tethered to Palm Springs.
Plaza Theatre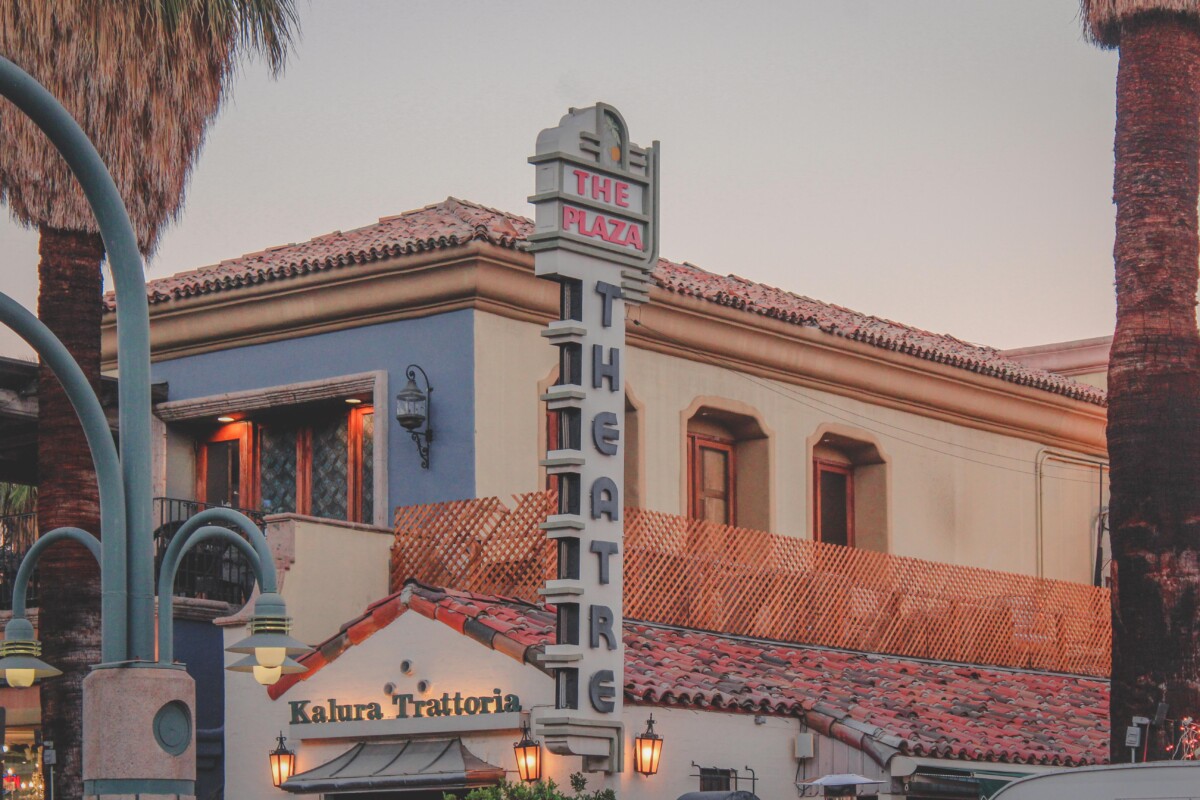 The first word that might spring to mind when you think of Plaza Theatre is charming. The second, quaint. The third, historic. Plaza Theatre is all of those things. It's one of the most recognizable buildings on Palm Canyon Drive – large, broody, white. There's a tall, thin, key-shaped THEATRE sign out front, announcing the Plaza's entrance.
The theatre itself dates back to 1936. Back then, it was a place to see movie premieres (starting with Greta Garbo's and Robert Taylor's Camille). It continued to be that place – that place of openings and showings – for a long time. Then, for over two decades, between the 1990s and 2010s, the theater was given new life by The Fabulous Palm Springs Follies, a vibrant, long-running musical show directed by Riff Markowitz. If I told you most of the cast was in their 70s and 80s (and the young ones were in their 50s), you probably wouldn't believe me. But it's true. The cast of The Fabulous Palm Springs Follies was older – they were parents, grandparents, and great-grandparents.
The Follies left in 2014, signaling the end of an era. Since then, The Plaza Theatre has been trying to find its place in Palm Springs. Today, it's in the midst of a donor-backed restoration, but I still recommend stopping by and checking the events schedule.
Flannery Exchange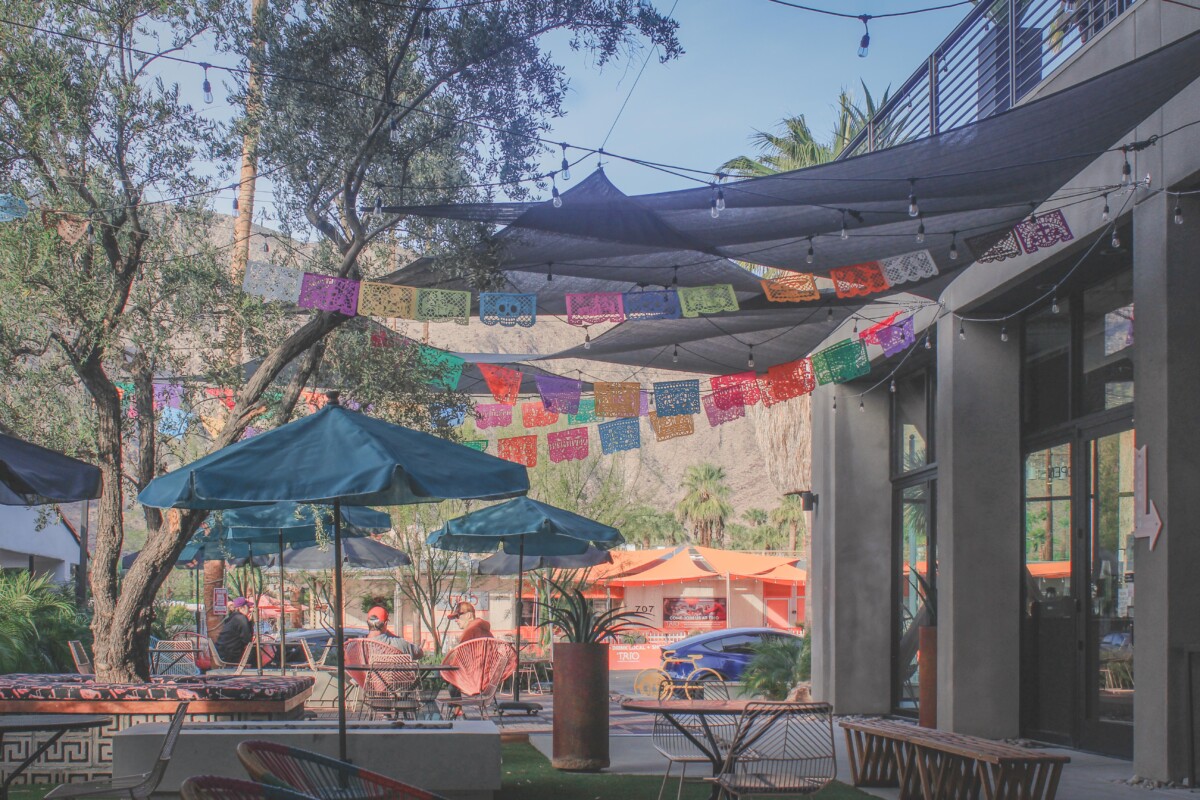 I visit Flannery Exchange on a tired Monday. It's a warm morning; Palm Springs teeters at 80 degrees. I've been in a work slump these past few days, too brain-dead to think and too brain-dead to type. But Flannery Exchange proves to be a slow cure for writer's block.
Flannery Exchange is a mixed-use space in Palm Springs' Uptown Design District. It's a former bank, a coworking center, and an event lounge with a rooftop deck (that faces the mountains head-on). There's a cafe on the lower floor too. It's small and chic and picture-perfect. The doors that lead in later lead out to a turfed patio shaded by black tarps and a black overhang. Small, night-lit bulbs are woven above umbrellas. They'll add a soft glow later, but right now, they're not needed. Light spills everywhere, even through crooked branches and Papel Picado streamers. It spills onto laptops and smartphones fished out of bags. All the school calls and zoom calls and personal calls happening right now melt together into a single static buzz. The voices are loud; the music is louder. Flannery Exchange is one of the best places to work (or simply relax and read a book) in Palm Springs.
Palm Springs Coffee Crawl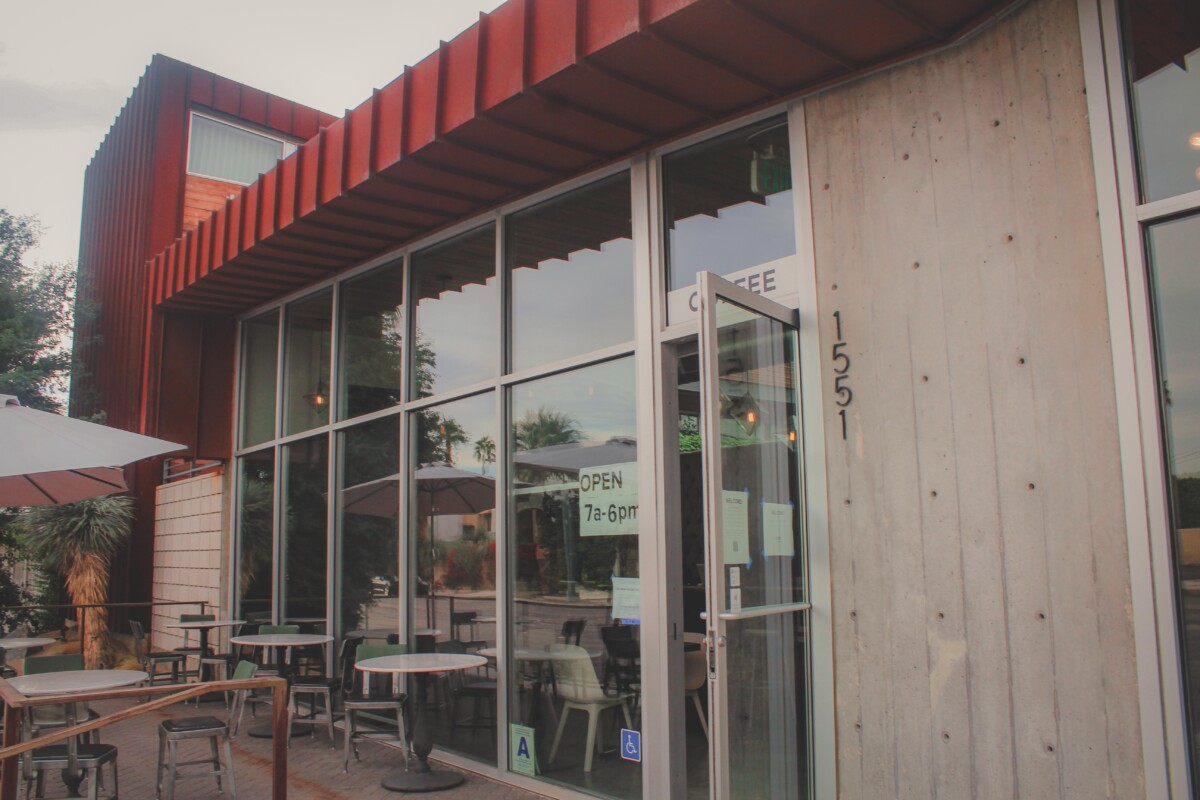 Flannery Exchange's Cafe La Jefa isn't the only coffeehouse in Palm Springs. There are others: Koffi, 4 Paws, Ernest, Gré, Cartel. Coffee in Palm Springs can be strong, so if you're attempting a coffee crawl, go slow. Take it one day at a time. Having tried and tested every coffee house in Palm Springs (you can read our full Palm Springs coffee guide here), here are my favorites: Koffi for their organic hot coffees (great-for-the-price and straight-to-the-point) and Cartel for their Coconut Caramel Lattes (CCL).
Travel Tip: If you're in Indio, head to Everbloom for silky-smooth coffee infused with your choice of house-made syrup!
Isabelle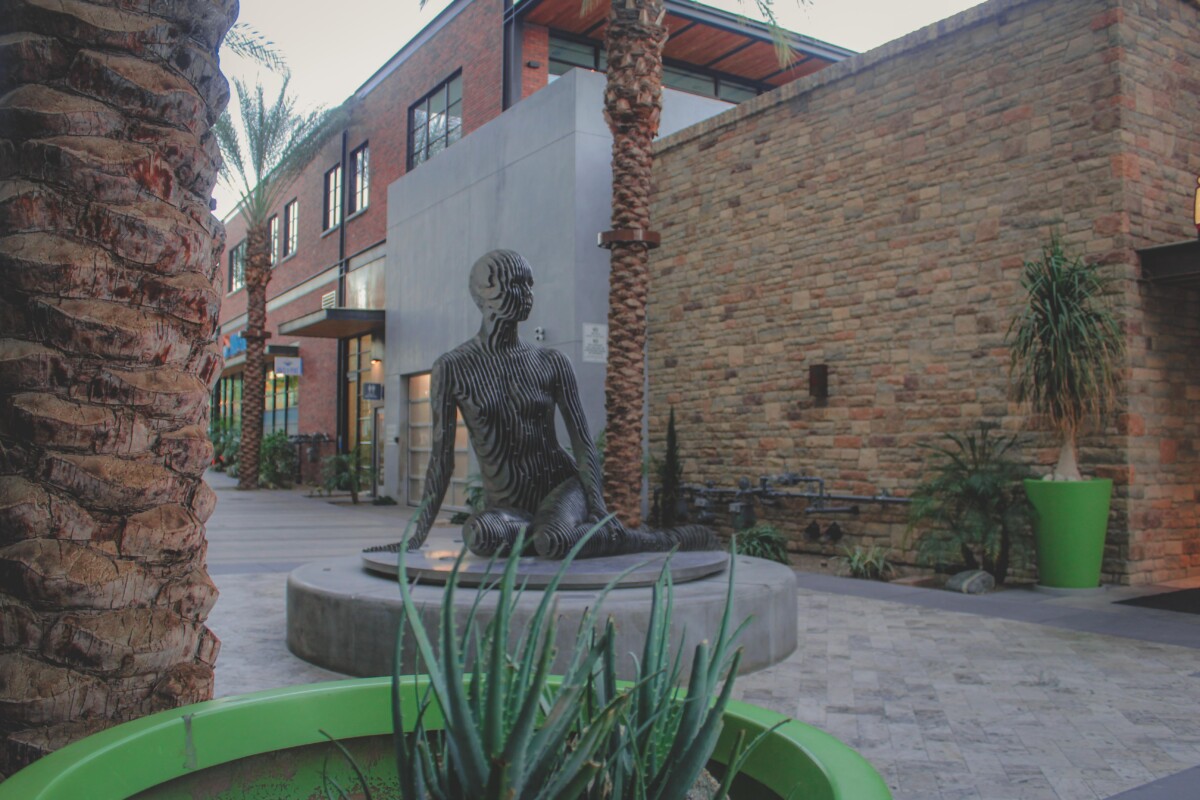 Isabelle sits suavely behind the Starbucks Reserve in Palm Springs. She is the vision of Julian Voss-Andreae, a German sculptor and former physicist (who researched Bohr-ish topics like the Wave-Particule Duality Of C60 Molecules). Voss-Andreae's works are a sum of parallel sheets, metal reams that shimmer and glimmer in the light. They're dexterous designs that shift and shift and shift as you walk. Circle Isabelle and at some point, she starts to disappear. She fades like a ghost. She becomes a shadow of the full, bodied sculpture you saw just moments ago. Isabelle is the kind of model that makes you walk in circles, thinking and thinking and thinking how was this done.
Palm Springs Babies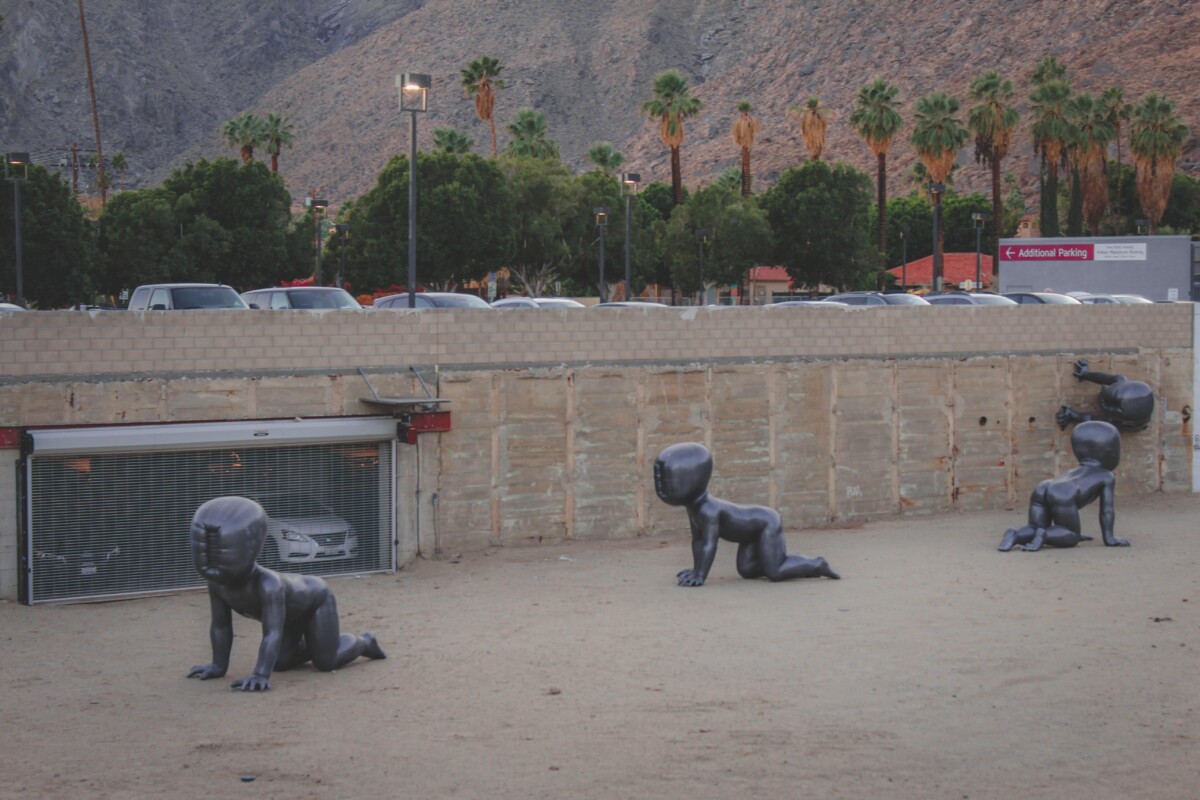 I can't look away. I want to, but I can't. My mouth dries, my fists clench, my throat clamps. I thought I'd be prepared for this (keep Austin weird, everyone), but I'm not. It's a disconcerting scene: big, bumpy babies crawling helplessly in a prison-like pit. They have no eyes, no mouth, no ears. A bar code replaces their face. From afar, it looks like hoodies have been tightened around their heads like a noose. They say art is supposed to elicit an emotional reaction. And if that's the definition, then Babies is art.
"Move along, hon," a mum hurriedly turns her kid's attention away from the depression in the ground. "There's nothing to see here."
"What the f-," a man stops in his tracks. He's just finished wink-winking beneath a 26-foot tall Marilyn Monroe statue and crossed over to see what the fuss is about. The smirk he had when he stood between her legs is erased. He's repulsed. "What sick animal," he stops again, spits, and stomps off.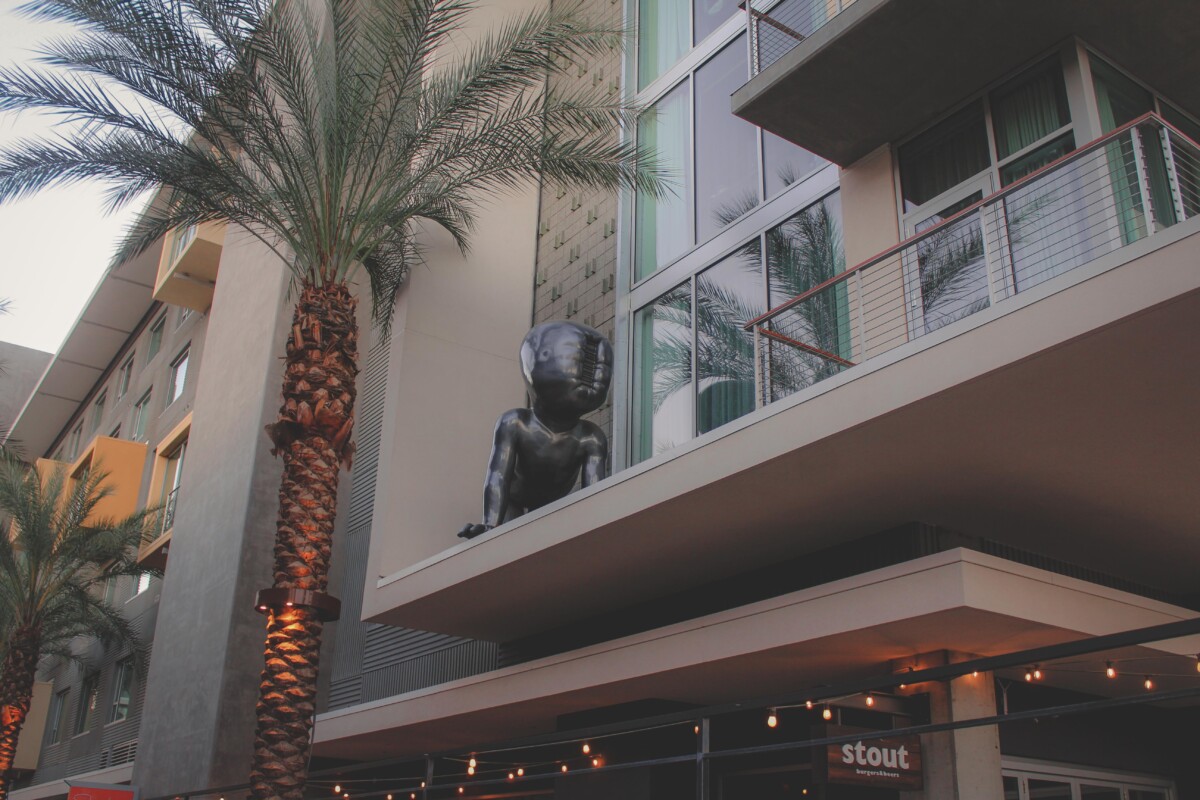 Seeing David Cerny's artwork is one of the strangest (perhaps, nightmare-ish) things to do in Palm Springs. His works are intentionally obscene. They're meant to shock, to repulse, to defile. They are usually (if not, always) controversial. In Cerny's own words, "I just enjoy pissing people off [source]". But there's more to Babies (which was first installed in Prague's Žižkov Tower in 2000) than just that. These Babies are symbolic of dehumanization. These babies don't have wholesome eyes and button noses and sweet smiles. They aren't distinct. They aren't individuals, in any sense of the word. Babies is art that makes you talk and art that makes you think. And for that reason alone (creep-factor aside), I'm including it on this list.
Palm Springs Art Museum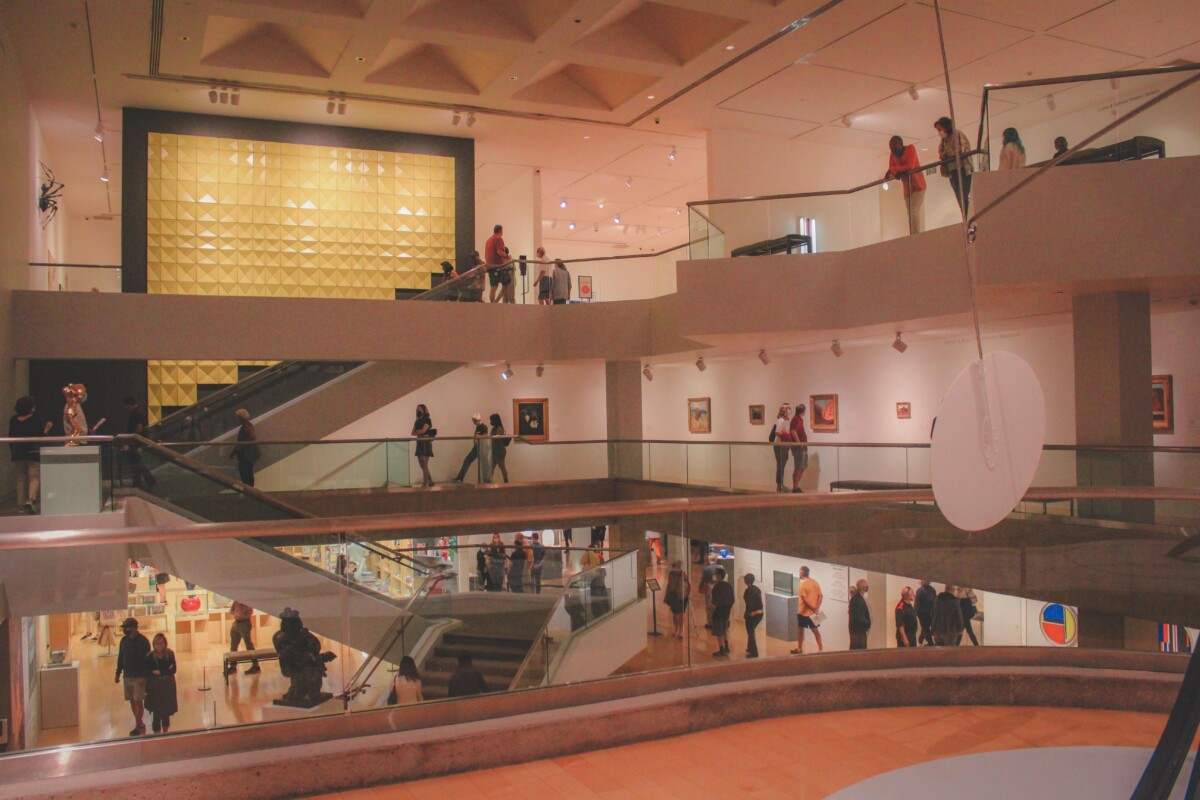 Right across from the sand pit of Babies is a blockish, double-staired building: The Palm Springs Art Museum. The Palm Springs Art Museum is where zany, unconventional, experimental ideas find a home. The collection spans over 10000 objects (including Mark Bradford's layered, collaged abstract Rat Catcher Of Hamelin IV and Zhan Wang's illusory Artificial Rock) scattered and spread over three floors. Even in the chaotic throes of Thursday evenings (when the museum cuts admission down to zero), it's still easy to see each work – the black-and-white photographs, the bulges of color, the glimmering installations – one at a time, uninterrupted.
Travel Tip: If you're craving more museum experiences in Palm Springs, head to the Palm Springs Architecture And Design Center, an oft-missed satellite branch of the Palm Springs Art Museum. And if you're traveling to Palm Desert, don't miss the Faye Sarkowsky Sculpture Garden!
Love Letters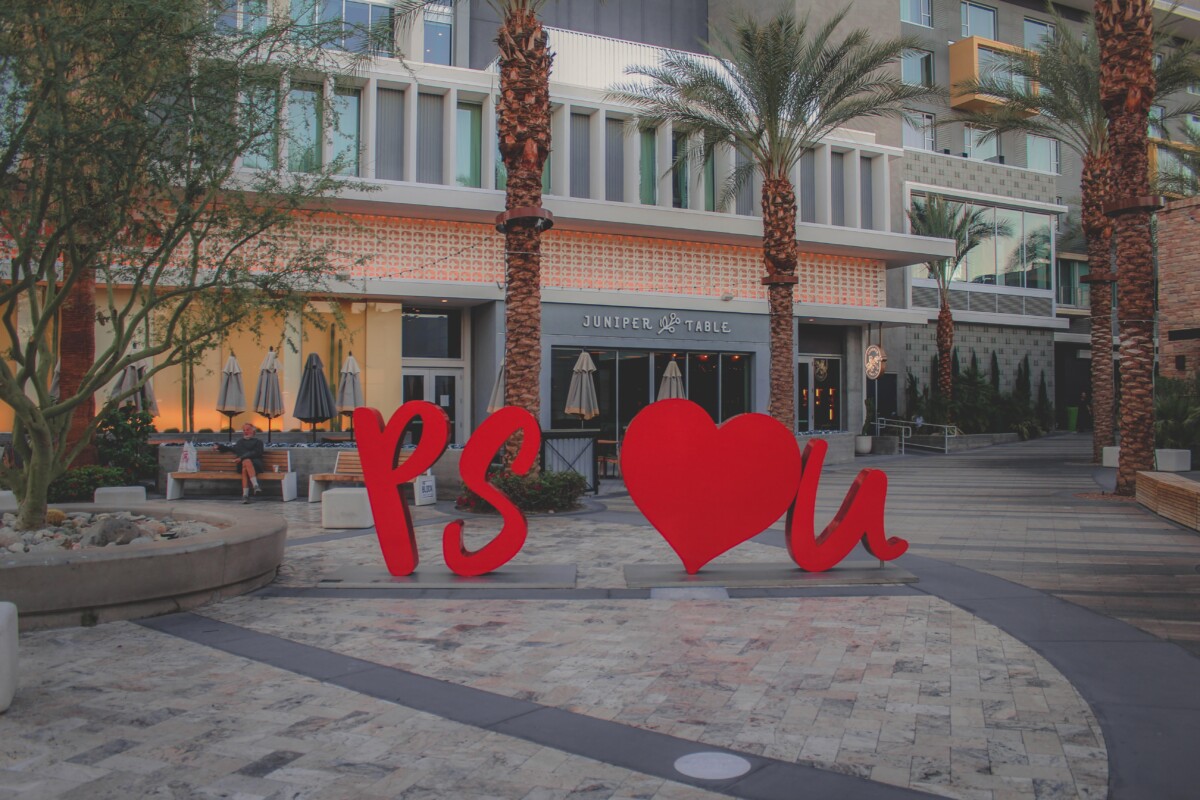 We love a good ol' interactive art piece and Love Letters (designed by Maru Palmersheim) is just that. Squeeze into the space between "PS" and "Heart U" and you become the I. The sentence shifts, "PS I Heart U." Its message rolls off the tongue nicely: Palm Springs I Love You. Or alternatively, P.S. I Love You (just like those old postcard sign-offs). Remove the I, and it's still a nice turn of phrase: Palm Springs Loves You (which is true. Palm Springs is the kind of city that if shown love, loves you right back).
The Shops At Thirteen Forty Five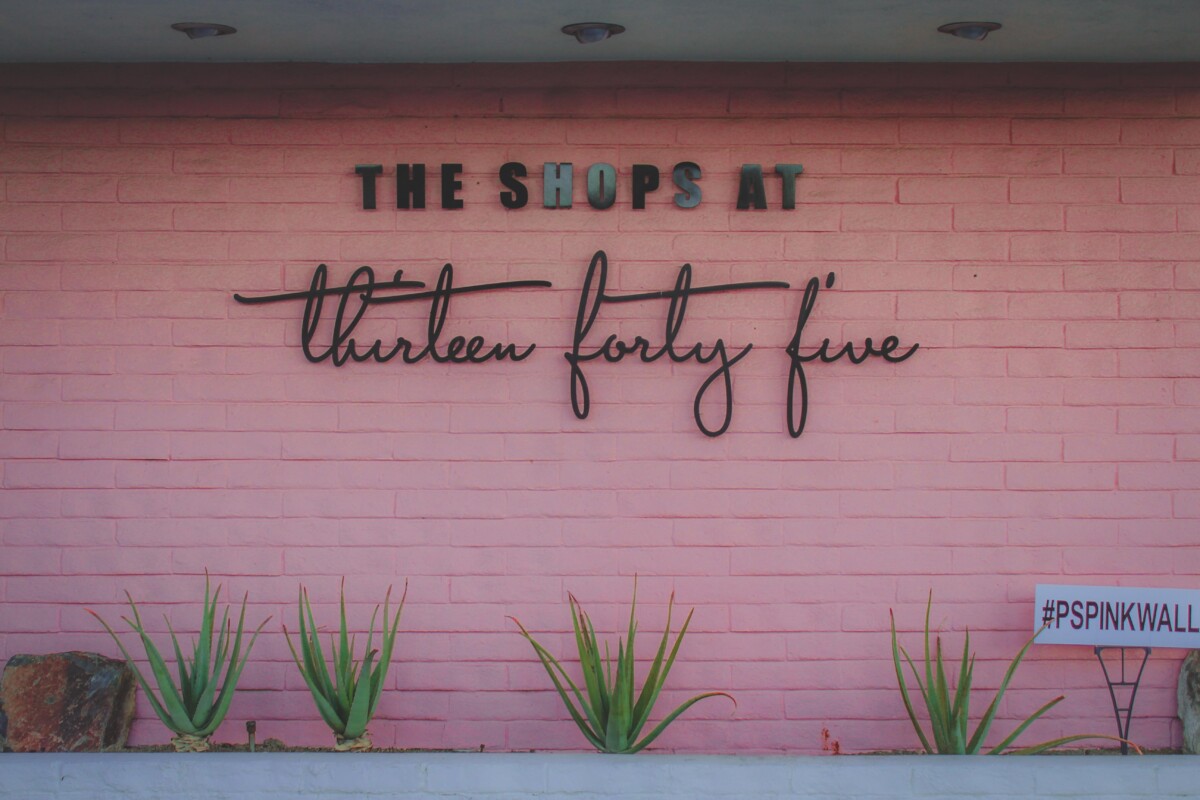 Skip #thatpinkdoor and head to #thatpinkstore instead. It's a long-halled mini-mall that leads in and out of aesthetic boutiques. Between a wall of hats and a room of rugs (stacked and draped Morroco-style), The Shops At Thirteen Forty Five feels effortlessly cool and chic and fashionable. It's luxurious yet far from exclusive. Take a good look around and you might find patterned beach towels for under $50. Dive deeper and you might see catci candles for $15.
A Few Of Our Favorite Shops At Thirteen Forty Five:
Soukie Modern: through its woven rugs and hand-crafted home decor, this collaboration between Kenya Knight and Taib Lotfi allows visitors to connect (just a little) to Marrakech.
The Backyard PS: cute indoor-outdoor garden shop with garden books, plantings, and ceramic totems
FOS Palm Springs: full-service interior designers (they also sell really funky white resin monkey lamps)
Recapitate: very Mojave-style hats made by Todd Fink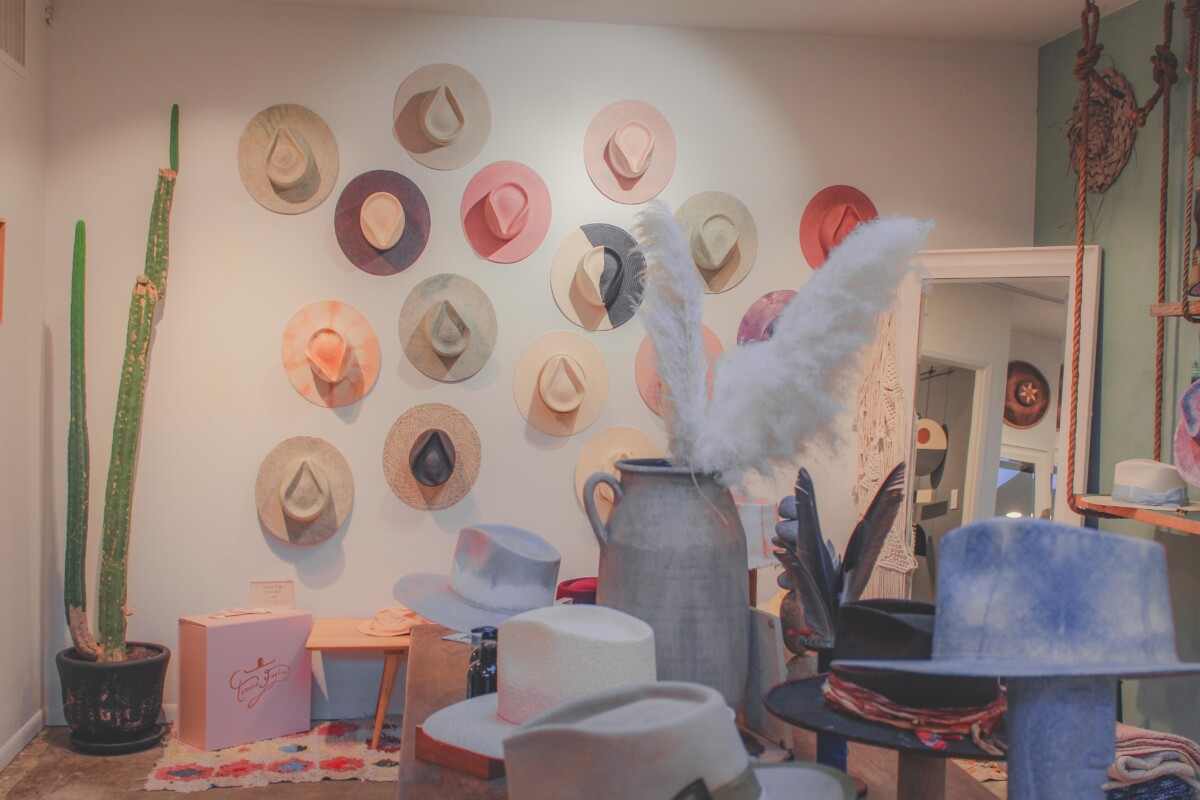 Shopping In Palm Springs
Thirteen Forty-Five isn't the only place to shop in Palm Springs. There are other boutiques, with stylish, inviting window displays, sprinkled over town. This is a city where indie stores thrive.
A few of our favorite shops in Palm Springs:
Brandini Toffee: the free samples will lure you in. Inside, there's toffee popcorn, toffee ice cream, and toffee milkshakes. Get the toffee brownies (no questions asked. you can thank me later).
Elizabeth & Prince: a "cool girl" (more Sally Rooney than Gillian Flynn) lifestyle boutique. Splurge on an undeniably sexy, power-move of a jumpsuit by LA-based Overlover.
Just Fabulous Palm Springs: LGBTQ-friendly gift shop on Palm Canyon Drive (lots of Mid-Mod coffee table books, Golden Girls and Dolly merch, and LGBT titles)
Mojave Trading Post: I like to call this Palm Springs' everything store. It has everything – coffee, jewelry, soaps, art prints, clothes, potted plants, brush rocks, salts, pins, etc.
Revivals: best volunteer-run resale shop in Palm Springs. 100% of the profits support medical and mental healthcare at DAP Health.
Thick As Thieves: cute concert tees, patterned babywear, and boho prints. It feels more like Joshua Tree than Palm Springs (in a good way).
VillageFest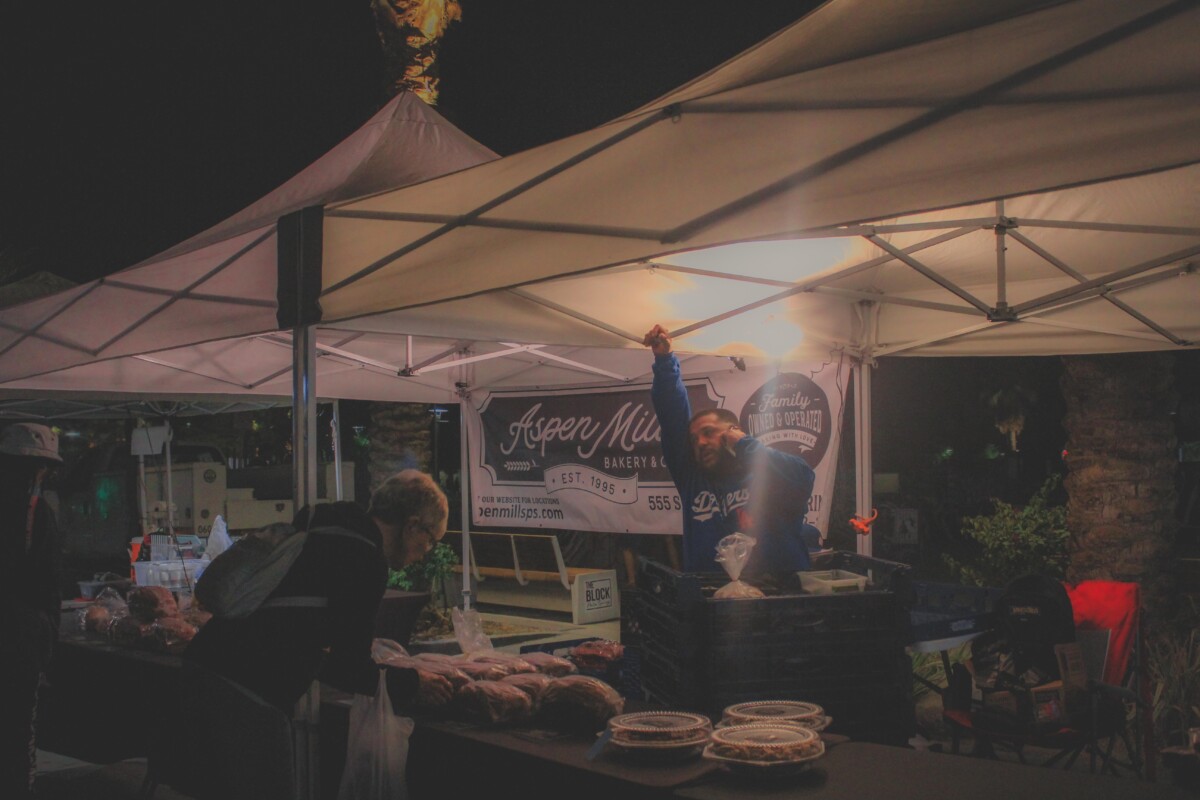 On Thursday night, I decide to stop by VillageFest, a buzzy, weekly street fair in Palm Springs. It's late. The sun is crawling down; the crowds are crawling in. The air clings to the scents of smoked meat, lit cigarettes, fresh-out-of-a-box shirts, and vanilla candles. You'll pass stall after stall after stall. You'll wonder if every business in Palm Springs is here tonight. It certainly feels that way. Heck, there's even a Police Safety And Rescue pop-up with merch stacked on a stand. Music plays. Right now, it's Smooth by Rob Lowe. Turn a corner and you'll see a street singer confidently belting lyrics. VillageFest is fun. It's entertaining. It's a family-friendly event that goes on and on till the lights go out. And it's one of the best things to do in Palm Springs.
Palm Springs Pride Events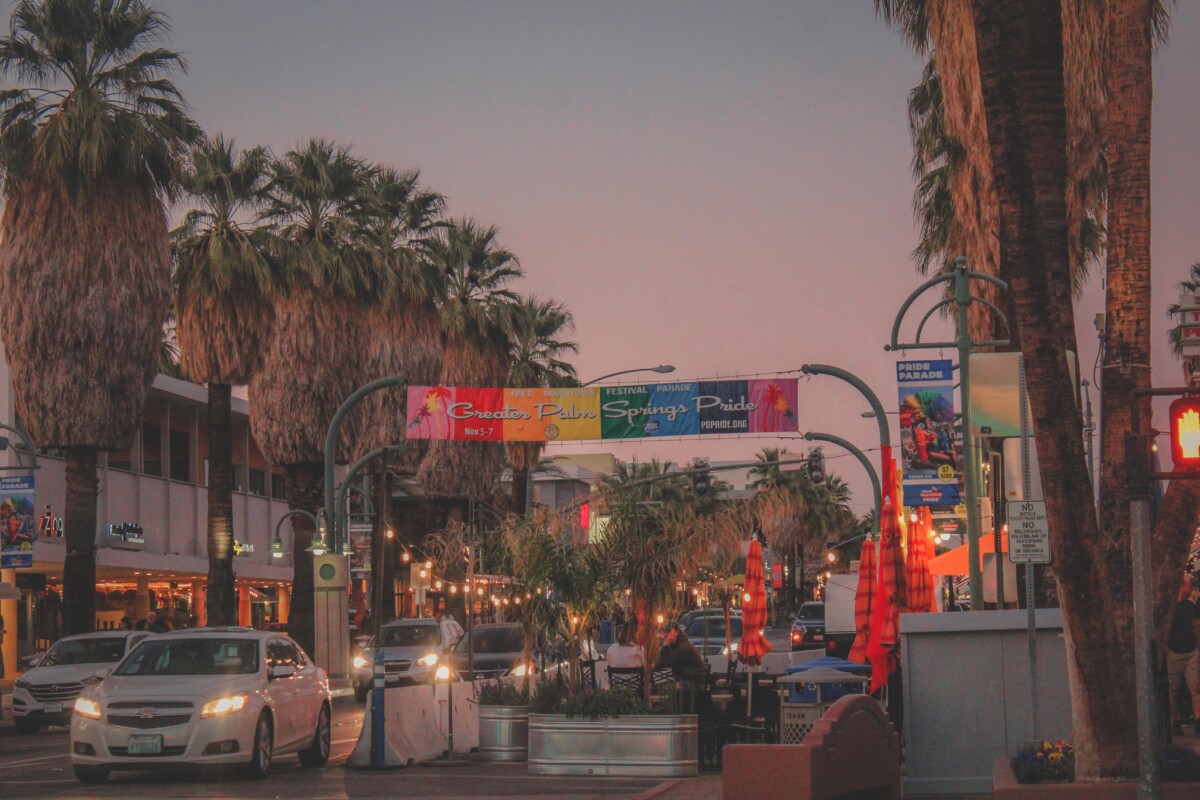 One of my favorite aspects of Palm Springs is its inclusivity. Palm Springs is an LGBTQ welcoming city. Over 40% of Palm Springs residents officially identify as LGBT. In 2016, Palm Springs passed a transgender-supporting bathroom ordinance. In 2018, Palm Springs elected the first all LGBT-identifying city council in the United States. It's a city that, year after year, celebrates and protects LGBTQ+ identities.
Unsurprisingly, Palm Springs hosts a series of Pride events:
Dinah Shore Weekend: known locally as "The Dinah", this annual five-day music festival has evolved into one of the biggest lesbian getaways in the world
Greater Palm Springs Pride: rainbow floats. rainbow flags. rainbow umbrellas. This colorful, November festival draws big crowds.
Cinema Diverse: September film showcase highlighting LGBTQ+ movies.
Palm Springs Air Museum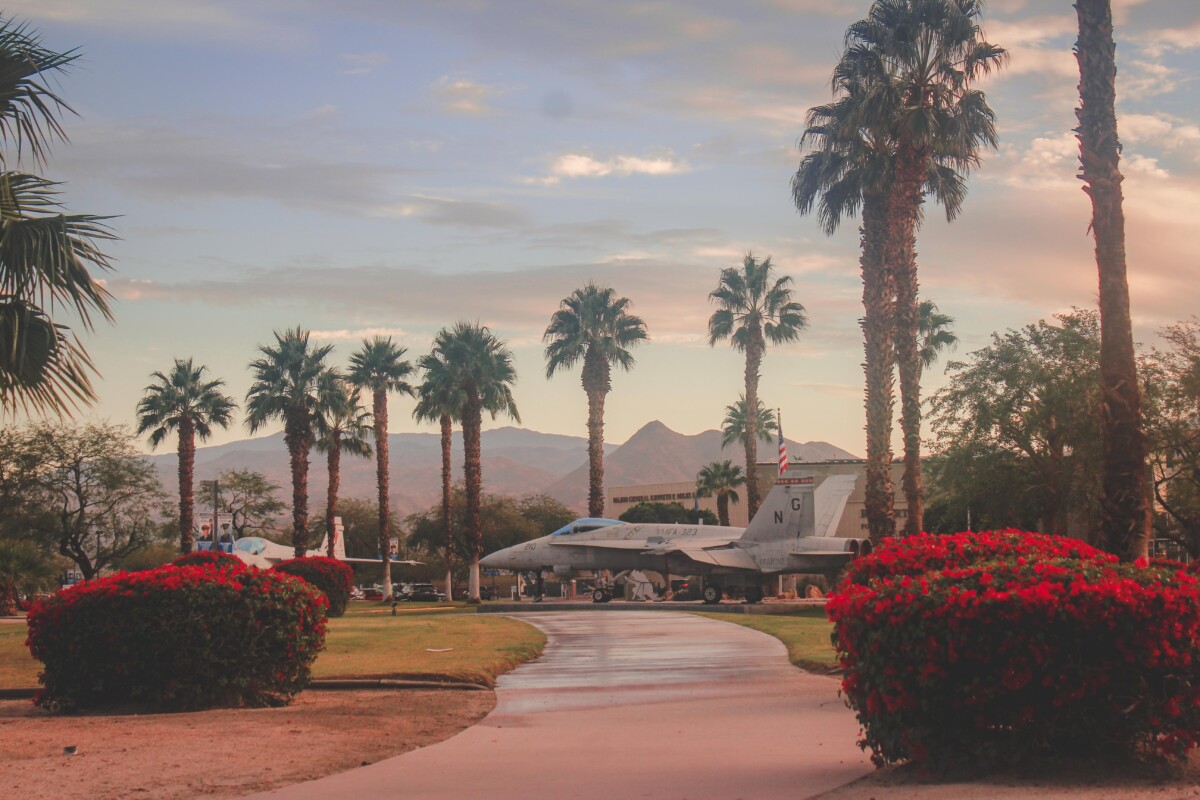 As I walk from hangar to hanger, old planes with long noses, thin noses, flat noses, and painted noses are laid out. We've arrived at Palm Springs Air Museum, an impressive and descriptive collection of WWII aircrafts. It's a place humming with aviation history fans. Most of the exhibits here aren't roped off, so you can walk around the planes, inch towards their wings, and place your hands right along the slats.
Travel Tip: Don't miss the research library (located above the main lobby area) with computer flight simulators!
Treat Your Self To A Spa Day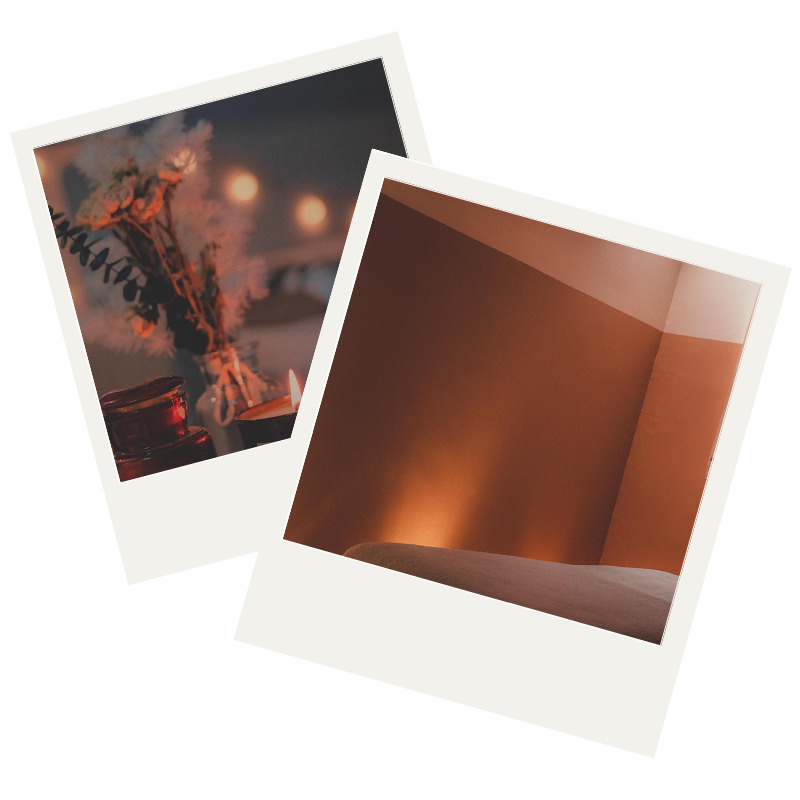 Needless to say, there are a lot of things to do in Palm Springs (case in point: we're not even halfway through this list). If you ever find yourself tired of walking and sightseeing and photographing and hiking and shopping and driving and socializing, know that there are quiet, restful places to rejuvenate.
The Well Spa: hyper-luxurious spa at Miramonte Resort in Indian Wells. The steam rooms are scented with soothing eucalyptus. Services offered include facials and body scrubs.
Paradise Thai: high quality spa right on Palm Canyon Drive. Paradise Thai offers hour-plus stretch and massage combos, foot soaks, and couples massages.
Estrella Spa: popular indoor-outdoor full-service spa known for its exfoliating and firming facials.
Explore The Resorts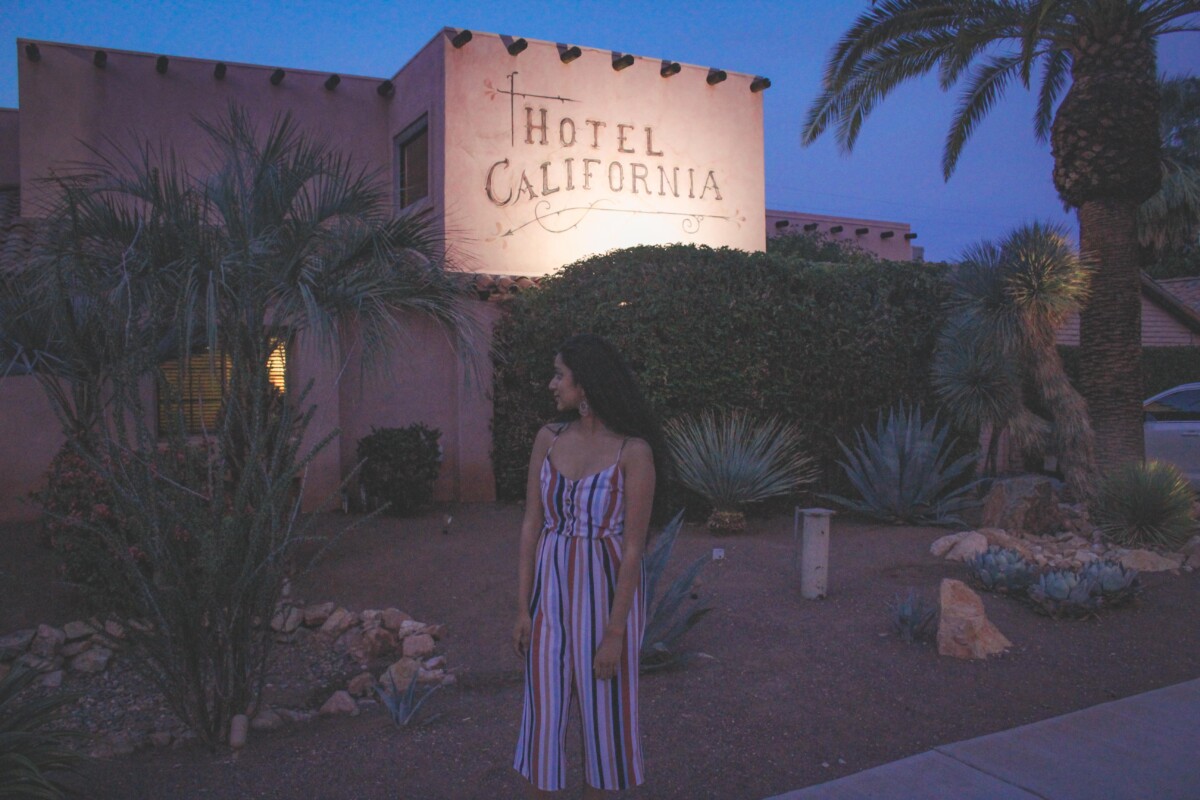 "Welcome to the Hotel California. Such a lovely place. Such a lovely face."
I'm mouthing the lyrics as I walk by Hotel California. It's not the same hotel as the Eagles song, but it feels appropriate to let my feet fall into a rock rhthym. Palm Springs is a city of resorts. The hotels here are immaculately curated; they are grand, hedonistic escapes. Each one has a different theme: Korakia Pensione is a Moroccan plunge (the design is so delightfully North African, you'll easily forget you're in the continental United States), Sparrows Lodge is reminiscent of trips to the Smokies (you'll feel right at home in the chic, farmhouse style lodgings), Andalusian Court is a luxurious, Spanish wormhole (it's old and charming and romantic).
Relax By The Pool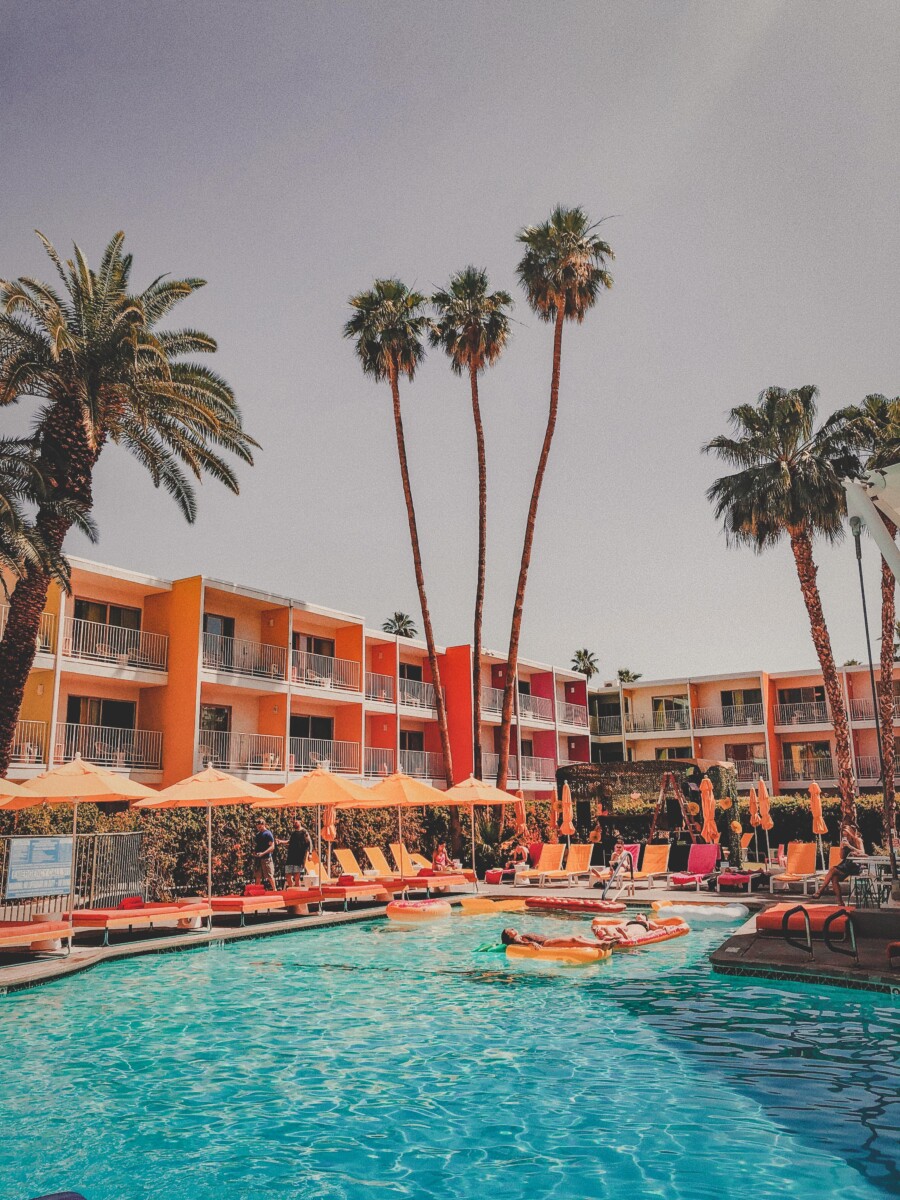 In conjunction with Palm Spring's resort scene is Palm Springs' pool scene. Here's the deal: summer in Palm Springs is hot. I mean, notoriously and deliriously hot, the kind of hot that leaves you dripping in sweat even when the A.C. is cranked up to full blast. So relaxing by the pool fits right into this list of things to do in Palm Springs.
Palm Springs' pool culture is a means of escaping the heat (well, mentally more so than physically – it's practically impossible to skip the heat physically). The water is nice and cold. In a weird way, it feels good to know that it's not just you suffering. You'll be surrounded by other well-meaning tourists atop unicorn and flamingo floaties, day-dreaming about thick, blankets of snow (maybe the latter part is just me?).
These are the Palm Springs hotels best known for poolside vacations: ARRIVE, Saguaro, ACE Hotel & Swim Club. Think sunset cocktails, pool parties, and dive-in movies.
Try A Date Shake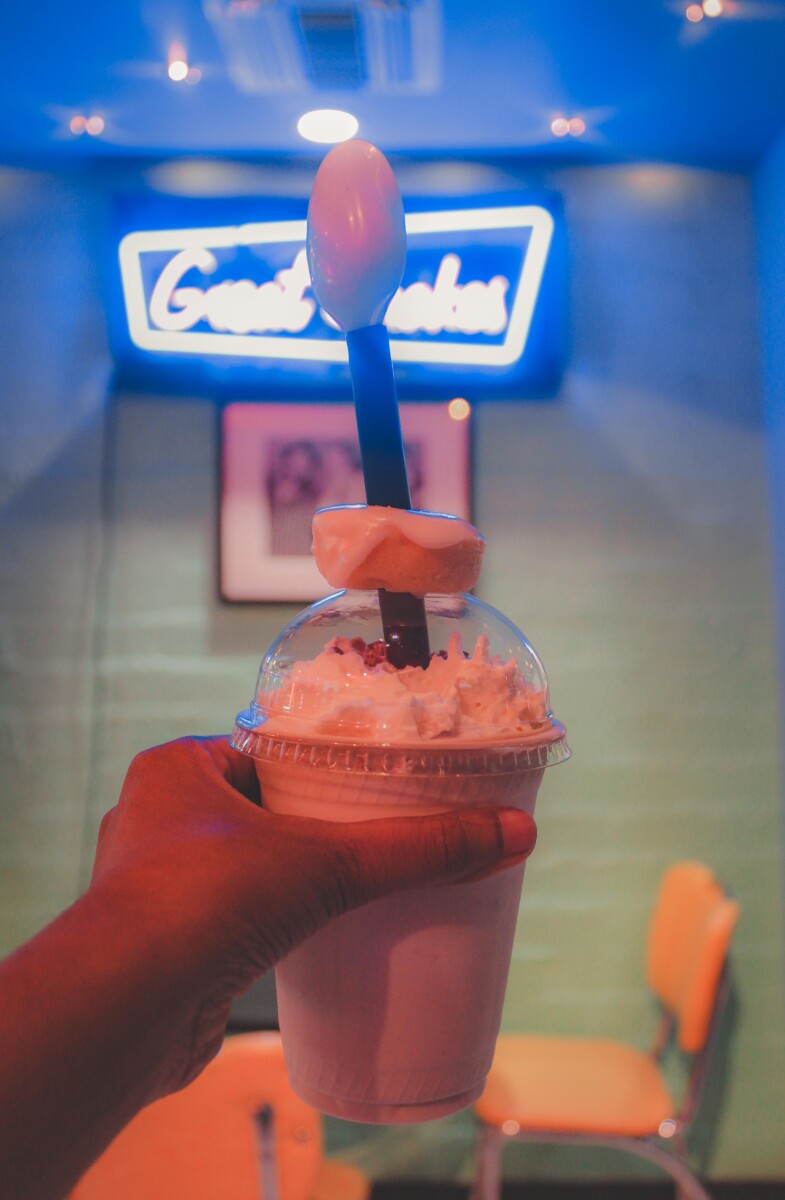 Another way to beat the heat is through date shakes, Coachella Valley's most iconic drinks. If it's your first time in Palm Springs, add these date-sugared milkshakes to your Palm Springs bucket list. Date Shakes are oh-so California, a sweet representation of The Golden State's position as one of the biggest date growers in the United States.
I've shared all my favorite date shake spots near Palm Springs in this guide, but if you're looking for a quick rundown of places to try, here they are: Great Shakes for the experience, Nature's Health Food if you're vegan, and Windmill Market for the flavor (seconds, anyone?).
Wind Turbine Tour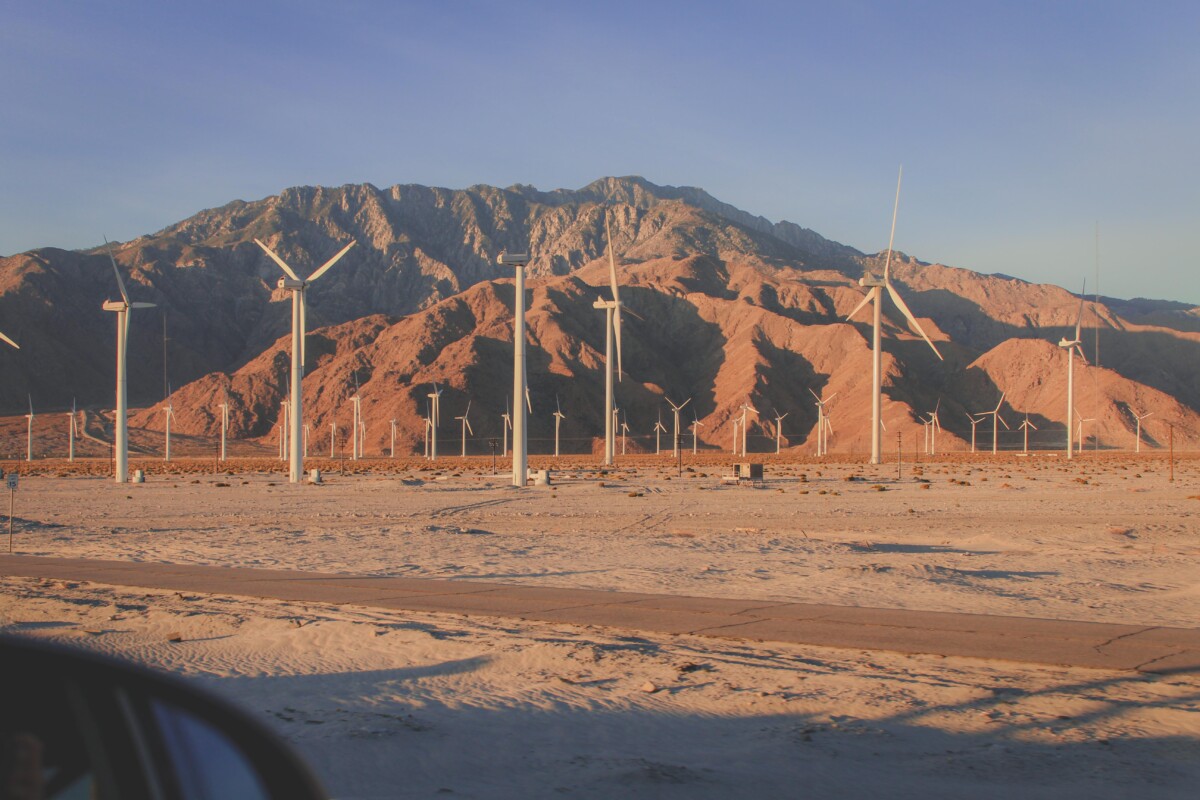 I drive past the wind turbines at sunrise. Under a glow of orange and red and brown, they look alien, like tall, white, thin pushpins jabbed into dead, desolate grounds.
If you're driving into Palm Springs from LA, chances are you've seen the iconic desert wind turbines. There are thousands of them (some estimate 2,700). For a closer look, opt for a self-guided tour or a guided electric golf cart tour. You'll dip into a bit of science and a bit of history. The tour touches on renewable energy (how exactly do wind turbines work and what purpose do they serve?) and the California Wind Rush (why are there so many turbines here and how did this area become an energy corridor?).
Tahquitz Canyon
Tahquitz Canyon is one of the most well-known hiking spots in Palm Springs. The trail is moderate (not too tough, but I wouldn't necessarily recommend it for beginners), unshaded, and facility-less, but the views are worth all the effort. Use the restroom before driving up to the hike, bring a Hydroflask, and slip on a good pair of hiking shoes (these are the ones I personally use and love. I've been wearing them for the past few years). If you can, catch the Ranger-led hike for a more in-depth experience (they're free with admission and depart at 8 AM).
Travel Tip: The highlight of Tahquitz Canyon is its stunning 60-foot waterfall. Given how hot and dry Palm Springs gets, there's a definite possibility that there might not be water in the falls. Be sure to check the Tahquitz Canyon website for the alert "No Water In The Falls" (this means that you won't see the waterfall in full force)!
Andreas Canyon Hike
My next few recommendations for things to do in Palm Springs all reside in Indian Canyons, the ancestral home of the Agua Caliente Band Of Cahuilla Indians. This is one of the most beautiful places I've ever been to in the United States. You'll want to spend a good amount of time here just hiking and breathing in the views.
Start your morning at Andreas Canyon, an easy-ish mile-long loop that traces past thickets of palms, ancient rocks, and a softly-running creek. Andreas Canyon feels like a surreal desert oasis, too majestic for words. It's a place that stilled me. I felt like stopping in my tracks, staring – mouth-agape, body motionless – at the Pride Rock-like landscape; at the dark, blue waters; at the towering palms. I mean, I probably would have done that (gotten lost in the magic of Andreas Canyon's beginning, never quite reaching the end) had it not been for the other friendly, encouraging hikers embracing the fullness and lushness of the entire path.
Travel Tip: Be on the lookout for snakes. Although we didn't see any while hiking, I have heard that they reside in the area. If you see a snake, just let it go (don't touch it or hurt it).
Split Rock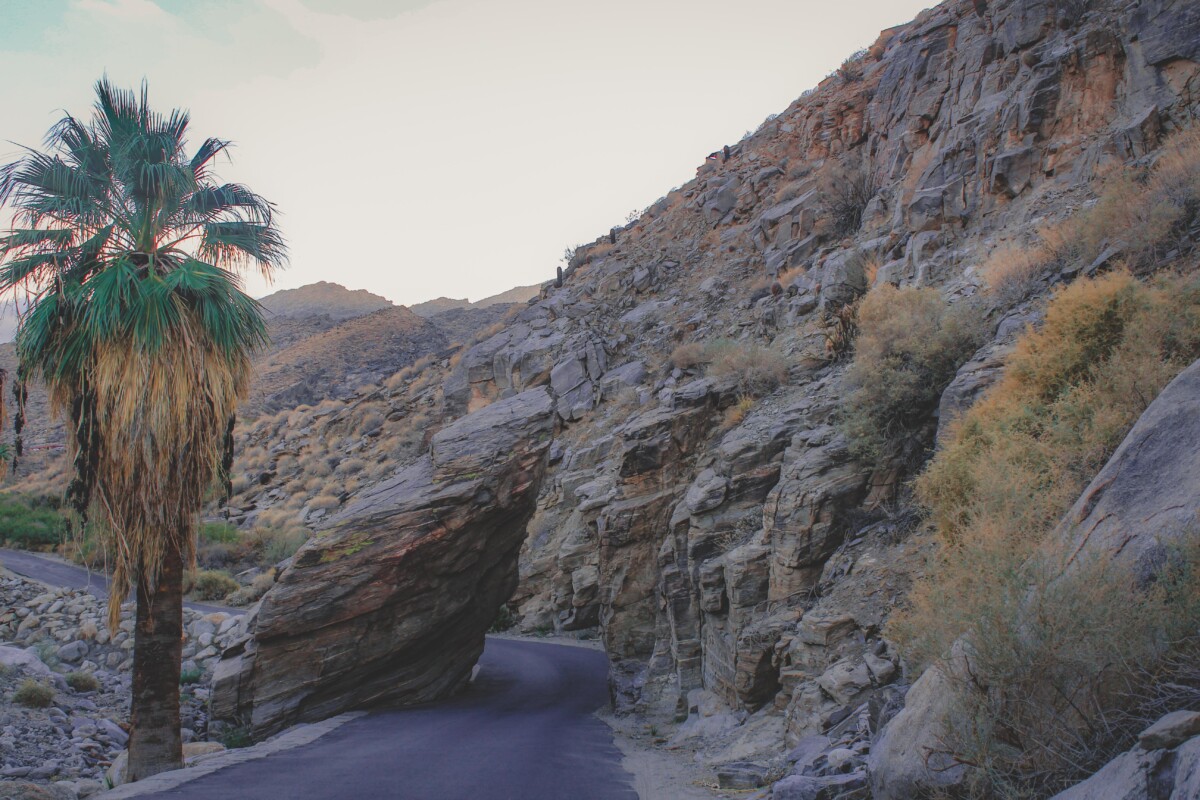 The over two mile drive from Andreas Canyon to Palm Canyon will take you past Split Rock, one of the most underrated sights in Palm Springs. Split Rock appears unexpectedly, a large, sudden presence on a windy road, where jagged dips and craggy curves still appear to be further-off into the distance. It's a unique, jarring sight that provides a singular slice of darkened shade on a long, sun-drenched stretch. You'll wonder, for a brief second, if your car will make it through (spoiler alert: it will. The road is wider than it seems, but drive carefully nonetheless). And then you're off, onto the other side, closer to Palm Canyon.
Palm Canyon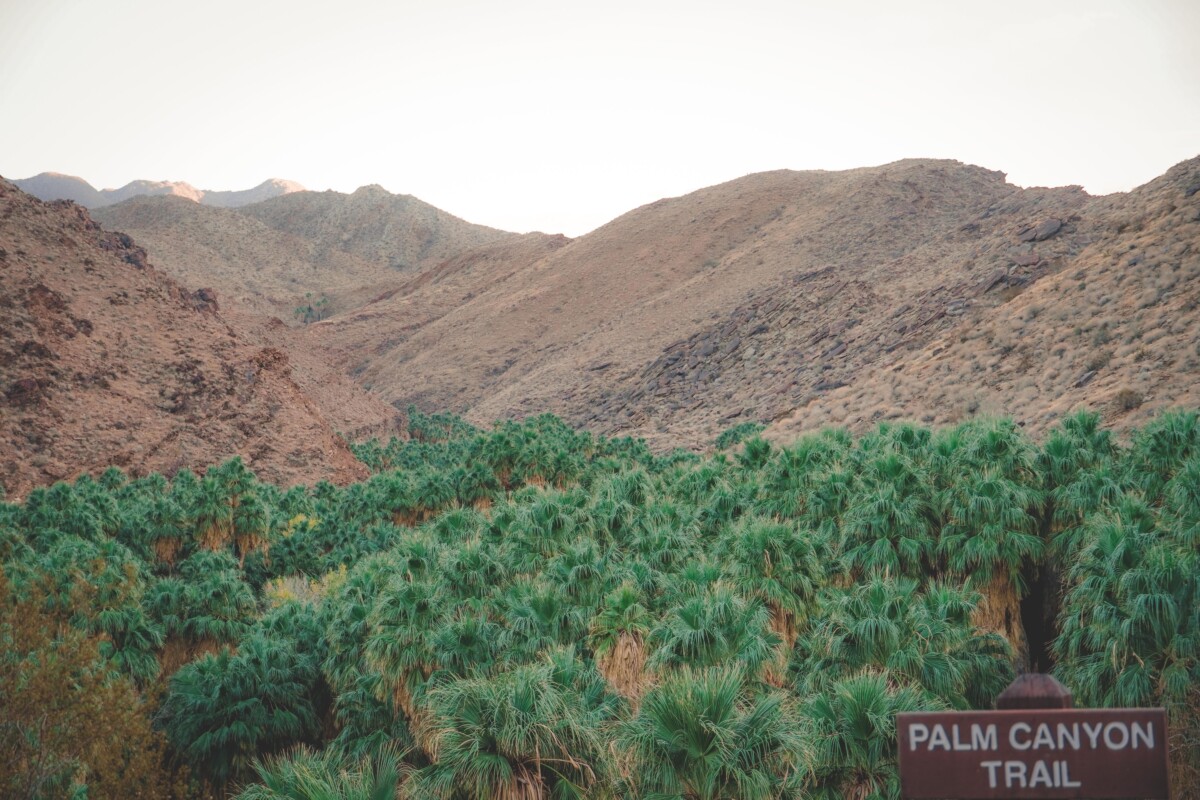 You don't even have to hike to enjoy the beauty of Palm Canyon. You'll see a huddle of green, resting below strong slopes of brown, right from the parking lot (next to the Trading Post). If you want, you can trek down, below the canopy, to a forest of thick, fan palm trunks. The hike is a few miles out-and-back (though, you could make it a loop by adding on Victor Trail).
Travel Tip: Visit the Trading Post to see Indian Canyon's selection of indigenous literature (this is a great place to pick up an indigenous-authored book)!
Parks In Palm Springs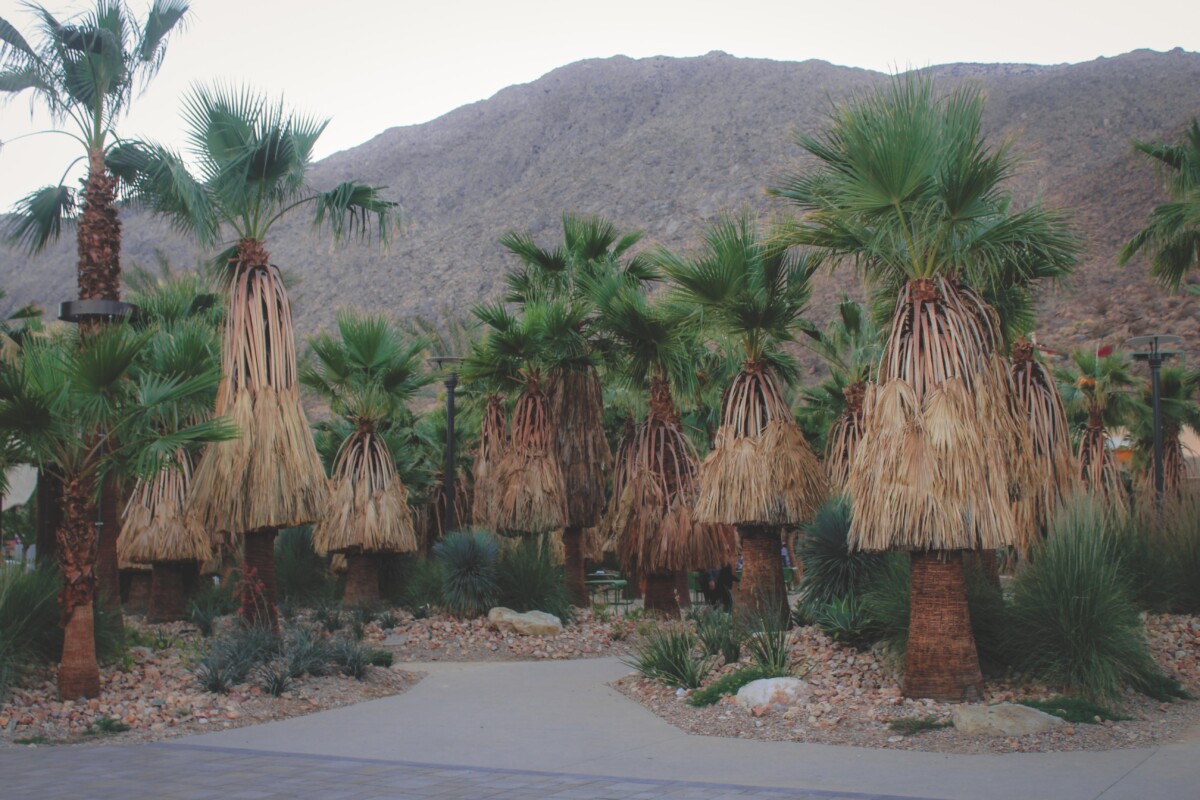 Palm Springs' parks are best appreciated on cool weather days, early mornings, or late evenings. They're usually wide, kid-friendly swaths with few (if any) spots of shade.
Here are our favorite parks in Palm Springs:
Palm Desert Civic Center:

the best park in Palm Springs (in my biased opinion). This park is

really

pretty. And it makes a statement. There are baseball fields, tennis courts, volleyball courts, and basketball courts. As you walk along the paths, you'll pass by a duck-topped lake and detailed statues. There's also a moving Holocaust Memorial.

Ruth Hardy Park: situated in the Movie Colony district, this nice, well-kept 20-plus acre park is perfect for picnicking
Victoria Park: a good spot for a light dog walk (note that lots of dog owners tend to leave their dogs off-leash)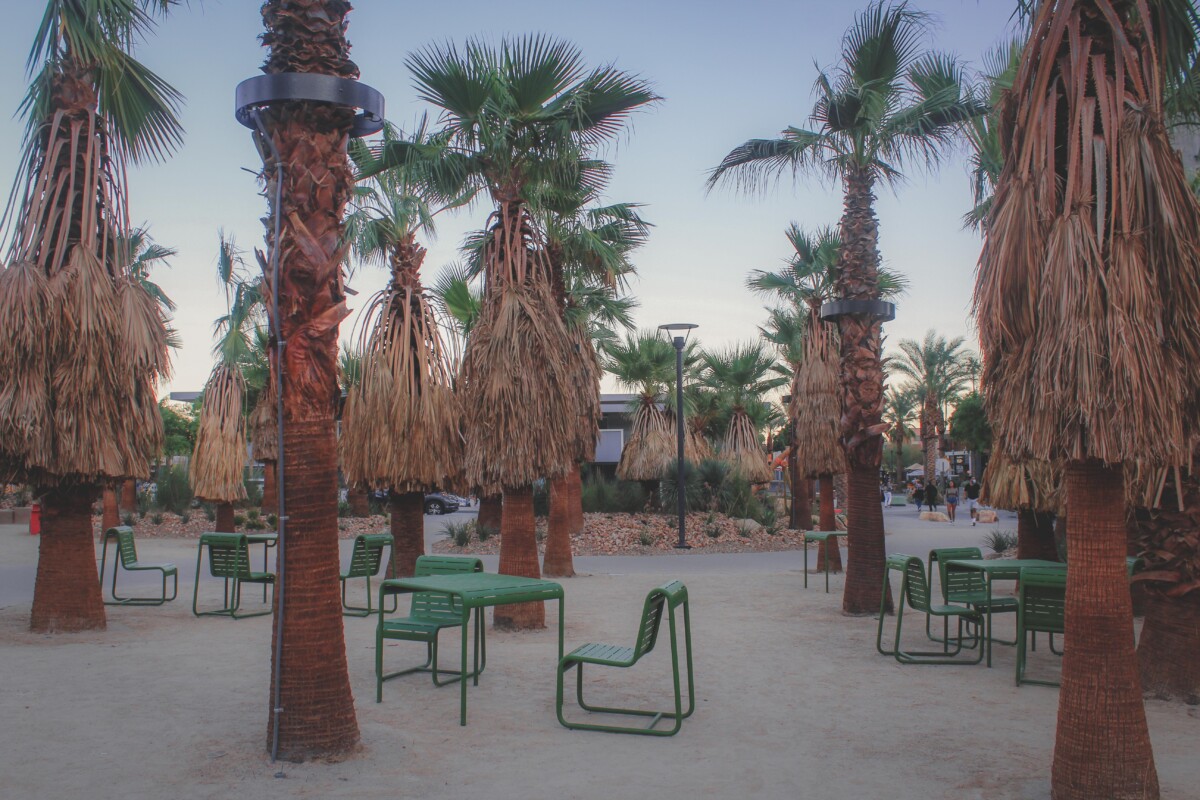 Backstreet Art District
One of the lesser-known things to do in Palm Springs is the First Wednesday Art Walk at Backstreet Art District, a small strip mall split between studios and galleries. Every month, on the first Wednesday between 5 to 8 PM, you get a chance to chat with artists (some are internationally recognized!) and gain insights into their works.
Moorten Botanical Garden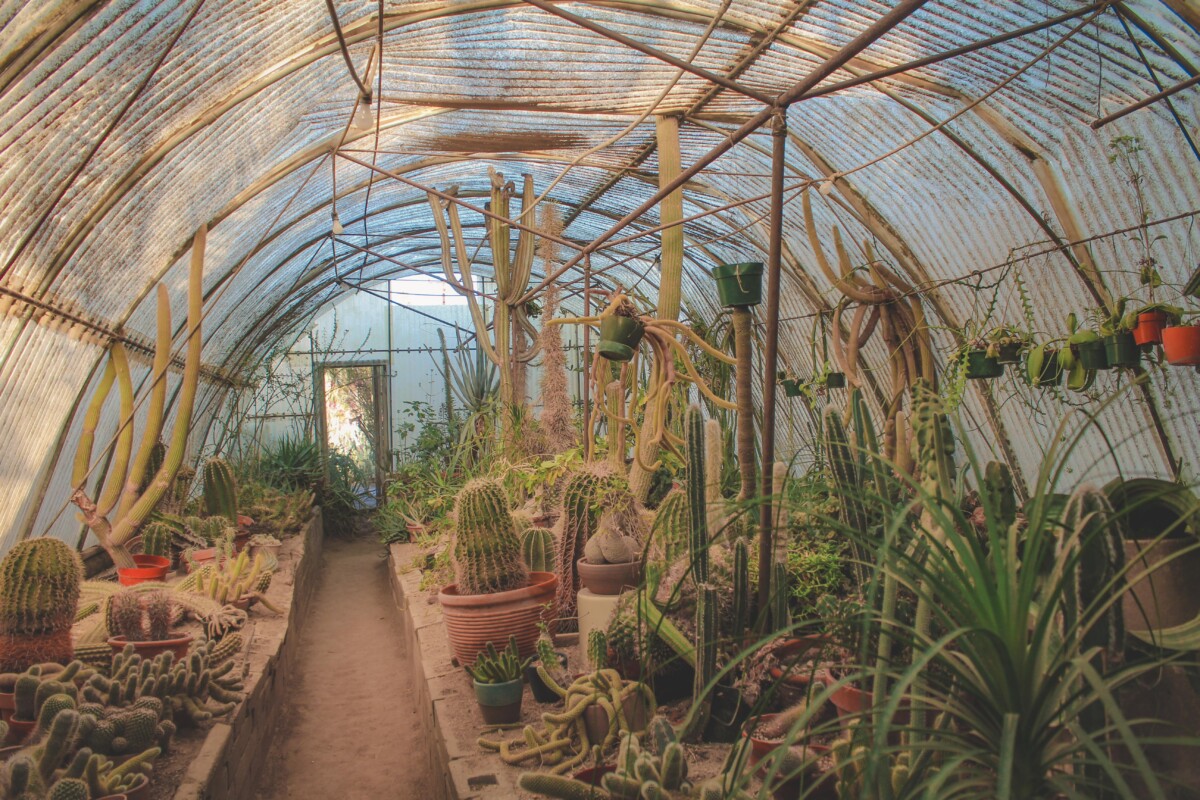 Moorten Botanical Garden, a unique, family-run Palm Springs attraction, doesn't take long to see. This small, packed, one-acre plot is best known for its greenhouse (The Cactarium), an alien-like hive of cacti. The plants inside are still and silent, but they don't look motionless. Thick twists of green, tangled-up like balls of snakes, slither across the aisles. More cacti squirm out of small, ceramic pots, their thorny tentacled fingers droop over curved rims. It's an interesting, one-of-a-kind sight.
Mary Pickford Theater
Named after silent movie actress Mary Pickford, Mary Pickford Theater feels like a step back in time. It's quiet and peaceful. You'll purchase classic movie foods and settle into comfortable, reclining seats. And when the lights dim, you'll escape, for an hour or two, into a big screen story.
Travel Tip: Catch a matinee show or go for the Tuesday and Wednesday all-day discounts!
Palm Springs Cultural Center
Although Mary Pickford Theater is located in Cathedral City, you can still catch a show right in Palm Springs at the Palm Springs Cultural Center. Formerly known as Camelot Theatre, the Palm Springs Cultural Center now plays host to film festivals, lecture series, plays, and jazz performances.
Desert X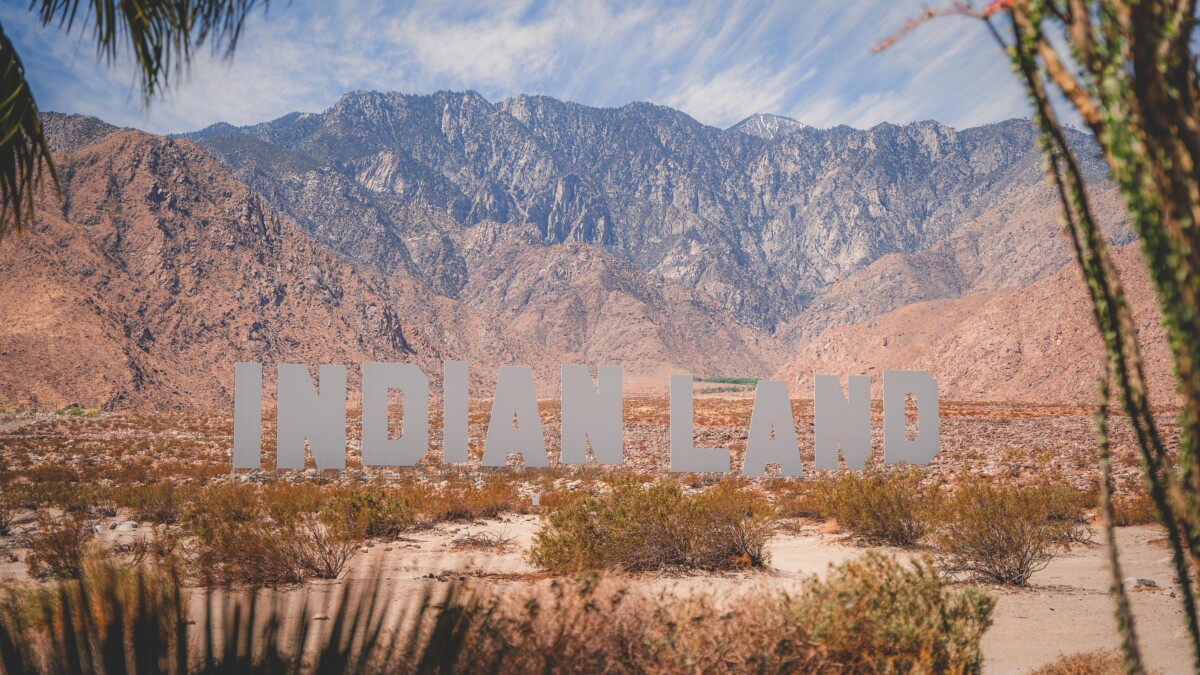 Desert X arrives at Coachella Valley in March and stays for three months a year. It's a scattering of installations across the California desert. These works – unique in their designs, engineering, and materials – engage with the harsh desert environment. They're layered and brilliant, sensitive and socially conscious. They call attention to BIPOC voices, feminist ideas, and environmental issues.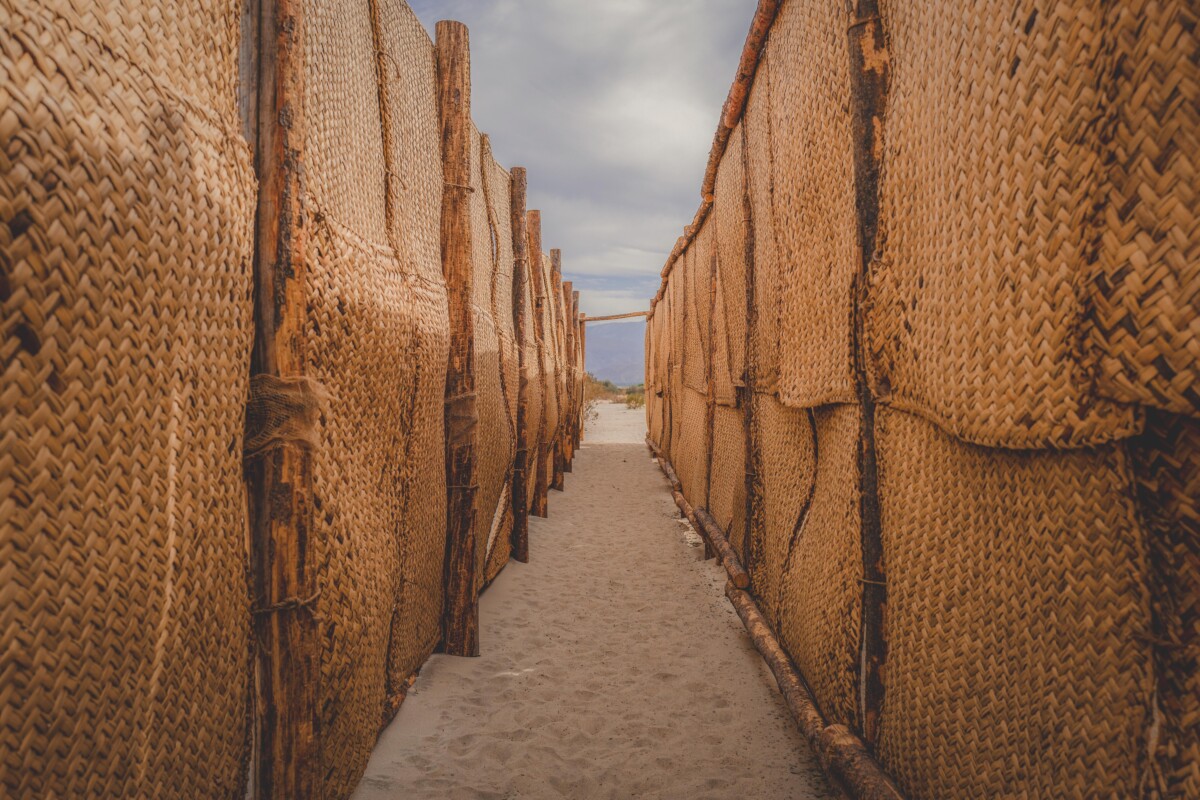 If you can't make it to Desert X in-person, I highly recommend watching this episode (from the Emmy award winning show Artbound) on the event! You'll see how talented and brilliant artists (from across the globe) evaluate, connect, and frame their relationship with the desert.
Shields Date Garden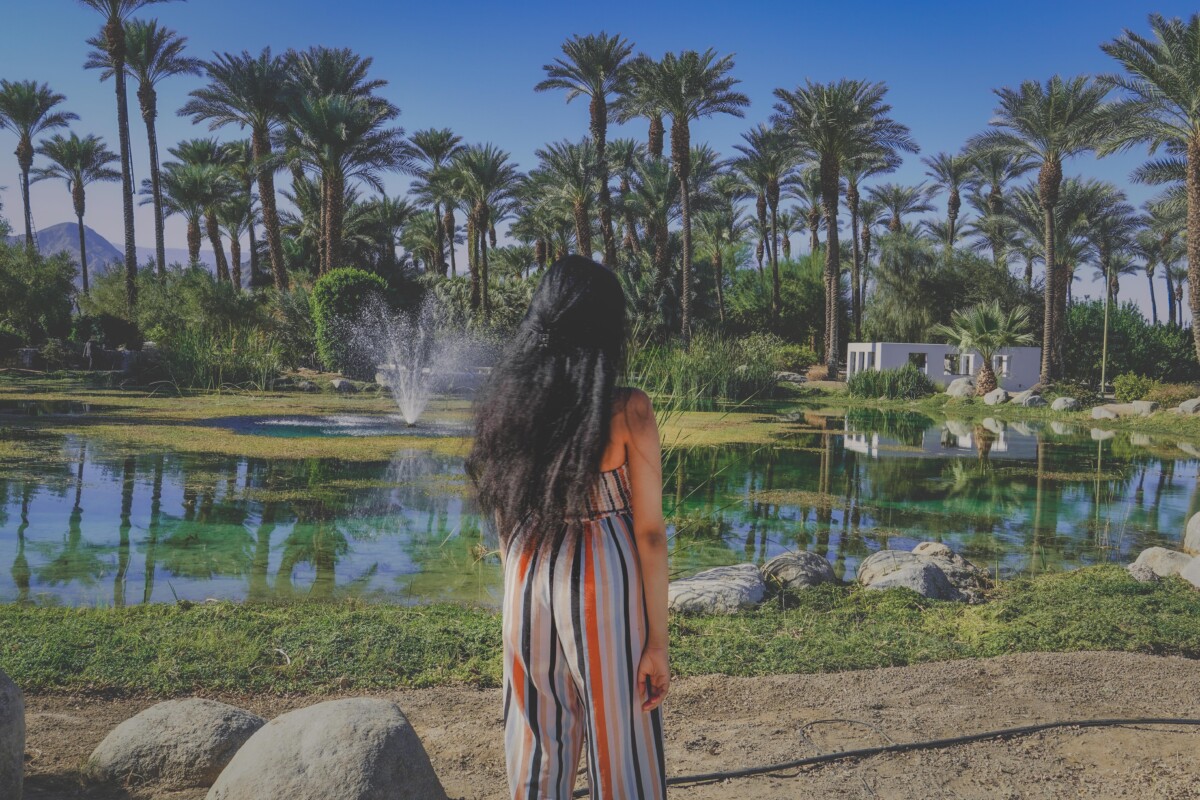 Shields Date Garden is unafraid of kitsch; in fact, it embraces it. The entrance is a brightly lit storefront, cleanly packed with like-it-buy-it assortments of date bags and date breads and date jams and date clusters. Picture a convenience store, add date to the label of everything, and that's Shields Date Garden in a nutshell.
There's more to do too. You can enter an intimately-spaced theater and watch the looped film, The Romance And Sex Life Of The Date. The title was quite scandalous when the movie debuted (1951), but know that, by today's standards, it's anything but hot and heavy.
The best part of Shields? Its gardens. So block out a good hour to walk. Shields, the store, sits atop a 17-acre palm-flecked landscape. The main path circles past statues stitching together Jesus' life: His Baptism, His interaction with the woman at the well, the Lord's Supper. The statues (which are chronologically ordered) don't redact from, but gently add to the landscape.
El Paseo Shopping District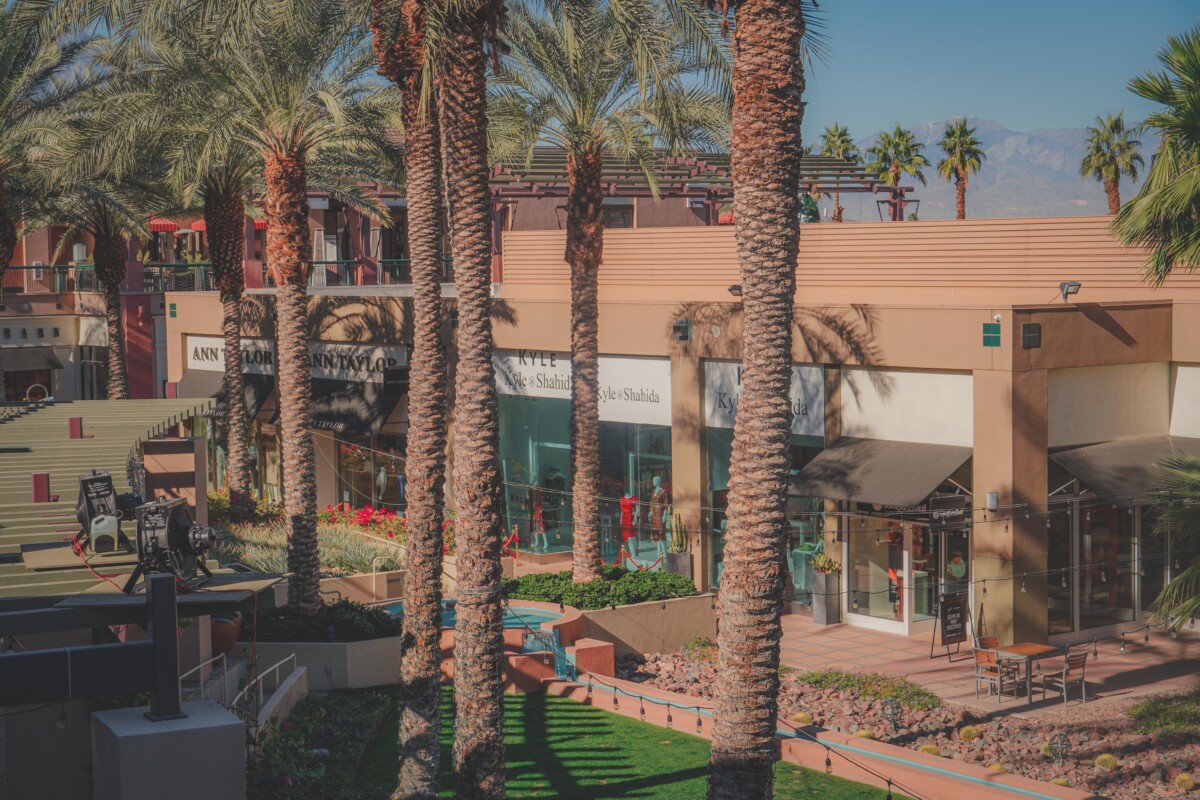 El Paseo Shopping District is the kind of place I can easily picture Rachel Green (from Friends) in. It's a large luxury retail complex home to hundreds of name-brands, including Ralph Lauren, Gucci, Louis Vuitton, and Saks Fifth Avenue. Kick off your morning with a homestyle breakfast from Wilma & Frieda (one of our favorite places to eat in Palm Desert) before heading off into Palm Desert's wondrous world of shops.
Living Desert Zoo And Gardens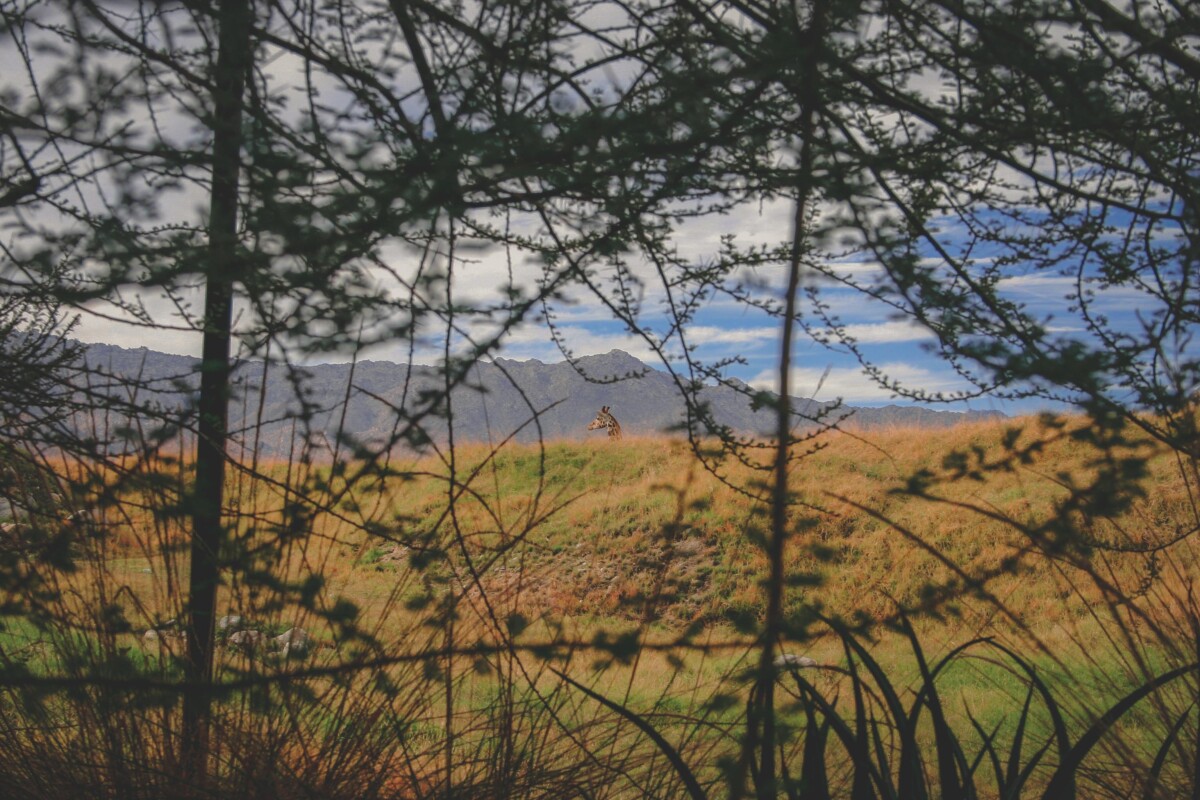 I don't usually recommend zoos on the blog, but I'll happily make an exception for the Living Desert Zoo And Gardens. There's a line in Emily Henry's novel People We Meet On Vacation (one of my favorite travel romance books of all-time) that I really resonated with: "It's not like we're zoo people, but this place specializes in animals native to the desert, and they do a lot of rehabilitation with the goal of releasing animals back into the wild. Also, they let you feed giraffes."
Spanning almost 2000 acres, Living Desert Zoo And Gardens is known for its big, open spaces. It takes two-to-three dedicated hours to walk the length of the zoo. And beyond that, you'll find a discovery center, family-friendly trails, and Tennity Wildlife Hospital.
P.S. People We Meet On Vacation was a former Eden Travel Book Club Pick! You can see our current travel reading list here!
Sunnylands Gardens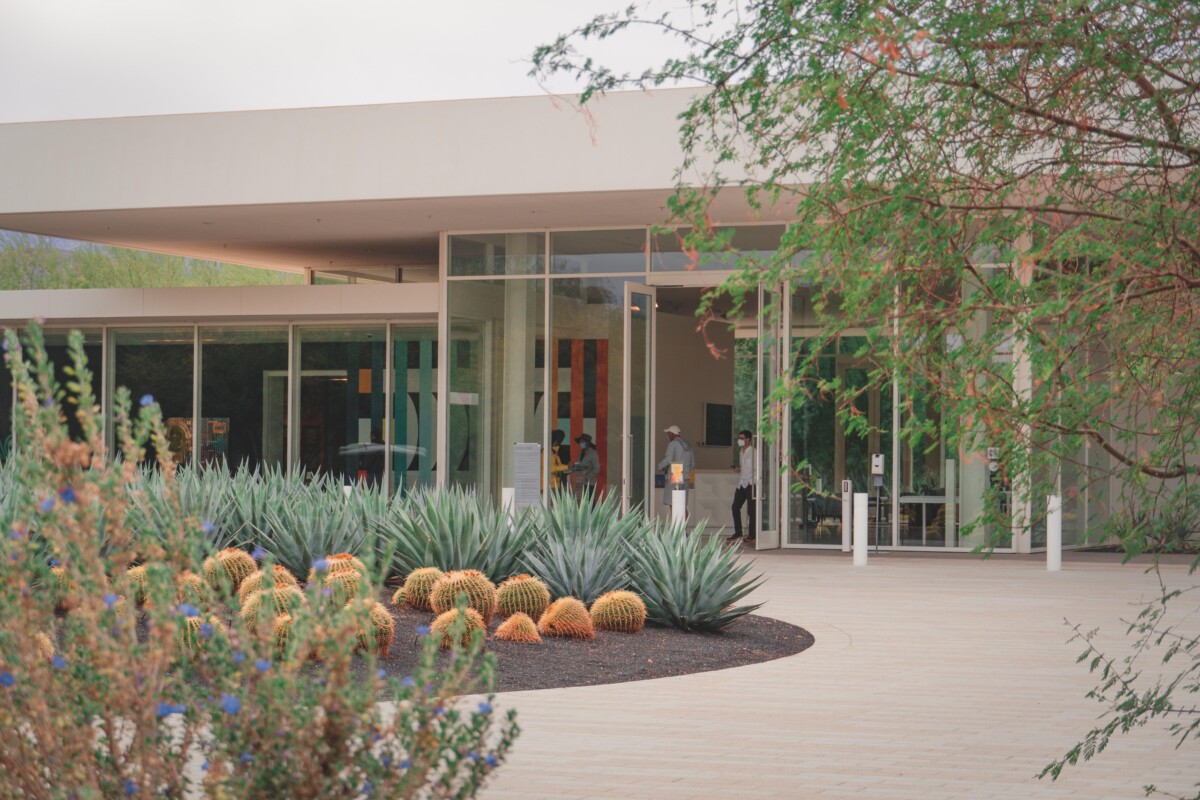 Sunnylands Gardens use plants as a medium, and its grounds as a canvas. The design was inspired by Impressionist art. Neat, uniform, dotted waves of color are painted across nine acres. You'll see barrell cacti, milkweed, and agave desmettiana calming the space. In many ways, Sunnylands looks and feels like a wellness resort. The landscaping is sleek and therapeutic. You'll want to wander freely, at your own quiet pace. And if you're looking for something a little extra, complement your stroll with a free downloadable audio tour (I'll link them here).
Rancho Mirage Library And Observatory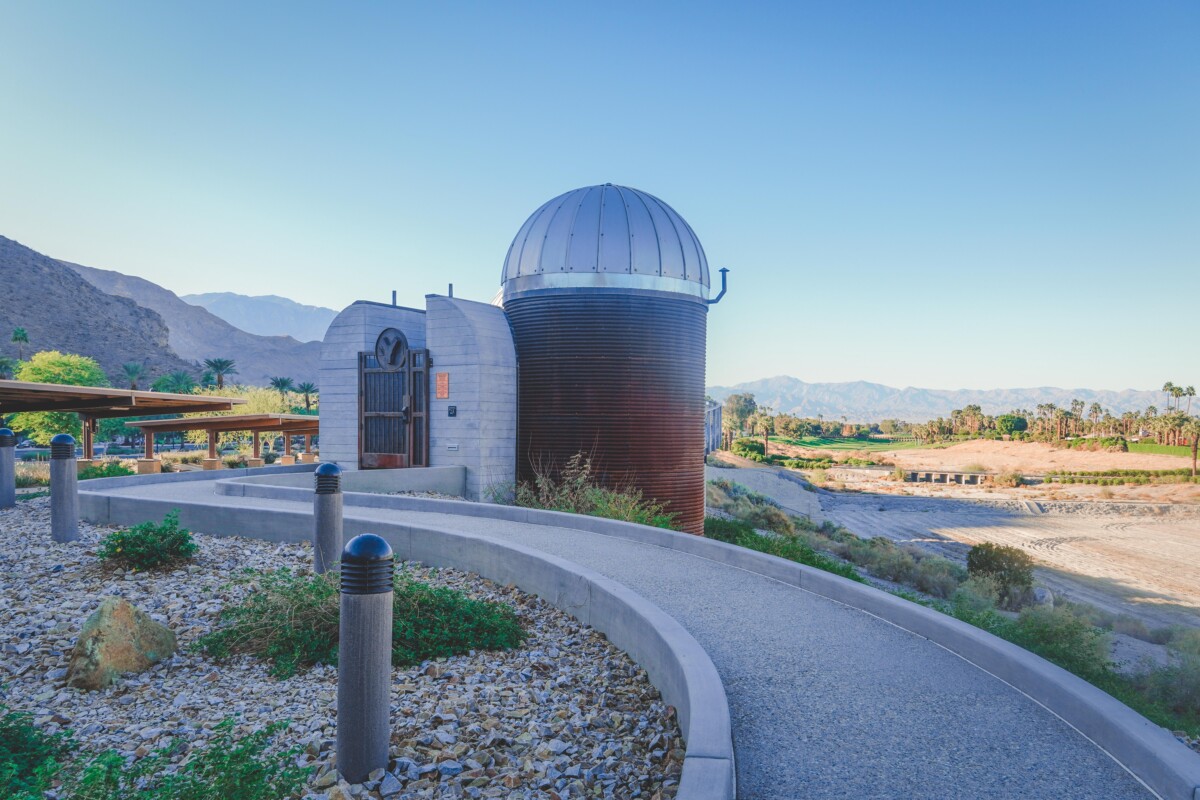 The Rancho Mirage Library is one of the most unique libraries I've ever visited. It's a building of subtle angles and subtle curves, surrounded by mountain views. Inside, you'll find the Joe And Gigi Roberson Mineral Collection (a museum-level mineral display) and the Ford Collection (a bookish looking glass into the life and interests of President Ford and his wife). There's an observatory next door too, manned by city astronomer Eric McLaughlin. And in case you need more convincing, here are seven reasons why you should visit.
Palms To Pines Scenic Byway
One of the most beautiful ways to spend a half-day near Palm Springs, Palms To Pines Scenic Byway is a windy, twisty, 67-mile route with striking views. This long, dramatic road can be taken to get to Idyllwild.
Resources I Found Useful While Preparing For This Drive:
Day Trip To Idyllwild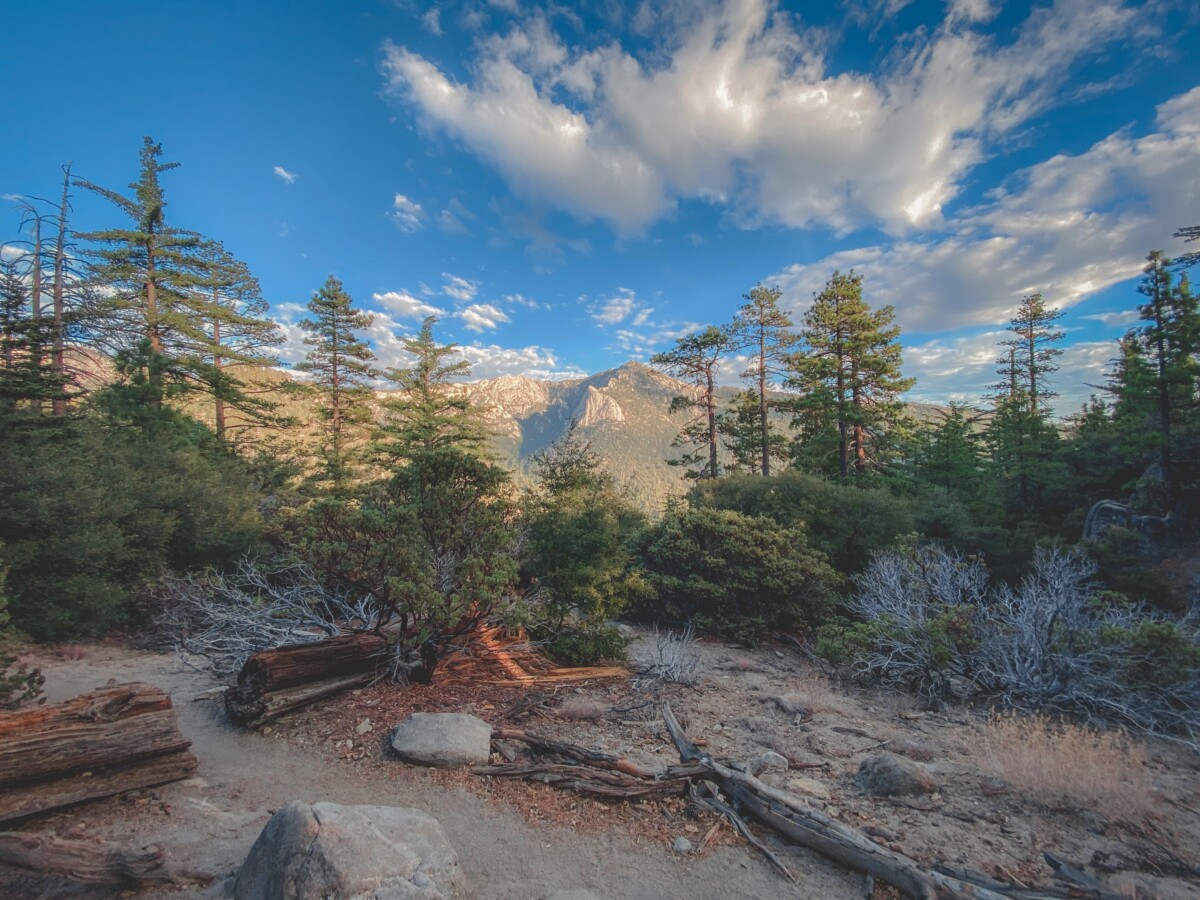 Idyllwild is a chance to get away from it all: to detox, to unplug, to restore. This small town tucked into the San Jacinto mountains is heavy in the alpine atmosphere. Golden shafts of light fall past pines. Cedar scents the air. Log and A-frame cabins sit between gaps of trees. If you're looking for romantic things to do near Palm Springs, glamp here for a weekend.
Day Trip To Joshua Tree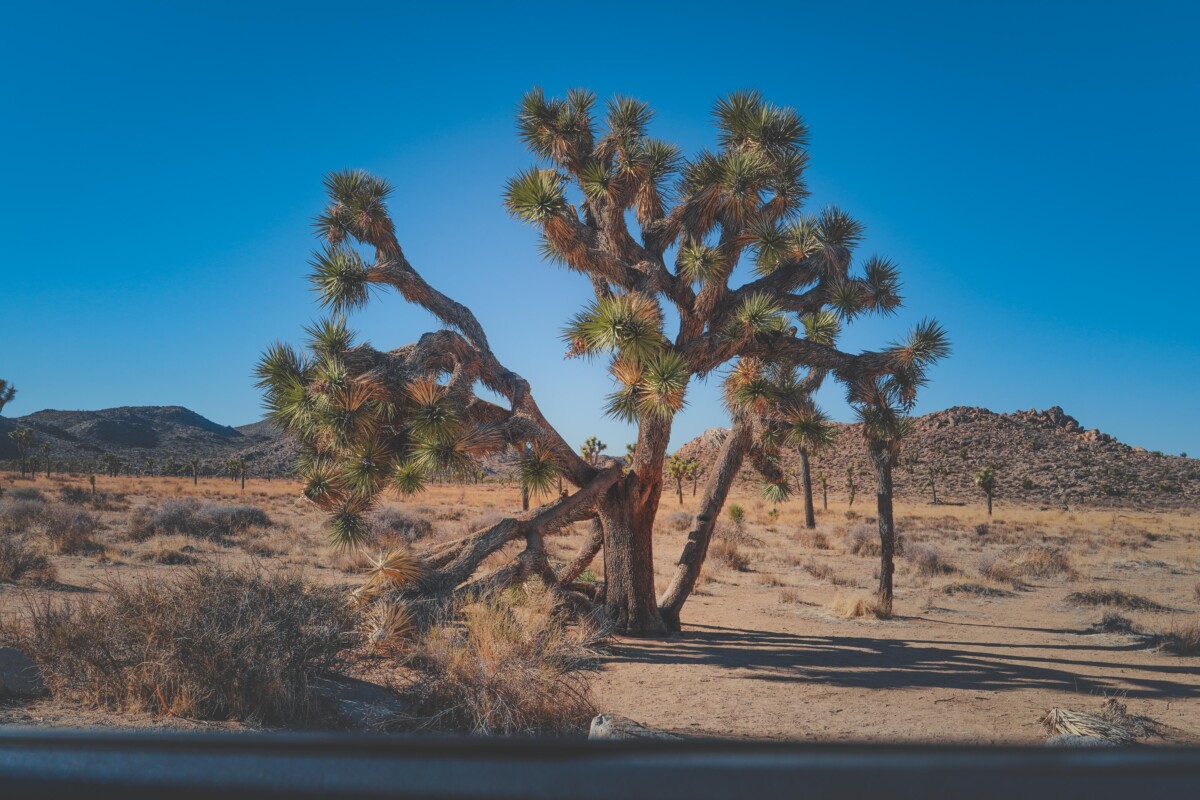 We're closing off this list with one of my favorite places in California – Joshua Tree. Joshua Tree holds a very special place in my heart. I spent a month here hiking and writing and exploring. It's a place I want to come back to year-after-year because I will never tire of the landscape. Joshua Tree is less than hour away from Palm Springs, so if you have an extra day or two in the city, head up to the High Desert, to the land of rebellious art and whimsical plants.
P.S. If you're looking for more things to do near Palm Springs, here are forty things to do in Joshua Tree.

Did you find this list of things to do in Palm Springs useful? What are your favorite things to do in Palm Springs?