best things to do in Solvang, California
Solvang is what I imagine an Epcot Denmark Pavilion to look like. Danish architecture. Danish shops. Danish food. Danish desserts. There's a lot of Denmark-related things to do in Solvang. This Santa Ynez getaway fully leans into its Danishness; it embraces it with a California heart.
I'll be honest, Solvang's loud, proud presence took me by surprise. When I first visited, I expected Solvang's streets and attractions and boutiques to be more subtly named, but they aren't. This tourist town is very much in-your-face. It's a playfully Americanized rendition of Copenhagen. Hans Christian Andersen busts. A Little Mermaid fountain. Year-round Aebleskiver. There's lots to see, spot, and eat in Solvang.
Here's our ultimate guide to all the top things to do in Solvang, California!
Things To Do In Solvang, California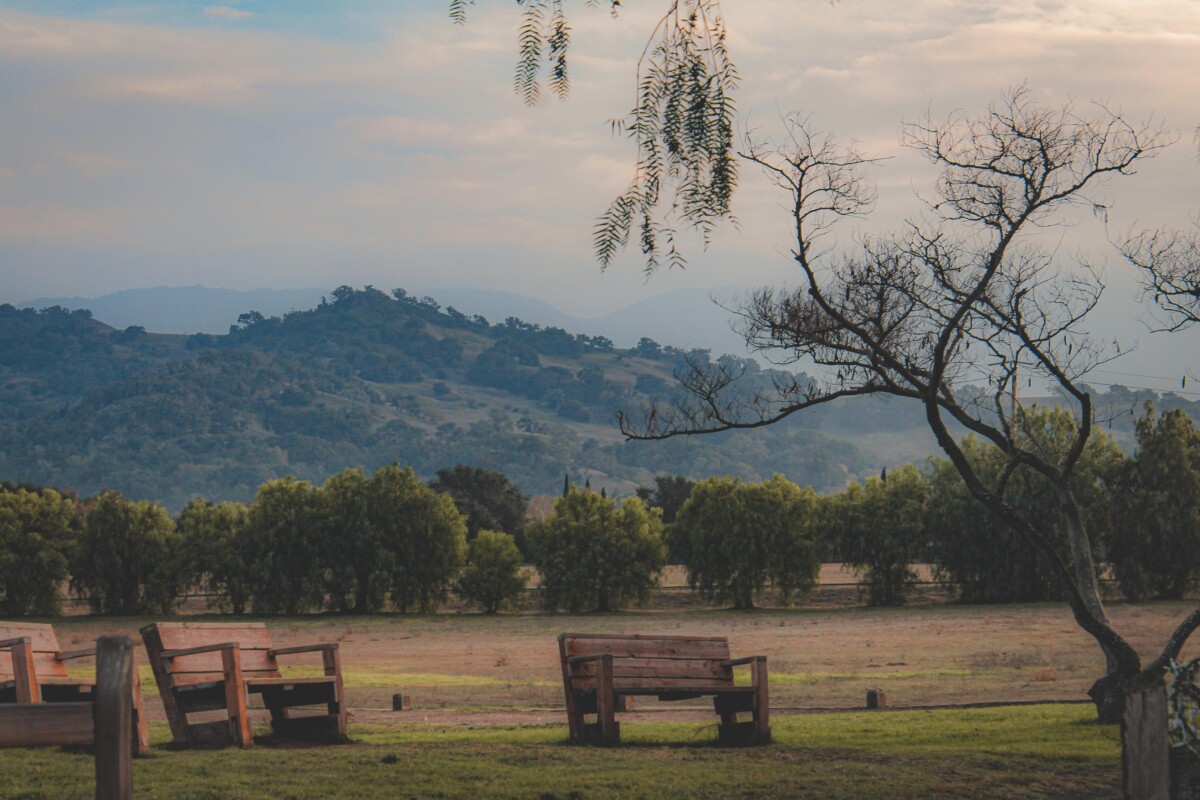 I can't believe this is the view from a parking lot. I close my eyes and reopen them. I blink and blink and blink again – yes, still there, still real. Everyone I spoke to in Solvang urged me to come here, to this place, to this (near) empty lot at golden hour. The sun is masked by fog, but I can still see rolling, dew-gauzed hills and damp stretches of grass. Old, gnarled trees embrace the ground. Sunset's first drops are caught in wisps of clouds.
This is one of the most beautiful vantage points in Solvang, and it's situated right in the parking lot of Old Mission Santa Inés.
See The View From Old Mission Santa Inés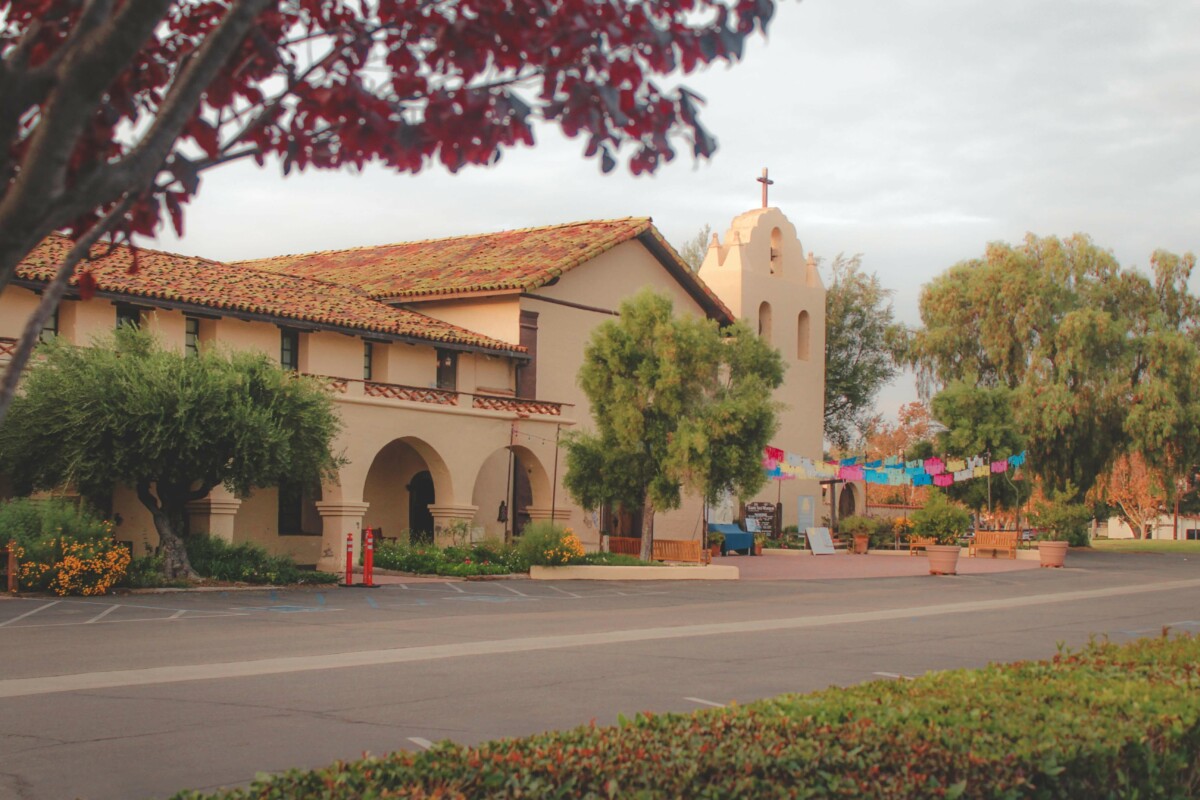 Old Mission Santa Inés is perched above gentle farmlands. Thin leaves frame ploughed fields. Blue-hued silhouettes of California's San Rafael mountain range loom in the distance. A small, delicately-sized rose garden sits off to one side of the still-active church.
Driving to Old Mission Santa Inés is one of the best things to do in Solvang for the peripheral views alone. But you can also step past its arched wooden doors for a self-guided tour. Inside Old Mission Santa Inés are heavy-framed art pieces, music manuscripts, and silk vestments.
Go On The Solvang Heritage Walk Tour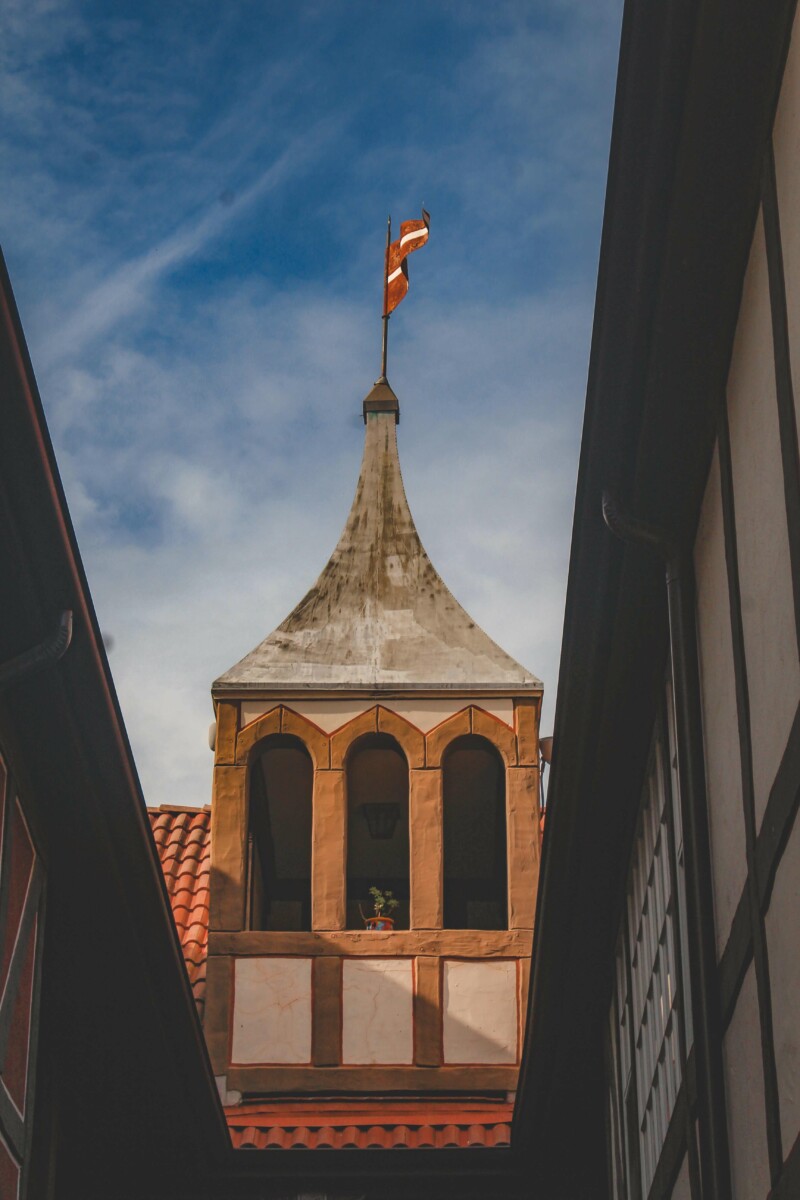 The church is just one stop (the last stop, in fact) on Solvang's audio-driven Heritage Walk Tour. If you're looking for a way to make the most of Solvang in a day, opt for this tour. It's free, just over an hour long, clearly recounted, and delightfully atmospheric.
Solvang Heritage Walk narrates the highlights and hidden gems of Solvang. You'll learn about everything from the history of The First Folk School (where Bit O'Denmark is currently housed) to the symbolism behind Solvang's thin, unicorn-horn-like Dragon Tower. You'll get to know the lesser-visited, lesser-stopped-by buildings in Solvang, and fall for the town's iconic Danish-inspired look.
Travel Tip: Solvang's Visitors Bureau recommends downloading the Solvang Experience app for this tour. I personally found the Solvang Experience app a bit clunky; the Audio Tour link also just redirects you to another app – izi.TRAVEL. If I could do it over, I'd download the izi.TRAVEL app directly (it's available on both Apple and Android) and skip the Solvang Experience app altogether. On izi.TRAVEL, go to the All Guides tab, click on the search bar, and type in Solvang. The first result that pops up (Solvang Heritage Walk) is the one I recommended in this section!
Admire The Architecture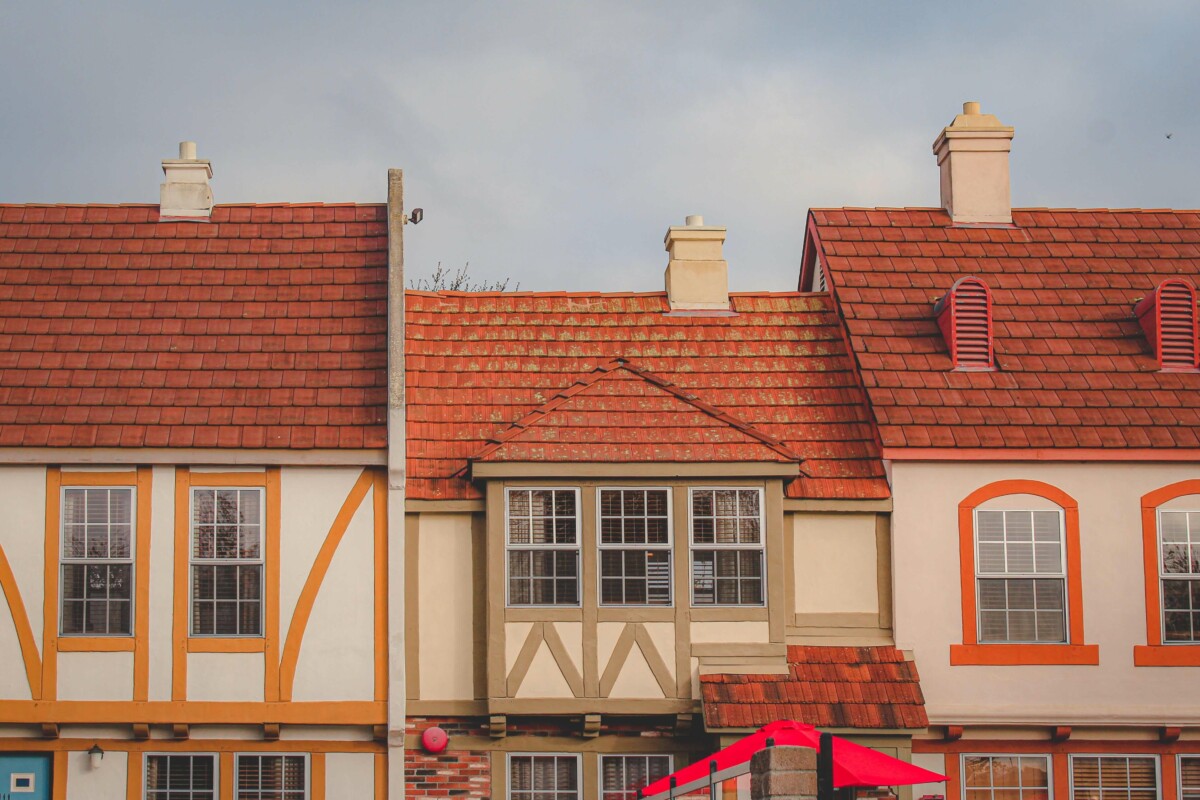 Solvang's Danish roots have long been present, but they weren't always openly presented. Faux chimneys. Shingled roofs. Bindingsvaerk-mimicking facades. Solvang's Euro-dupe elements arrived later, post the mid-20th century, after World War II, when many of the town's properties were redone, remade, and recolored to fit its newly capitalized-upon Danish aesthetic.
You'll find more humble (though still theme park-esque) odes to Danish mainstays too: King Christian Tower riffs off Copenhagen's Old Stock Exchange, Rundetaarn gets its own Solvang-style replica, and the town's windmills are happy, colorful imitations of those found in Danish villages.
Stop By The Windmills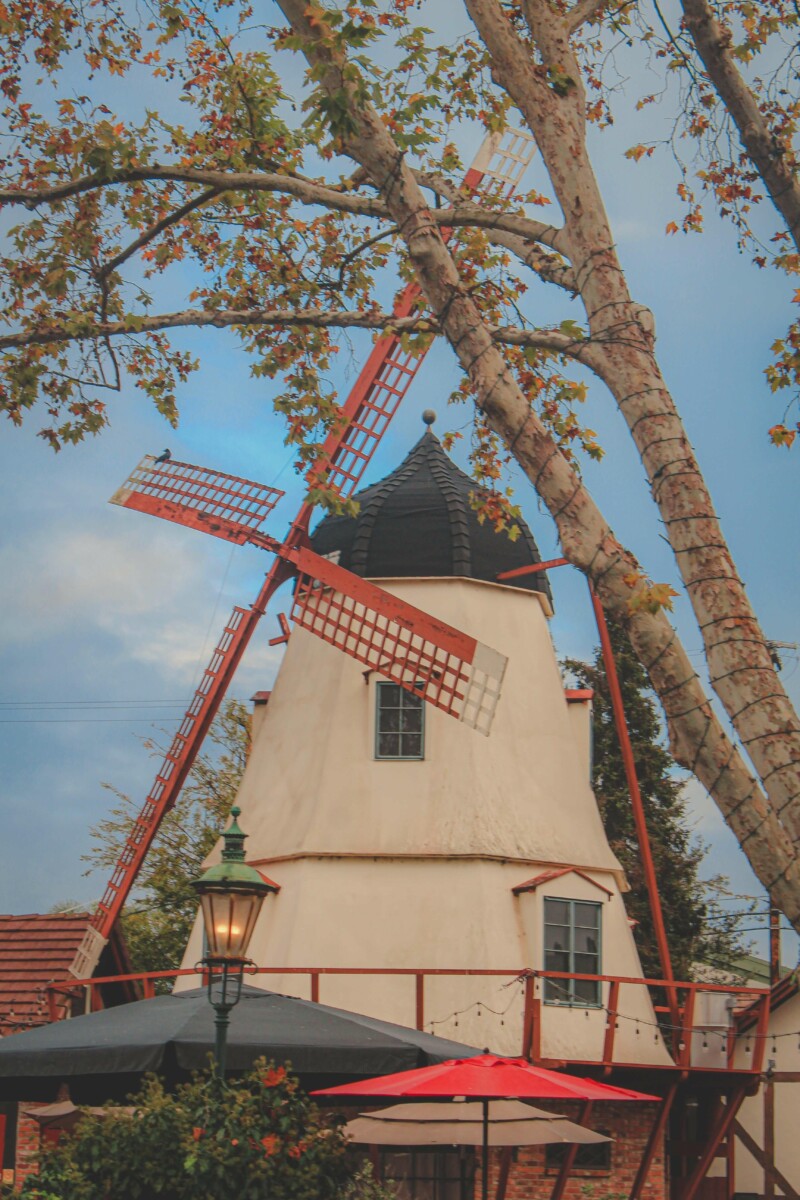 Speaking of windmills, Solvang has a handful that you can visit. Four of the windmills are within a few blocks of each other, so you can easily bike or drive to see them all. They're large and painted and, much like the flowers sprinkled throughout town, decorative. So chances are, even on the windiest California day, you won't see their rustic sails move.
Solvang's windmills are snapshots of the past, designed with the intention of beautifying the village. And they do just that. The windmills add a dose of Danish Provincial appeal to an already picturesque landscape.
A few windmills in Solvang to add to your itinerary:
Hamlet Square Windmill: near 1618 Copenhagen Dr, Solvang, CA 93463
Alisal Road Windmill: near 438 Alisal Rd, Solvang, CA 93463
Solvang Brewing Company Windmill: near 1547 Mission Dr, Solvang, CA 93463
Kronborg Inn Windmill: near 1440 Mission Dr, Solvang, CA 93463 (this particular windmill is smaller and easier-to-miss; you'll need to turn into the hotel's front parking lot to see it)
Visit The Wildling Museum Of Art & Nature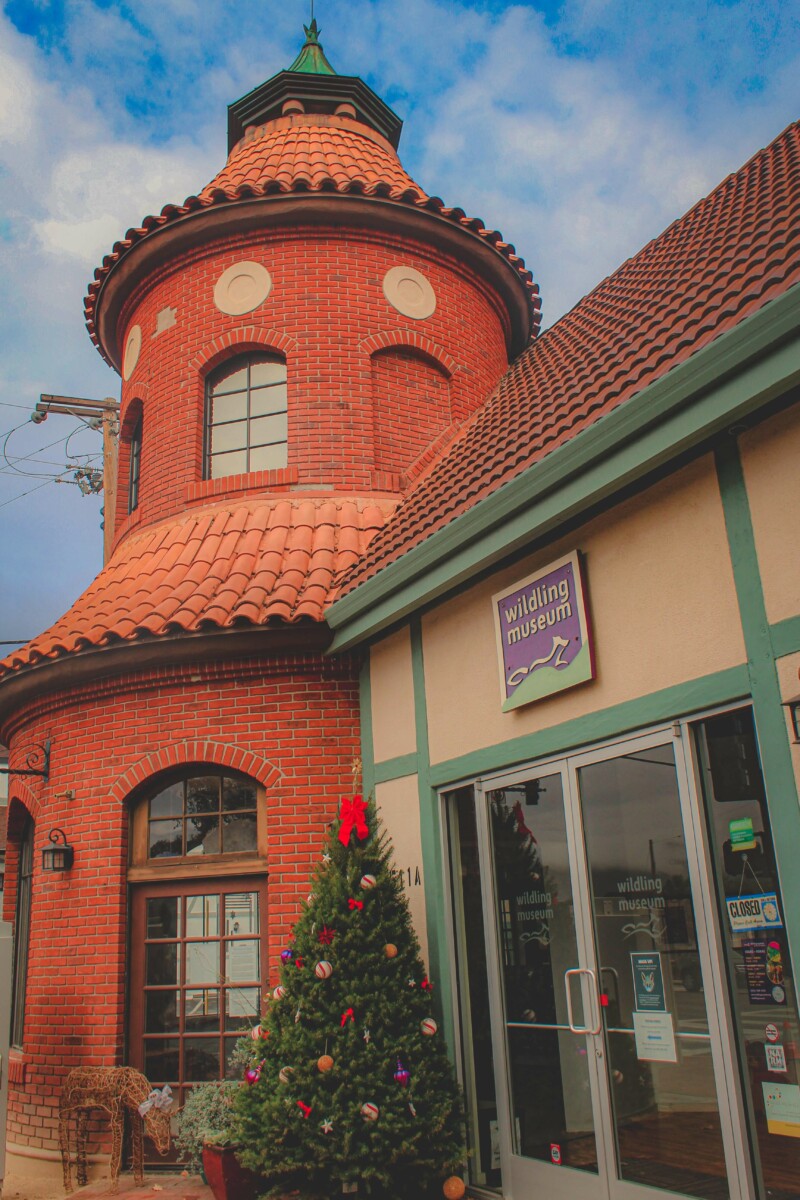 The Wildling Museum is where art and nature converge. Ideally positioned on a corner lot, Wildling is a small space with a narrow selection of works. From flora-filled frames to seascape scenes, this Solvang museum showcases the power and fragility of earth through a mix of mediums. The museum thoughtfully rotates displays too (so occassionally, big names like Ansel Adams and Georgia O'Keeffe are woven into exhibitions). If you love art, this is definitely one of the top things to do in Solvang!
Visit The Elverhoj Museum Of History & Art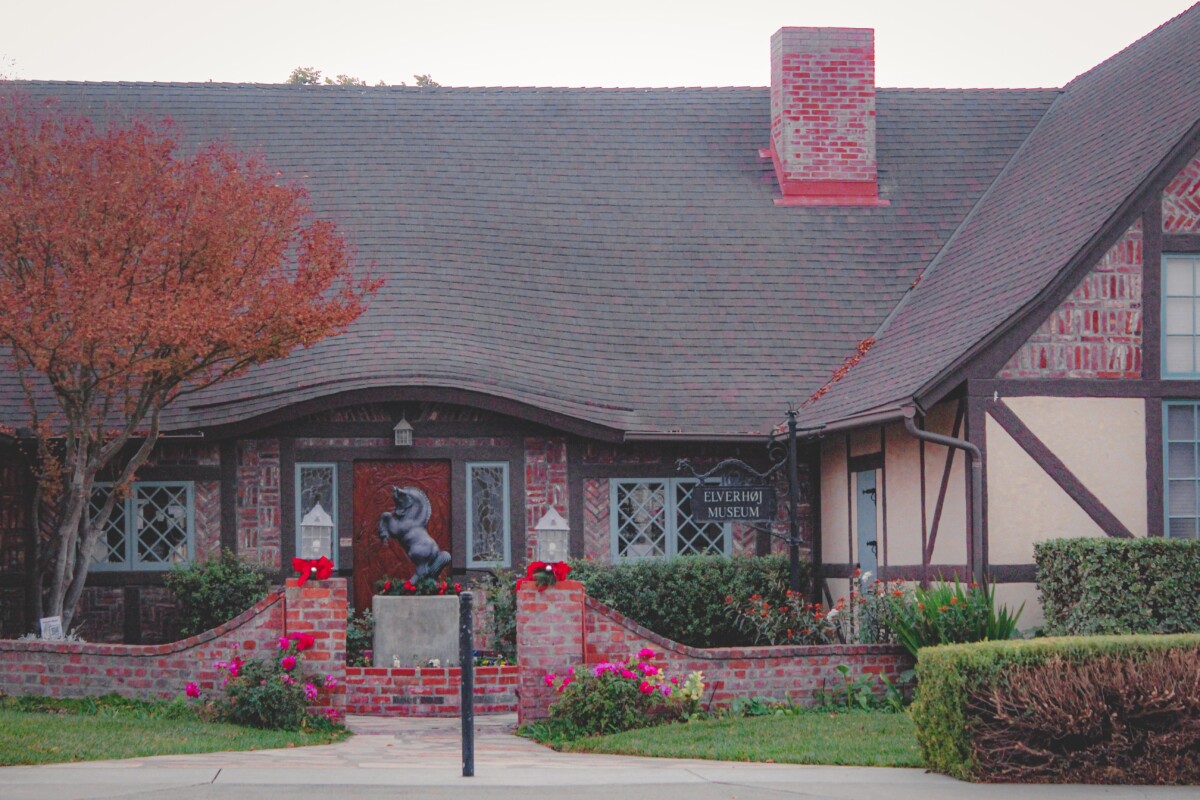 I see signs for Elverhoj (Elves' Hill) everywhere. They're slipped onto lamp posts, flapping in the breeze. Each one draws me closer to a tucked-away museum, set in the former home of sculptor and painter Viggo Brandt-Erichsen. Touring the property – seeing its brightly painted walls, learning about its (almost) nailless construction – is one part of the experience. The other? Perusing documents that convey and celebrate Solvang's Danish-American history.
Wine Down At Solvang's Wine Tasting Lounges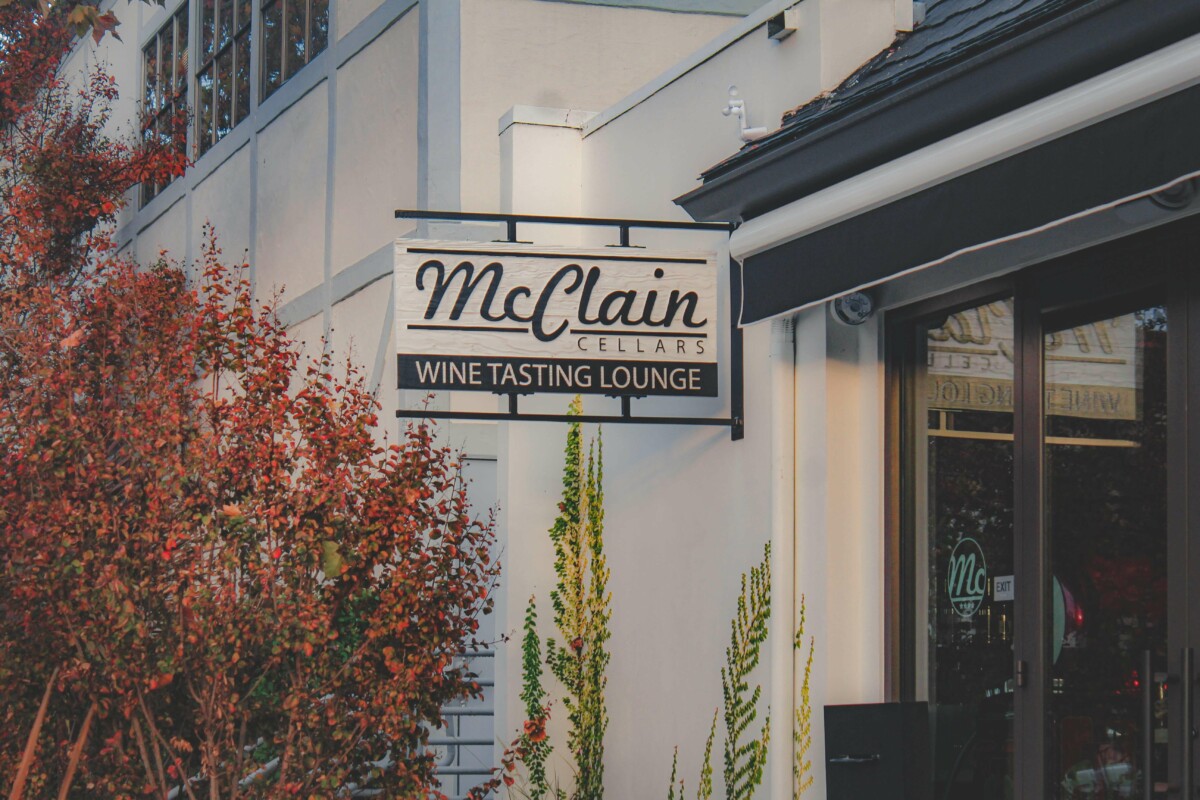 Santa Ynez Valley is no stranger to wine, and Solvang's location, in the valley, makes it prime real estate for tasting lounges. There are over twenty wine tasting rooms in Solvang; each with its own distinct atmosphere.
A dog-friendly outdoor patio. Nighttime runs of live music. Dana V. brings a trendy, boho cafe aesthetic to her local wine bar (opt for either a Pinot Noir or Chardonnay). It's a personal favorite, but there are more spots I'd recommend too: McClain Cellars, Crawford Family Wines, Dascomb Cellars. You can find a full wine tasting map here.
Travel Tip: If you can, take an Uber out to Rideau Vineyard, a stunning, fairytale-like tasting room that offers well-poured flights in a magical setting.
Shop For Olive Oil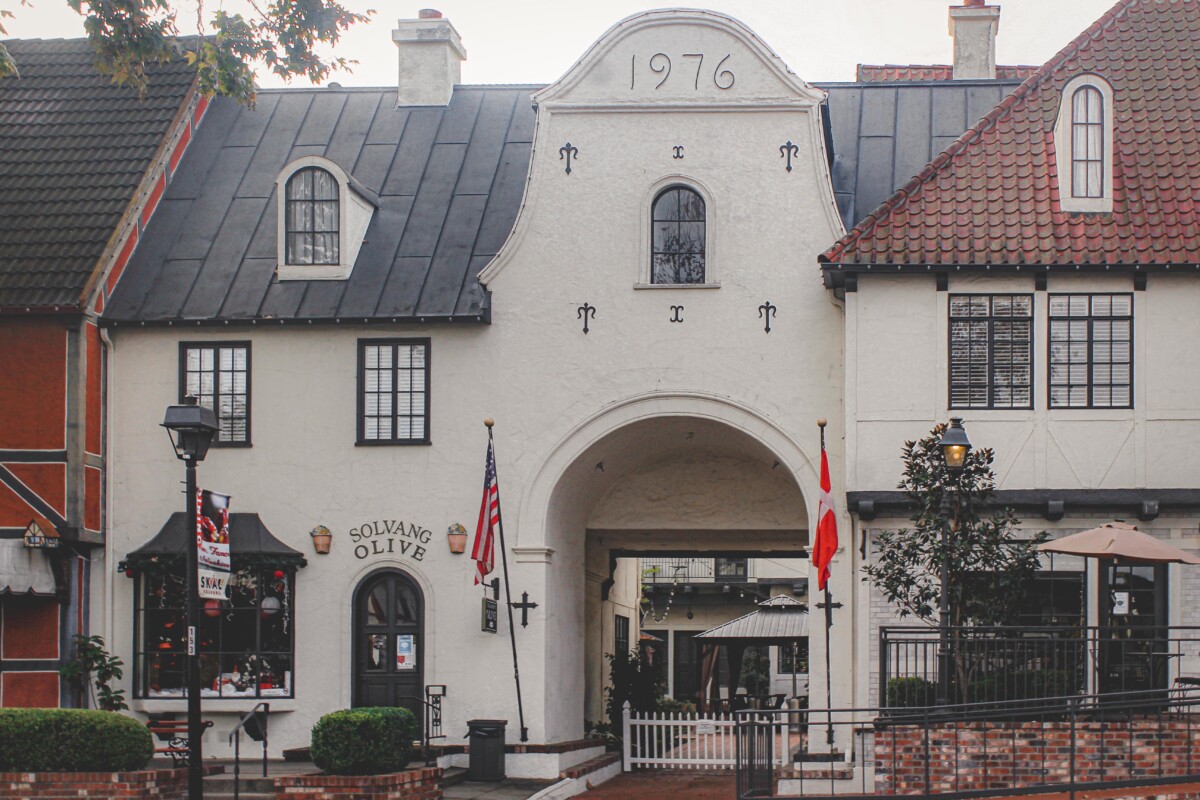 I grew up watching Rachel Ray's 30 Minute Meals, which means that when I was finally old enough to cook, I only ever used, knew of, and consumed one kind of oil: extra virgin olive oil (EVOO). EVOO was my comfort zone, but Solvang introduced me to olive oils that could be drizzled straight onto soups, siphoned into salads, and coat bread no-frills-attached (this was the ultimate novelty for me).
There are several olive oil shops in Solvang (and they usually offer free tastings). Solvang Olive Press sells everything from California Roasted Walnut Fused Oil to spicy Green Chili Oil. The Olive House markets stout-bottled Black Truffle Oils and Chili Oils. And Global Gardens, a Los Olivos farm stand, peddles a fresh, flavorsome collection of olive oils (side note: they sell other high-quality ingredients too. I picked up a slim packet of Italian seasoning from here about a year ago, and it's honestly some of the best I've ever tried).
Solvang Bakery Crawl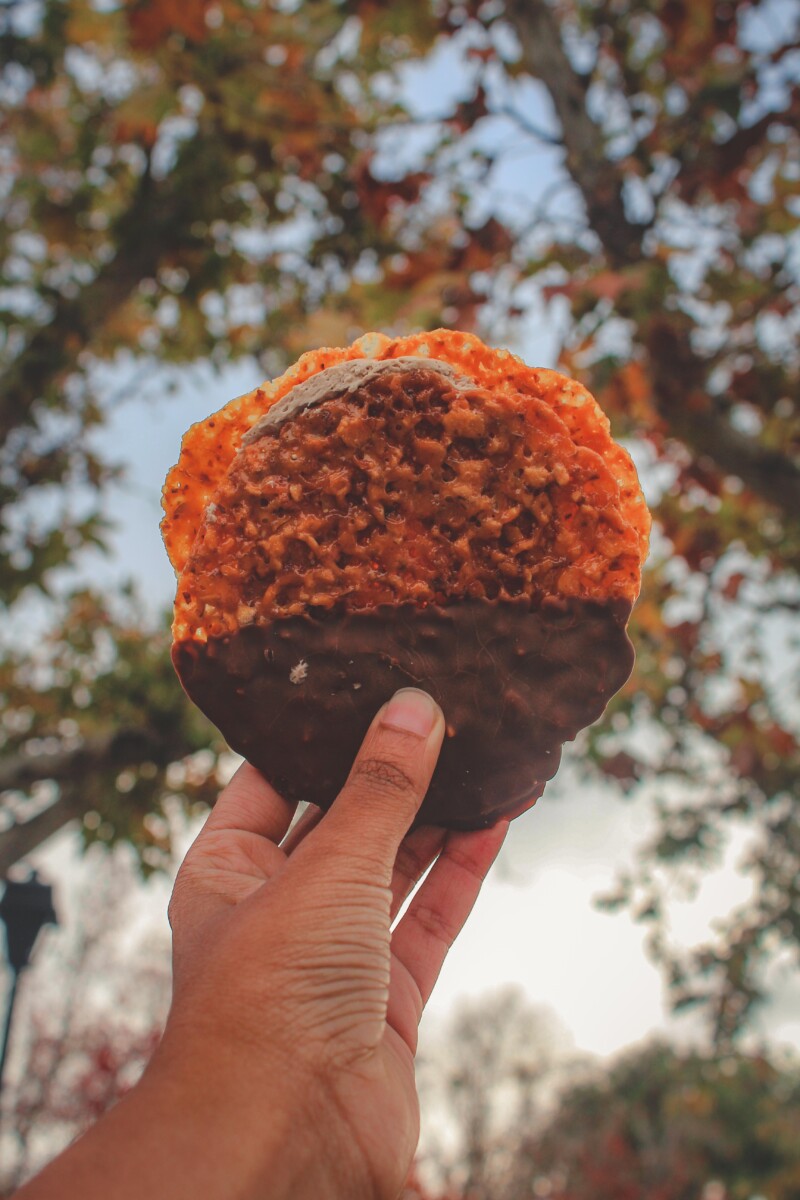 Solvang's outsized pastry presence means only one thing, don't settle for just one or two (or even three) bakery visits, go all in and kick off each day with a baked bite (amen). From Olsen's Danish waffles to Danish Mill Bakery's Princess Cake, the range of confections offered in Solvang seems almost infinite. But there are few I keep gravitating to: jam-filled Danishes, Bear Claws, Kringles, Butter Cookies, Owl Eyes.
P.S. Check out our Solvang bakery guide for more bakery and pastry recommendations!
Danish Food Tour
As evidenced by this list, there's no shortage of Denmark-related things to do in Solvang. But one way this town goes the extra mile is through its cuisine. Let's be honest, pastries are just the beginning of Solvang's food scene. You can find everything from Danish pancakes to Danish meatballs here.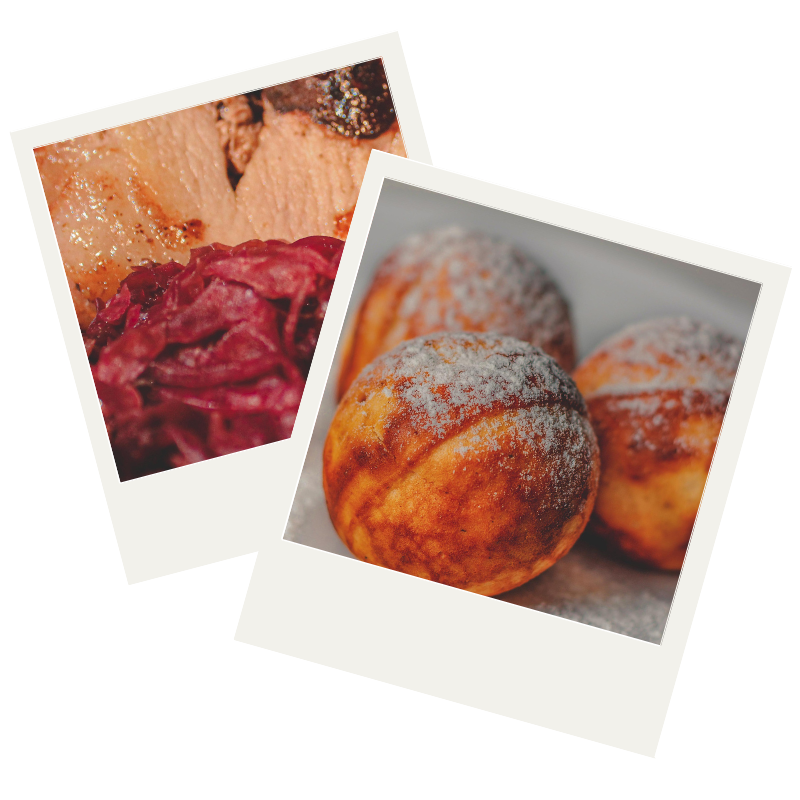 Top 5 Danish Foods To Try In Solvang (And Where To Find Them)
Danish Pancakes: thin, crispy-edged, crepe-like pancakes (found in: Paula's Pancake House)
Aebleskiver: puffy, fried Danish snacks. The name translates to "apple slices" but they usually doesn't contain apple (found in: The Solvang Restaurant).
Flaeskesteg: Danish pork roast usually served for Christmas dinner (found in: Bit O'Denmark)
Rod Polse: slightly smoky, Christmas-red pork sausage popular in Denmark (found in: Copenhagen Sausage Garden)
Frikadeller: savory, simply-seasoned Danish meatballs (found in: Bit O'Denmark)
P.S. If you're looking for more places to eat, here's a list of all our favorite restaurants in Solvang!
Catch A Play At Solvang Festival Theater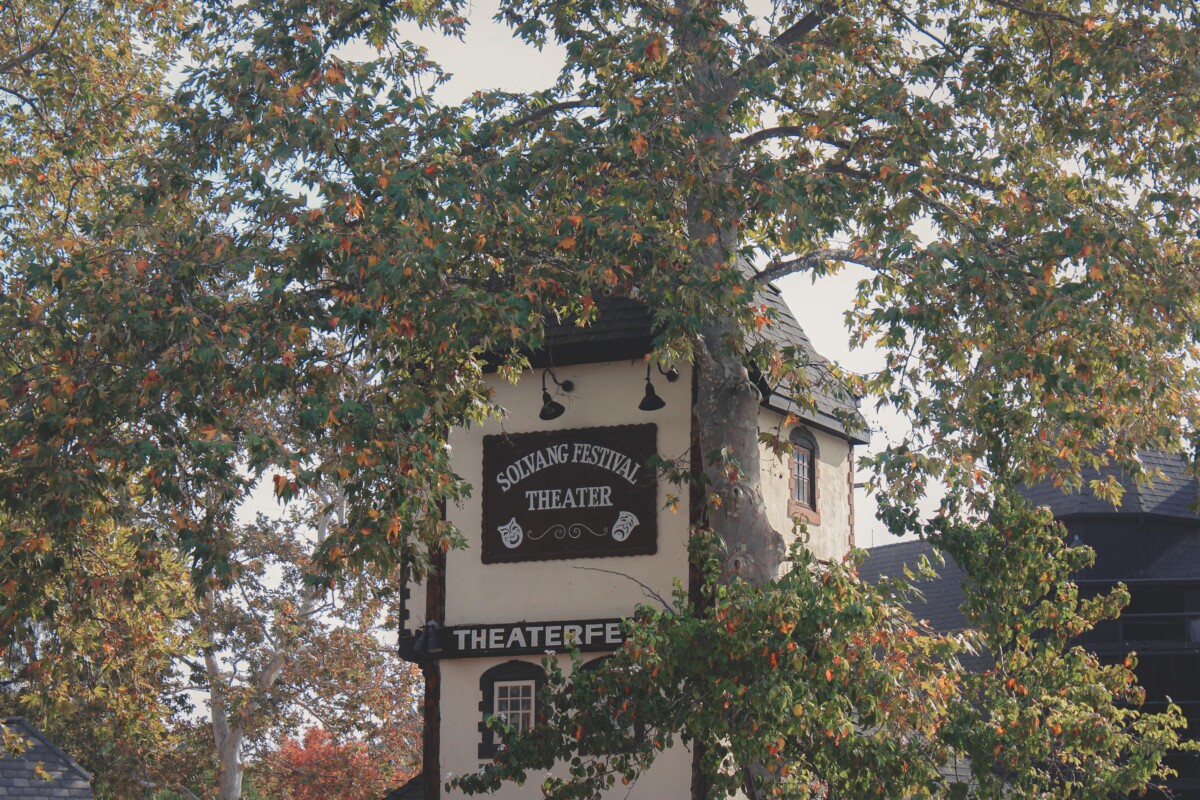 Seeing a performance at Solvang Festival Theater is like watching a labor of love in motion. Comprised of 700 seats, this outdoor, open-air venue curves down to a small, lit stage. The acoustics are clear and resounding. The actors are passionate, enthusiastic, and expressive. Solvang Festival Theaters pours its heart into each of its shows. Snag tickets for the summertime. Catching a performance here is one of the most under-hyped things to do in Solvang. Dress in layers, and bring a blanket to curl around your legs. Solvang's temperate weather cools to a frosty chill after dark.
Snap A Photo By The Red Clog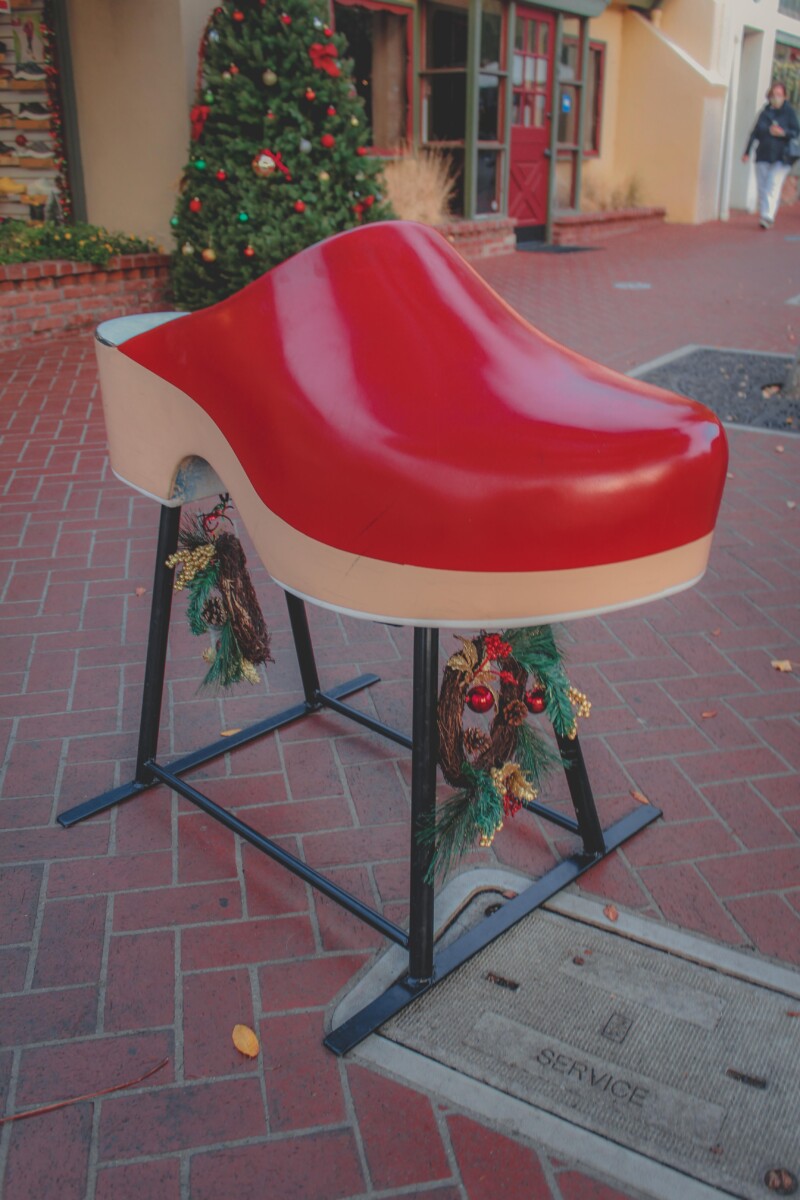 If you're looking for a quirky photo-op in Solvang, head to the big red clog right outside Solvang Shoe Store. It's a popular place: parents line kids up, place them squat atop the giant shoe, and snap fun family pictures.
Clogs are one of the most unique types of footwear you can find in Solvang. They're toes-covered, back-bare shoes made from wood. The Solvang Shoe Store carries several varieties, from cute, delicately painted, Santorini-blue-and-white clogs to mass-produced ones by big-box names like Birkenstock.
Visit The Little Mermaid Fountain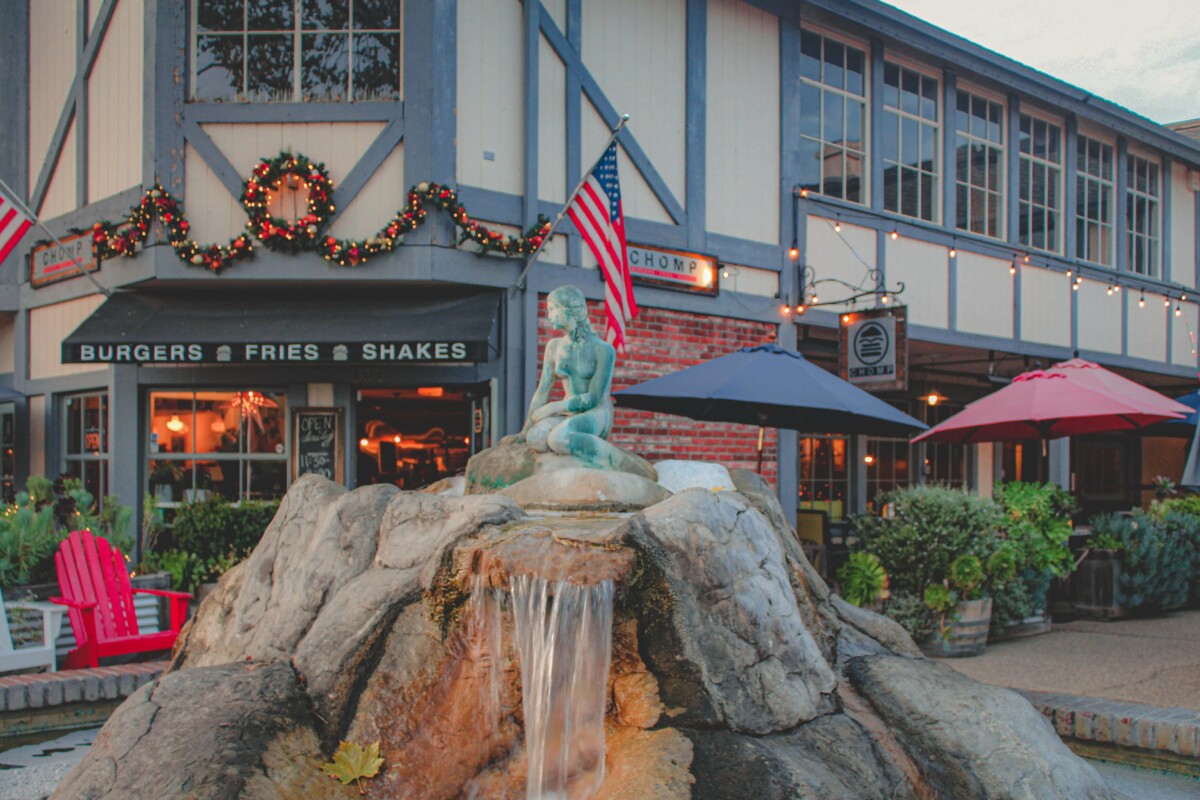 Another quick sight to see is The Little Mermaid Fountain near CHOMP Burgers, Fries, & Shakes. This Little Mermaid is half the size of Copenhagen's famed statue. It's bronze, bears the green tint of oxidized copper, and doesn't have the battle scars of the original (the original was beheaded in 1964, decapitated a few times since then, and graffiti-ed beyond count). Solvang's Little Mermaid has had a more gentle country life, so it's pleasant to sit near and unwind by (you'll find a few lawn chairs by its gurgling fountain home).
Check Out The Hans Christian Andersen Museum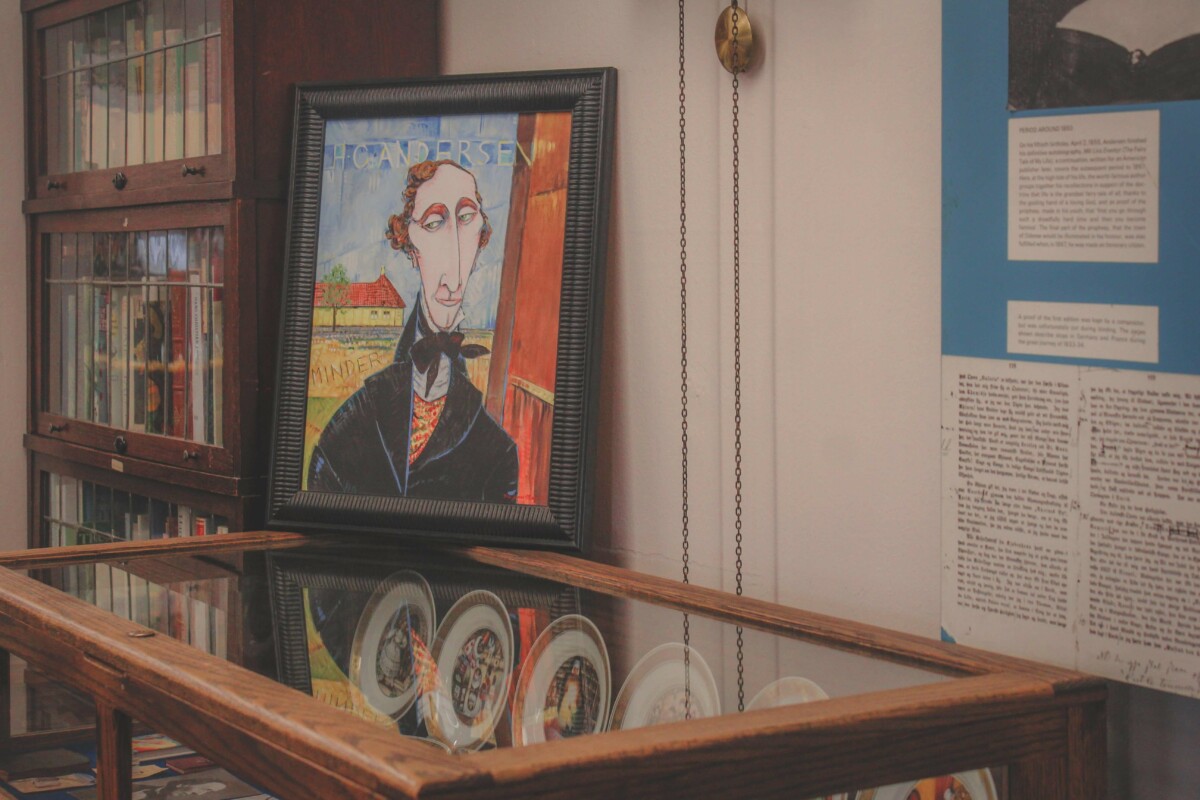 Copenhagen's Little Mermaid statue was inspired by Hans Christian Andersen's 19th-century fairytale of the same name. To find out more about Andersen, head to the Hans Christian Andersen Museum in Solvang. This museum is small, simple, and straightforward, much like Andersen's works themselves. And while it's easy to feel overwhelmed by the displays' wordiness (you'll see pages upon pages and poster board upon poster board of text), there are many details that are easy to appreciate: a well-researched timeline of Hans Christian Andersen's life, a glass-cased display of different editions (and versions) of The Little Mermaid, and a gift shop space carrying beautiful editions of Andersen's stories.
Go Book Shopping At The Book Loft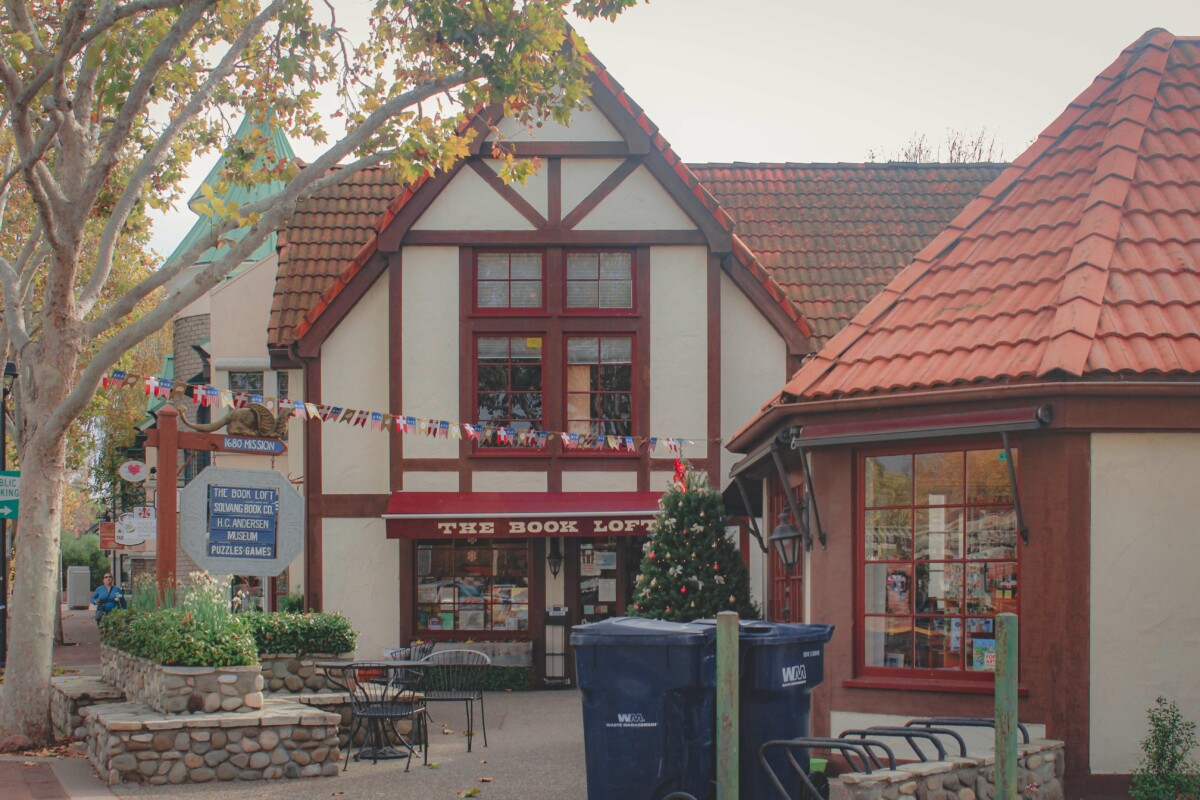 Solvang's Hans Christian Andersen Museum is situated in The Book Loft, a fifty-plus-year-running independent bookstore split across multiple floors. The Book Loft is one of my favorite bookstores in California, so unsurprisingly, I'm squeezing it onto this list of things to do in Solvang (what can I say? I'm a biased book lover).
The Book Loft's first floor is a small labyrinth of wooden shelves featuring bestsellers, local favorites, young adult books, children's books, mysteries, and reference guides. Slips of paper, featuring scribbles and notes from the staff, hang below several spines, offering personalized looks into select titles. There's a ground-level clearance section too (I highly recommend checking out this area. I found one of my favorite travel books of all-time, Hungry by Jeff Gordinier, here).
The second floor carries used books (mostly Americana titles, biographies, and nonfiction), and is followed by a small flight of stairs, which leads to the loft area (where the museum is also located). Here, you'll find big cases of thick-bound books by Swedish, Danish, and Norwegian authors.
Stroll Through Hans Christian Andersen Park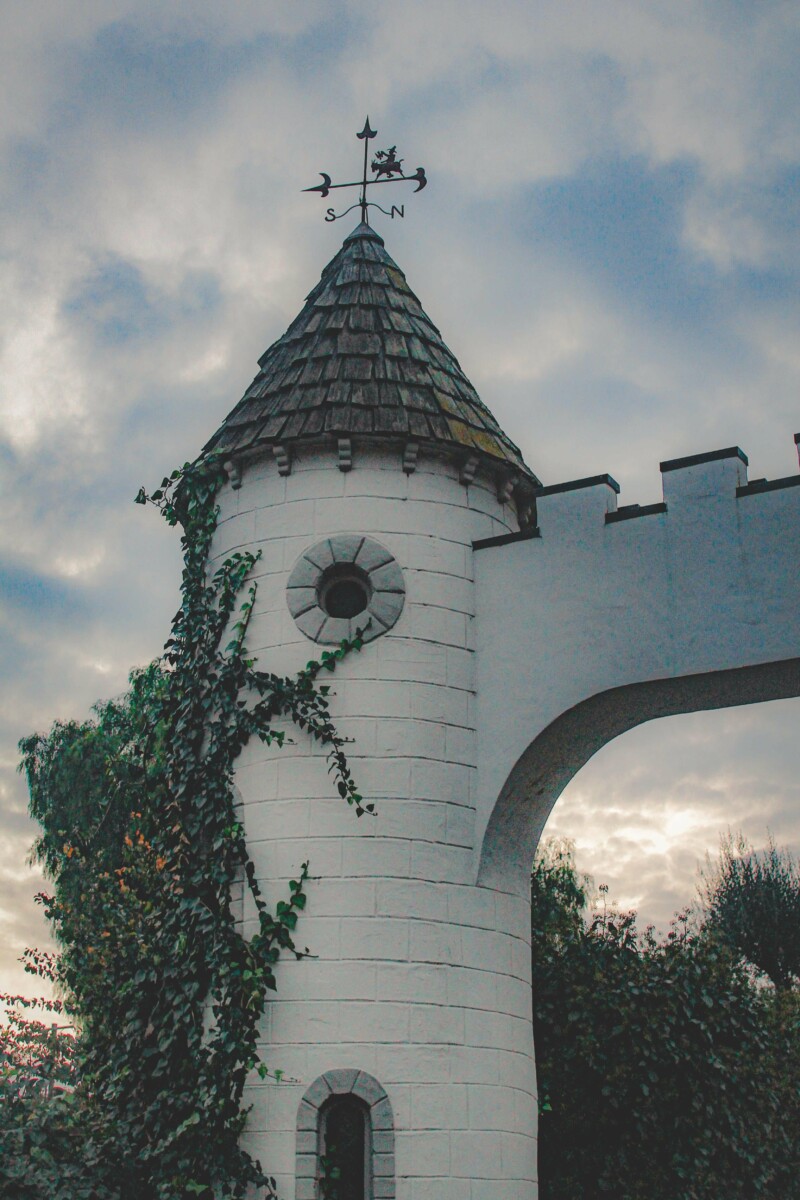 The entrance to Hans Christian Andersen Park is magical, like a scene from Rapunzel. You drive past a large white castled arch, ivy-draped down its sides, towards a spacious park. The road forks along the way, one branch meanders towards a skate park (perfect for picnicking), and the other leads to a thin-trailed woodland hike. Andersen's name is well-utilized in Solvang, and although you won't see further traces of him here, there are more places in Solvang where you can.
Picnic In Solvang's Parks
Solvang Park is one such place. It's in downtown Solvang and marked by a Hans Christian Andersen bust. A small handful of picnic tables surround the statue. If the weather is nice, enjoy your bite here (right outside) and watch a busy day in Solvang go by.
More Parks In Solvang:
Sunny Fields Park: best-known for its whimsical, well-architected playground
River View Park in Buellton: offers some of the prettiest views of Santa Ynez Valley
Santa Ynez Park: take advantage of the partially shaded gazebo if it's available
Ostrichland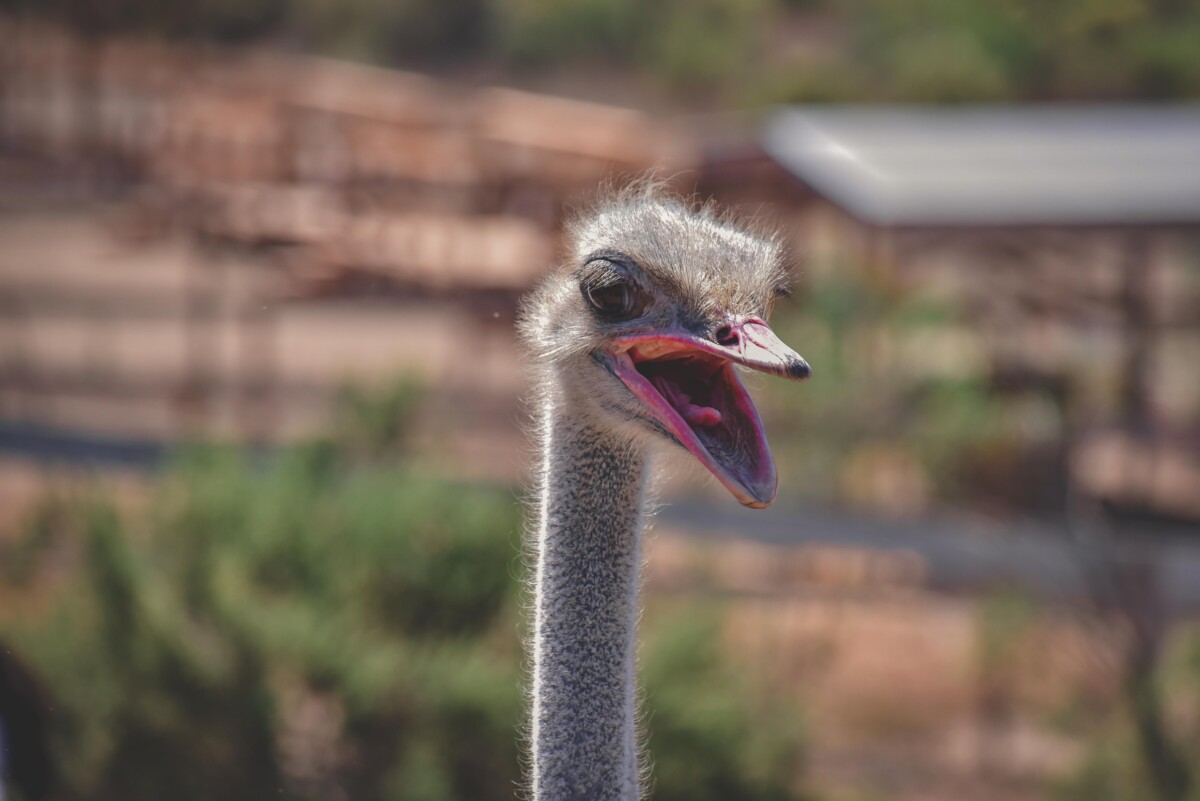 One of the most popular things to do in Solvang is pay a visit to Ostrichland. Featured in the cult classic Sideways and even a 2010 Simpsons episode, Ostrichland is a zoo of sorts, where you can feed emus and ostriches from behind a fence. The ostriches are wide-eyed, curious, and friendly. They're definitely accustomed to tourists (though I've heard they can bite if you get close so be careful and keep a safe distance).
Hike To Nojoqui Falls
Hiking to Nojoqui Falls has long-been one of the most enchanting things to do in Solvang. Most of the year, Nojoqui Falls looks like little white pencils placed along a tall green sheet. But in the right season, after a good spell of rain, Nojoqui more forcefully releases veins of water. The hike is easy, the trail is shaded, and it takes about fifteen minutes to reach the falls (and then come back).
Celebrate Danish Days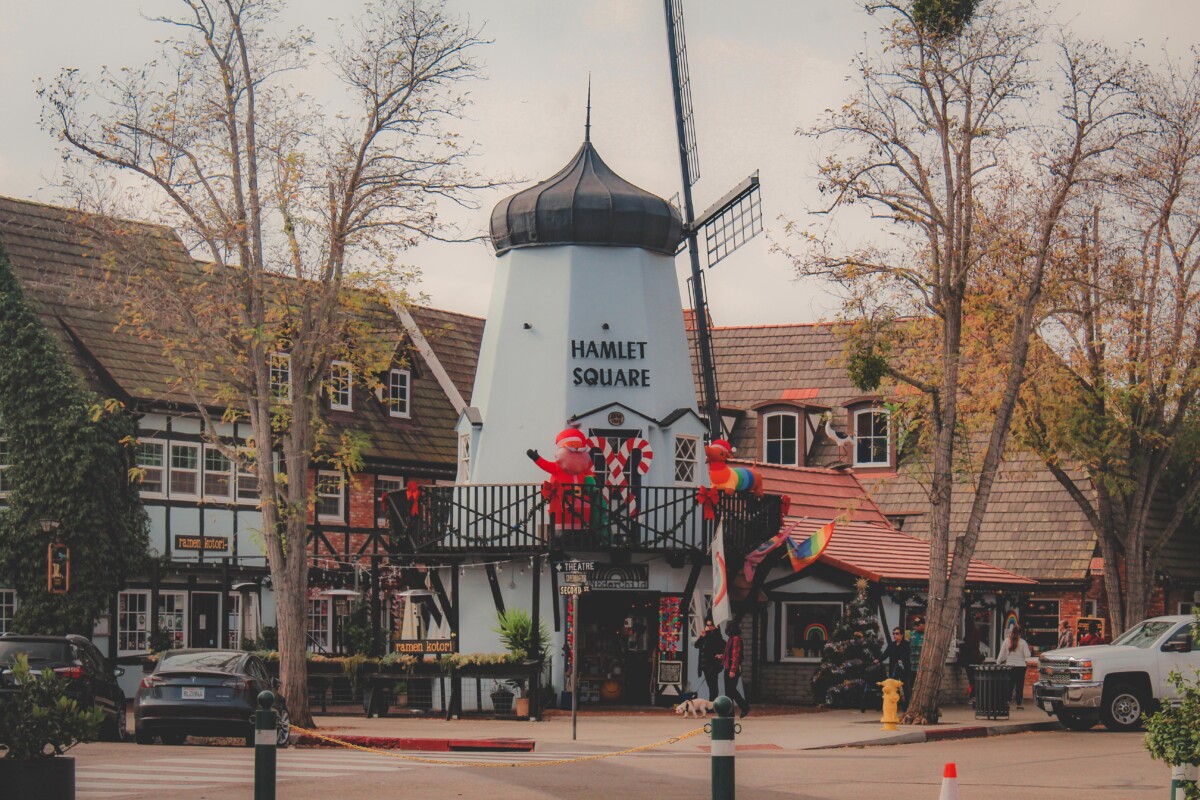 Every year, Solvang hosts Danish Days, a three-day-long celebration of Danish culture. You'll be quickly caught up in the excitement of parades moving through town, folk dancers twirling around, and pop-up shops hustling and bustling. Each day brings its own line-up of events, from axe-throwing activities to Hans Christian Andersen readings. There's a living history festival too (so yes, there's a festival within this festival – Solvang really goes all out during Danish Days).
Attend Julefest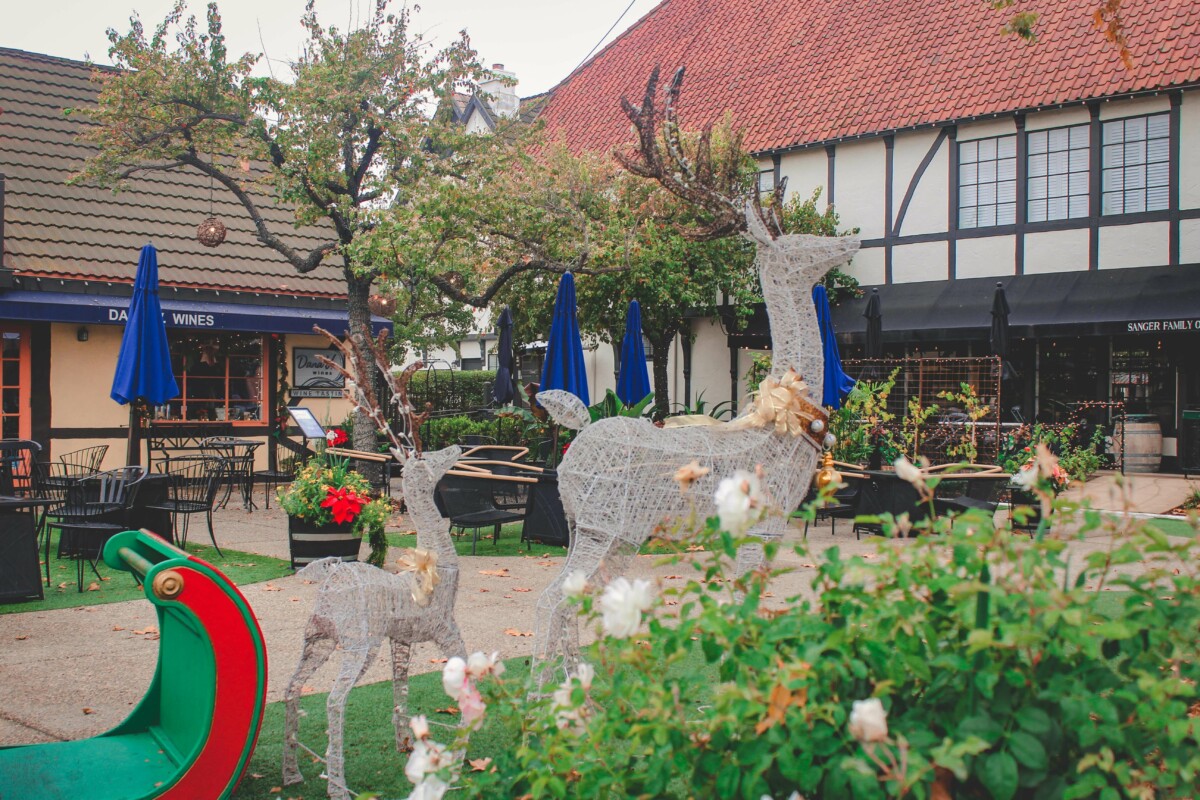 Solvang takes Christmas seriously (even more so than Hallmark). Every year, in the winter, the town is festooned with decorations: wreaths adorn shop doors, generously ornamented Christmas trees can be found on each block, pops of red and green ribbon flowerboxes. I mean, this is a village that serves Aebleskiver (traditionally snacked upon during Christmas month) year-round and Flaeskesteg (traditionally had during Christmas Eve or on Christmas Day) year-round. So given Solvang's perpetual festive leanings, Julefest (pronounced Yulefest) just clicks. It's a month-long Christmas celebration with nightly light shows and weekly choir performances and candlelight tours. It's everything you love about Christmas cheer packed into one merry square.
Just Explore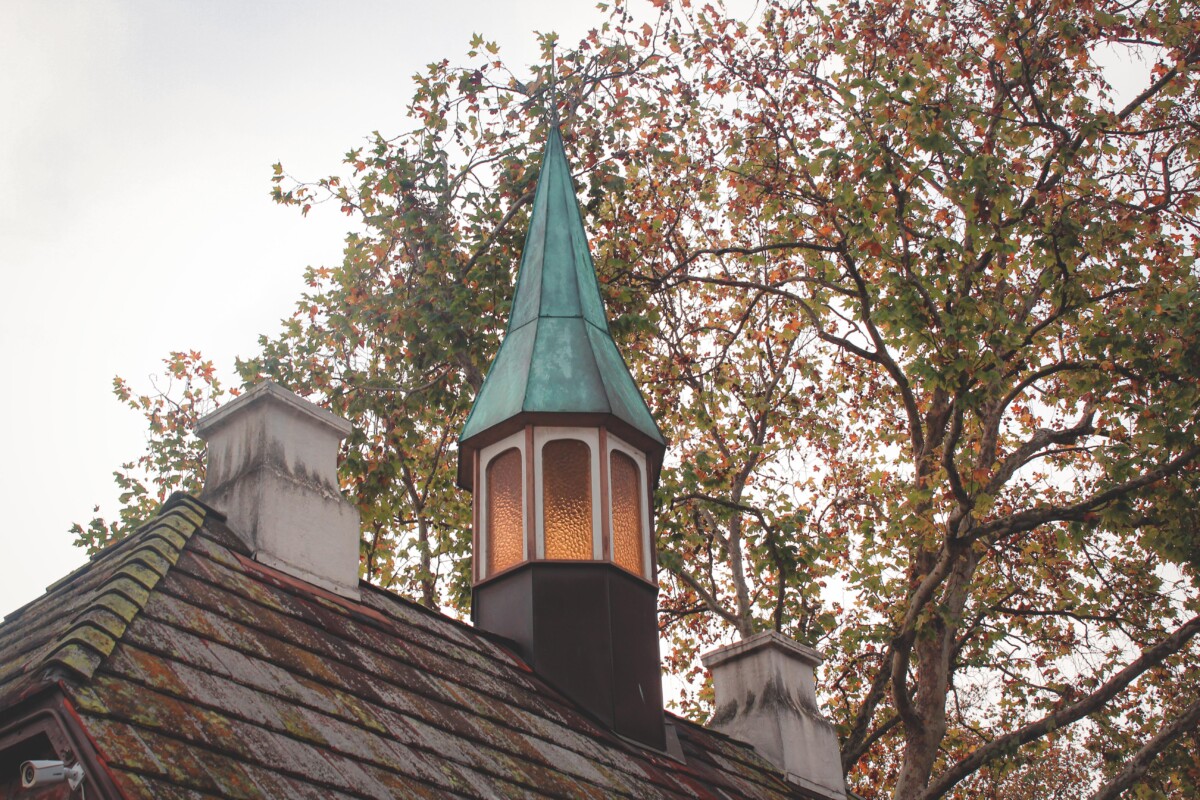 No matter when you choose to visit Solvang, one of the most underrated things to here is just explore. Stroll through Solvang's busy streets, duck into its alleyways, and admire its painted facades. It's the little details – the easy to miss architectural elements and tucked-away courtyards – that keep Solvang interesting.
Shopping In Solvang, California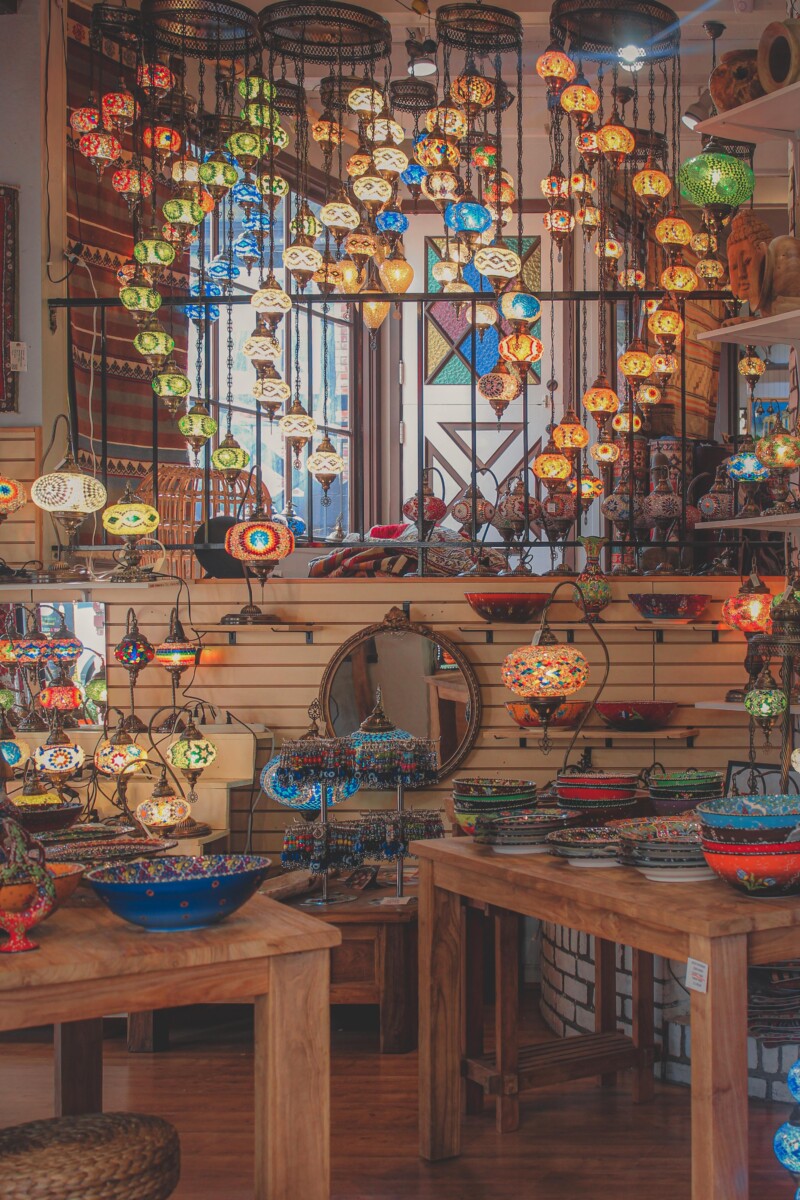 If you manage to leave Solvang without cracking open your purse or wallet, I applaud you (y'all, I was doing so well until The Book Loft). There are over 150 shops here. And given that chains are a tough find, there's a pretty good chance you'll be shopping local (which I'm always for).
Here's where to shop in Solvang:
Home Connection: chic furniture and decor shop launched by a mother-daughter duo in 1990
Dr. J's Bicycle Shop: bike repair shop that also rents out bikes
Jule Hus: Christmas arrives here every single day
The Book Loft: our favorite indie bookshop in Solvang featuring new, used, and foreign language books
Where To Eat In Solvang, California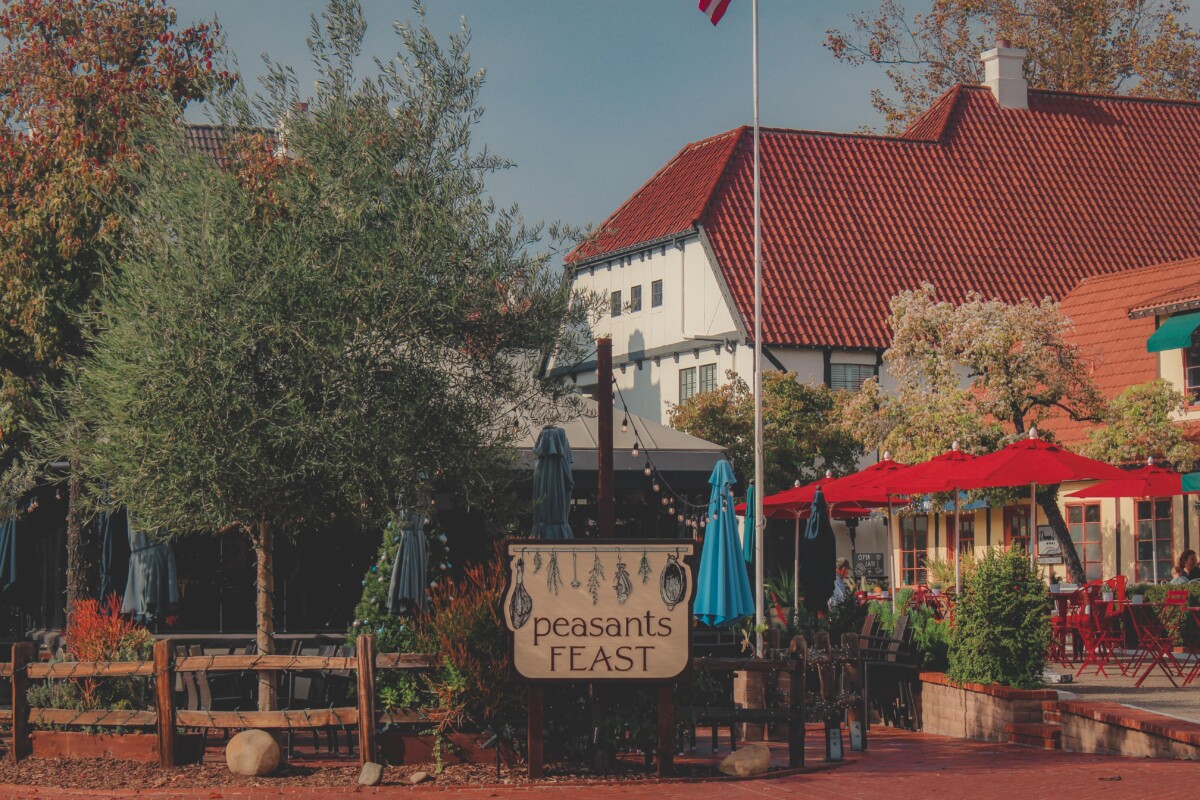 Our Top Pick – Peasants Feast
There's an earthy feel to Peasants Feast. It's a cozy, farm-to-table eatery serving up food made with fresh ingredients. The menu is equal parts safe and experimental, a mix of tried-and-true combos and test-your-tastebuds favorites. And each dish comes fully loaded, hence Peasants Feast's Michelin-awarded Bib Gourmand status. Order anything off the menu, and save room for Nannie's Frozen Lime Pie.
Other Solvang Favorites:
Paula's Pancake House: first time in Solvang? head to Paula's for breakfast and get the house special, Danish pancakes topped with fruit and whipped cream
Copenhagen Sausage Garden: our favorite spot for a chill, relaxed, low-key lunch heavy on the meats
Mad & Vin: planning a brunch date in Solvang? go here. Mad & Vin is trendy, cute, upscale, and serves good, seasonal food
Where To Stay In Solvang, California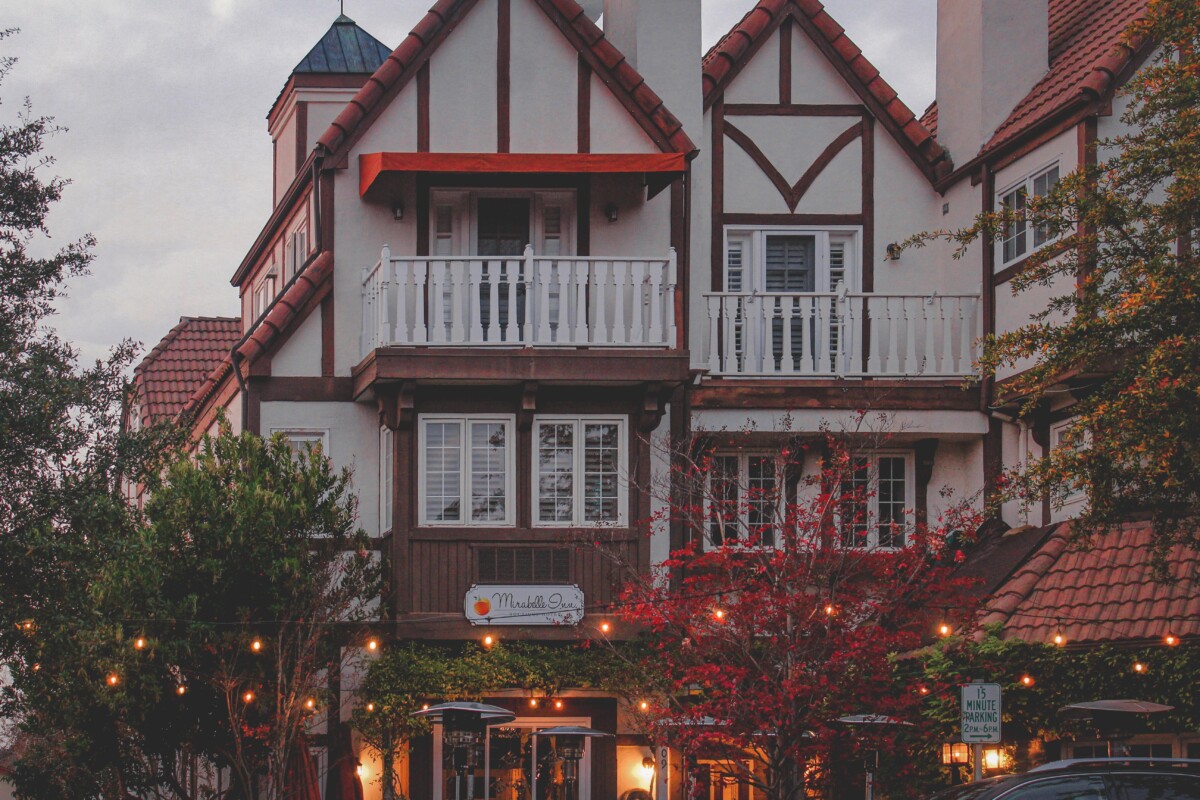 If you're looking to spend a night in Solvang, here are the places I'd recommend the most:
Mirabelle Inn: most everything on this list of things to do in Solvang is walking distance from Mirabelle Inn. This comfy boutique hotel is also home to a Michelin Guide restaurant – First & Oak.
Wine Valley Inn & Cottage: another well-located property in Solvang, Wine Valley Inn is comprised of pleasant (though slightly dated) rooms.
Sideways Inn: this is where we stayed on our first visit to Solvang (solely because it was the cheapest priced hotel I could find in the area). It's a bit further out but I appreciated Sideways Inn's range of amenities (on-site restaurant, complimentary breakfast, food trucks, fire pits).

Did you find this Solvang travel guide helpful? What are your favorite things to do in Solvang? Let me know in the comments below! As always, I love hearing from you.