easy diy vegetarian charcuterie board
If I was not bound by the laws of healthy eating, I'd have cheese all day every day. One of my first dates with Vyas was to a cute little cheese shop in Oak Lawn. We ordered a charcuterie board (filled with spiced nuts and tiny bread slices and dried fruit).
So for his birthday, I wanted to regift him that moment, except this time fully loaded and meat-free.
This vegetarian charcuterie board is an ode to that Dallas date. It's a little sweet and a little salty. It's for dessert-loving and savory craving palates. It's packed with flavors and textures. And it's a family favorite.
Here's our easy vegetarian charcuterie board recipe and guide!
Vegetarian Charcuterie Board Ingredients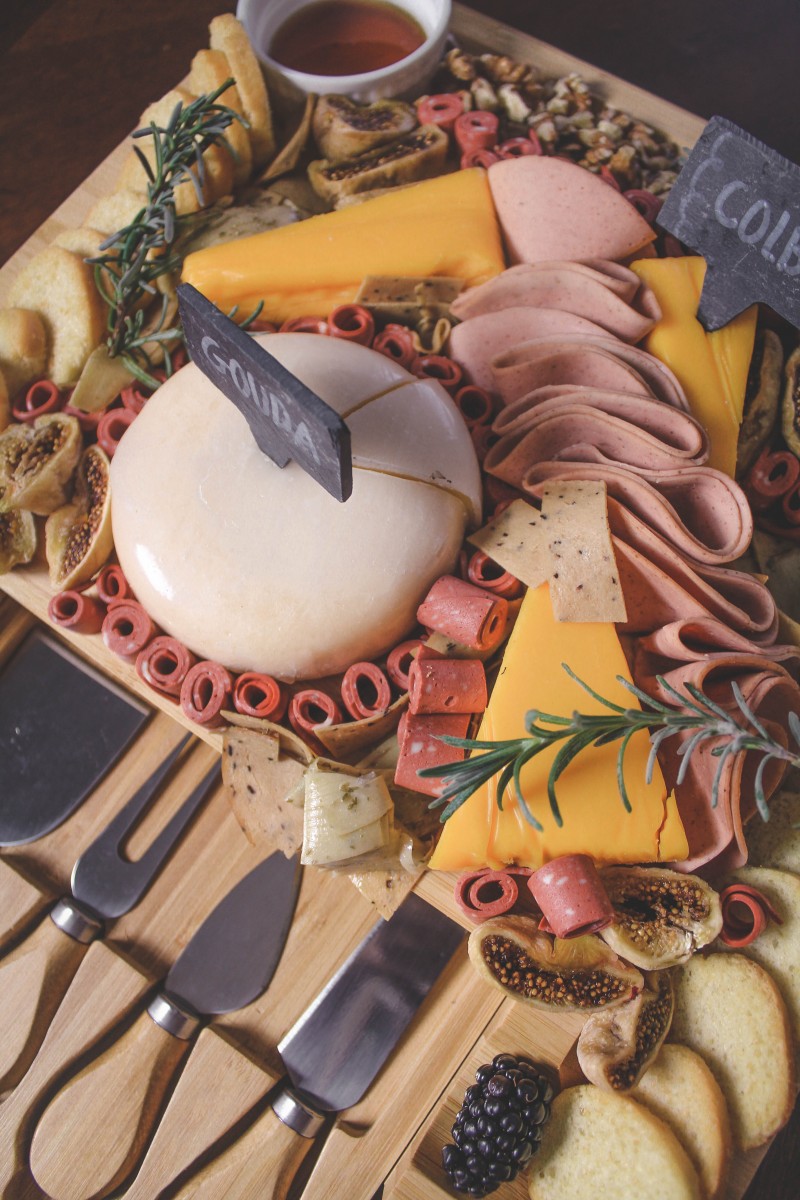 Charcuterie boards are typically plated on wood or bamboo. A hard and earthy base enhances the rustic charm of simple ingredients jigsaw-fitted together.
This is the cheese board and knife set I personally use. The edges are grooved and it has a cute little sliding drawer as well.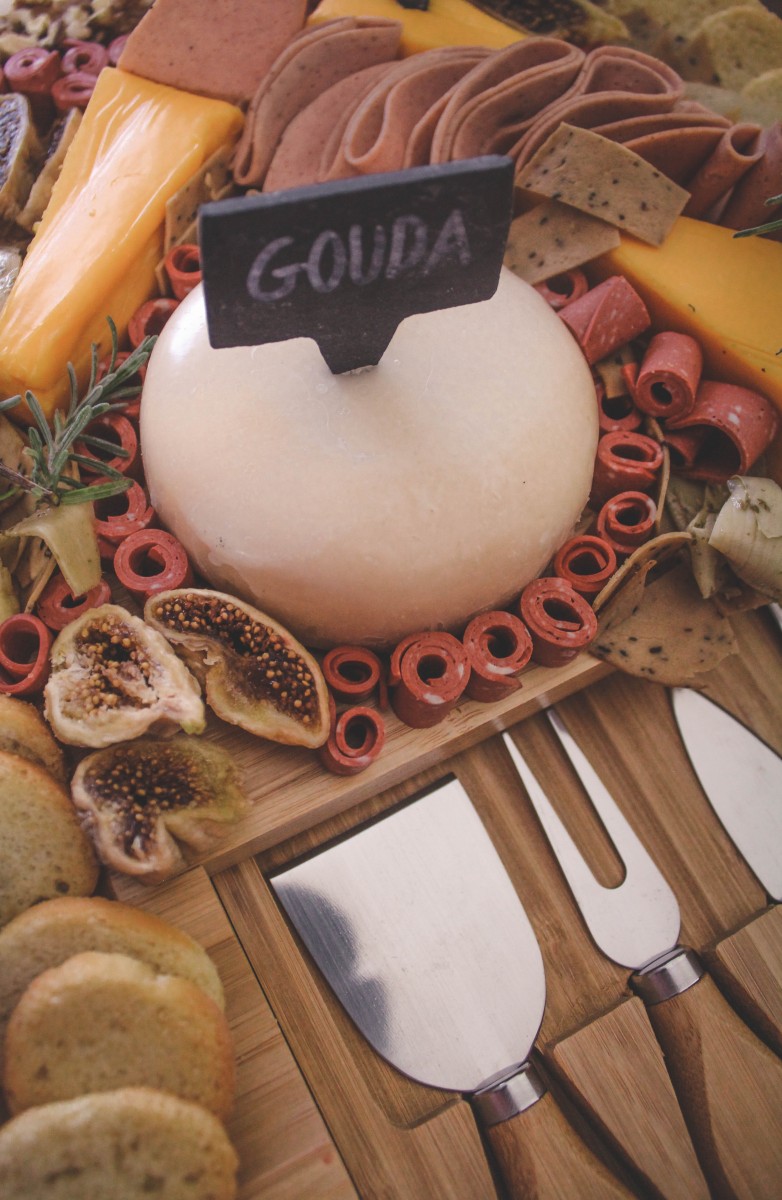 But feel free to use any wooden cutting block, pizza paddle, or wooden tray you already have on hand.
The ingredients for this recipe are simple (and rely on pantry and refrigerator staples):
two kinds of cheeses (one semi-hard and one semi-soft cheese)
two to three veggie meats (we went for vegan salami from Sprouts)
two cups of dried and fresh fruits (blackberries, figs – grapes work really well too)
a cup of nuts (chopped walnuts)
a little something savory (olives or pickles or artichoke hearts)
tiny pieces of bread (crackers, bruschetta, crostini)
8 tablespoons of dipping sauce (we opted for half honey and half fig jam – you can also use a more savory alternative like mustard)
It takes about twenty minutes to assemble everything. And this particular recipe is for eight (or in the case of my family of four, two v-e-r-y generous servings).
Vegetarian Charcuterie Board Tips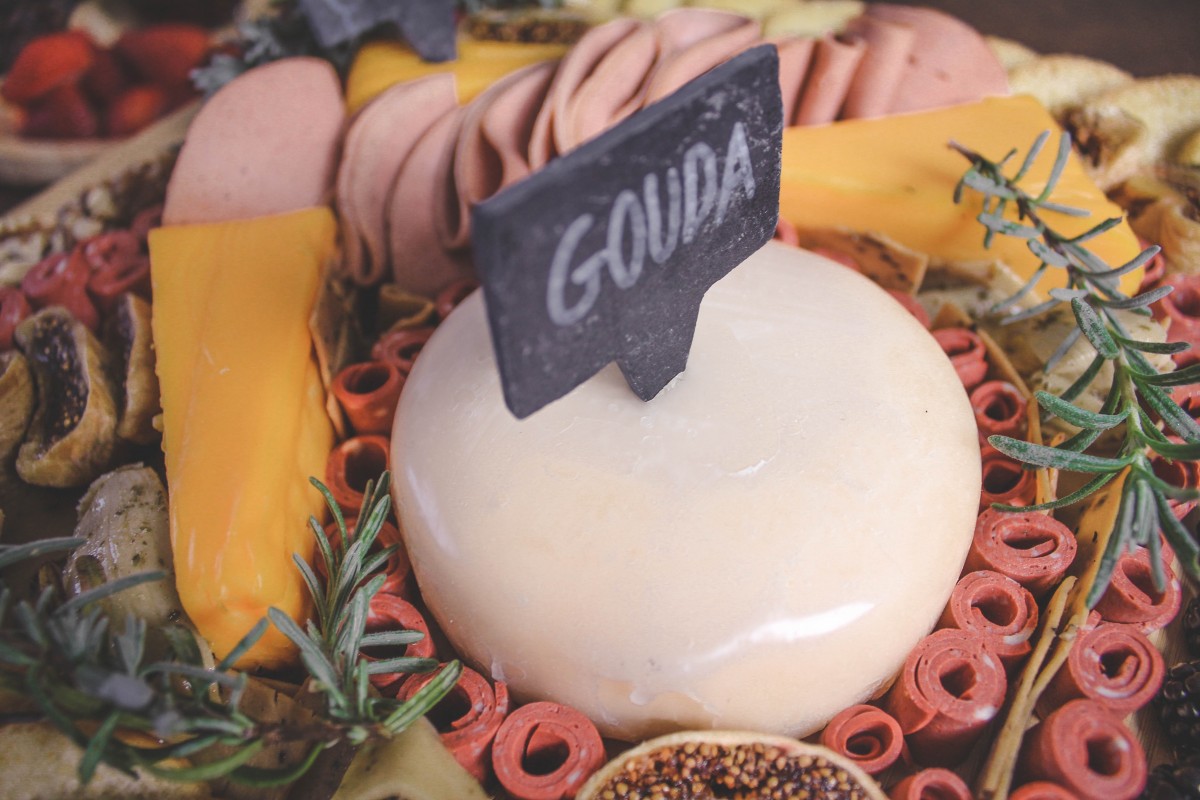 Use two of your favorite kinds of vegetarian cheeses. To see if a cheese is veg-friendly or not, check the label for animal rennet (this is an enzyme from the stomach of grazing animals). Vegetarian cheeses contain vegetable or microbial rennet (or none at all).
You want cheeses with different textures and levels of aridity for a sharp contrast of flavors. One semi-hard cheese and one semi-soft cheese are my go-to's. But you can also opt for one hard cheese and one soft cheese on the board!
Opt for a variety of "no-meat" textures (vegan salami and vegan sausage work well together).
Balance the accoutrements. For every little something sweet, add a little something savory (think dried figs and olives or berries and nuts).
Fill the space. Great vegetarian charcuterie boards are packed. There isn't an inch of breathing room leftover and that's what makes them so impressive. Go ham.
Assembling A Vegetarian Charcuterie Board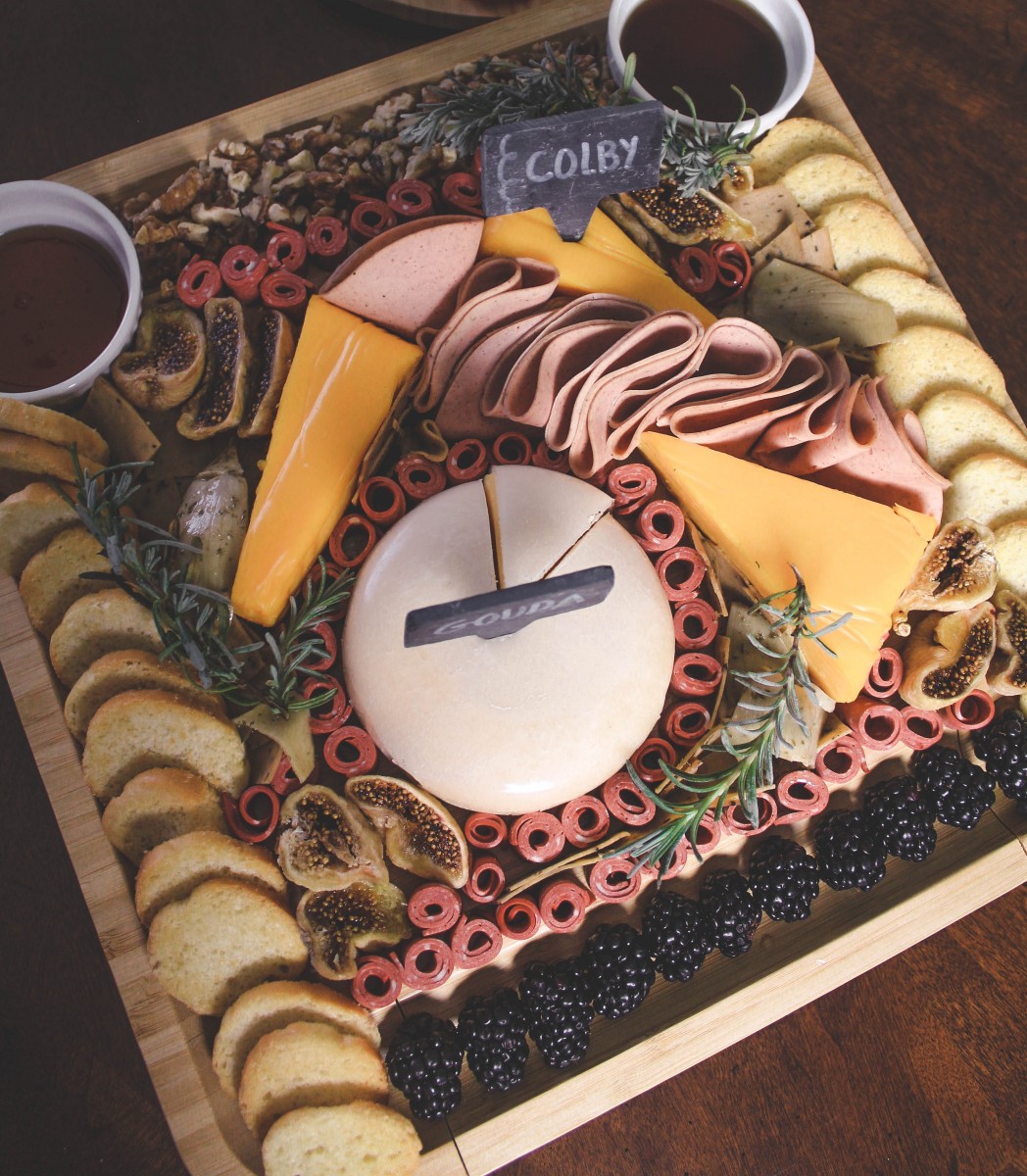 Place the cheese on the board first. I like to keep one wheel of cheese slightly off-center and one block of cheese (split into three triangular wedges via a V-shaped cut) spread throughout.
After that, I border the edges with bread before going back to working my way outwards!
For this particular charcuterie board, I tightly rolled Green Slice Veggeroni (use any brand you'd like) and cut each roll into six pieces. I placed them vertically around the cheese wheel to add a bit of depth.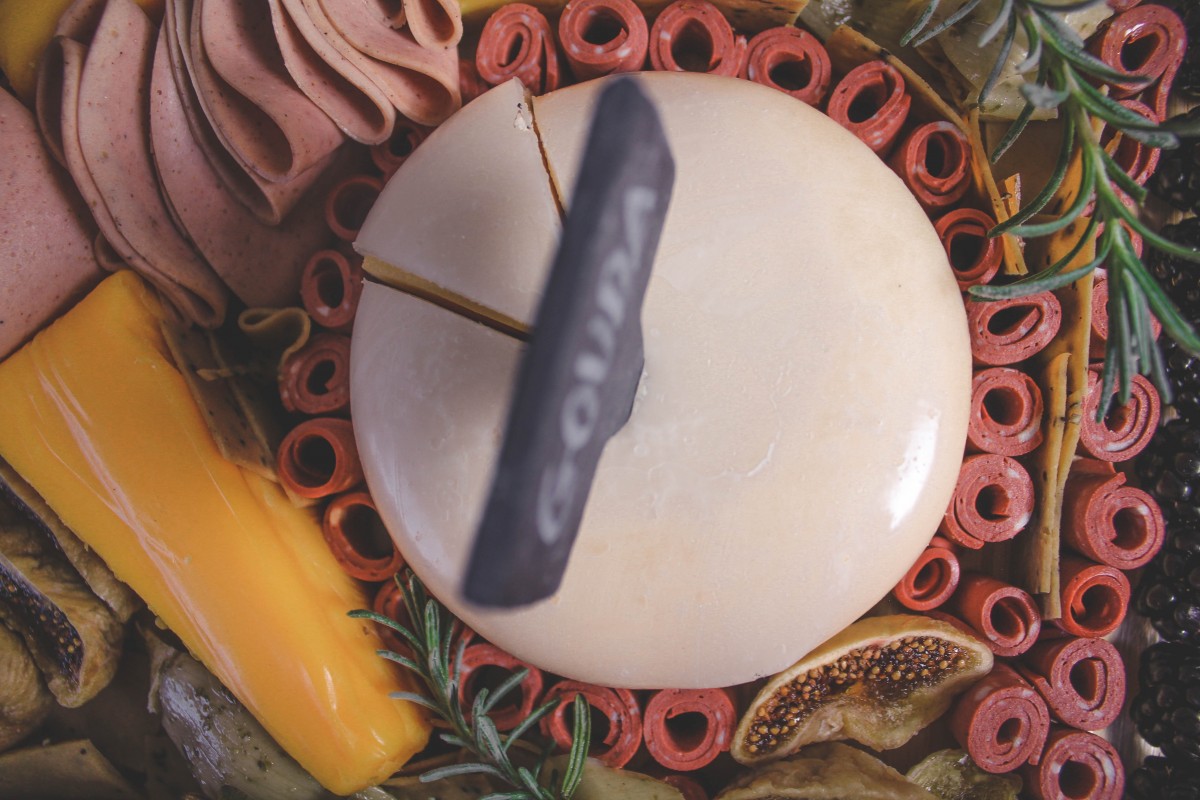 I added three half-cut figs face-up by each slice of semi-soft cheese and lined up any remaining meat-free salami rolls.
There was a big diagonal gap left on the board so I double folded the Applewood Smoked Salami (the second flavor) and layered them across the gap.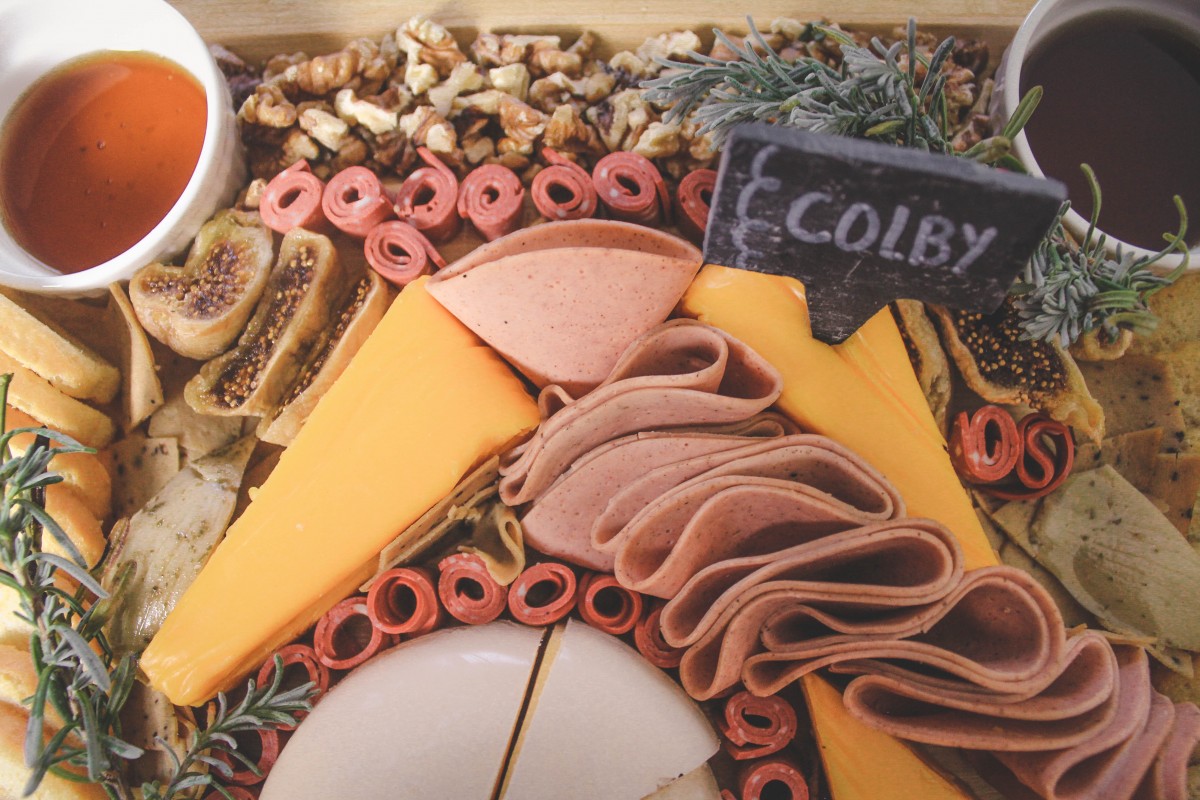 I filled in the remaining spaces with some strips of peppered tofurky and pickled artichoke hearts.
The last two borders got filled with chopped nuts and fresh berries.
For the best flavor, you'll want to serve this fresh! And if you have leftover cheese (we usually end up with some), double wrap it in wax paper before storing it in the fridge (otherwise, it gets hard and crusty).