Visiting Kennedy Space Center (KSC) isn't supposed to be rocket science. But I guess, in a way, it is.
I mean, before my first visit to Kennedy Space Center, I had a million and one questions.
Is the bus tour included in admission? How long is the tour? Can I purchase tickets online? Can I skip the line (because patience and I don't get along like we used to)? Why is the location listed as Orlando when it's actually in Cape Canaveral? And is KSC even on Cape Canaveral or is it on Merritt Island?
So by the time I got to the wide concrete path leading up to KSC's iconic tall white building, I was more than confused.
Until I wasn't.
Just a few seconds before I entered, one simple word blocked over the KSC entrance, in clear sky blue, brought clarity: EXPLORE.
So that's just what I did – explore. And during that time, I learned a few things to do (and not to do) whilst visiting Kennedy Space Center.
Here are 7 tips you need to know before visiting Kennedy Space Center.
Know Where To Purchase Your Ticket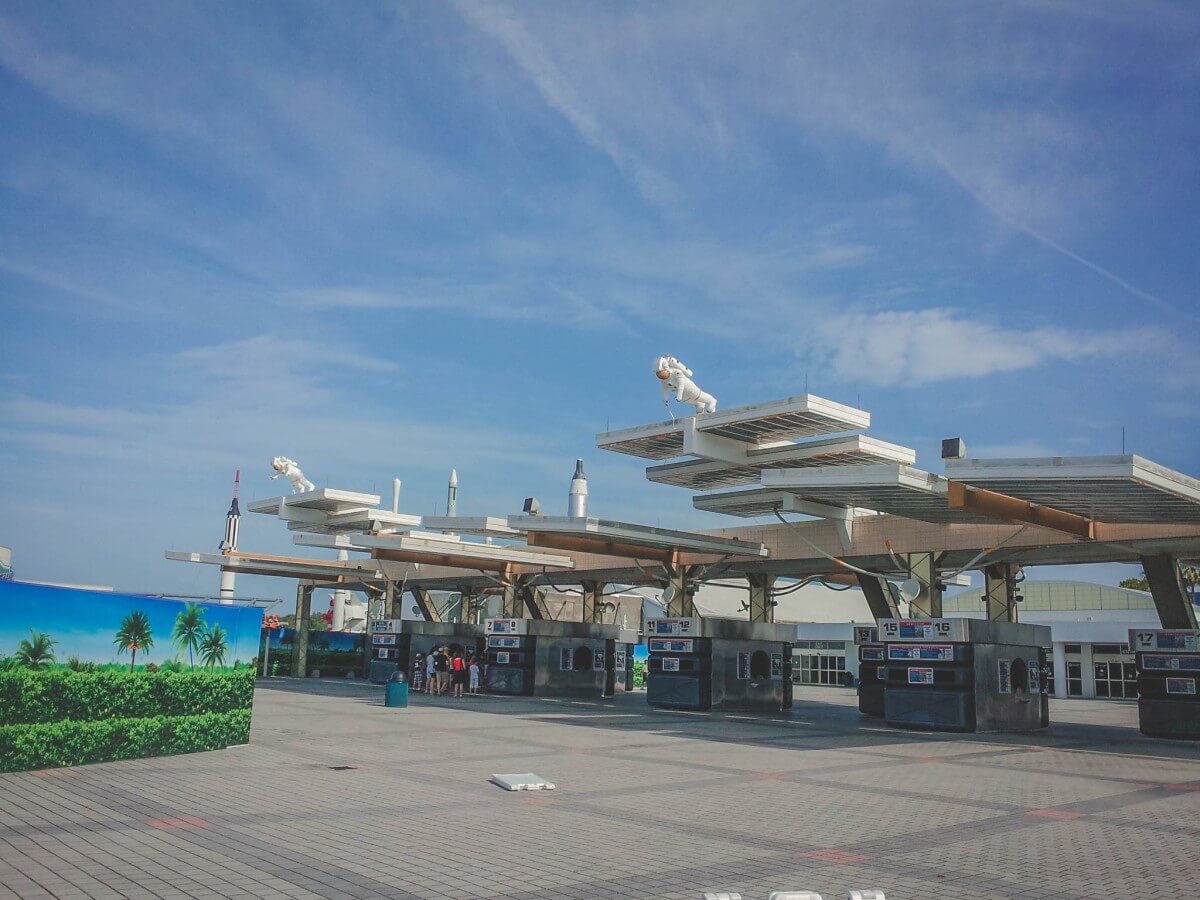 There are a lot of places that "sell" Kennedy Space Center tickets. Most of the websites you see online offering KSC tours are either a) just general admission tickets (not a personal guided tour as they'd have you believe – how rude) or b) a scam.
If you want to purchase your ticket online before visiting Kennedy Space Center, you can do so here (on Kennedy Space Center's official website).
Kennedy Space Center Tip: If you purchase your ticket online, make sure you print out your ticket before arriving! You need to have printed tickets to enter KSC.
Several companies also offer skip the line tickets, which is exactly what I crave at the Chicago O'Hare Airport (yikes), but out here – on Merrit Island – not so much.
I purchased my tickets in-person while visiting Kennedy Space Center and I don't regret that decision one bit!
Your ticket ($57 per adult) includes admission to:
Kennedy Space Center Bus Tour (this is how you visit the Apollo/Saturn V Center)
Rocket Launch Viewing (if available)
The Exhibits
IMAX Films
Astronaut Encounter
Rocket Garden
When you purchase in-person, you get a map and a list of showtimes (the map is kind of clunky, but the list of showtimes is incredibly helpful).
P.S. Your ticket does not include parking. If you're planning on visiting Kennedy Space Center by car, parking will set you back an extra $10.
Know That You Should Avoid Visiting Kennedy Space Center On The Busiest Days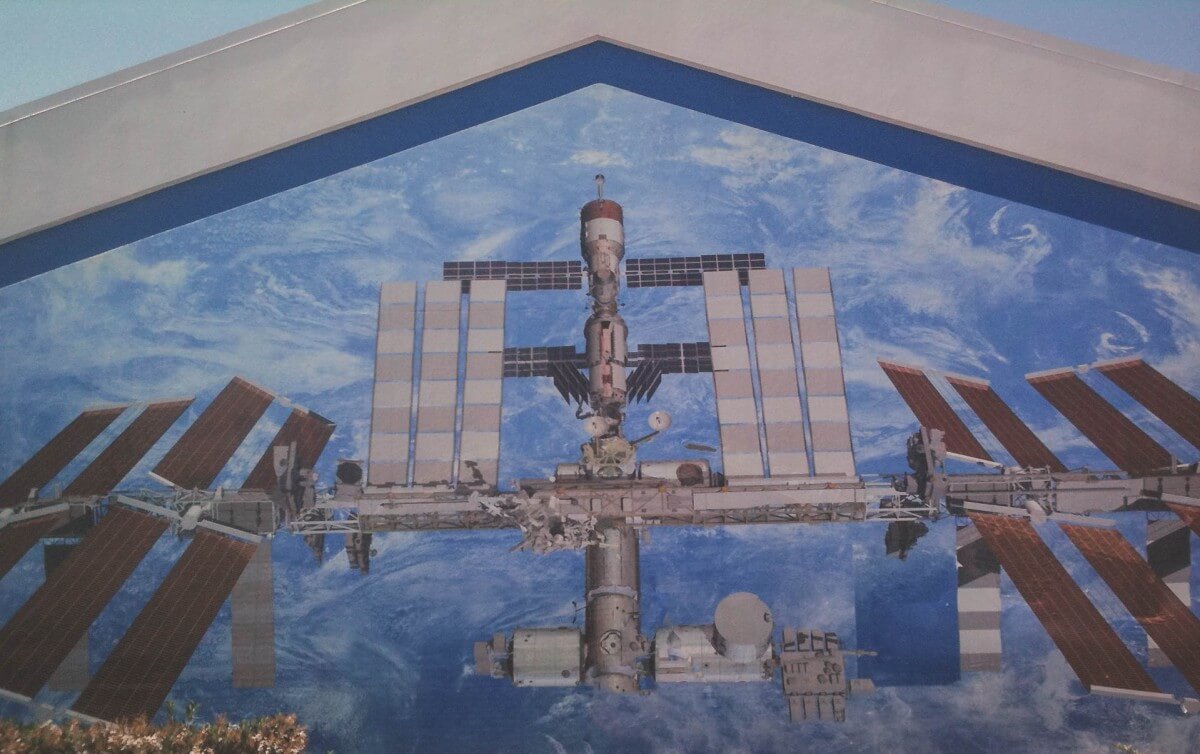 Visiting Kennedy Space Center during the holiday season (between Christmas and New Year) can be overwhelming.
To be honest, KSC isn't usually a crowded attraction (I've always been able to get in and out of lines in roughly 20 minutes).
But in the wintertime and summertime (when school is out), the waits border on hectic.
Try to visit Kennedy Space Center on a weekday morning if you can. Go early. KSC opens at 9 AM (you can park at 8:30) and closes at 6PM.
The big bucket list items are the Bus Tour and Space Shuttle Atlantis. Head to those attractions first!
And if you have the time, opt for an early or late lunch outside (there's always a rush in the parking lot at noon).
Kennedy Space Center Tip: Most restaurants and eateries at KSC close at 2 PM. If you're planning on eating there, try to pick up a bite as early as possible (to guarantee seating).
My first time visiting Kennedy Space Center, I ate at Moon Rock Cafe.
I got to dine under the Apollo 5 Rocket (which at first, made my nerdy heart sing for joy). But to be honest, the menu is limited and crazy expensive. I just ate there because I didn't know you could leave KSC and re-enter later on in the day (if you plan on doing this, remember to get your hand stamped).
Know That There's A Bus Tour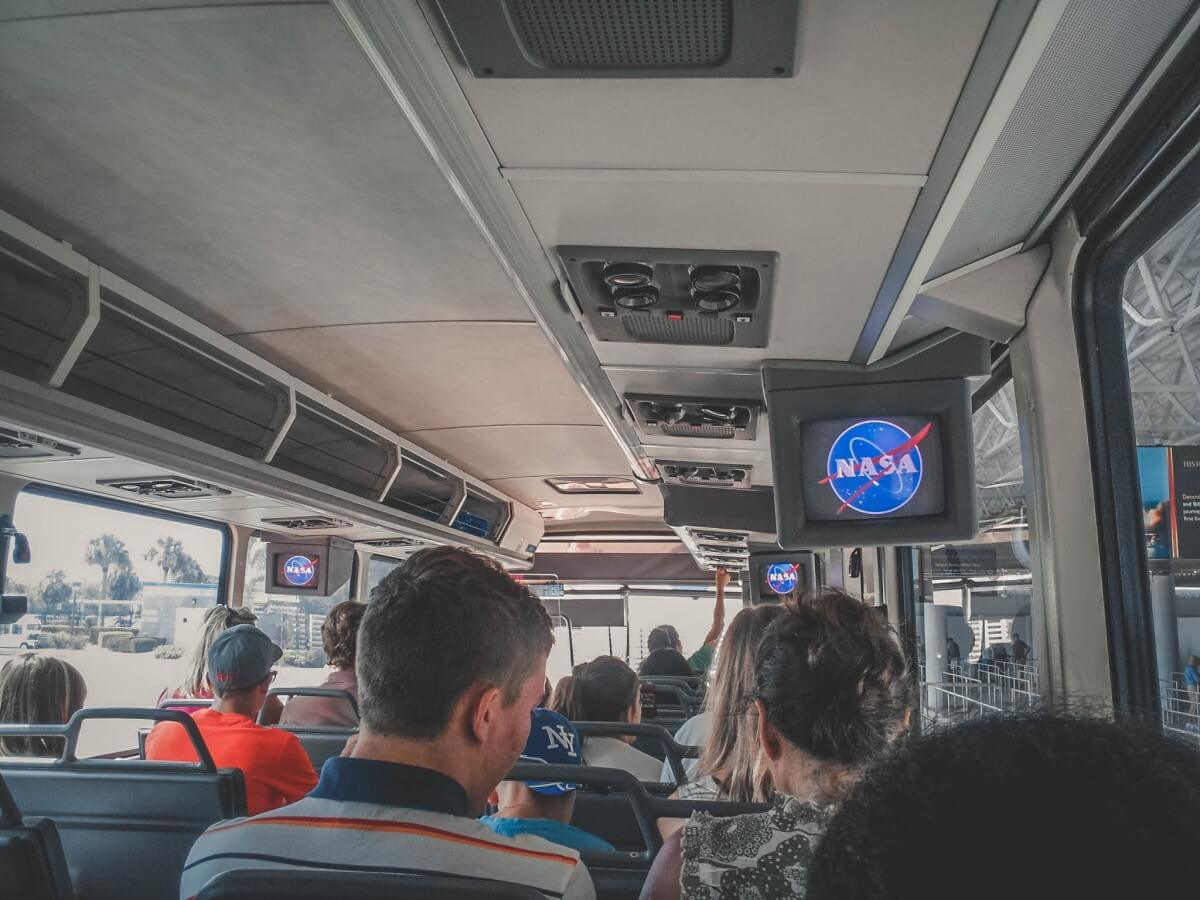 The bus tour was hands-down my favorite part of visiting Kennedy Space Center.
The bus departs every fifteen minutes from the Visitor Complex and transports you to the Apollo/Saturn V Center.
The marshy Florida landscape skates by.
Kennedy Space Center Tip: The last bus tour (which lasts 45 minutes) departs 2.5 hours before closing. Don't miss this attraction!
At the Firing Room Theater, the scene is set. You enter the Space Era. The race to launch a rocket is on. Sputnik threatens USA's Superpower status. Worry brews.
This virtual tour is guided by a former launch controller so the experience is surreal. You feel like you're listening to a memoir instead of a traditional guide. I loved every second of it!
Right outside is the Saturn V moon rocket. I still can't believe this monstrosity is the size of a football field! Ridiculous, huh?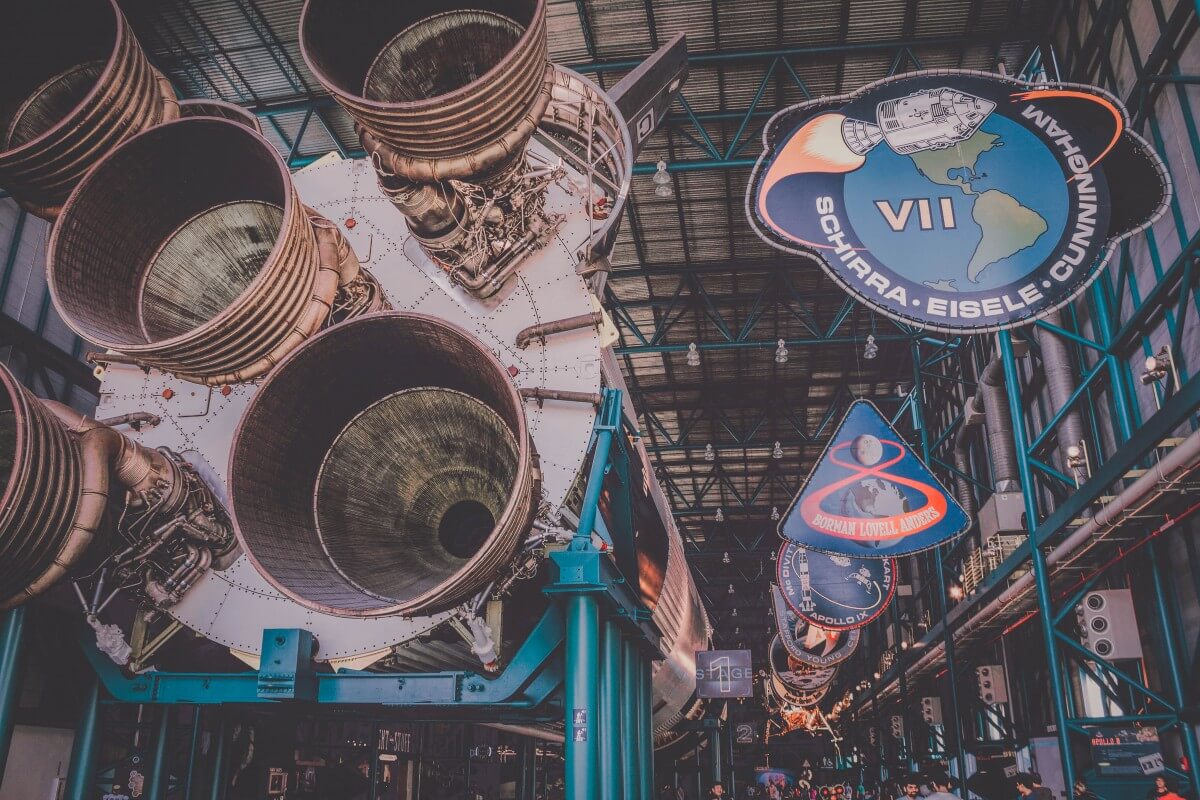 For Apollo 13 fans (I've seen that movie way too times), you can even see James Lovell's spacesuit. Ah, fangirl moments.
After stopping by the Lunar Theater, exit towards Apollo Treasure Gallery, where Alan Shepard's spacesuit and a bit of his lunar module, the Kitty Hawk, reside.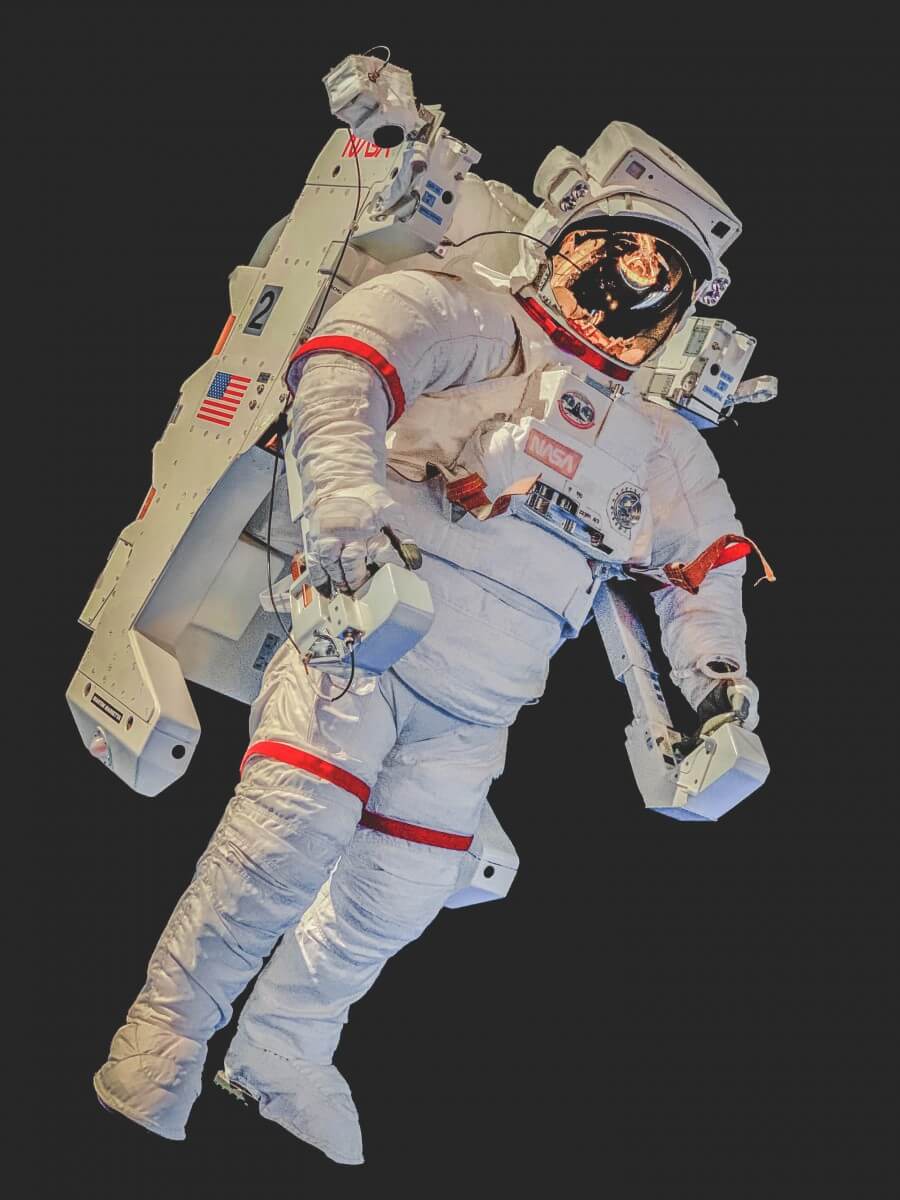 Apollo Treasure Gallery
Alan Shepard is the most underrated astronaut in the Apollo 11 Mission. I can't begin to describe how excited I was to see a commemoration to him.
Exploring space is like taking part in a stage performance. Just because we know the names of the lead actors (Neil Armstrong and Buzz Aldrin) doesn't mean that the makeup artists and costume designers aren't essential.
Kennedy Space Center captures that idea perfectly via the Apollo Treasure Gallery!
Know The Bag Policy Before Visiting Kennedy Space Center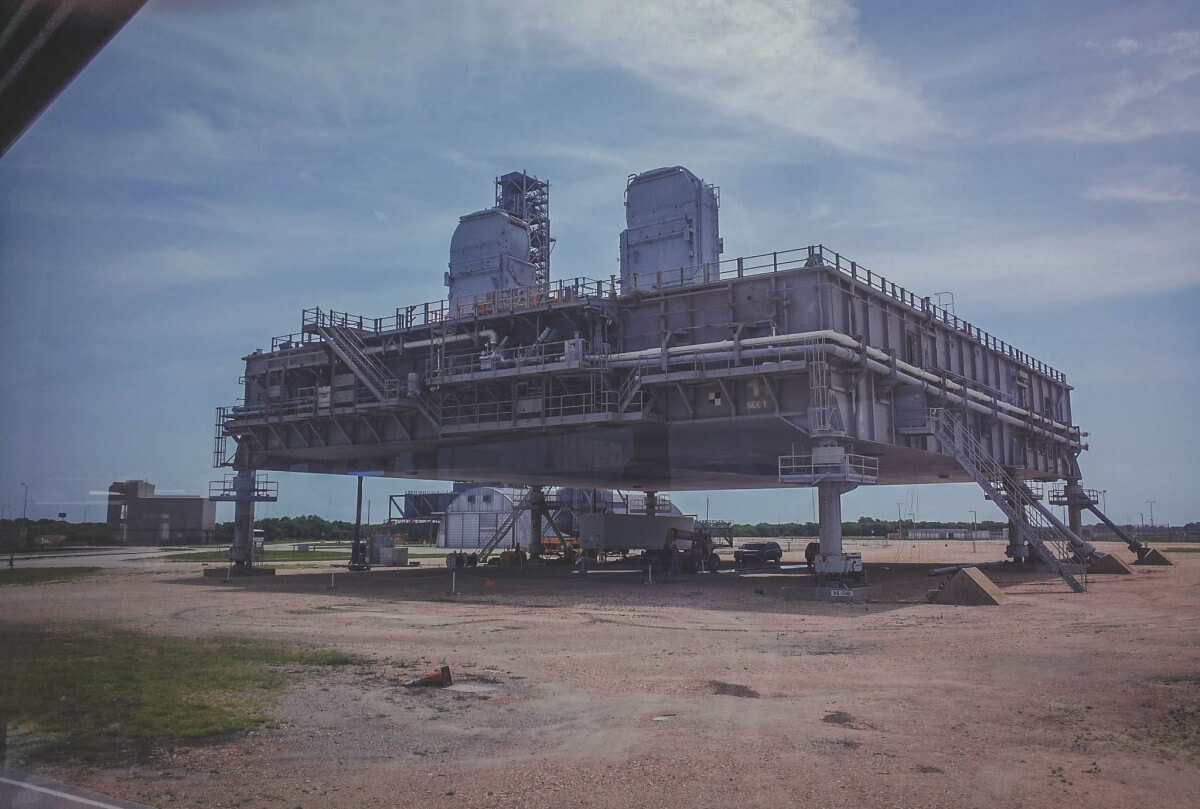 I huff and slide my bag over my shoulder.
Having my belongings screened while visiting Kennedy Space Center isn't unexpected, but the process is tiresome and slow (think Flash from Zootopia).
Here's what you can and can not bring during your Kennedy Space Center visit:
| BRING THIS (ALLOWED) | LEAVE THIS (PROHIBITED) |
| --- | --- |
| small, soft-sided cooler | glass container or bottle |
| camera | drone |
| water | alcohol |
Know What To Do In The Rain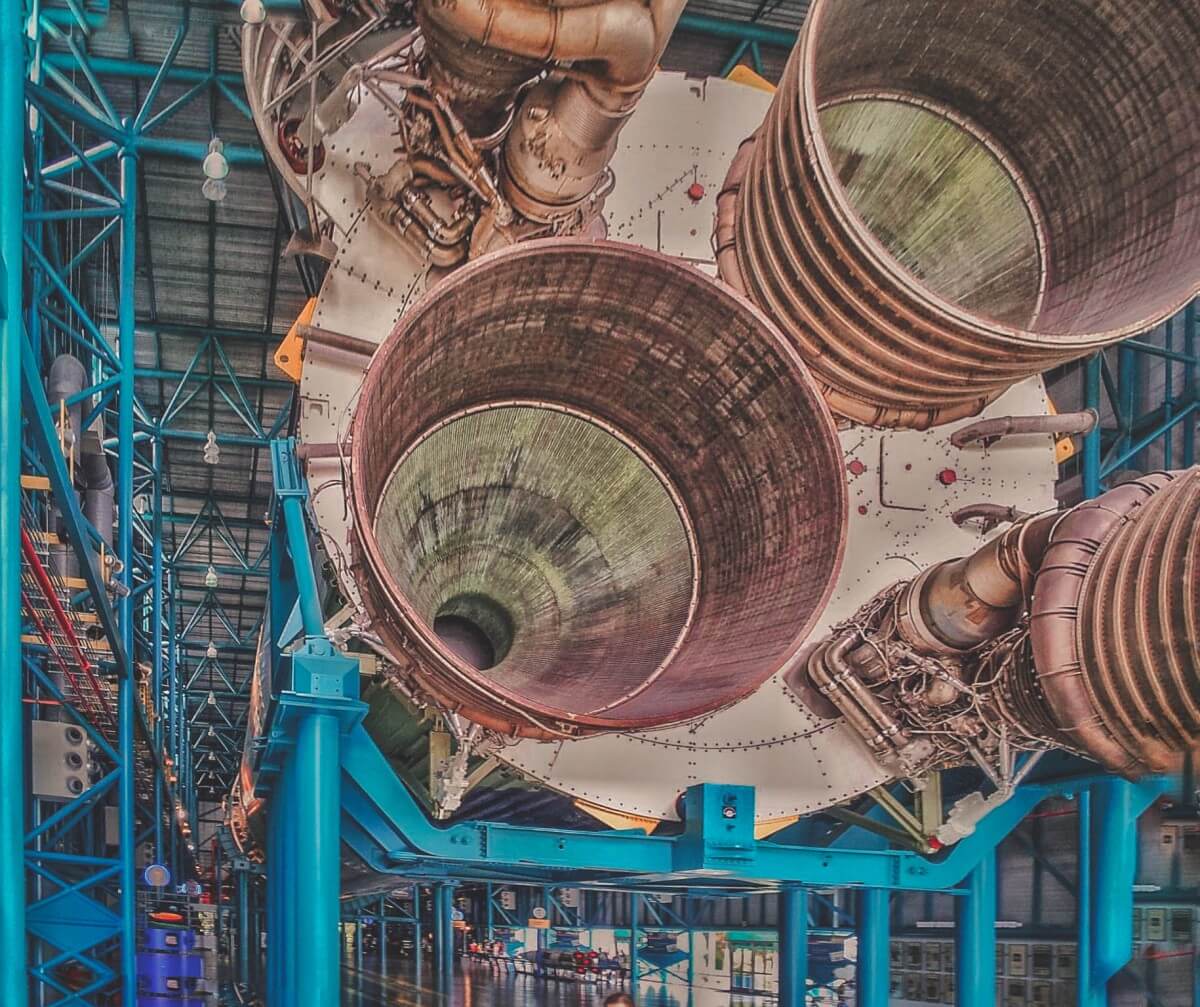 The sky is overcast, weighed down by a deep, broody gray. Rain begins to fall to the ground in heavy plops.
I duck inside. Afternoon showers in Florida are common.
And after spending two days visiting Kennedy Space Center, I was incredibly grateful for the wealth of indoor attractions (considering it was raining 90% of my Florida trip).
Journey to Mars: This is a theater presentation followed by some multimedia exhibits that really get into the logistics of running a mission to the red planet. You can see prototypes of food that might grow on Martian soil. Unfortunately, the whole lab wasn't filled with potatoes, but I'm okay with a non-potato diet (Martian reference – I highly recommend picking Andy Weir's book for the plane).
The Atlantis Zone: The Atlantis, a mammoth space shuttle rotated 43.21 degrees, is held in The Atlantis Zone. If you're visiting Kennedy Space Center with kids, note that there are lots of interactive exhibits here.
Imax Theatre: There are three different shows available daily. Since I had a two-day pass, I opted to see all three. Arrive early if you want to catch a glimpse of the 3D IMAX movie in particular (this one gets filled fast).
Know These 5 Kennedy Space Center Tips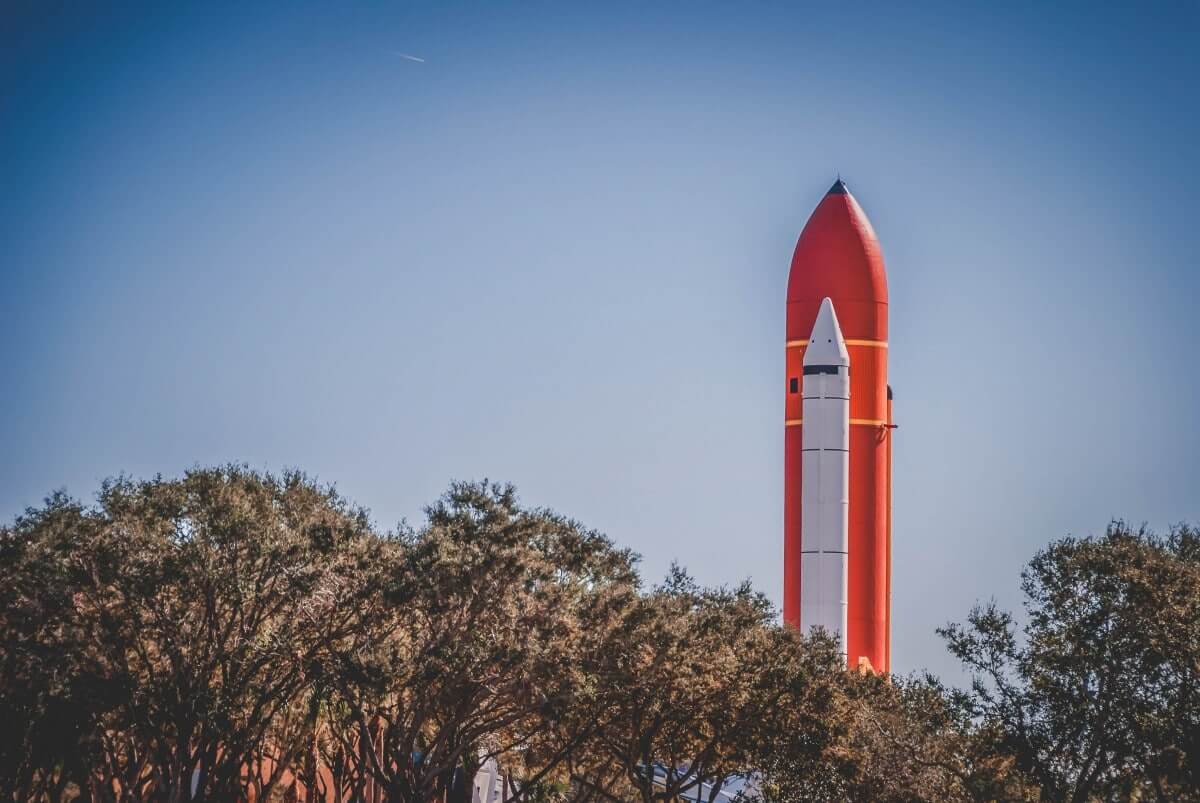 It's getting late. The sun has dipped. Blank white canvases of rockets penetrate a flaming sky.
The Rocket Garden is best seen in the afternoon. Walking among some of NASA's early rockets feels surreal. The garden is located by the front entrance, near the Heroes & Legends exhibit, and it's one of those places that leaves a big impression.
High-tail your way to Atlantis. Atlantis is the most popular attraction at KSC. The exhibit takes a full hour to see. It's engaging and immersive and all-around fun.
After enjoying the Atlantis Exhibit, get in line for the 10 AM bus tour.
There's a ride. Just one. The Shuttle Launch Experience. And I've heard it's good. I didn't really have the stomach for this since I was a little nervous (I'm not really one for rides).
Watching a shuttle launch is included with admission! I'm so mad I didn't know about this before visiting Kennedy Space Center. I'll link the launch calendar here.
Know That Kennedy Space Center Is Worth A Visit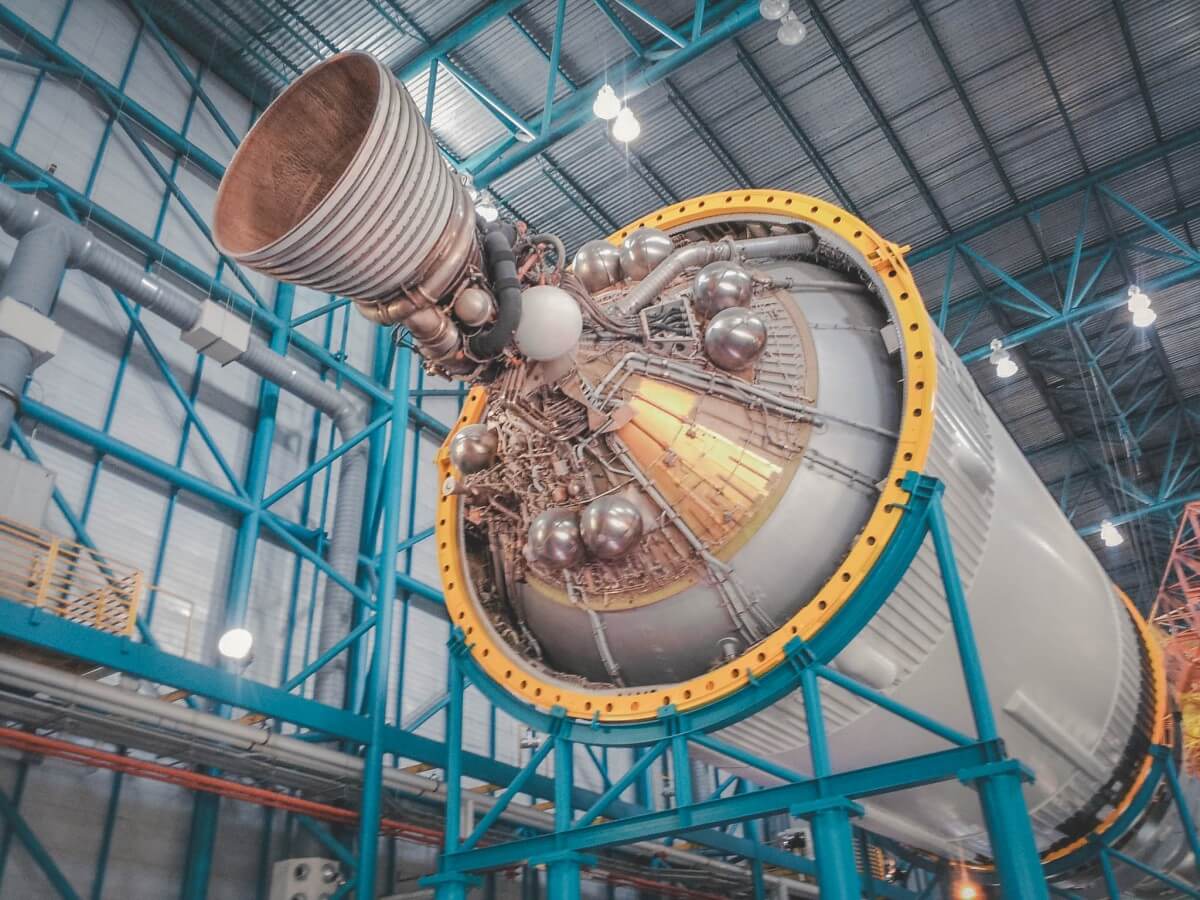 Because the admission price is so steep, it's hard to determine whether visiting Kennedy Space Center is worth it.
But after wandering through the Atlantis Exhibit, relaxing on a quiet bus tour, and standing amongst the larger than life rockets, I'm certain of one thing: KSC is magical.
It's not magical in the same way Disney is. This is a place with real-life magic – a magic twisted from science and engineering.
And I guess that's what makes it the perfect day trip from Orlando.
Did you enjoy this guide to visiting Kennedy Space Center? Do you have any Kennedy Space Center travel tips? Let me know in the comments below!