20 Wizarding World Of Harry Potter tips, tricks, and easter eggs.
Real-life magic takes the shape of The Wizarding World Of Harry Potter in Universal Studios. It's the kind of magic that makes J.K. Rowling's words fly off the pages (and you don't even have to say Wingardium Leviosa).
Full confession: it took me a while to fall in love with the Harry Potter series. My grandpa, a huge fan, tried to get me hooked on them when I was younger (he put on the movies, he read me bits of the books). But I had different stories I was obsessed with back then.
Grandpa, you were right. I missed out.
But now, as a Slytherin to the core (and a proud Potterhead), I fell in love with the universe. And I've always wanted to visit.
So when I got a chance to, I hopped on it. There are Wizarding World parks dotted all over the globe, from Hollywood to Japan. But the most unique (and fleshed out) lies in Florida, split across two separate locations. It's a must for every Harry Potter fan.
To get the most out of your experience, here are twenty Wizarding World Of Harry Potter tips, tricks, and easter eggs to look out for.
Wizarding World Of Harry Potter Tips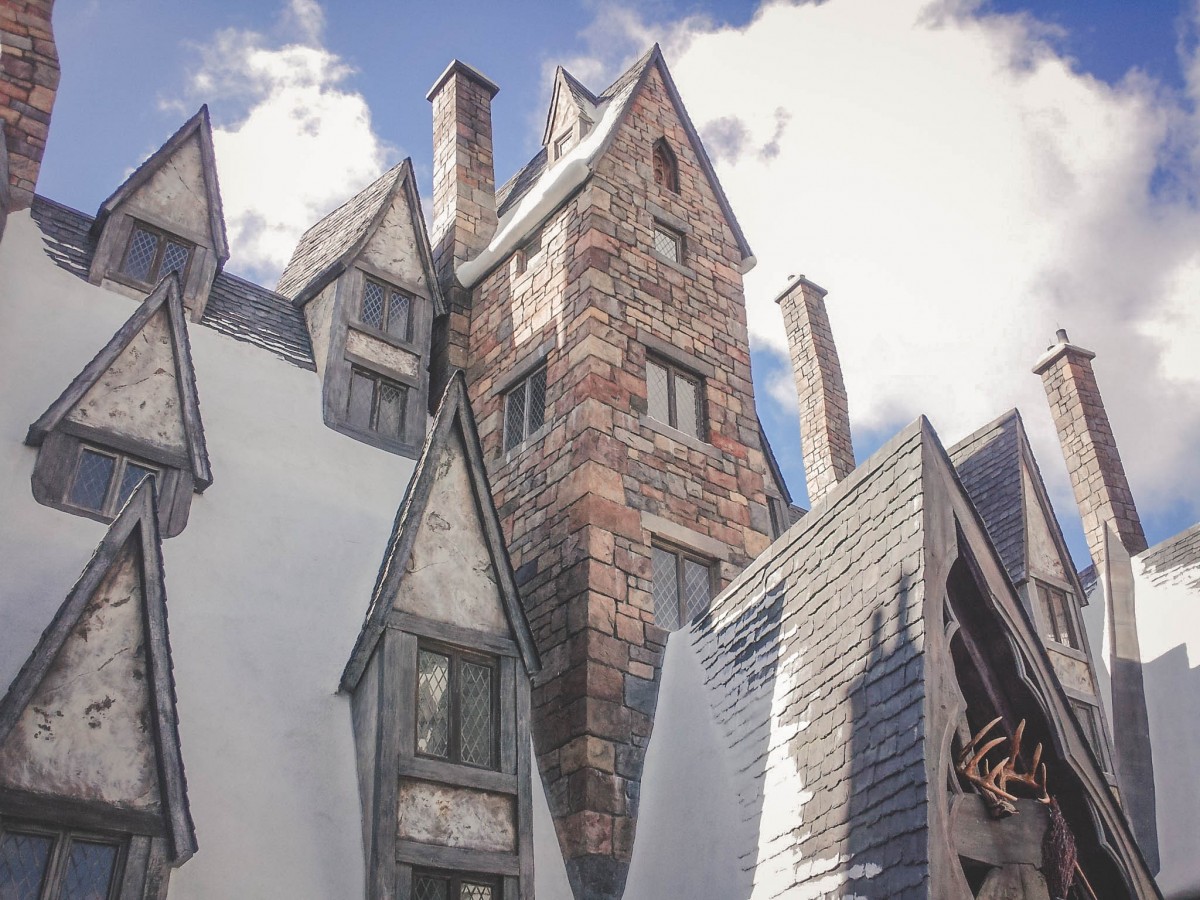 You Need A Park-To-Park Ticket
Since The Wizarding World Of Harry Potter is divided into Diagon Alley (Universal Studios Florida) and Hogsmeade (Islands Of Adventure), you'll need a Park-to-Park ticket (or an annual or seasonal pass) if you want to spend a day immersed in the magic.
The park-to-park ticket allows you to hop back and forth between Universal Studios Florida and Islands Of Adventure (and ride the Hogwarts Express).
It Doesn't Matter Where You Start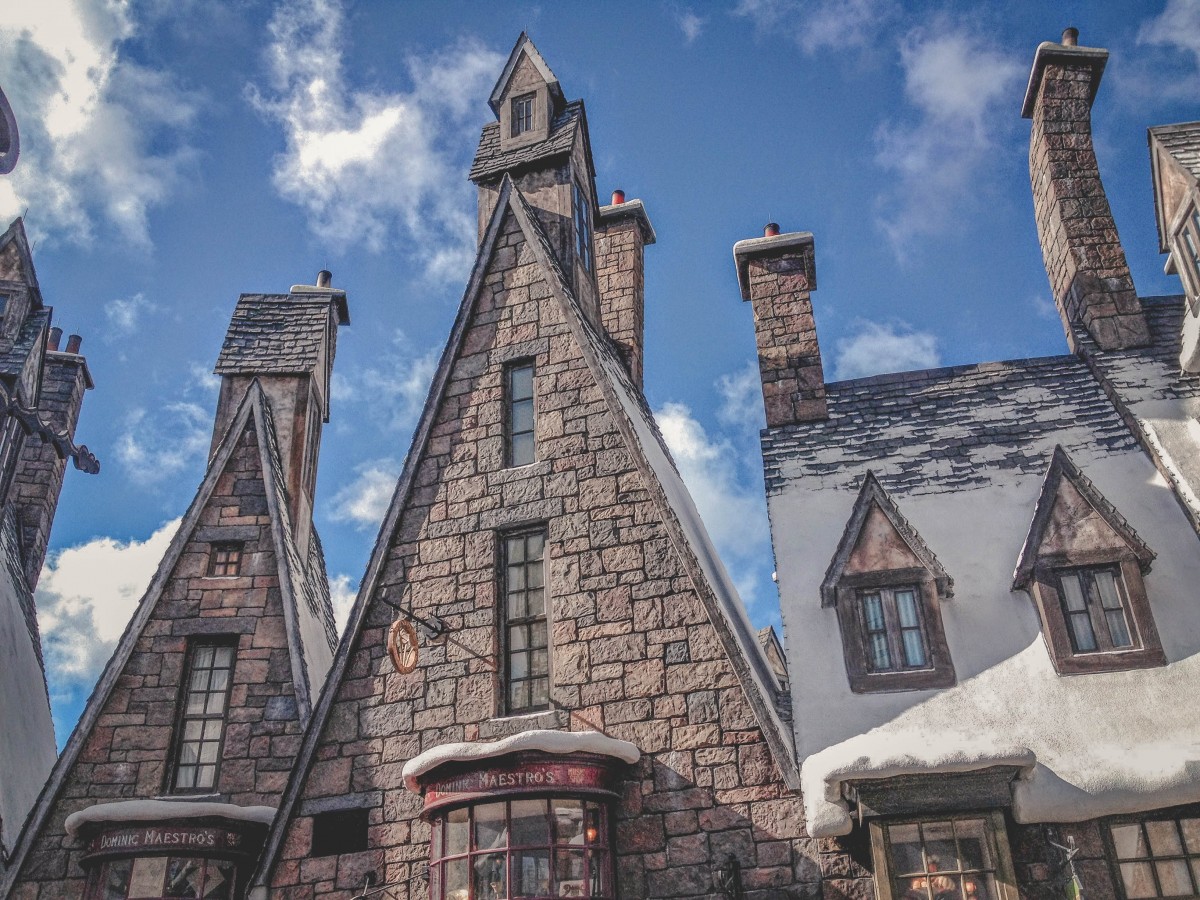 You don't have to start in Diagon Alley.
Is going past platform 9 ¾, getting a wand from Ollivanders, and riding the Hogwarts Express a more true-to-the-books experience? Absolutely.
But if you're trying to catch Harry Potter And The Forbidden Journey (my favorite ride out of both parks), you'll want to head to Hogsmeade first (also, the Ollivander experience in Hogsmeade is nicer). Lines for this attraction get long (Order Of The Phoenix long). But it's not a tough wait. You'll wind from a herbology garden (keep your eyes peeled for mandrakes) into Hogwarts Castle. The shifting paintings, which include Hogwarts founders arguing about the sudden presence of muggles (who us? Salazar, darling, I assure you, I got my Hogwarts Acceptance letter before I arrived) and the Mirror Of Erised.
Get The Interactive Wand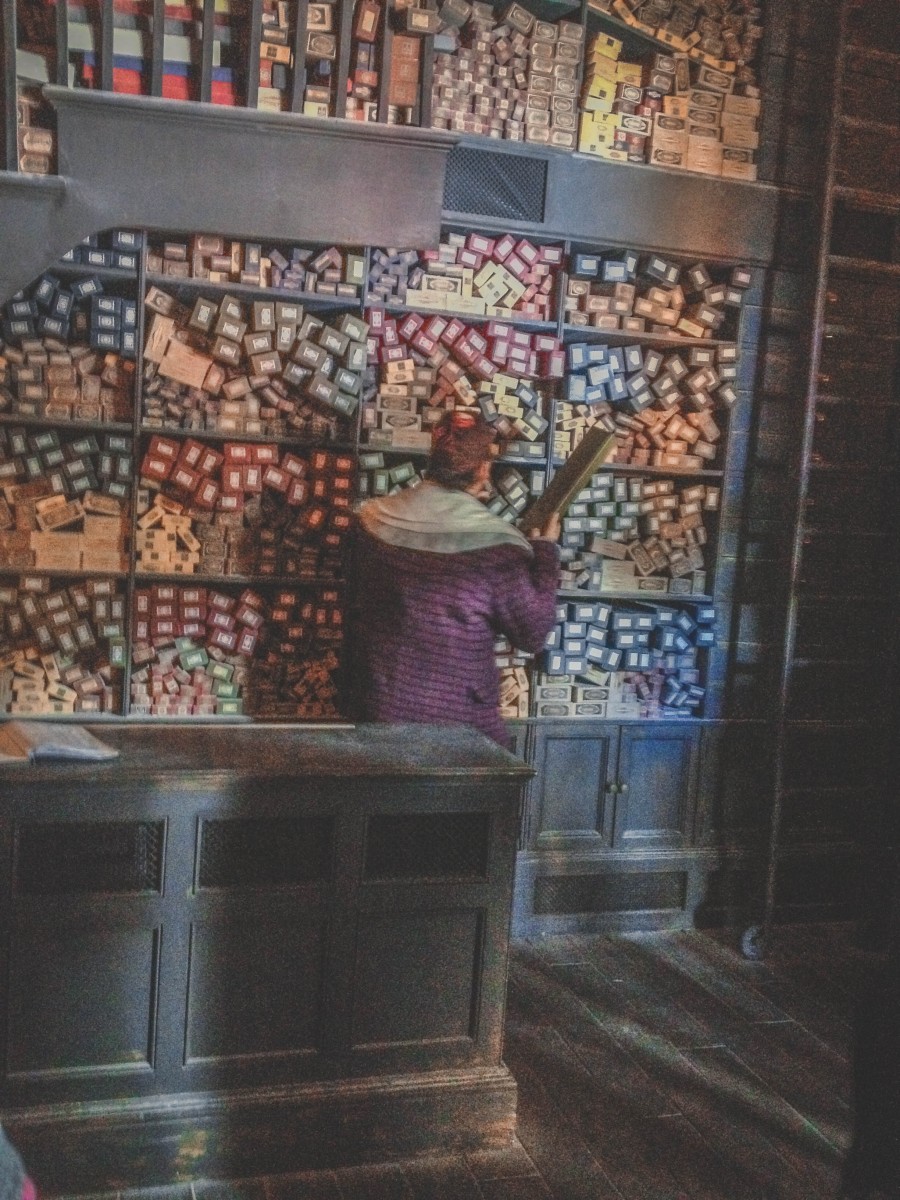 One of the best Wizarding World Of Harry Potter tips is to get an interactive wand. It retails at $55, which is $6 more than a regular Ollivander's wand. But I can't recommend it enough!
Although the regular wands are a lot nicer quality (collector's edition items), the interactive wands entirely change the scene of The Wizarding World Of Harry Potter (and they come with a map of spells). You'll really feel like you're a witch or wizard.
Order A Mug Of Butterbeer
I've spent years trying to recreate the iconic Universal Butterbeer recipe at home because it's magic in a cup (take a shot of firewhisky every time I say magic in this post). Everything about the drink – the light layer of froth, the coolness, the consistency – is just right. Universal's trademark butterbeer tastes like a milky cream soda ice-cream float touched with extra sweetness.
The drinks come large so you can easily split one cup between two (though my family loved it so much that we ended up ordering one for each of us). Don't get them from the carts though. Instead, pop by The Hopping Pot, a barrel-backed quick-service counter, for the best butterbeer experience.
If You're Tight On Time, Get The Universal Studios App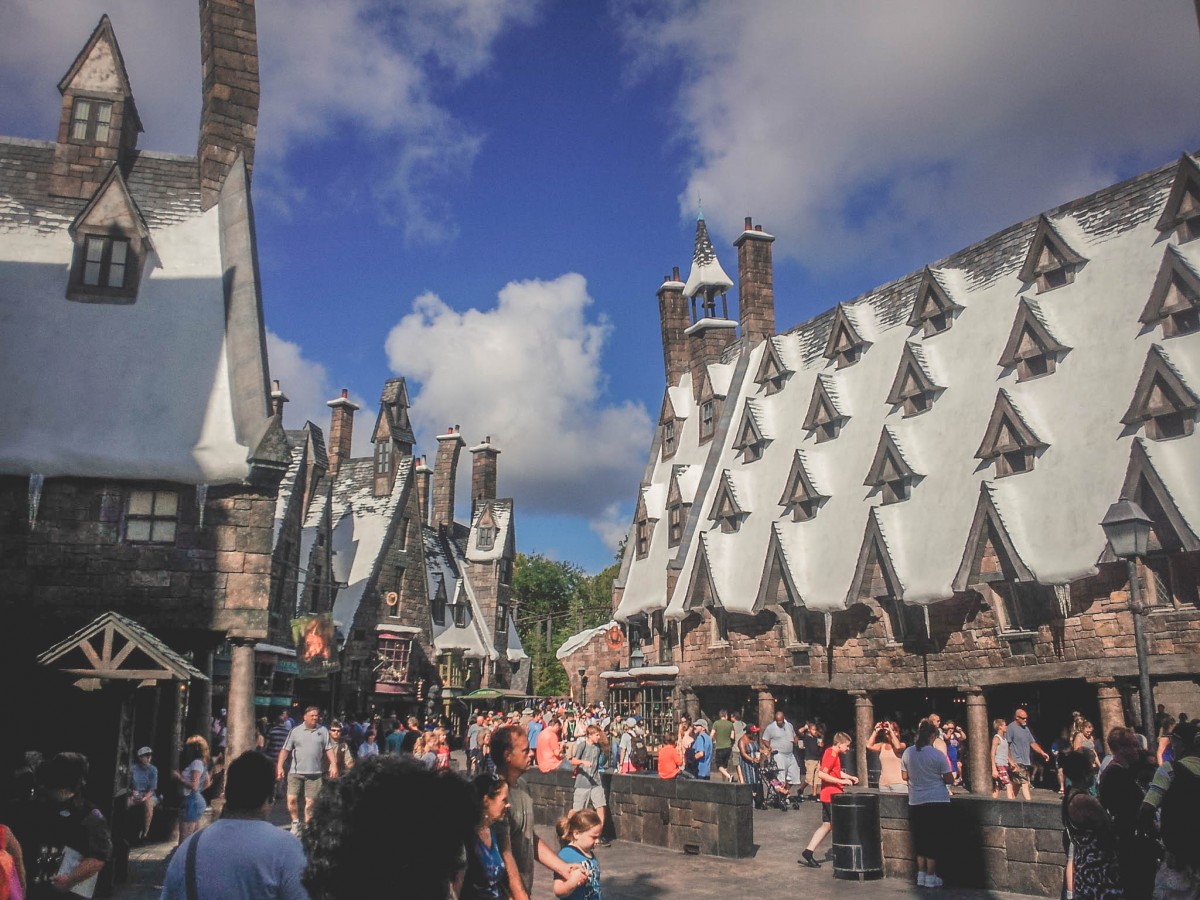 Whilst I feel that checking the Universal Studios app takes away from the magic of Harry Potter World (I prefer to live with my head in the clouds), it's an incredibly useful tool if you're strapped on time.
You can mark your bucket list attractions (and get automatically notified when wait times are short) and receive schedule changes.
Wizarding World Of Harry Potter Tricks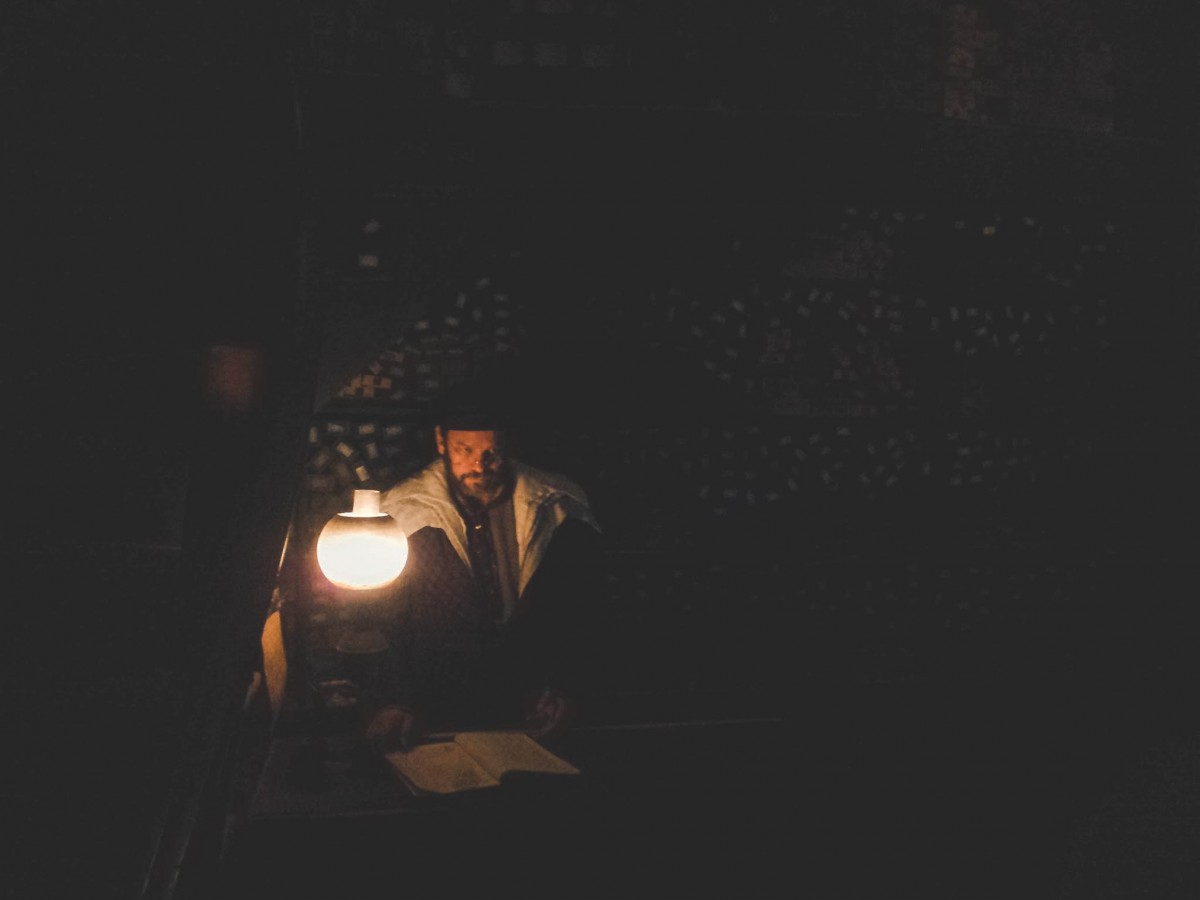 Look Excited To Get Selected For Ollivander's
I practically jumped out of my shoes my first time at Ollivander's. I arrived one summer after Hogsmeade had officially opened and I was determined to buy a wand after a year of saving up contest money (I had no idea there was a wand experience though).
My entire face during that trip lit up (my book face, as my family calls it. I only ever look so excited when talking about books).
If you want to get picked for Ollivander's, look excited. If you come to the line with the biggest smile in the group, he takes notice. It's an almost surefire way to get chosen.
Use Gringotts Bank Notes
You can trade in muggle money for wizarding money at the Gringotts Money Exchange! When you do, you get select denominations of gorgeous (can we swoon over the details though?) Gringotts banknotes. It's a lot more than a souvenir. You can use the notes to make real purchases throughout Diagon Alley and Hogsmeade.
It's a great way to feel more immersed in the Wizarding World Of Harry Potter. And if you aren't able to use all the notes during the trip, you can always exchange them back for muggle money at guest relations.
You Can (Sort Of) Chat With Characters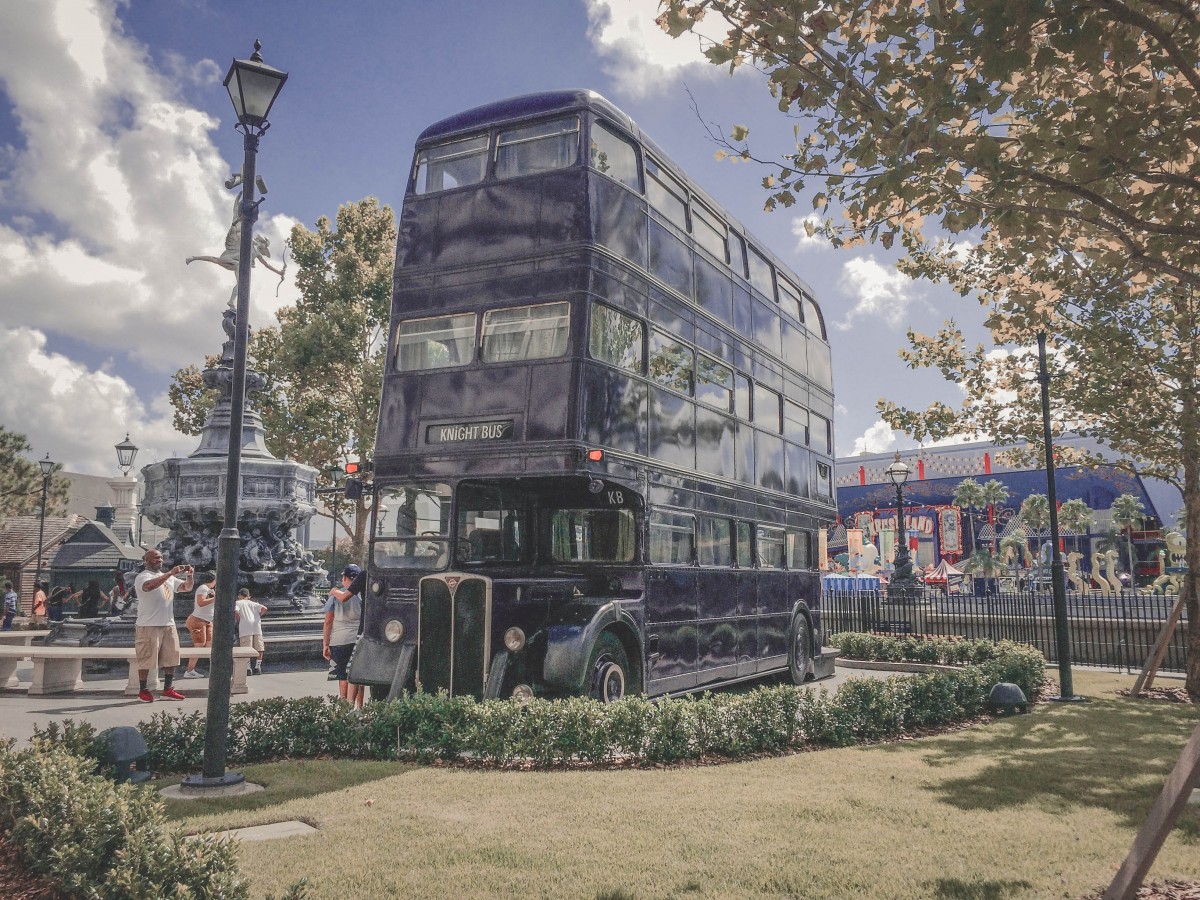 Character experiences are a huge part of the charm of theme parks like Disney World and Universal Studios. But in the Wizarding World Of Harry Potter, you won't see your favorite characters walking in-and-around Hogsmeade or Diagon Alley. There isn't a Hagrid or Dobby you can hug.
In a way, I love that the character interactions are close-to non-existent (with a few exceptions) in the Wizarding World Of Harry Potter. It opens up so much room for imagination during your adventure through the park.
But there are two characters you can meet and greet. One is the Knight Bus conductor (he's not officially Stan Shunpike but still…) and the other is Dre Head (who is hilarious and reminded me of Cinderella's stepsisters from Magic Kingdom).
Adopt A Pygmy Puff
As much as I love Ollivander's, it is the go-to experience for every Potterhead so the interaction is more fast-paced and less intimate. You don't get to spend time talking to Ollivander (it's a very one-directional conversation). But I loved it regardless because it stayed true to the movie scene (and the book).
But if you're looking for an experience that's a bit longer (and more two-way), you can adopt a pygmy puff from Weasley's Wizard Wheezes. There's a cute little adoption ceremony at the register (I'm going to keep this spoiler-free and not spill the details). But trust me, it's fun and quirky (especially for kids).
P.S. You can't name your pygmy puff after Voldemort. The staff will freak (or pretend to freak) out.
You Can Discover Secret Spells At Knockturn Alley
The Slytherin in me is very drawn to Knockturn Alley. It's a damp, cool, downright creepy and gritty part of the Wizarding World Of Harry Potter.
If you have an interactive wand, pull out your map in Knockturn Alley. You'll see hidden spell spots inked on the pages come alive under the black light.
Wizarding World Of Harry Potter Easter Eggs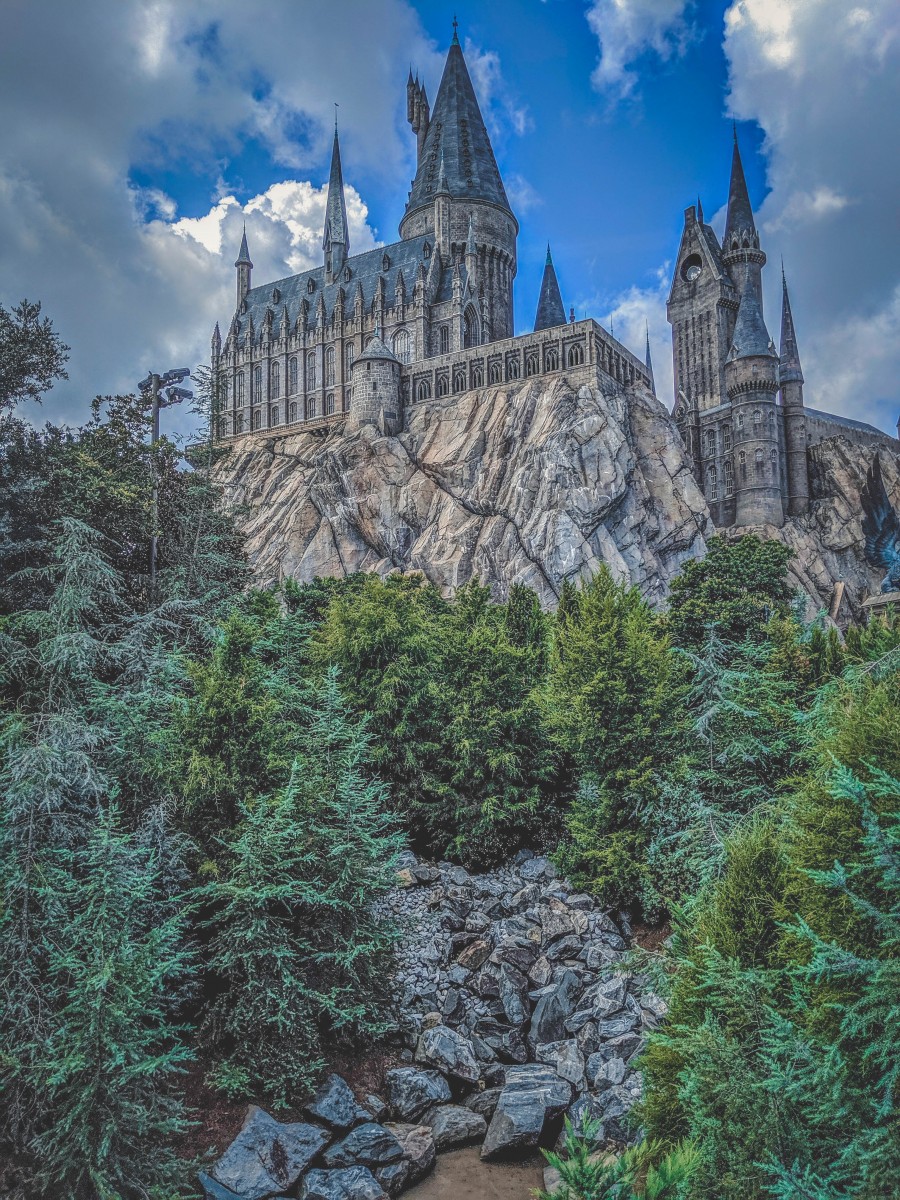 You Can Hear Moaning Myrtle
Moaning Myrtle haunts the public restrooms in Hogsmeade. Her tinny voice is part of an audio track that seems scarily real (to the point where you'll see little boys running out crying).
Myrtle can be heard in both the girls' and boys' restrooms (I believe the track alternates to create the illusion that she's flitting between them). Potterheads will love this little detail.
Try To Spot Kreacher
The London waterfront area is one of the most underrated segments of the Wizarding World Of Harry Potter. The detail is immense: King's Cross Station, Leicester Square Station, and of course, Number 12 Grimmauld Place.
Fans who check out the facade of Grimmauld Place will be treated to an extra surprise – an animatronic Kreacher peeking out the window. To be honest, Kreacher's face isn't very fleshed out (so he looks a lot like Voldemort), but it's a detail most miss during their trip to the Wizarding World.
See The Monster Book Of Monsters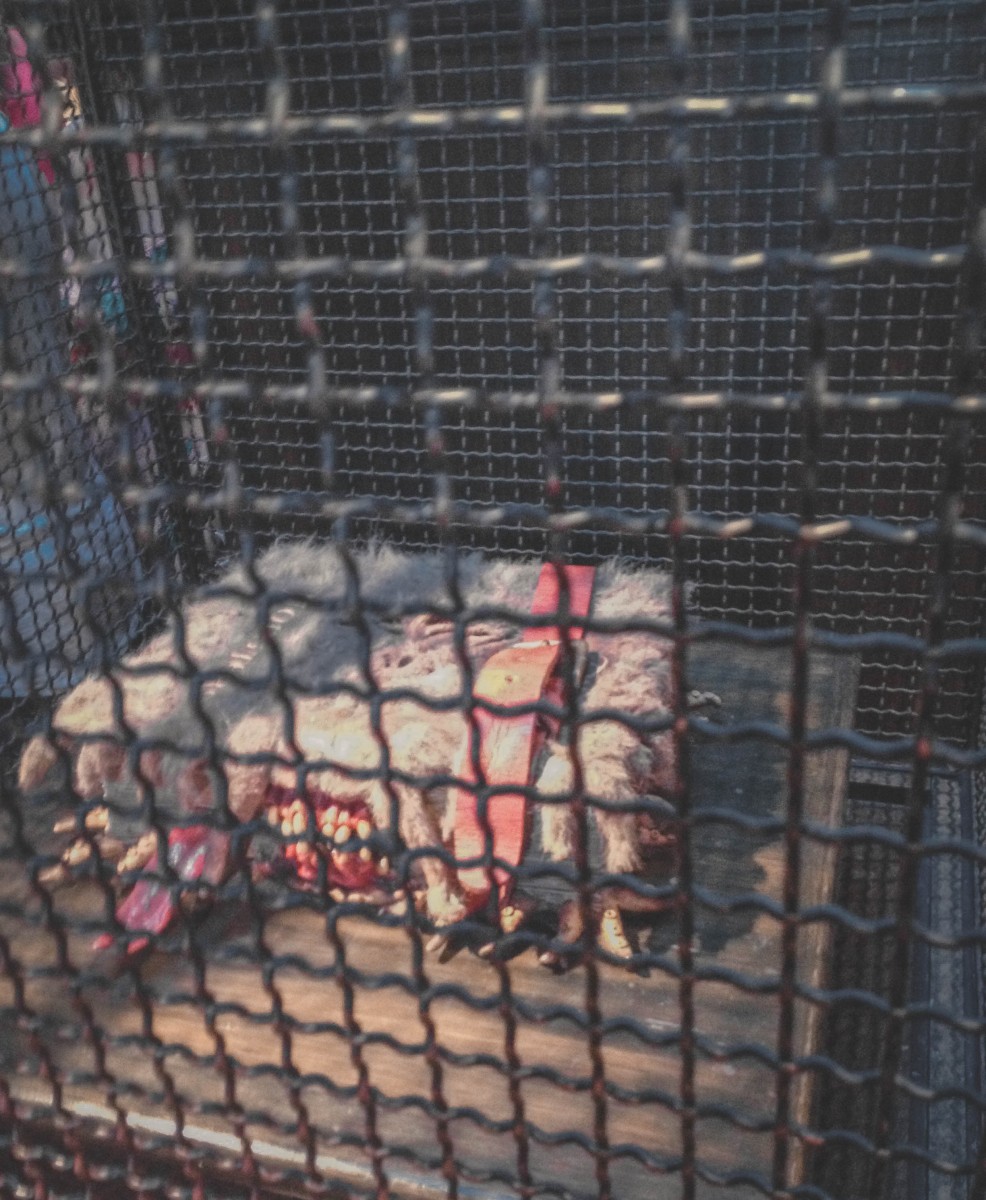 If you remember the Monster Book Of Monsters scene from Prisoner Of Azkaban, you'll love this little gem in Dervish & Banges!
It's loud. It's noisy. It chomps. It growls. It rattles the cage. But ultimately, it's cute (well, if you stroke the spine but considering it's in a cage, you can't do that).
Vanishing Cabinet
You can also find the Vanishing Cabinet (the one Draco used in the Room Of Requirement) in Borgin And Burkes in Knockturn Alley. Most of the shops in Knockturn Alley are front-only displays but Borgin And Burkes is an eerie exception.
Call The Ministry Of Magic
If you dial MAGIC (62442) at the red telephone booth right outside King's Cross, you'll get connected to the Ministry Of Magic.
Again, I want to fill you in on all the details of the Wizarding World Of Harry Potter but at the same time, I want to keep this post as spoiler-free as possible (so I'm not going to tell you what the message is – hope that's okay).
More Wizarding World Of Harry Potter Tips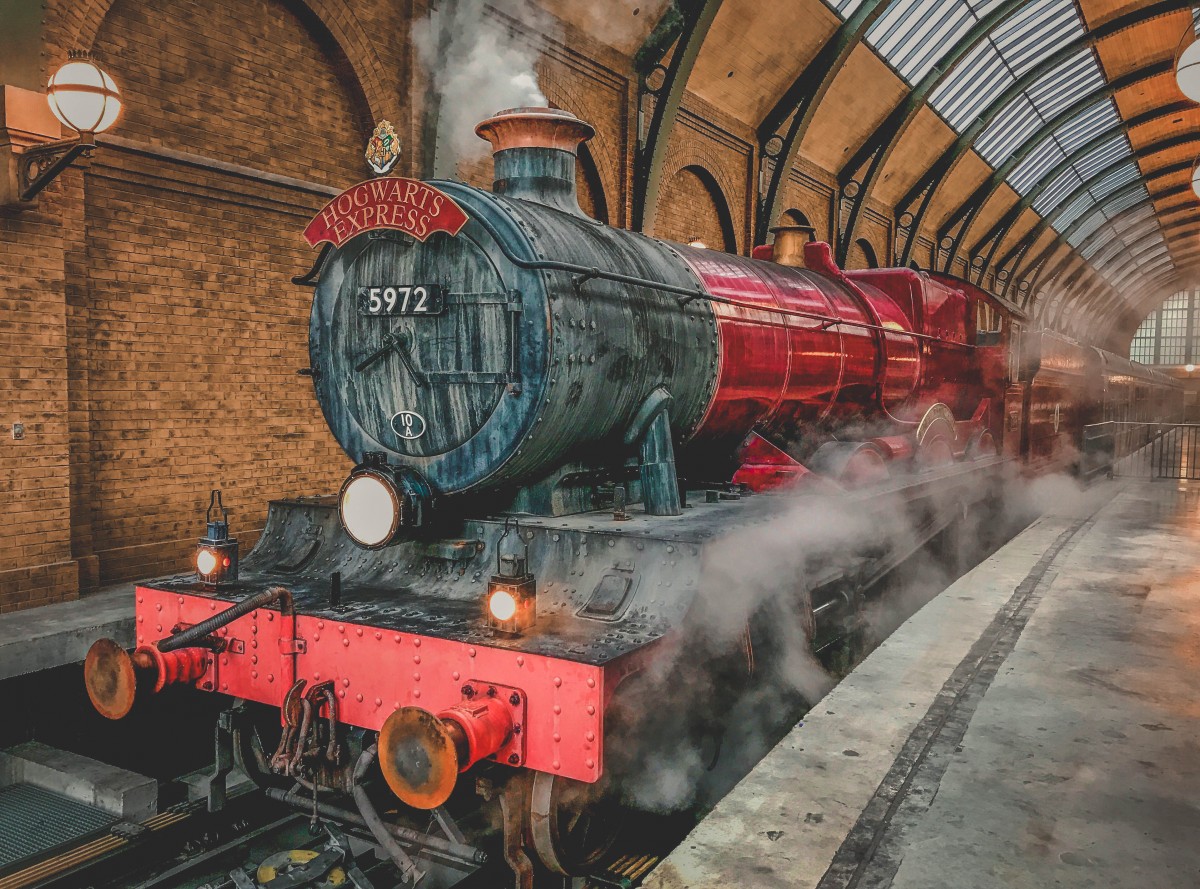 Ride The Hogwarts Express Both Ways
You can only ride the Hogwarts Express if you have a park-to-park hopper ticket. But I highly recommend it because getting on the Hogwarts Express is a h-u-g-e part of the magic of the Wizarding World Of Harry Potter.
Most visitors don't realize that it's a completely different experience both ways. The rides have similar elements (and follow a bit of a pattern) but the scenes shift. And I think it's 100% worth it if you're a Wizarding World fan.
Send Mail From The Owl Post
At heart, Owl Post is a stationery shop (well, it's more of a kiosk). If you live in the US, you can send yourself a postcard with a special Hogsmeade stamp. And for larger packages, expect brown paper packages tied up with strings (sorry, I couldn't resist a Sound Of Music reference) and a wax seal.
Unfortunately, your mail is not going to be delivered by a real owl. But as a stationery addict, I loved it.
You Don't Have To Ride Harry Potter And The Forbidden Journey To See Hogwarts
You don't have to ride Harry Potter And The Forbidden Journey to see Hogwarts Castle. My parents loved waiting in line for the ride and seeing all the unique details scattered throughout. But they hated the ride. It made them feel sick and queasy.
I normally hate rides but absolutely loved this one. But then again, I'm very deep into the Harry Potter fandom (no shame). If the Harry Potter And The Forbidden Journey ride was about anything other than Harry Potter, I probably would have felt nauseous afterward too. I'll be honest, it's not a very smooth ride and it swings up and down a lot.
In retrospect, we should have gone through the line (seen all of Hogwarts Castle) and then asked an attendant where the exit was (and left after the castle tour).
Don't feel pressured to ride Harry Potter And The Forbidden Journey if you're not feeling up to it. It's perfectly acceptable to walk through the castle (along with the ride line) and then leave right after.
Single Rider To Save Time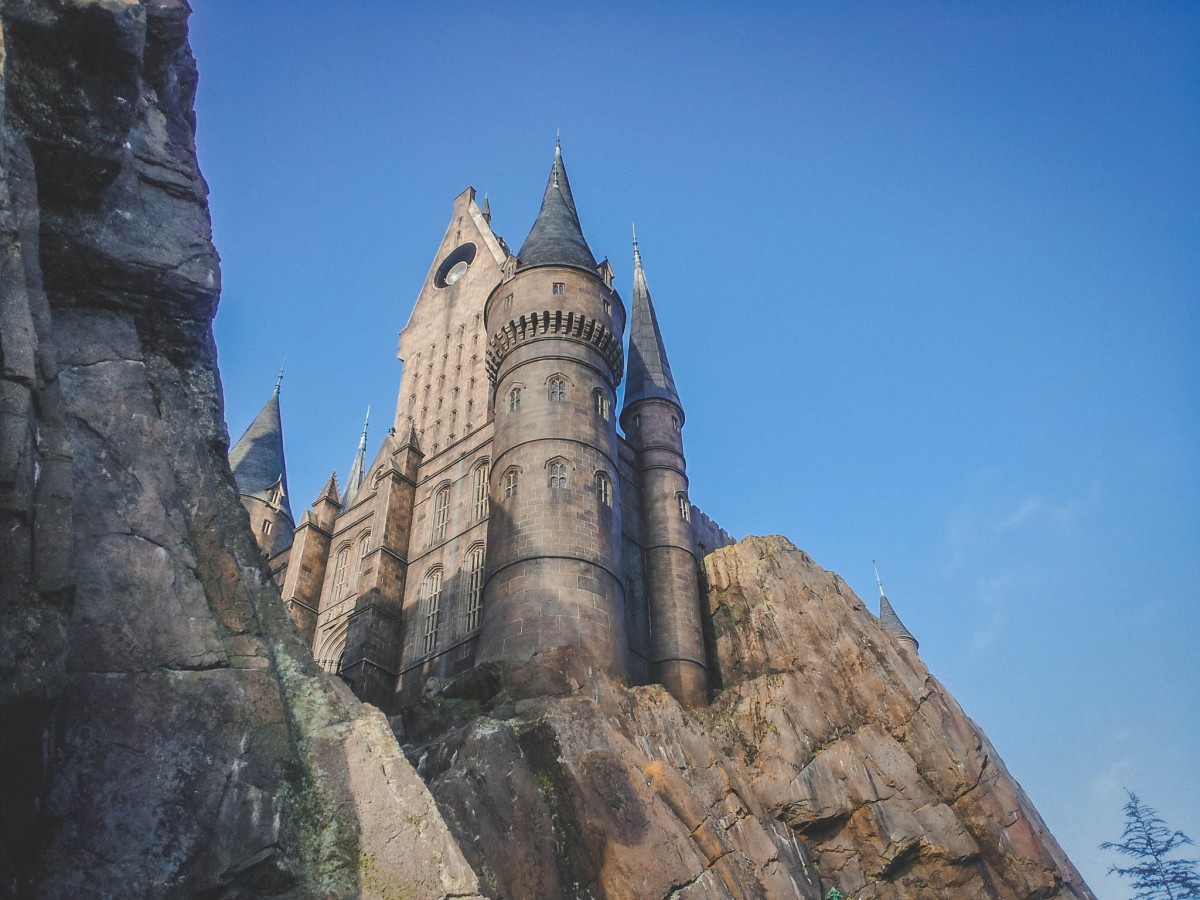 But if you do want to experience Harry Potter And The Forbidden Journey, use the single rider line (if you're willing to be separated from your group). It's a lot faster because it's not clearly designated (you'll have to ask someone where exactly it is).
And if you're looking to pack your itinerary, I highly recommend this hack because it's a huge time-saver.
Look Everywhere
Look everywhere. Left. Right. Up. Down. There are so many hidden gems throughout Diagon Alley and Hogsmeade, it's impossible to catch them all.
Looking up at the fireworks shooting off the ceiling of Weasleys' Wizard Wheezes and listening to what's behind the window display at Magical Menagerie and glancing at the fireplace at the Three Broomsticks, you'll feel overwhelmed. But in this case, the outpouring of magic (dripping from even the smallest details) is what makes the Wizarding World Of Harry Potter such a special experience.
Did you enjoy this Wizarding World Of Harry Potter tips guide? Do you have any more Wizarding World Of Harry Potter tips or secrets or easter eggs that you can add to this post? Let us know in the comments below (I would love to hear from you and I'm sure your tips will make everyone's experience even more magical).