I've recently been on a bit of a young adult reading kick, which is why, over the past week, I've accumulated a giant stack of YA travel books. I love young adult travelogues. They're an escape through unique, (often) breathtaking and dramatic storytelling. And I feel a different experience when I step into each journey.
Right now, my TBR is piled with young adult travel romance novels and coming-of-age adventures and heartwarming tales from the road. And this year, I'm dedicated to reading as many YA travel books as I can.
2020 Update: I finished most of the ya travel books on this list! And my favorite turned out to be a reader recommended addition: Wanderlove. Thanks Amanda!
So without further ado, here are 20 YA travel books for the adventurer in you.
Quick Note: The affiliate links below are powered by Bookshop (not sponsored but I do get a small commission), an online bookstore that financially supports independent bookshops around the US and gives back to the indie book community. They've raised over four million dollars for independent bookstores thus far. And if you decide to buy a physical copy of any of the YA travel books below, you'll be giving back to an indie bookstore as well (they're very transparent and disclose exactly how much you'll be giving back before purchase). I found this service whilst looking for alternatives to Amazon (since my local indie bookshop is closed right now) and I absolutely love it.
I first read Jenna Evan Welch's novel, Love & Gelato, while on a road trip to San Antonio (not exactly Venice, but definitely the closest you'll get in Texas). Welch uses simple, evocative writing to build up a feel-good romance. Love & Luck, her second novel, follows a brother and sister's mayhem-filled tour through Ireland. I love how Welch mixed in snippets of a laugh-out-loud guidebook, Ireland For The Heartbroken (seriously, can I get a copy of this?), into Addie's story. I'm only about three chapters into Love & Luck, right now, but the warm, bubbly feelings have already emerged. And let's just say, I'm drowning in (shamrock-shaped) charm. Update: I finished reading Love & Luck and I'm happy to report, this is now one of my all-time favorite YA travel novels. I enjoyed it even more than Love & Gelato.
I've been avoiding Wanderlost for so long, but I've finally decided enough is enough. I'm reading this book this month. I originally picked the novel up after seeing it pop up all over YouTube as one of the top YA travel books. Then, I let it sit on my e-shelf and collect the equivalent of electronic dust. Jen Malone weaves the tale of Aubree Sadler, a young Ohio girl pretending to be her sister on a bus tour to Europe. A seemingly cliche love story, Wanderlost gives me serious Monte Carlo (do you remember the 2011 chick flick starring Katie Cassidy, Leighton Meester, and Selena Gomez?) vibes.
Don't judge a book by its title. Too late. Amy & Roger's Epic Detour sounds like a classic swoon-worthy road trip romance. I fell in love with the small details thrown into this novel. More than words, Amy & Roger's Epic Detour is told in part through receipts, postcards, and playlists (which I'll be compiling on Spotify at some point). Morgan Matson narrates a cross-country road trip with two (almost) strangers. But despite the lighthearted storyline, there is an underlying note of grief that Amy is realistically grappling with throughout the trip. I've heard the novel is a bit of a tear-jerker (luckily, I'm all stocked up on tissues and vats of ice cream).
I actually read Let's Get Lost when it was first released in 2014 (which I completely forgot about until I poked through the first chapter last week). Part-novel and part-anthology. Adi Alsaid sows together five separate threads with the needle of Laila. While Alsaid's writing is beautifully crafted, I wish the characters were a little more rounded and the connection between the different stories was a little less loose. But if you're looking for a breezy YA travel book, Let's Get Lost is the perfect coming-of-age story to kick off your adventures.
I See London, I See France paints a cartoonish sketch of a young girl's adventures through Europe. I vaguely remember reading Sarah Mlynowski's previous novel, Ten Things We Did (And Probably Shouldn't Have), and absolutely loving it. Mlynowski masters the balance between presenting overtly comical situations and moral acceptance. While her writing falls more on the abrupt side, her expert storytelling swayed me into picking up one of her travel YA books. Update: This is now my lowest rated book on Goodreads. It reads like a middle-grade novel but is plagued with adult concepts. The writing is forced. The characters are fueled by lust (which oddly enough is their defining character trait). The lead (and her best friend) are extremely disrespectful travelers and their bad decisions are glorified. I wish I didn't chug through this and I'm not sure why I read until the end. The plot just got worse and worse.
I'm currently halfway through this book and oh my goodness, I think I'm in love. I just want to take a plane and make a break for Europe right now. 13 Little Blue Envelopes follows Ginny Blackstone, a young girl backpacking through Europe based on letters sent by her eccentric aunt. Here's the catch: her aunt is dead. I love how Maureen Johnson gives us hints of Aunt Peg's personality, makes us fall in love with her wild, I-don't-care nature, without Aunt Peg ever making a physical appearance. One of the must-read YA travel books, 13 Little Blue Envelopes will immediately send you to all the places you dream about. Update: Yes. Yes. Yes. I think I love everything by Maureen Johnson.
I was so in love with 13 Little Blue Envelopes that I went ahead and picked up another Maureen Johnson novel, Girl At Sea. I know, I know, I should read one book at a time. This one takes place in a boat in Italy – which, according to the back cover, the main character gripes about. How could you be irritated by being on a boat in Italy? I don't understand. I'd love to be in Italy….eating gelato (gelato sounds so good right now). Anyway, Maureen Johnson is fantastic at capturing teen angst and drama and I'm sure this book will be ship-shape and sea-worthy.
9 Days and 9 Nights caught me by the cover first. I fall so hard for books that have polaroid-esque collages on the front. Then, I read the description and it said: "for fans of Jenny Han." I stopped there. If you don't know, I absolutely love Jenny Han's writing style (I was so stoked for the Netflix adaptation of To All The Boys I Ever Loved and for once, a book to movie adaptation delivered). And while I usually hate "exes meeting in chance in an exotic location and feelings come rushing back" novels, I'm hoping to give 9 Days and 9 Nights a chance (hopefully, it lives up to the hype).
Love and Other Train Wrecks starts off with an Amtrak ride from Virginia to New York. Since I've actually been on that journey (once upon a time), I wanted to reminisce a little with this novel. In the story, Noah and Ammy, polar opposites, are coincidentally in the same Amtrak car. Cue events that throw them together – a crazy snowstorm and a broken-down Amtrak car. I love situations like this where the main characters are forced to interact with each other. Instead of a game of lust, I'm hoping for open and honest conversations that spill details about each lead's past.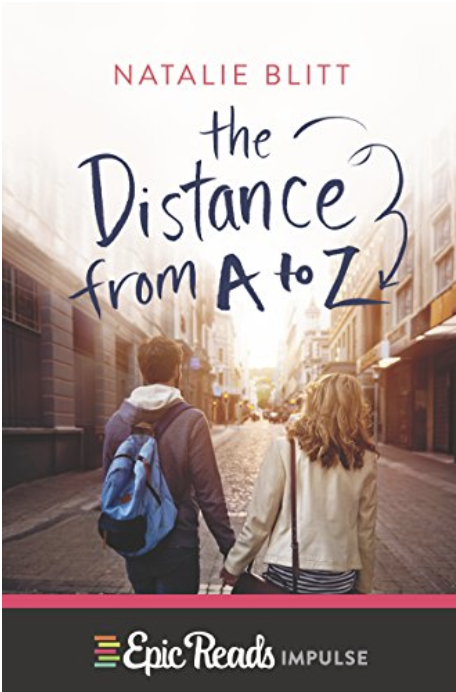 The Distance from A to Z (this is an Amazon affiliate link as it's only available on the Kindle. You can find out more about affiliate links here) is a quick contemporary romance. Epic Reads brings a breezy story (by debut author Natalie Blitt) about a young girl hoping to get away from it all and learn French. If you're in love with France, this is one of the best YA travel books to read. The protagonist (Abby) describes her Francophilia in a truly wholesome and meaningful and relatable way.
More than travel infused, The Distance from A to Z is wanderlust infused. Abby falls slowly and so hard for Zeke (a boy who is everything she despises in life). There's teetering chemistry and a side character who I'm 100% obsessed with (love Alice).
The premise of There You'll Find Me is unlike any other YA novel I've ever seen. Finley Sinclair isn't a damsel in distress. She knows what she wants in life and where she is going. Career driven, creative, Finley only loses her spark when she hears about the death of her older brother. Then, Finley journeys to Ireland, following her brother's travel log. This is where her brother felt closest to God and where Finley tries to seek what he found. Jenny Jones weaves a beautiful tale around one single question – how do you forgive God?
I get so sappy over hate to love romance novels (this is what happens after you read Pride and Prejudice two hundred times). I picked up Meant To Be because I felt so many classic YA travel book elements pouring through the pages – comedy, history, an exotic setting. While I find Julia's character to be pretentious, stuck-up, judgemental, and flat-out annoying (right now), I'm hoping that Lauren Morrill is playing the "travel opens your eyes" angle in this novel.
I'm rereading all of Stephanie Perkins novels right now. I just reread Lola and the Boy Next Door (my favorite book by her) and now, I'm picking up all the France feels with Anna and The French Kiss. While the title sounds like a lusty, hormonal driven, steamy romance, Anna And The French Kiss is anything but that. Cute as a button, the characters, Anna and Etienne, are so incredibly lovable (Update: I reread this book and just now realized how disconcerting Anna and Etienne's relationship is. Their relationship depicts a very weird lesson: actual cheating on your partner isn't okay, but thinking about it is. That idea is wrong on so many levels. I no longer stand by this book). And Stephanie Perkins elegantly sweeps you through the famous French attractions. Seriously, every time I read this novel, I imagine that I'm on a whirlwind tour of Paris (this much is still true. I'll admit to that).
The title of this book is so sassy and angry, I know I'm going to love the female lead in this novel. A comedy of errors, Airports, Exes, and Other Things I'm Over is one of the top YA travel books I'm looking forward to reading the most this month. I can totally imagine Sari sitting in the airport with a "stank face" (the immortal words of Kelly Clarkson – I can't imagine The Voice without her), fed up with the crazy situation she's somehow straddled in.
Up To This Pointe is all about romance, science, and dance, a unique combination in an even more unique setting – Antarctica. While most YA travel books discuss hopping around Europe and summer flings during an all-American road trip, Jennifer Longo uses the harsh extreme of Antarctica as the backdrop of her story about a young girl, who thought she found herself, trying to find herself. There's something about the plot that resonated with me and I can't wait to dig beneath the iceberg and discover the full depths of this novel.
Set in the 1700s, A Gentleman's Guide To Vice And Virtue is about one young man's hilarious romp through Europe. A cute LGBTQIAP+ travel romance, the novel is deftly written. Despite Monty wanting nothing more than a hedonistic European escapade, he somehow ends up in the mess of an 18th-century manhunt. A story about finding true love over the course of harrowing events, A Gentleman's Guide To Vice And Virtue pushes the limits of the term morality. P.S. This is one of our January 2020 travel book club picks!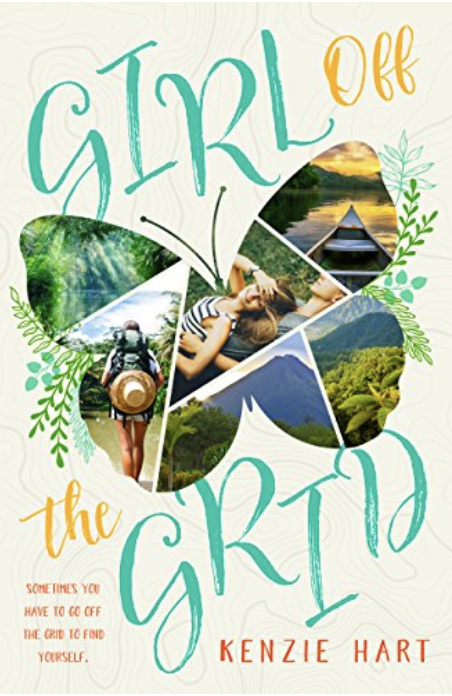 Girl Off The Grid (this is an Amazon affiliate link as it's a self-published book. You can find out more about how and why we use affiliate links here) is the story of a city girl meeting a wild world. The tale follows fashion blogger, Camille Caldwell, who is offered a press trip to Costa Rica. She's imagining Pina Coladas and cute beach-side photoshoots. But when she's paired with wildlife photographer, Adam Lloyd, she realizes the trip is a "little more off the grid." As a blogger, I'm hoping Camille is fun and relatable (AKA she doesn't fall into the category of shallow and high maintenance – this is such a common blogger stereotype that I'm sick of seeing). Side note: the author, Kenzie Hart, has pledged to donate 10% of the book proceeds to a sea turtle conservation and research group.
So I'll admit, I picked up this book thinking it was a yoga beach romance. Uh, no. And I'm really glad it isn't. 18 Hours To Us is about two classmates who miss a field trip bus and are forced to drive together from Michigan to Virginia Beach. The book slowly reveals little details about each character – their back story, their talents, and their secrets. I love how there isn't any information dumping in this title and all the pieces slowly fall into place. I haven't gotten too deep into the book but I'm absolutely in love with what I've read so far.
I knew I wanted to read this book when I found out the main character has a dog named Carl Sagan. A complex and well-connected web, See You In The Cosmos is about a nerdy boy who sets out on a trip, recording on his iPod what Earth looks like (so other life forms can hopefully see it one day). While the novel shifts beautifully between landscapes from Colorado to California, at heart, See You In The Cosmos is a journey about rediscovering family.

The captivating art style of Mosquitoland drew me to the book (yes, I judge books by their covers). The story of a girl who climbs aboard a Greyhound bus and journeys to find her sick mom, Mosquitoland isn't all roses. Through thorny relationships, Mimi Malone is forced to untangle her prickly life, confront her inner demons, and search for hope along a thousand-mile journey. The novel deals with heavy subjects (I know, I was trying to aim for more light-hearted books this month) but the writing (on the first page alone) is so evocative and beautiful, I can't wait to finish the novel.
P.S. If you love reading, feel free to join the Eden Travel Book Club (shameless plug). We read one YA travel book together every month!
Did you enjoy this post on YA travel books? Have you read any YA travel books that I should add to my TBR? What books are you reading this month? Let me know in the comments below!